Bærbare vindmøller, Virtual Reality-sokker og andre tosserier fra gadgetland
Vi kigger i dag på bærbare vindmøller, en sok der kan bruges i Virtual Reality og et par andre sære gadgets. Derudover korte nyheder om bl.a. betalingsløsninger til Wikipedia og et politisk skub til digitaliseringen i Danmark.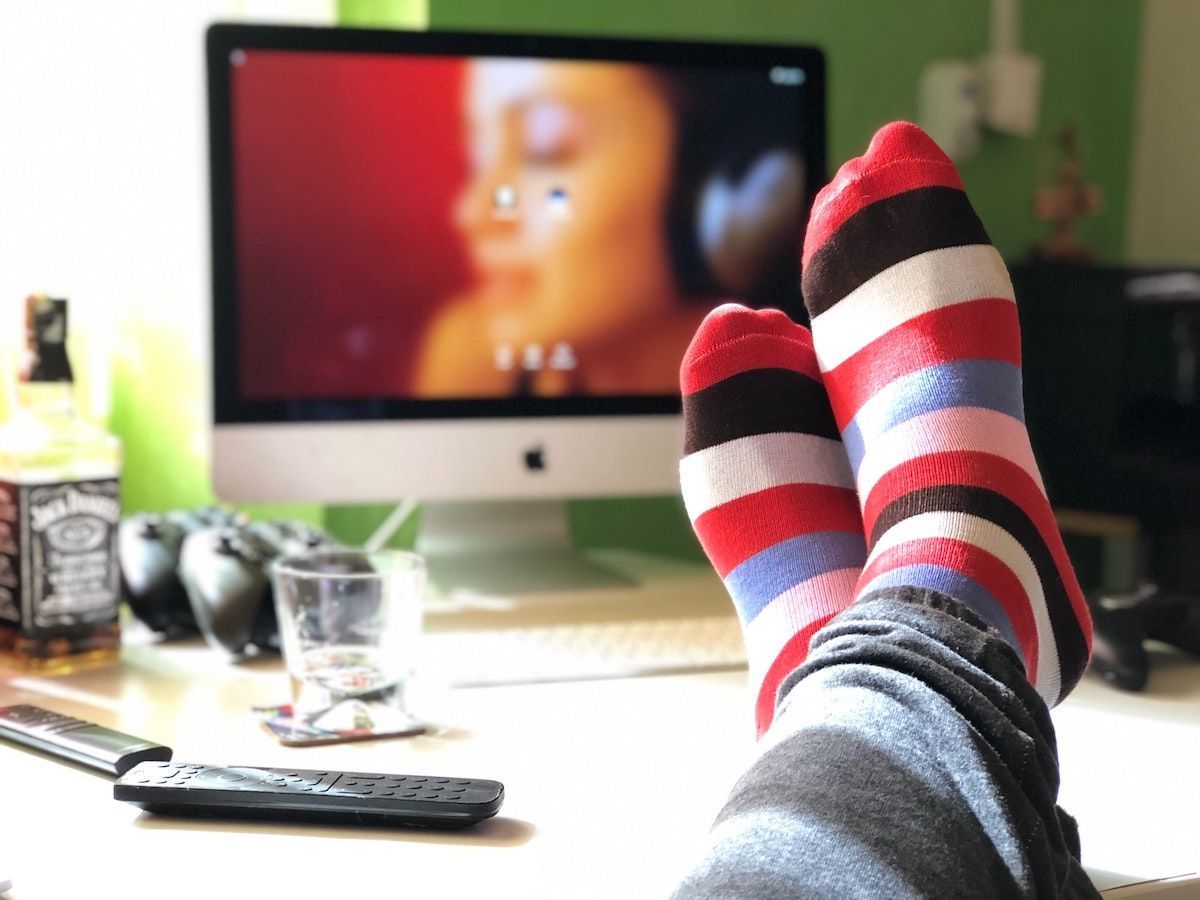 Abonnér på Techliv
---
Det føles ofte som om, tech-innovationen er stagneret, især når det gælder mobiler og bærbare, der jo stort set allesammen ligner hinanden.
Men der bliver trods alt udviklet mange andre slags elektroniske gadgets og digitale dimser – og i dag har vi fundet en håndfuld, som inkluderer bærbare vindmøller, hjernebølgelæsende musikmaskiner, og en sok der kan bruges i Virtual Reality.
Der bliver også tid til korte nyheder, denne gang om Danmarks digitalisering, betalingsløsninger til et gratis leksikon, og en californisk lov der skal beskytte indbyggerne mod onlinetjenesters forsøg på at snyde os.
Som altid er der links til læseheste nederst i nyhedsbrevet.
God fornøjelse,
Anders
---

Gadgethjørnet
Jeg skal være den første til at indrømme, at der bliver designet, udviklet og solgt utrolig meget bras i gadgetland.
For slet ikke at tale om alle de "revolutionerende" dimser, der bliver præsenteret uden nogen sinde at blive til mere end vilde visioner, eller måske en (fejlslagen) kampagne på IndieGoGo.
Ikke desto mindre har jeg altså ladet mig rive med af begejstring (og lidt frygt) i dag, og samlet en håndfuld apparater, som måske – og måske ikke – kan gøre en forskel.
De er løst fordelt på en skala fra "kan købes snart" til "bliver (formodentlig) aldrig til virkelighed".
Vi begynder med et hjernebølge-pandebånd, som lover, at det kan analysere éns hjerneaktivitet, mens man lytter til musik.
Ideen er, at headsettet (som ligner en slags tætsiddende plastik-vædderhorn) kan måle på éns hjernebølger, mens man lytter, og så løbende lave spillelister der hjælper én med at holde fokus på det man laver.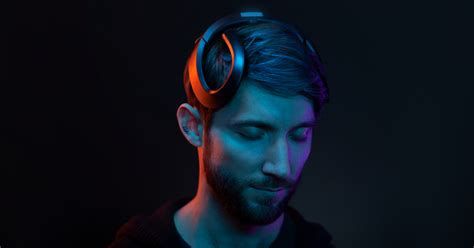 Der er gennem årene lavet en hel del af den slags hjernebølgepandebånd, som skulle hjælpe os med at spille spil, meditere eller ligefrem booste vores tankekraft.
De er dog aldrig helt blevet mainstream, men måske kan det kommende Crown-headset fra firmaet Neurosity sparke gang i udviklingen igen?
Vi hopper videre til Google Nest Hub 2, der ankommer på hylderne 31. marts, og kan forbestilles i dag (hvis man altså bor i USA, England eller Australien).
Nest Hub 2 er (som navnet antyder) anden generation af Googles særlige tablet-agtige hjemmedims, der kan bruges til at afspille musik, se YouTube, styre andre smarte hjemmeapparater og så videre.
Men det særlige ved Nest Hub 2 er, at den er udstyret med den såkaldte Soli-radar – ligesom Pixel 4-mobilen, i øvrigt... men ikke Pixel 5 🙄.
Det betyder, at man kan styre hubben med håndbevægelser, men også at den kan tracke ens søvn ved at bruge radaren til at følge éns bevægelser og åndedræt mens man sover (eller laver andre ting i soveværelset?)
Samtidig lytter Nest Hub 2 så med på, om man snorker eller ser tv, og måler også temperatur- og lys-ændringer i løbet af natten.
Google siger selv, at man kan sætte søvntrackingen på pause, og at de ikke vil bruge Hub-data til at målrette annoncer til brugerne – men om det er nok til at berolige potentielle brugere er nok et åbent spørgsmål.
Jeg kan ikke huske hvornår jeg sidst har set så fint indpakket totalovervågning til hjemmebrug...
Så er jeg straks mere positivt stemt overfor en bærbar vindmølle fra det danske firma KiteX.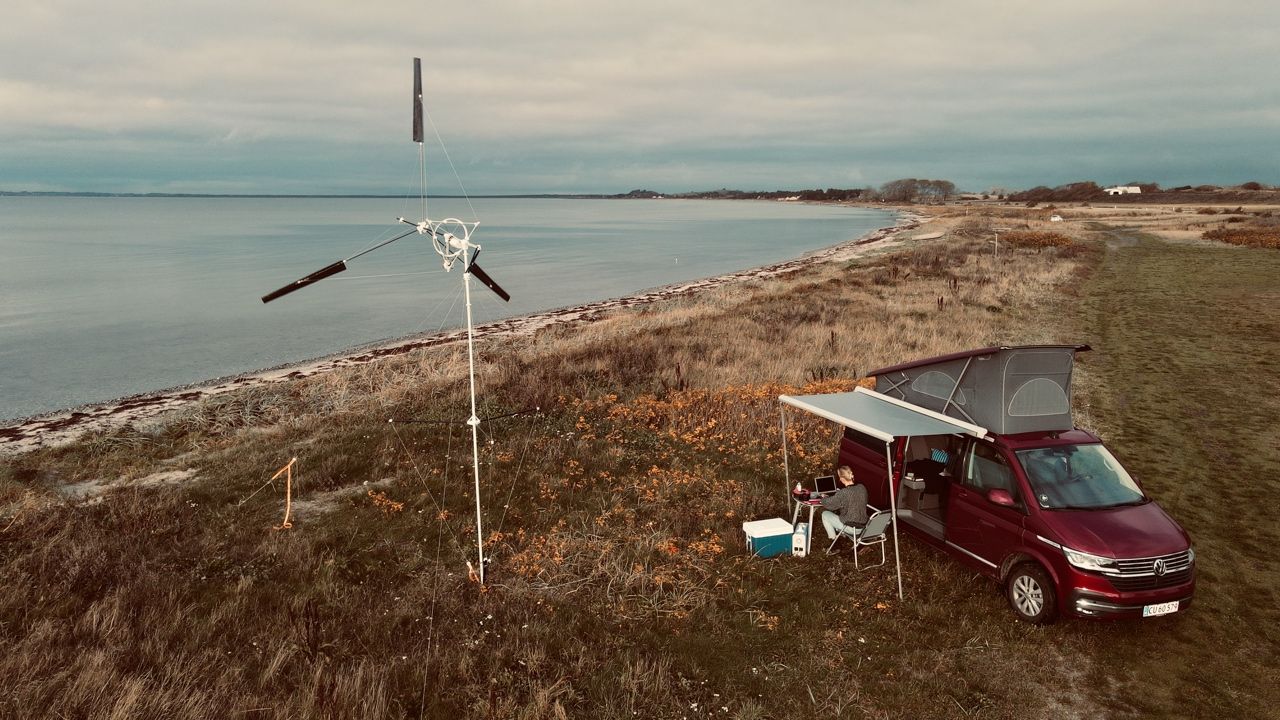 Wind Catcheren vejer kun 10 kilo, og kan sættes op af én person på under et kvarter, og så har man bæredygtig strøm til sin mobil, en lampe, en kaffemaskine, eller hvad man nu ellers har med sig på campingturen.
På trods af den lave vægt fylder møllen dog alligevel lidt, når den er sat op. Vingediamteren er på 4 meter, og hele konstruktionen er 6 meter høj.
Den bærbare vindmølle kommer i to udgaver, der kan producere henholdsvis 200 og 600 Watt, afhængig af hvor meget det blæser, selvfølgelig.
Den lille model er beregnet til let rejsegrej som laptops eller et par lamper, mens den store også vil kunne oplade fx en elcykel.
Strømmen kan leveres løbende (hvis det blæser), men KiteX anbefaler, at man også bruger et batteri.
Wind Catcheren kan foreløbig kun forbestilles, og det vides ikke hvornår der kommer gang i selve produktionen, men øj, det er altså ret cool!
Ret cool er også dette exoskelet, der bruger kunstig intelligens til at hjælpe brugerne med at bevæge sig omkring.
Exoskelettet er en slags "robotben man tager på", og kan hjælpe personer med at gå, selvom de ikke har fuld brug af deres ben.
Normalt kræver den slags robotben, at brugeren selv har nok bevægelse til at styre skelettet, men i dette projekt fra det canadiske University of Waterloo skal exoskelettet kunne fungere autonomt.
Det benytter kameraer og avancerede algoritmer til at anlysere omgivelserne og efterligne "normal" gang, og er i virkeligheden en slags selvgående ben, som forskerne siger i pressemeddelelsen, med henvisning selvfølgelig til selvkørende biler.
Hvor er det nu jeg har set det før? 😄
Vi slutter i afdelingen for gadget-patenter, som nok kan være interessante, men jo ofte er ren spekulation.
I den forgangne uges tid har Apple modtaget hele to patentgodkendelser på udstyr der kan bruges i forbindelse med Virtual Reality eller Augmented Reality - nemlig et par sokker(!) og en fingerring.
Sokkerne skal kunne levere haptisk feedback fra en VR-verden, og altså potentielt give brugeren en fornemmelse af at stå på forskellige overflader, eller måske ligefrem gå i den virtuelle virkelighed, mens fingerringen snarere er et alternativt input-device – en slags håndbåret luft-mus, om man vil.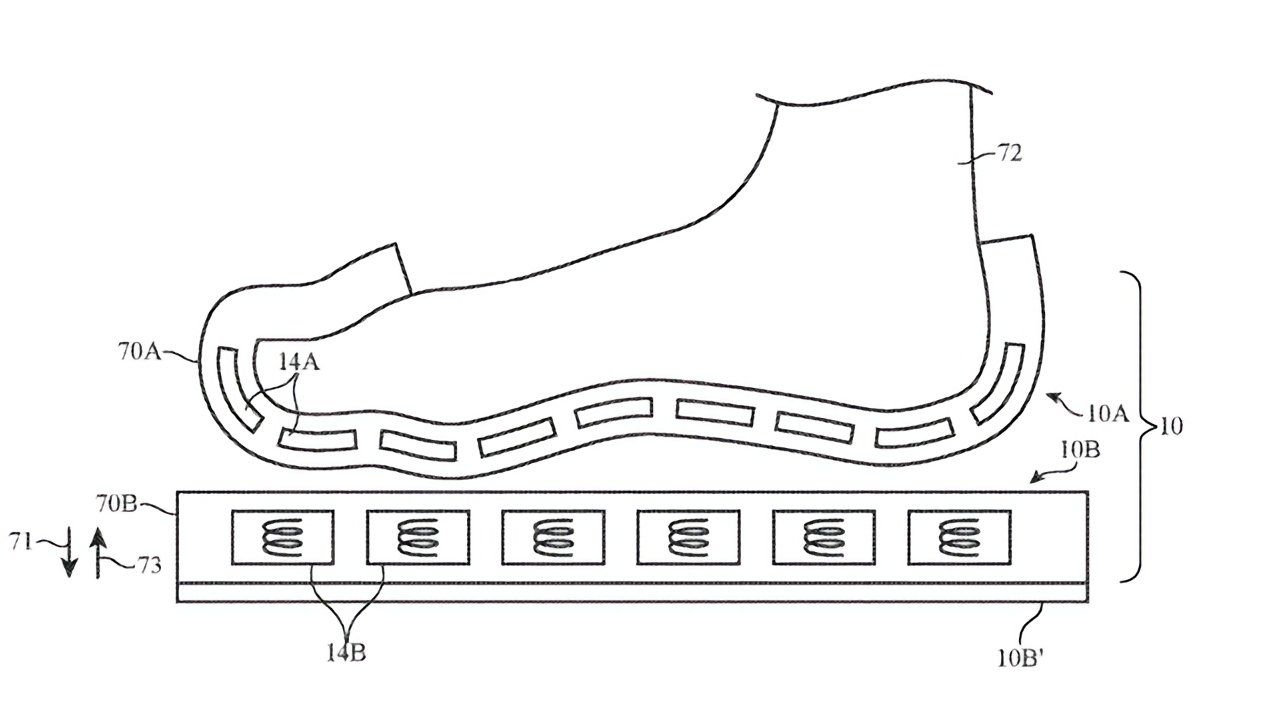 Der har længe floreret rygter om et Virtual Reality-headset og "smarte briller" fra Apple, uden at der dog er nogle solide informationer om helt konkrete produkter.
Med patenterne kommer der dog mere røg fra bålet, så mon ikke der dukker et eller andet op i løbet af det næste års tid eller to?
Sokkerne... tror jeg dog, vi kommer til at vente længere på.
---

1. Nyt privat-offentligt partnerskab skal sætte skub i digitaliseringen af Danmark
Onsdag præsenterede finansminister Nicolai Wammen et nyt samarbejde, der skal realisere potentialet for digitalisering af både private virksomheder og det offentlige Danmark.
Målet er at samle op på erfaringerne fra både den generelle udvikling af digitale teknologier og især fra tiden under Coronapokalypsen.
I pressemeddelelsen fra Finansministeriet siger Nicolai Wammen:
– Danmarks stærke digitale infrastruktur, gode offentlige it-løsninger og det høje digitaliseringsniveau hos danske virksomheder er en vigtig årsag til, at vi er kommet bedre gennem krisen end mange lande, vi normalt sammenligner os med. Men vores stærke position må ikke blive en sovepude.
Derfor har man altså etableret et digitaliseringspartnerskab, der skal komme med løbende anbefalinger til udviklingen af regeringens digitale indsats, som til efteråret samles til en ny digitaliseringsstrategi.
Partnerskabet skal ifølge annonceringen komme med anbefalinger inden for fem hovedspor:
Fremtidens offentlige sektor,
Fremtidens digitale erhverv og arbejdspladser,
Bedre mulighed for samskabelse, offentlig-privat samarbejde og innovation,
Et datadrevet samfund og
Danmark i fremtiden.
Partnerskabet har 27 medlemmer og er mestendels en blå bog-liste fra toppen af dansk erhvervsliv og de offentlige organisationer.
Jim Hagemann Snabe, der er bestyrelsesformand i både Siemens AG og A. P. Møller Mærsk, skal også være formand i partnerskabet, og de fleste medlemmer kommer fra samme hylde.
Vi noterer os dog også, at Brancheforeningen for Tech Startups er repræsenteret, og digitalisering-forsker Mikkel Flyverbom fra CBS er også med i udvalget.
Så lidt modspil får alle direktørerne, trods alt, selvom man jo godt kunne have ønsket sig en del flere potentielt kritiske røster til at presse digitaliseringsdagsordenen lidt undervejs.
---

2. Gratisleksikonet Wikipedia skal koste penge – men kun for techgiganterne
Wikipedia er igennem sin 20-årige historie blevet en central kilde til information i hele verden, og en vigtig faktor i succesen er uden tvivl, at encyklopædien er gratis at bruge.
Men man kan jo ikke levere en så kolossal videnspakke for ingen penge, og Wikimedia Foundation (der står bag leksikonet) spørger derfor jævnligt både almindelige brugere, større organisationer og (tech-)millionærer om at donere til den daglige drift.
Tiggergangen skal dog nu suppleres med en betalingsløsning, Wikimedia Enterprise, der dog primært er rettet mod en mindre gruppe af store virksomheder, som i fremtiden vil blive bedt om at betale for deres særlige adgang til at trække indhold ud af Wikipedia.
Wikimedia har i mange år leveret øjebliksbilleder af hele encyklopædien til fx Google hver anden uge, og samtidig en såkaldt brandsprøjte af løbende information om alle opdateringerne på Wikipedia, så søgeresultaterne altid er opdateret med den mest aktuelle information om et givet emne.
Det er jo noget, som hjælper Wikipedia med at skabe trafik og fastholde brugerne, men det giver naturligvis også Google, Microsoft, Facebook og de andre store techfirmaer en masse værdi, når de får leveret kolossale informationsmængder, som kan hjælpe deres brugere.
Den værdi synes Wikimedia altså nu, at firmaerne skal til at betale for.
Wikimedia Enterprise har ikke meldt offentligt ud, hvad de forestiller sig, at tjenesten skal koste giganterne i fremtiden, da de indtil videre fortsat er i forhandlinger med de potientielle kommercielle partnere.
Udover selve prisen handler dialogen med virksomhederne også om, hvilke ekstra tjenester Wikimedia potentielt kunne levere, mod betaling.
---

3. Russiske apps får VIP-status på iPhones
Vi har tidligere fortalt om en russisk lov, der skal fremme brugen af russiske apps og tjenester på de mobile platforme – og efter en Coronarelateret forsinkelse skal loven nu træde i kraft 1. april.
Ifølge Engadget har Apple også indvilget i at give nye russiske iPhone-ejere en velkomstbesked, hvor de bliver bedt om at vælge, om de vil sige ja til at installere en række russiske apps på mobilen.
Det forlyder dog, at det står brugerne frit for at takke nej til de russiske apps, men man bliver altså fremover udsat for et moderat psykisk pres for at bruge fx søgemaskinen Yandex, emailtjenesten Mail.ru, antivirussoftware fra Kaspersky m.fl.
Loven gælder i øvrigt også Android-mobiler, computere, tablets og smart-TV.
---

4. "Mørke mønstre" der snyder brugerne skal forbydes i Californien
De fleste net- og mobilbrugere har nok allerede prøvet mange gange at "komme til" at klikke på den forkerte knap, eller sætte flueben i et forkert felt – og vupti, så har man pludselig givet tilladelse til at et firma bruger ens lokationsdata, sender én emails hele tiden, eller opkræver abonnement for en tjeneste man egentlig ikke var interesseret i.
Det skyldes ikke bare, at vi har for travlt med at klikke løs eller ikke gider læse hvad vi siger ja til, men ofte også at firmaerne bag bruger dark patterns – "mørke mønstre" – til at forvirre os og lokke os og gøre det svært at gennemskue konsekvenserne af vores klik.
I Californien har man nu opdateret California Consumer Privacy Act (CCPA), så den også inkluderer et forbud mod en række af den slags mørke mønstre, især med fokus på såkaldt 'opt-out', altså de tilfælde hvor man ønsker at opsige noget, eller i hvert fald ikke automatisk siger ja til fx at modtage emails og tilbud.
Som firma må man altså i Californien ikke længere bruge forvirrende dobbeltnegationer ("Lad være med ikke at sælge mine data videre") eller tvinge brugerne til at scrolle igennem lange tekster for at finde en knap, hvor man kan sige nej tak.
Min eneste bekymring er her, om implementeringen af loven kan gøre det endnu mere forvirrende at navigere firmaernes beskeder, ligesom GDPR og cookie-notifikationer — på trods af gode hensigter — også har gjort netsurferiet noget mere kaotisk...
---

LINKS TIL LÆSEHESTE
Streamingens klimaaftryk. Netflix har analyseret og kvantificeret hvad det koster, når du binger 6 sæsoner af yndlingsserien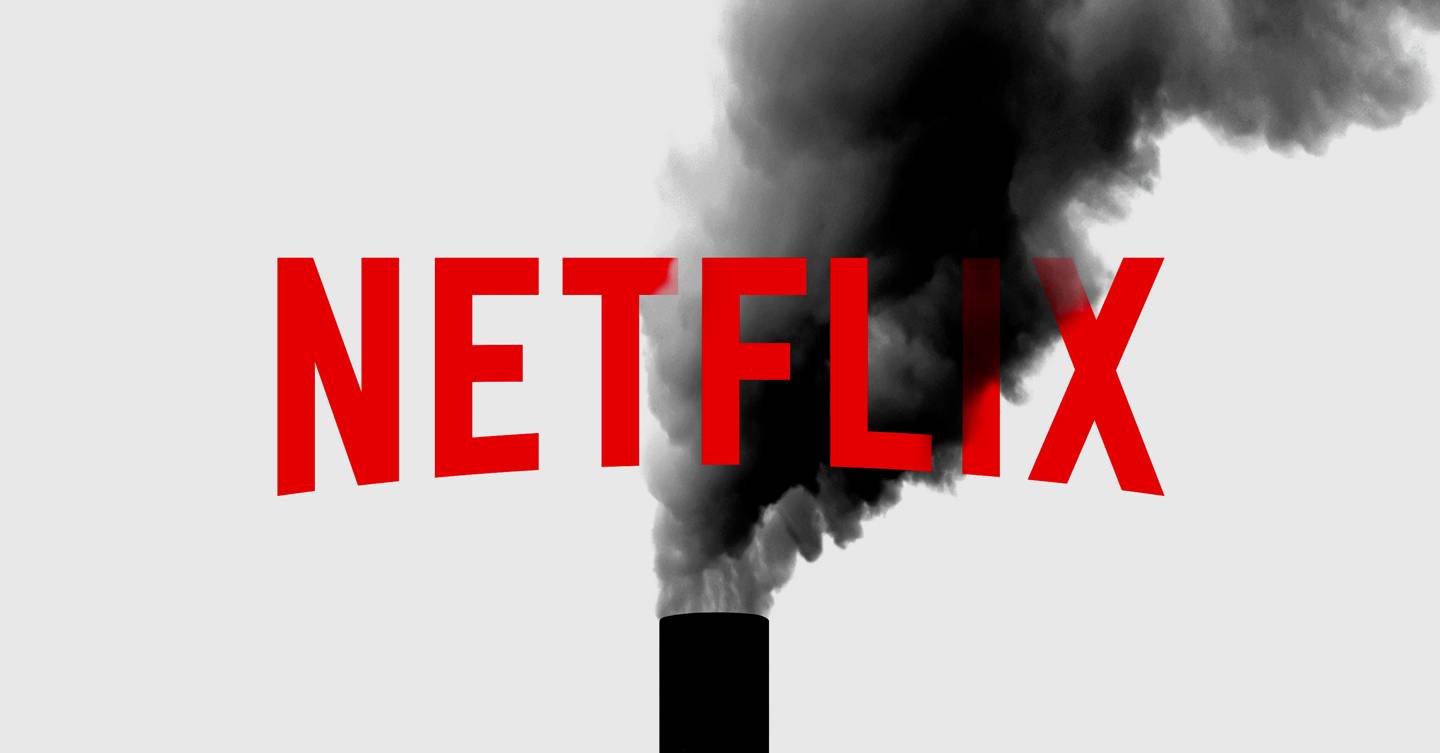 ---
Zoomiverset på godt og ondt. Det kan faktisk være godt for nogen ikke at skulle deltage i fysiske møder...
...men hvis man for alvor er træt af Zoom-møder kan man jo forsøge at sabotere dem med Zoom Escaper
---
Så gør jeg det bare selv! Programmøren, der blev træt af laaaangsomme load-tider i GTA-spillet, og besluttede sig for at fikse problemet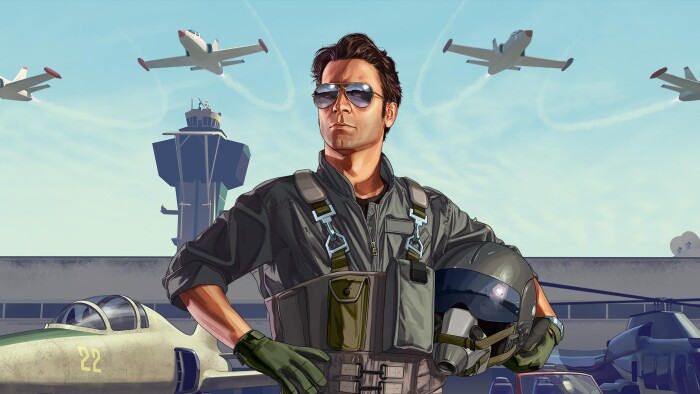 ---