24 timer med iOS 15 beta: Skal du opdatere nu — og kan du nedgradere igen?
Vi er både klar med podcast og nyhedsbrev i dag. Nyhedsbrevet er i dagens anledning en 24-timers test af iOS 15. Podcasten har i særdeleshed fokus på Windows 11.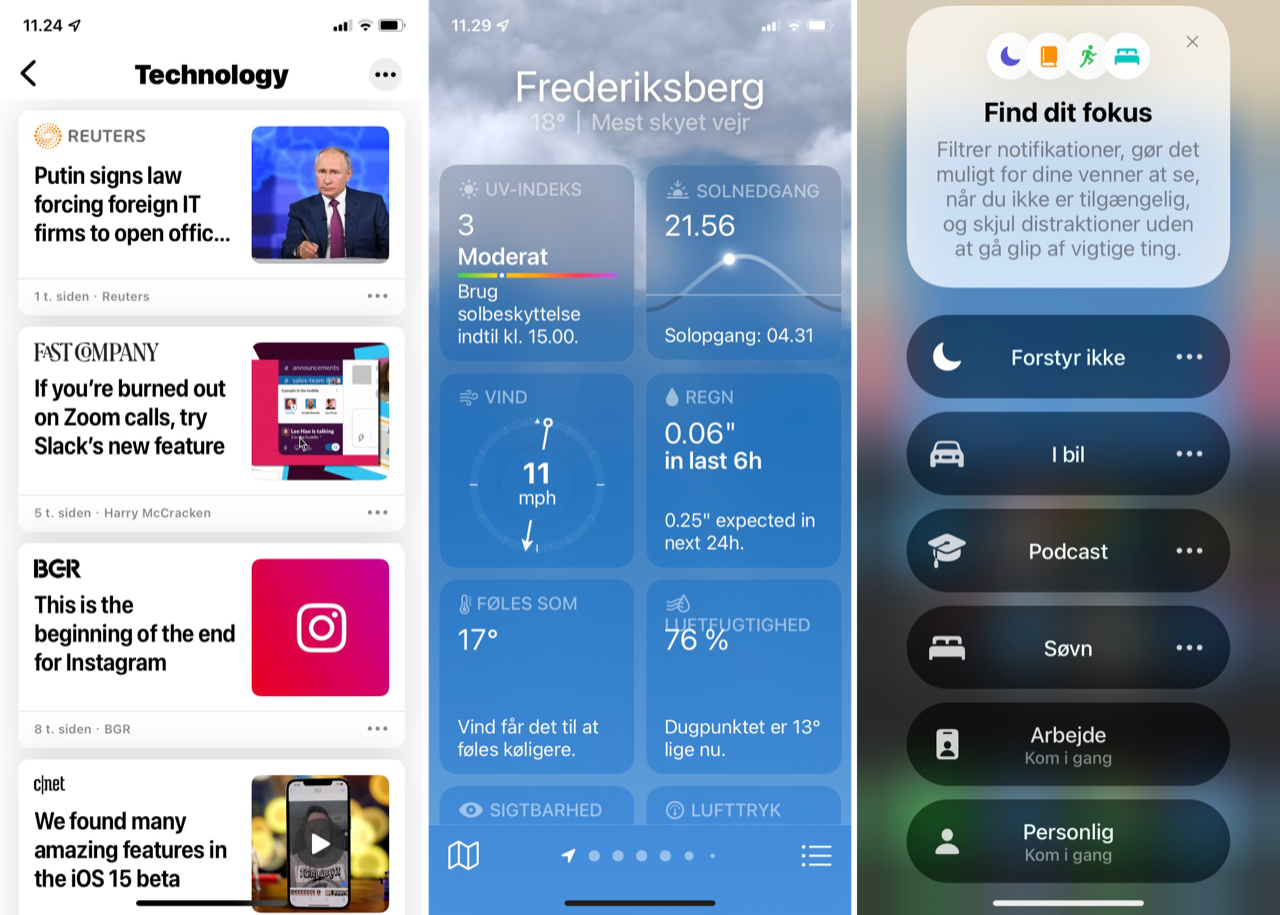 Bliv betalende medlem — prøv 30 dage gratis
---

24 timer med iOS 15 beta: Nej, du skal ikke opdatere nu
Den første offentlige beta-version af iOS 15 er ude, og jeg har i forgårs aftes installeret det opdaterede styresystem på min iPhone.
Den hurtige dom er: Move over. Intet at rapportere.
Det er måske lige at stramme den en tand. Men nyhederne er så små, at man med fordel kan vente til den færdige version kommer til efteråret, og de værste børnesygdomme er blevet elimineret.
Jeg har i efterhånden mange år valgt at tage en for holdet 😎, og jeg er derfor rimelig rutineret i at køre et par måneder med en telefon, der ikke virker optimalt.
Tidligere år har der i særdeleshed været to problemer, der har været irriterende ved at installere en tidlige betaudgave, og den ene af dem svigter heller ikke i år.
Min bank-app virker ikke. Den crasher troligt i det sekund, jeg åbner den.
Den bank-app, jeg bruger, er fælles for rigtig mange banker i Danmark. Så der er altså stor chance for, at du vil opleve det samme, hvis du skulle kaste dig ud i at opdatere.
En hurtig test af mine mest brugte apps viser dog, at bank-appen er den eneste, der foreløbigt ikke virker.
Den gode nyhed er, at NemID nøgle-appen (næsten) virker, som den plejer. Den har tidligere givet problemer, og det er faktisk ikke til at leve med.
Dog kommer der ikke længere en notifikation op på telefonen, men man skal altså blot åbne nøgleappen for at verificere.
Her er de vigtigste nyheder
Jeg har som nævnt kun brugt iOS 15 i lidt over 24 timer, men her er en kort opsummering over de ting, jeg er stødt på.
Helt overordnet er designet i brugerfladen og i Apples egne apps blevet mere "kort-fokuseret", hvor indhold er delt tydeligere op.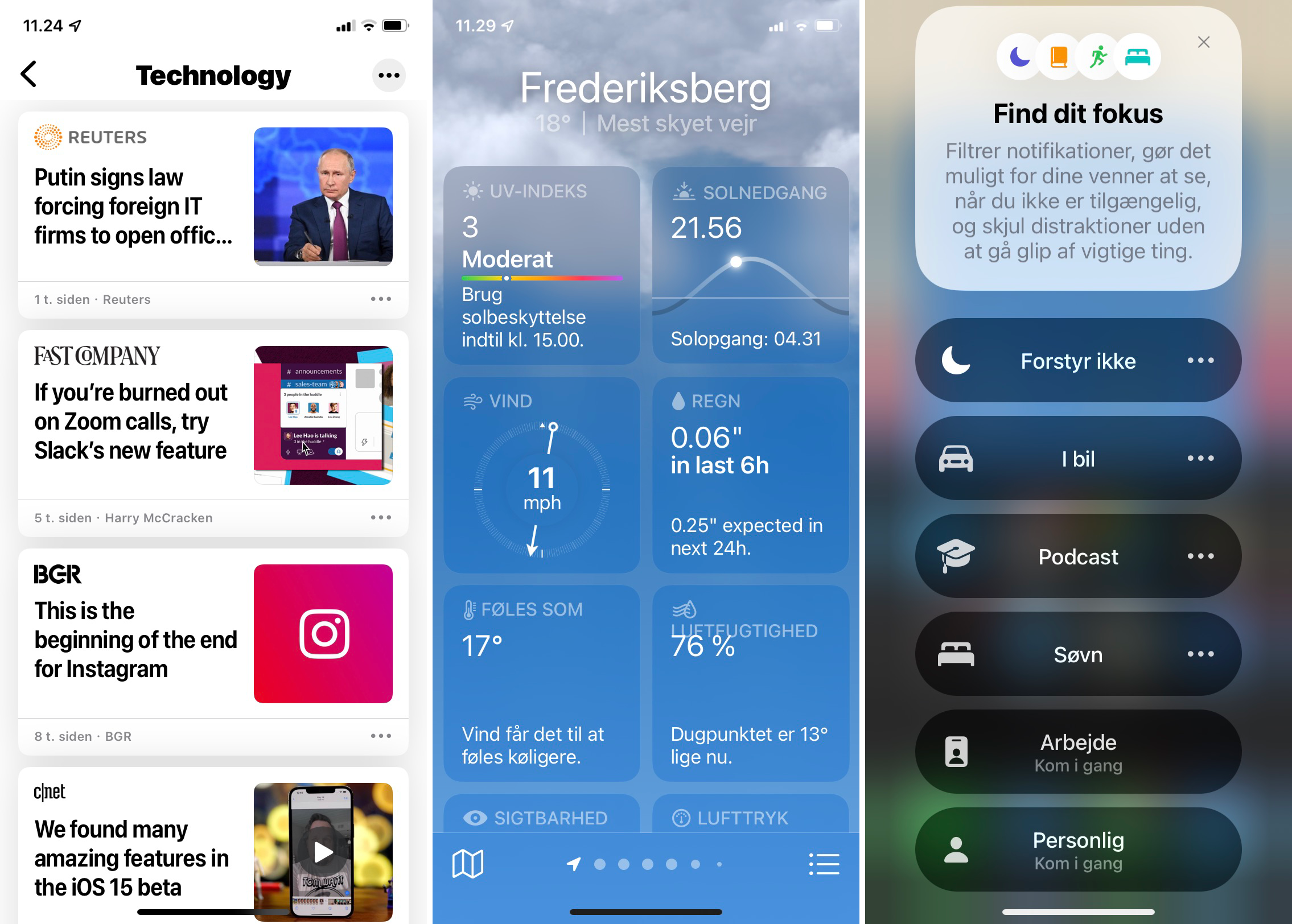 Det gælder både notifikationer, vejr-appen og Apple News.
Nu når vi snakker om vejr-appen, så har den fået en stærkt tiltrængt (visuel) overhaling, der gør den langt mere anvendelig og faktisk rar at bruge.
Fokus på fokus
En anden feature, der skal fremhæves, er det nye Fokus-mode, som er en opgraderet version af 'forstyr ikke'.
Her kan du nu vælge et særligt hjemme-fokus, bil-fokus eller arbejds-fokus.
Du kan også indstille dit eget fokus, og jeg har oprettet et, som jeg har kaldt for Podcast.
Det vil sige at, når jeg går i studiet for at optage podcast, så er det kun beskeder fra min nærmeste familie, der kommer igennem. Alle andre notifikationer er lukket ned.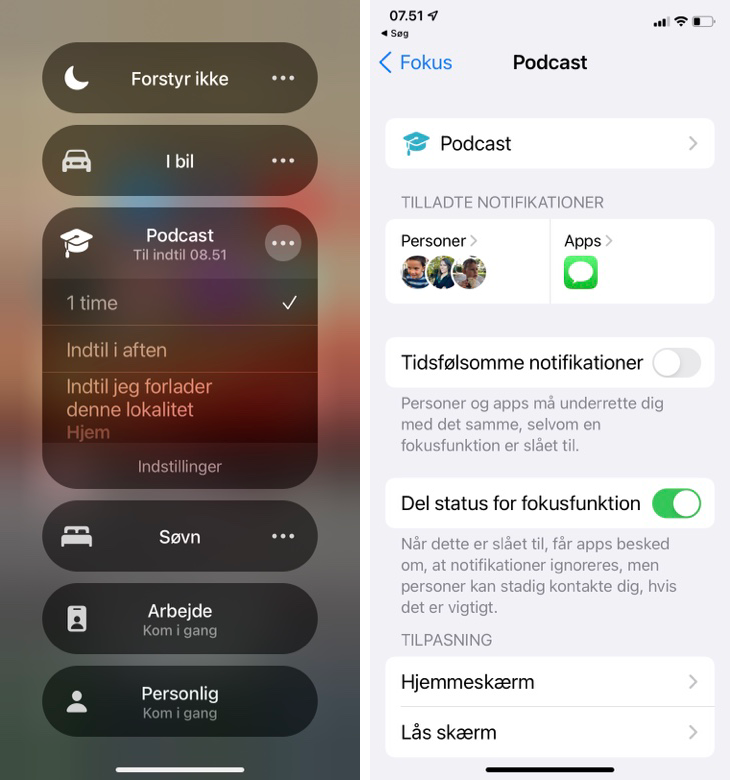 Et fokus kan aktiveres direkte fra kontrolcenteret, eller det kan automatisk aktiveres på en bestemt, dag, et bestemt tidspunkt eller på en bestemt adresse.
Luk ned for dataindsamling i indbakken
En anden ting, jeg har aktiveret, er den funktion, der hedder "beskyt mail-aktivitet".
Det betyder, at der ikke bliver sendt information tilbage til afsendere af nyhedsbreve eller marketingsmails, om jeg har åbnet deres email, hvad tid jeg har åbnet den, og hvad jeg eventuelt har klikket på.
Det ER kompliceret, nu når vi selv er i nyhedsbrevs-branchen. For vi vil jo gerne vide, hvor mange der åbner vores nyhedsbreve, og det kan vi ikke finde ud af, hvis alle bruger denne funktion.
Omvendt så rager det ikke os, hvem der åbner nyhedsbrevet hvornår, eller hvem der klikker på hvad.
Forhåbentlig bliver der fundet en mellemvej, hvor man kan få anonymiserede — og ikke personlige data — om, hvor mange der læser. Det er i virkeligheden sådan, vi her på Techliv bruger de data i dag.

Safaris adresse-felt er rykket i bunden
Den nok største forandring i brugerfladen finder man i Safari.
Apple har flyttet adresse- og søgefeltet til bunden af skærmen for at gøre det nemmere at bruge sin telefon med en hånd.
I udgangspunktet ligner det en super idé, men i praksis… not so much.
Man skal selvfølgelig vænne sig til det, og det er svært, når man i mere end ti år har været vant til, at adressefeltet sad i toppen.
Der er dog noget ganske ulogisk ved at trykke på et adressefelt i bunden, som så efterfølgende hopper til toppen, for at gøre plads til at keyboardet kan komme frem i bunden.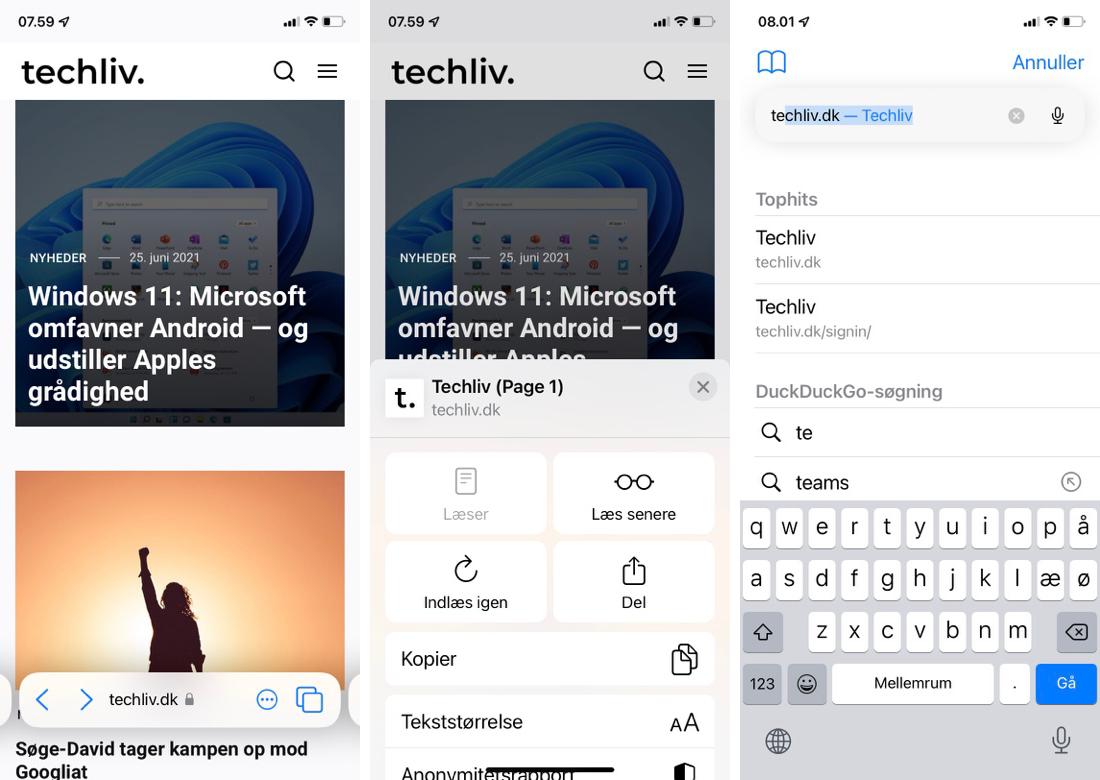 Samtidig er dele-pilen blevet fjernet fra brugerfladen, så man nu først skal trykke på et ikon med tre prikker, derefter trykke på delepilen, og først herefter kan vælge hvor man vil dele eller gemme indhold fra nettet.
Man skal altså bruge tre tryk i stedet for to. Og det er noget jeg gør en hulens masse gange om dagen, særligt når jeg researcher til nyhedsbrevet.
Grunden til dette skifte er for at give mere plads til indhold på skærmen i stedet for menuer.
Men det ændrer ikke ved, at det nye Safari umiddelbart føles som en nedgradering.
Spejlvendt oversætning er cool
En ret cool ny feature, jeg hurtigt vil nævne, er en du måske kunne få brug for, nu hvor ferien nærmer sig.
I den app, der hedder Oversæt, kan man nu vælge et "ansigt-til-ansigt" samtale-mode.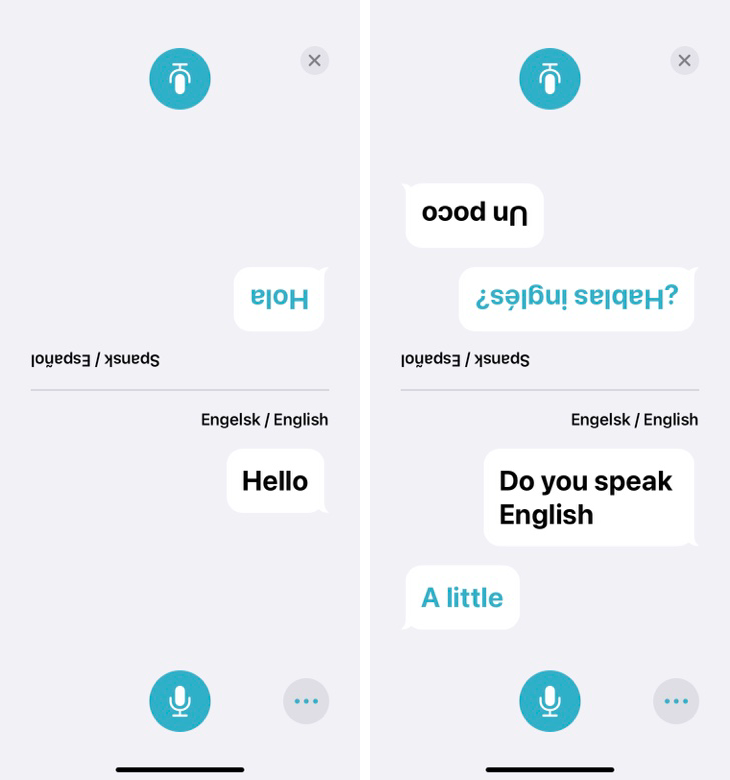 Så hvis du skal snakke med en spanier, der ikke forstår engelsk, så bliver skærmen delt op på midten og spejlet, så den ene halvdel peger mod dig, og den anden peger på den, du taler med.
Man får så hver sit mikrofon-ikon, så man kan have en samtale kørende, uden hele tiden at skulle række telefonen over til den anden part.
Vent med at opdatere
Det er i virkeligheden de ganske få nyheder, som jeg umiddelbart er stødt på i iOS 15.
Så min klare anbefaling er, at du skal vente med at installere denne beta-udgave.
For sjældent har der været så få (og så små) nyheder, og det er ganske enkelt ikke nok til fx at måtte undvære sin bank-app i de næste små tre måneder.
Insisterer du, så kan du tilmelde dig Apples offentlige beta-program her. Der kan du også hente betaudgaver til iPad, Mac, Apple Watch og sågar Apple TV.
Men HUSK NU at lave en sikkerhedskopi først — og at opgraderingen er på eget ansvar.
Hvis du kaster dig over at installere iOS 15, så er den gode nyhed, at du relativt let kan nedgradere til iOS 14 igen.
9to5Mac har lavet en trin-for-trin guide, til hvordan du gør, så tjek den ud, hvis det skulle have din interesse.
---

LINKS TIL LÆSEHESTE
Branson overhaler Bezos indenom: Virgin-rigmanden skal en tur til kanten af rummet 9 dage inden Amazon-milliardæren
---
Microsofts 'Blue Screen of Death' skifter farve til sort
---
World Wide Webs kildekode solgt som NFT for 5,4 millioner dollars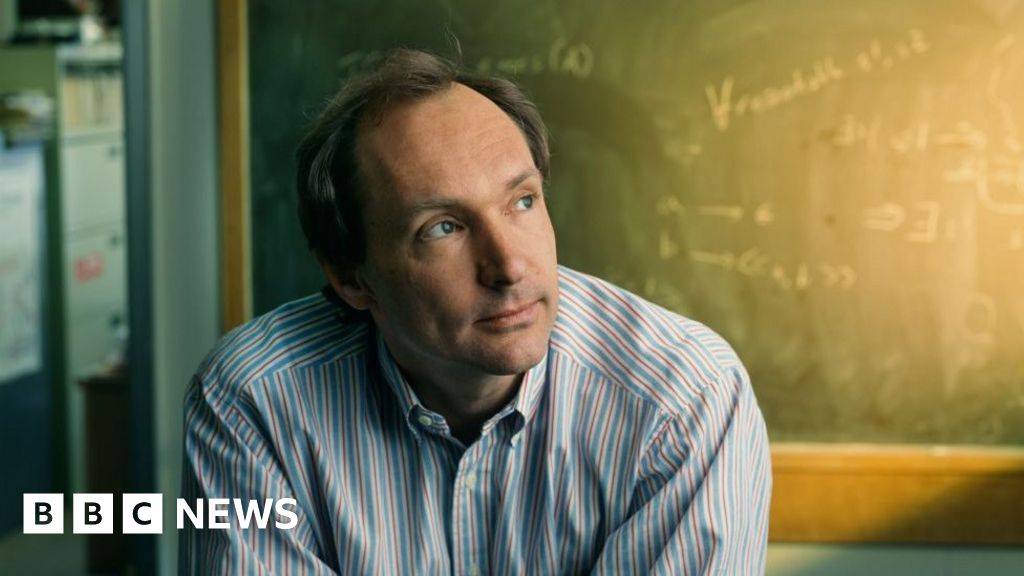 ---
Fem-seks års våbenhvile er slut: Google og Microsoft kan sagsøge hinanden igen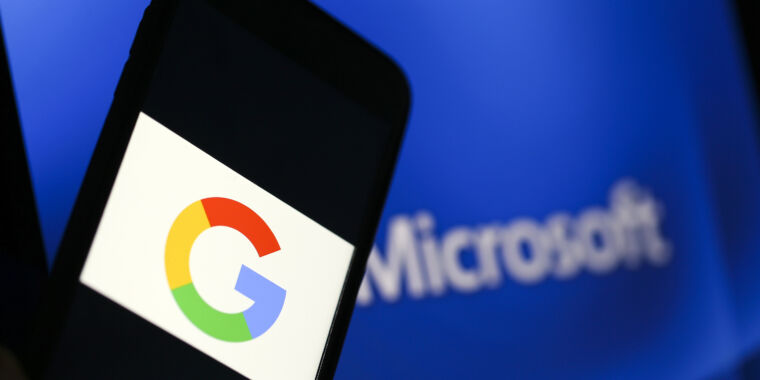 ---
Slacks casual lyd-samtale funktion 'Huddle' er gået live
---