Microsofts mystiske mash-up computer
Vi skal i dag se på Microsoft seneste computere. Ikke mindst den helt nye og ganske særlige mash-up computer: Surface Laptop Studio.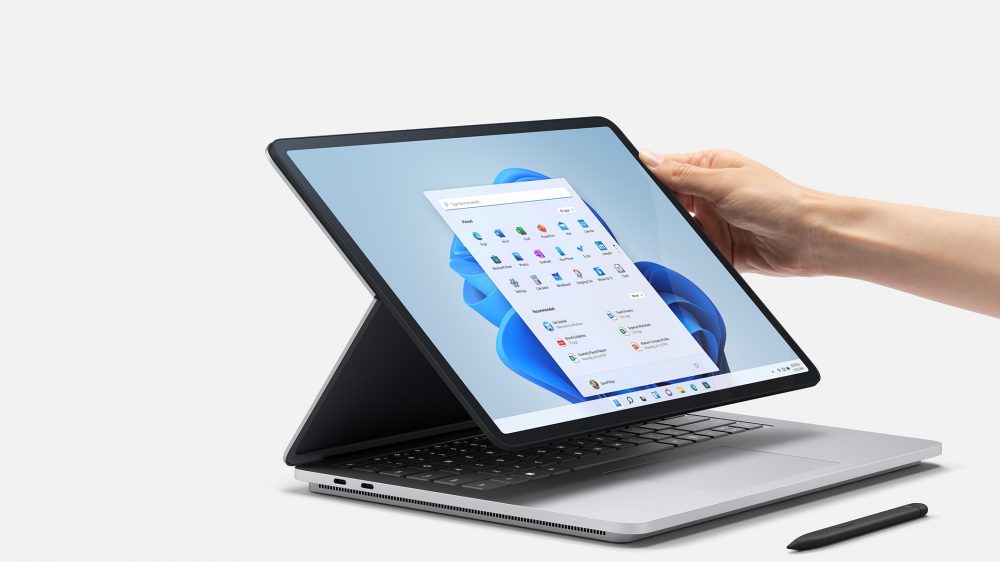 ---

1. Microsofts mystiske mash-up computer
Efteråret er tiden, hvor så godt som alle producenter lancerer ny hardware. Og i går blev det så Microsofts tur til at fremvise deres opdaterede computere — og sågar en helt ny, som i virkeligheden er et mash-up af to af firmaets andre maskiner.
Microsoft kører (ligesom de fleste andre firmaer) også Corona-stilen med forproducerede infomercial-events, og de er efterhånden skåret over den samme skabelon.
Microsofts Chief Product Officer Panos Panay er vært på showet, og som vanligt har han patos skruet op på 11, fordi han er så stolt over de nye ting, han skal vise frem.
Under hele seancen ligger der en blød og rolig omgang underlægningsmusik, mens Panos prædiker.
Han spiller bolden videre til andre Microsoft-folk, der introducerer produkterne en efter en. Og til sidst kommer fader CEO Satya Nadella så ind, og fortæller at han er stolt af sin menighed.
På en eller anden mystisk måde virker det egentlig fint nok, nu hvor live-events ikke kan lade sig gøre i USA i øjeblikket. Men corny, det er det sgu.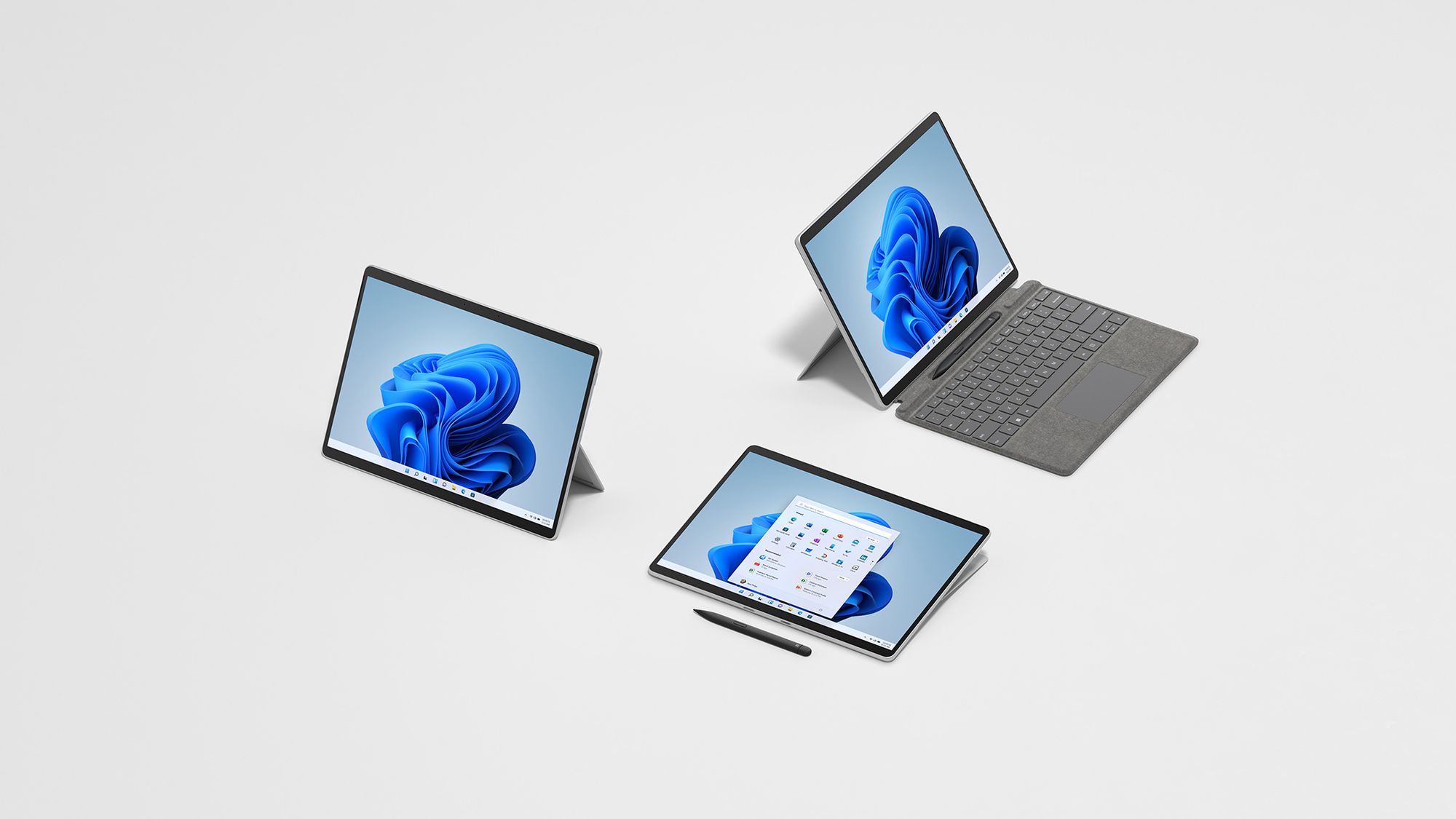 Anyways. Hvis vi tager det i kronologisk rækkefølge, så præsenterede Microsoft en opdateret Surface Pro, altså deres tablet-computer, der nu er nået til nummer 8.
Skærmen har fået en 120Hz refresh rate, et bedre tastatur, og en ny Surface Slim Pen 2, som gemmer sig inde under keyboardet, hvor den også oplader trådløst.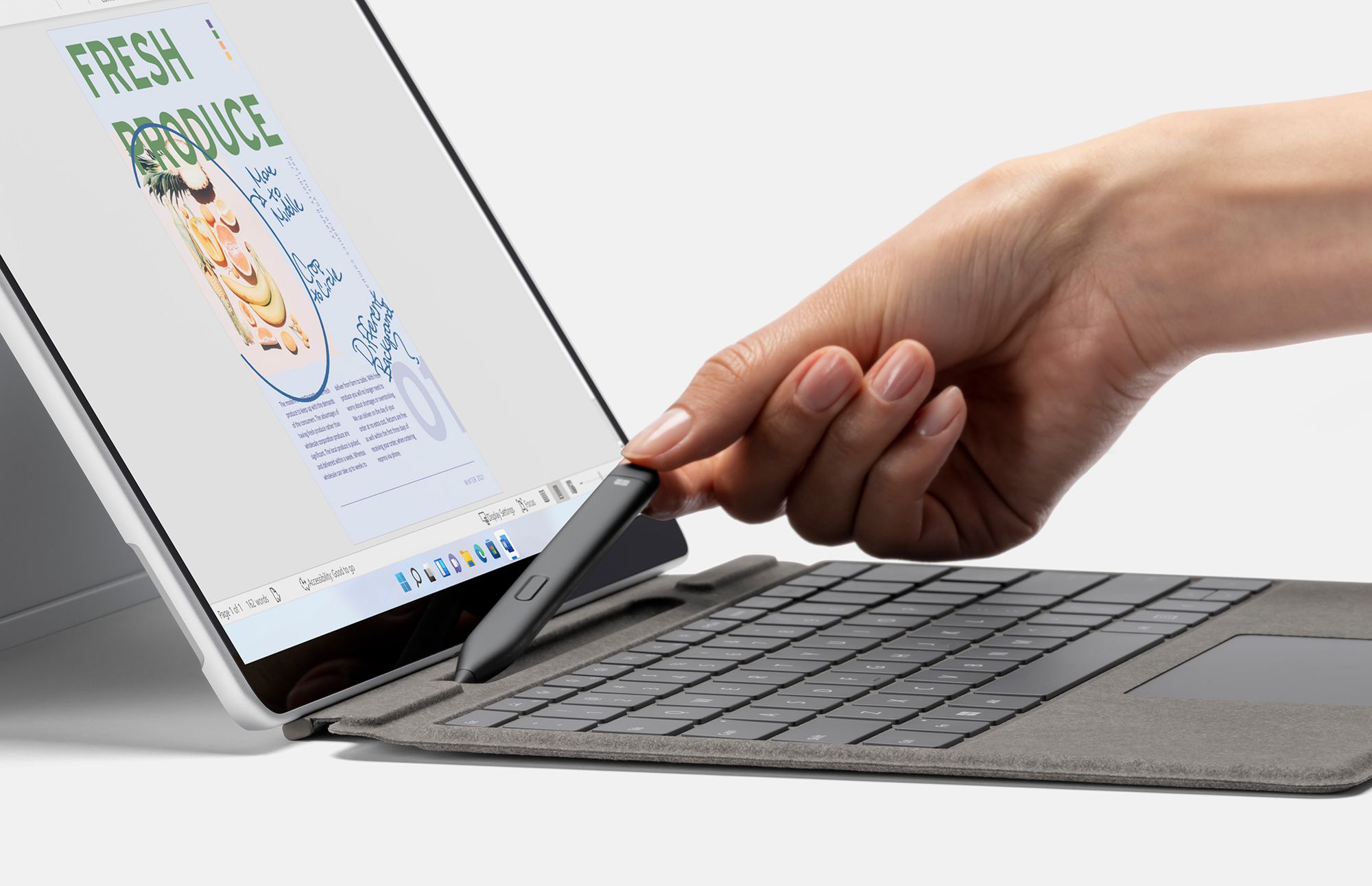 Desuden har Surface Pro 8 fået to Thunderbolt 4 USB-C porte, og du kan sågar skifte SSD'en ud til en med mere lagerplads ved at åbne en lille dør nedenunder computeren.
I den billigere ende af prisskalaen fik Surface Go 3 mest væsentligt en opdateret processor.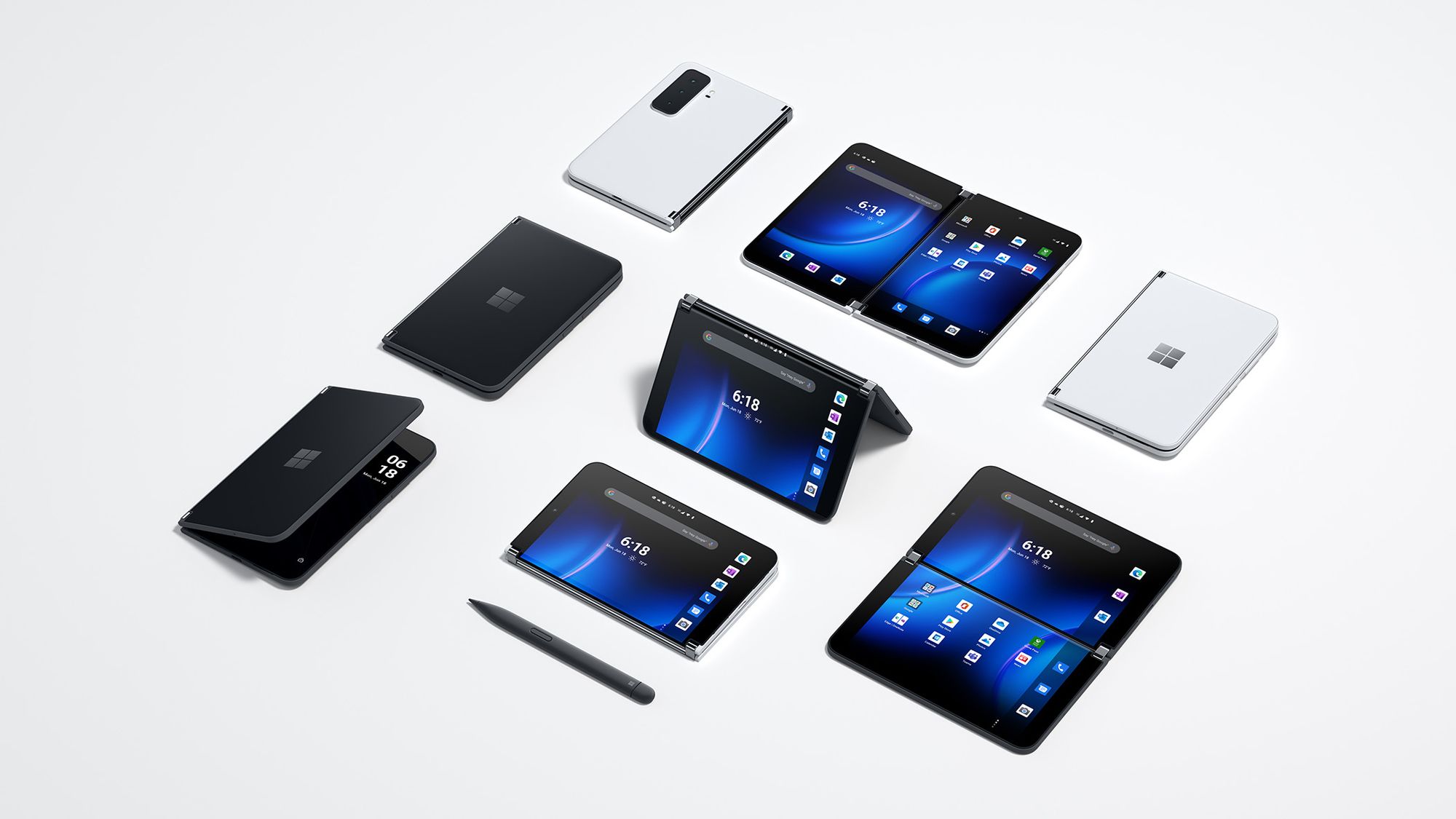 Microsofts dobbelskærms-mobil Surface Duo er nået til andenudgaven. Og den har nu fået lappet et par af de åbenbare problemer, som den originale Duo havde.
Processoren i den originale Duo var allerede forældet, da telefonen ramte markedet, men den er nu skiftet ud med den nyeste Snapdragon 888 processor.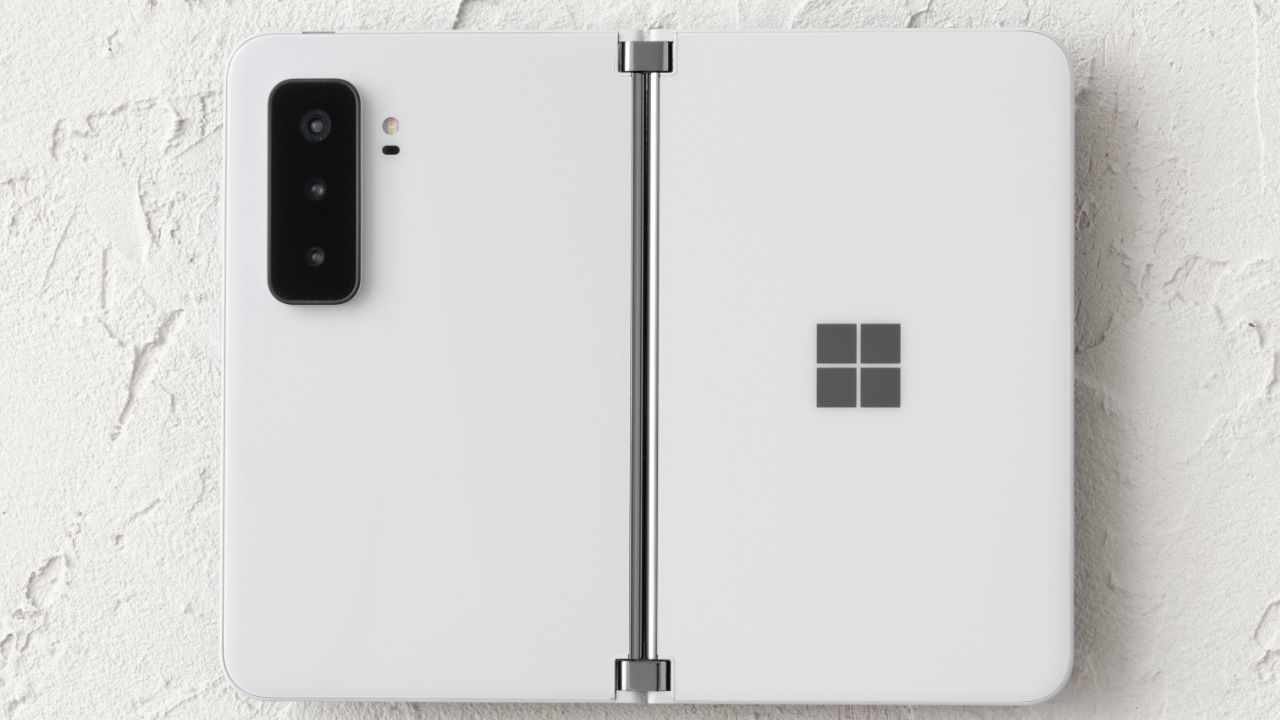 Der er blevet tilføjet et kamera bag på, som i virkeligheden er tre linser: Det er de efterhånden velkendte Ultra Wide, Wide og Telephoto, som alle andre telefoner i det øverste segment også har.
Skærmene på Duo 2 er mere rundede, og når telefonen er klappet sammen kan man på kanten af telefonen, vælge at se notifikationer, mistede opkald og batteritid.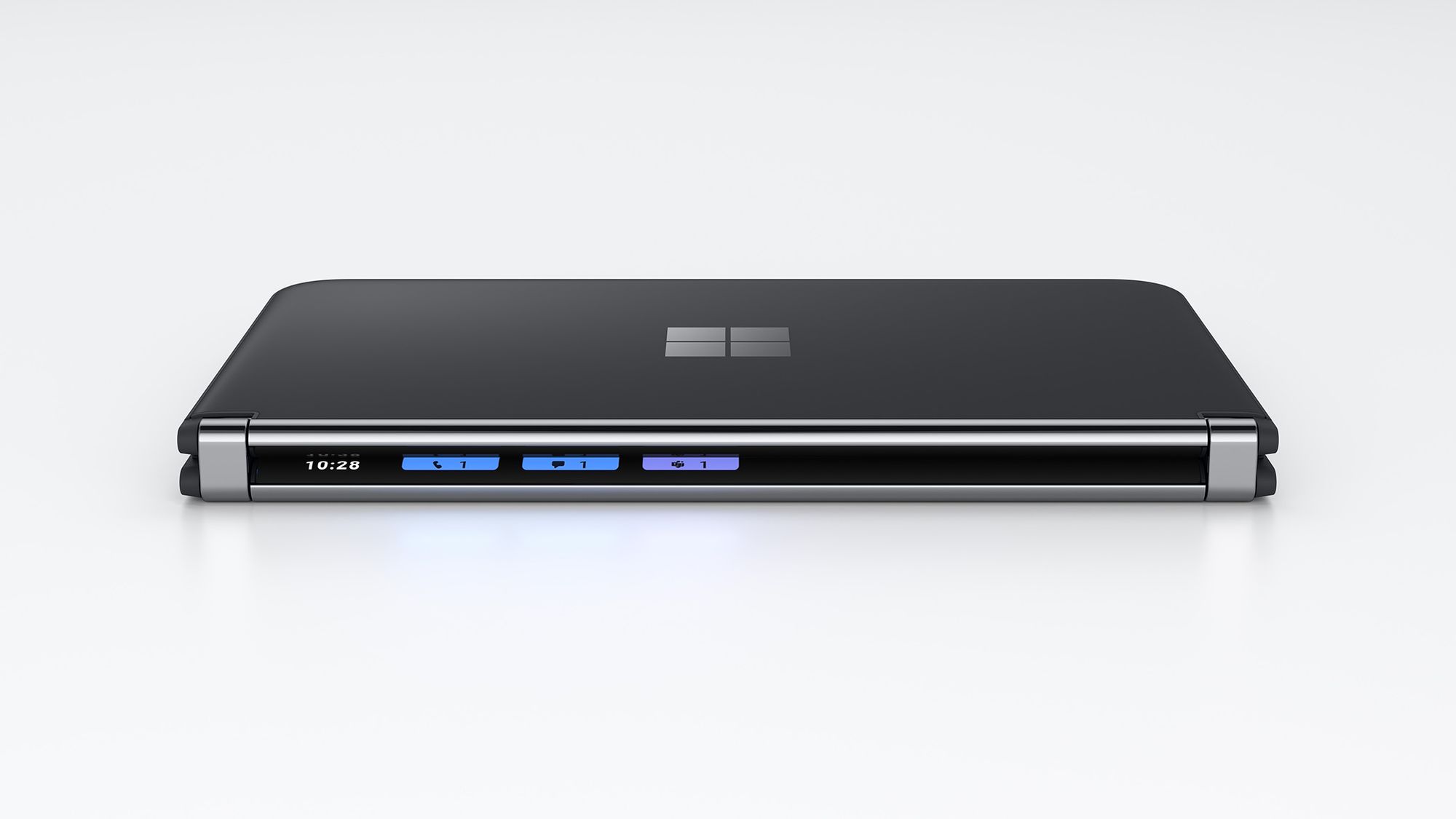 Desværre er der intet der tyder på at Microsofts telefon, der kører Android 11, kommer til Danmark.
Det gør til gengæld stjernen ved Microsofts event, den nye Surface Laptop Studio.

Computeren er et gadekryds mellem en almindelig bærbar og den store stationære Surface Studio computer, som Microsoft lancerede for nogle år siden.
Konceptet er, at du kan sætte den ganske store 14,4 tommer touchskærm i tre forskellige positioner.
I almindelig laptopmode, til almindeligt tastearbejde.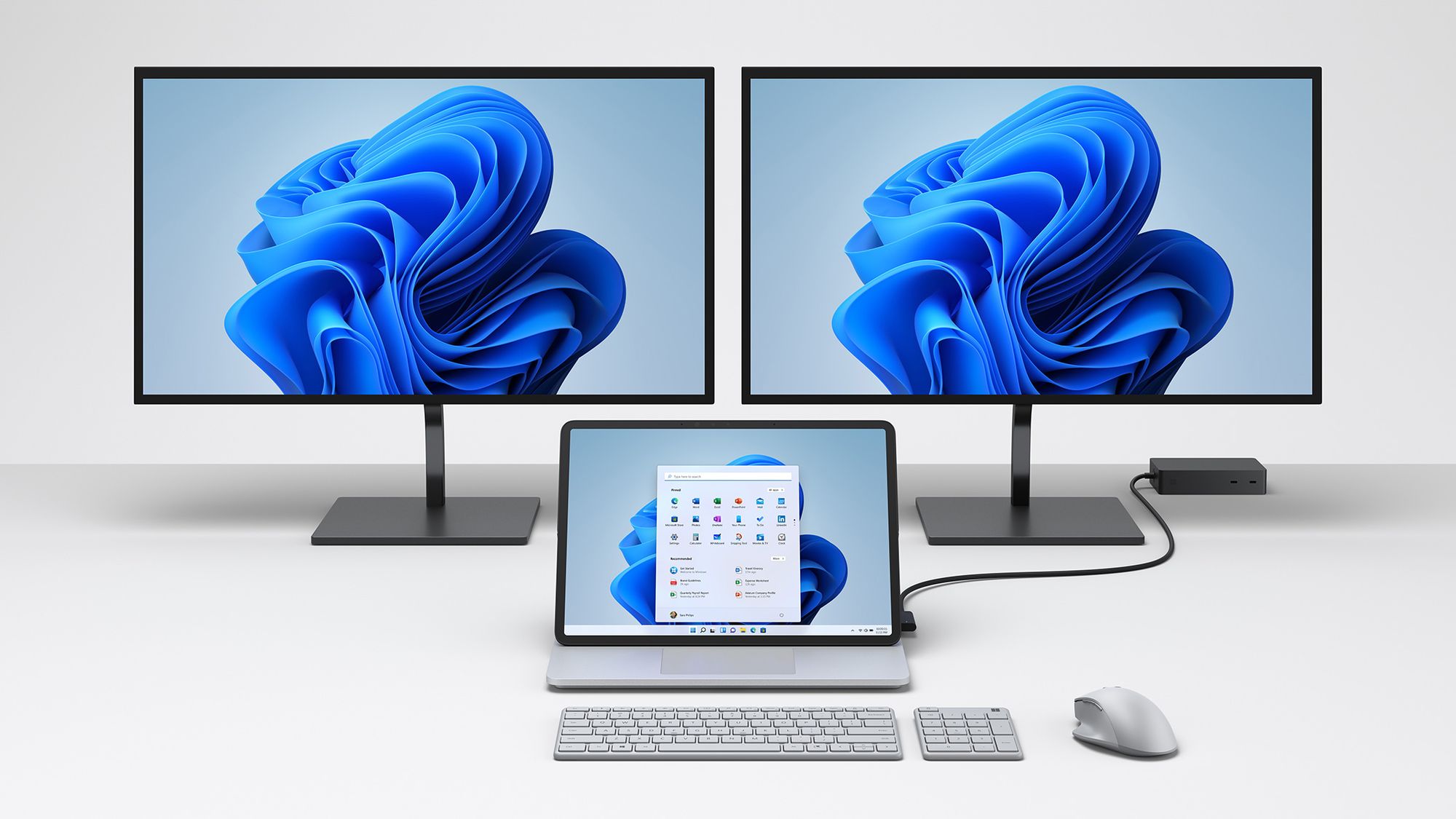 I en slags telt-mode, hvor skærmen stilles skråt hen over tastaturet, og som måske giver mening, hvis du skal se serier eller deltage i en videokonference — eller hvis du vil bruge den med eksternt tastatur og mus.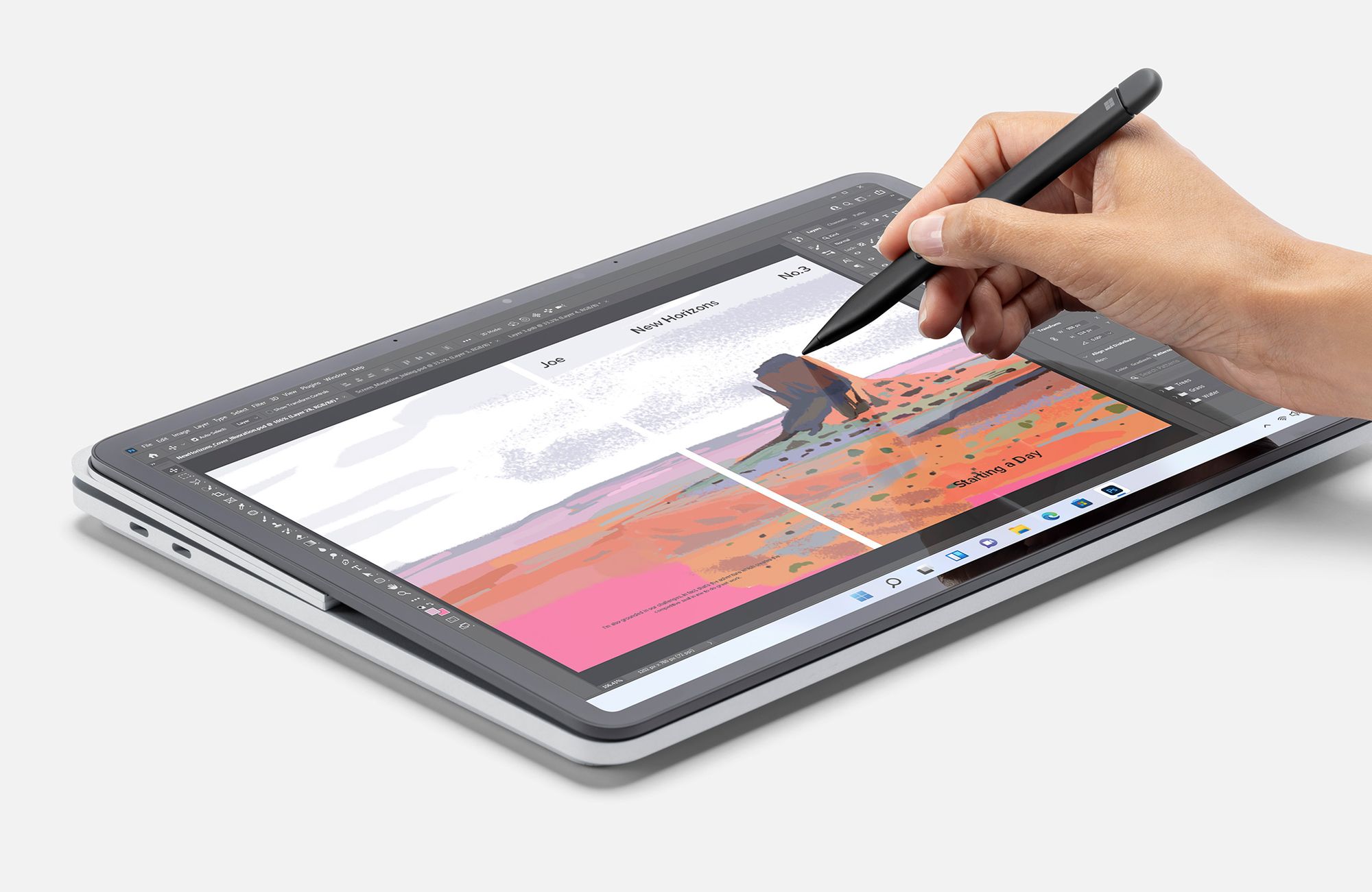 Sidst men ikke mindst kan skærmen lægges fladt ned, lidt som den oprindelige Surface Studio desktop-computer, så du kan tegne på den med den tilhørende pen.
Skærmen på Surface Laptop Studio kan kun stå i de tre positioner, og displayet kan ikke hægtes af, som den kunne på Surface Book, som i virkeligheden er den computer som Laptop Studio erstatter.
For at kunne levere en tilstrækkelig kraftfuld computer i et bærbart format, har Microsoft været nødsaget til at bygge en slags fod under computeren, som skal kanalisere varmen væk.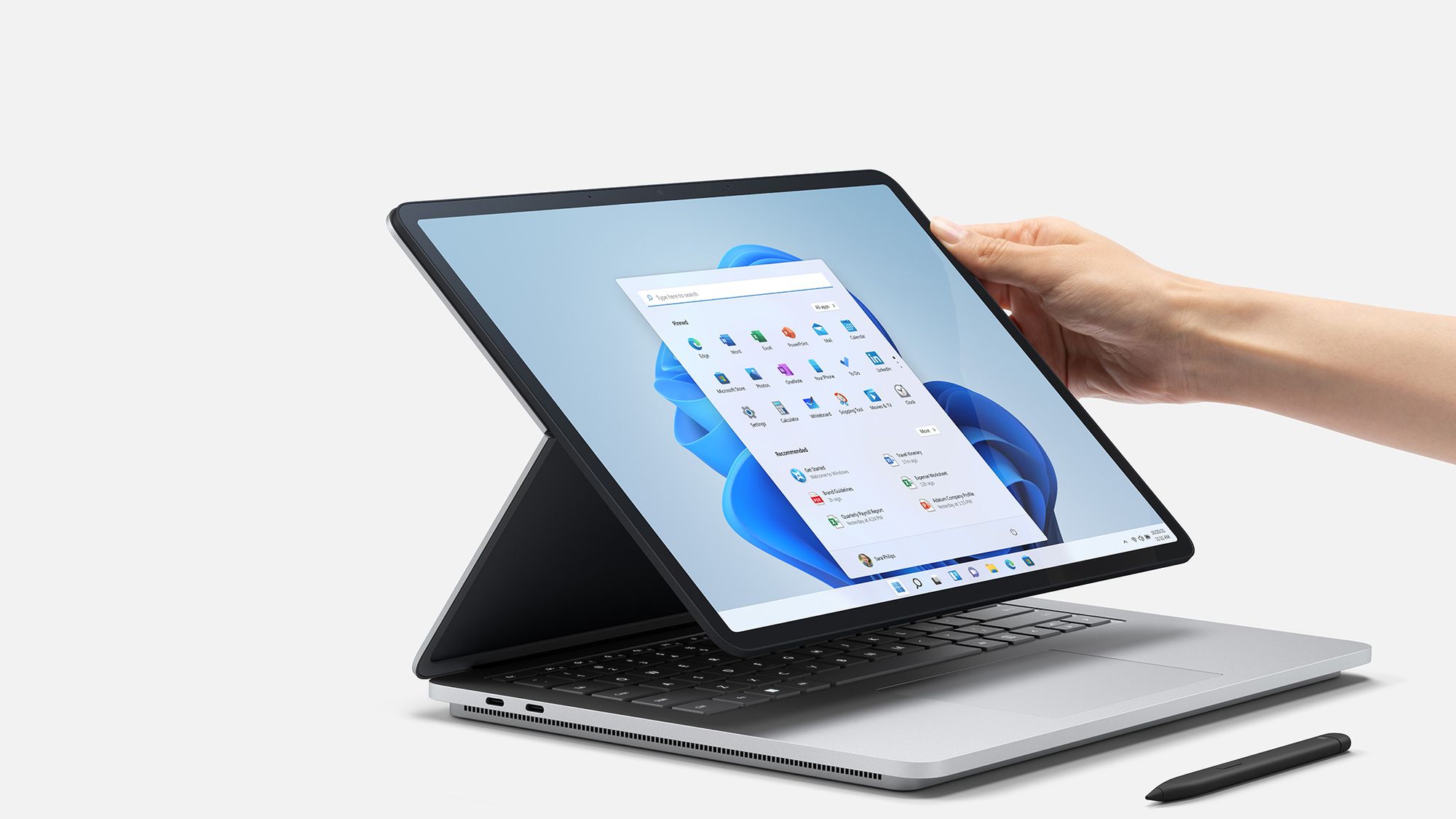 I bedste Ole Opfinder-stil, så er pennen desuden gemt nedenunder computeren, hvor der er blevet plads på grund af foden.
Og det er i virkeligheden det, der kendetegner Microsoft seneste computere. De eksperimenterer med former, hængsler, dobbeltskærme, skærme og tastaturer der kan tages af, og en pen der kan skrive på alle devices, store som små.
Det er dejligt, at man i udfordrerens rolle på hardware-fronten tænker nyt og friskt og anderledes. Spørgsmålet er bare, om det giver en bedre brugeroplevelse, når ens bærbare computer pludselig står på en fod, og skærmen kan foldes i forskellige positioner.
Tanken med Surface Laptop Studio er, at den i teorien skal kunne erstatte en MacBook Pro og en iPad Pro i et hug, fordi den både opfører sig som en bærbar og som en tablet — og hvor både computerkraften og skærmens opdateringsfrekvens på 120Hz og den tilhørende pen gør, at man kan tegne på den.
Den er altså tydeligt markedsført til den kreative professionelle, som er på udkig efter computerens svar på en schweizerkniv.
Det bliver næppe min næste computer, men jeg synes det er inspirerende, at Microsoft forsøger at gentænke formfaktoren på en computer.
Jeg har dog mine tvivl om, at et mash-up af to computere som ikke har fanget an på egen hånd (Surface Book og Surface Studio), pludselig skulle blive populær, når de samles i en pakke. Særligt fordi foden — og dermed både størrelsen og designet— kan være for stor en kamel at sluge.

2. D-mærket er klar i Danmark: Skal give brugerne Digital Tryghed
Vi har et økologi-mærke, et CE-mærke, et Svanemærke og et mærke for biodynamiske produkter. Og nu har vi også et D-mærke, som firmaer kan benytte til at vise, at de er digitalt ansvarlige.
D-mærket, som er udviklet af Industriens Fond sammen med Dansk Industri, Dansk Erhverv, SMVdanmark og Forbrugerrådet Tænk og støttet af Erhvervsstyrelsen, skal vise at man som virksomhed tager datasikkerhed, databeskyttelse og dataetik seriøst.
Og som forbrugere bør det altså give os en rettesnor at gå efter, hvis det er principper, som betyder noget for os, når vi vælger, hvilke firmaer vi vil handle med.
- D-mærket er det første mærke af sin art i verden, der kobler it-sikkerhed og ansvarlig dataanvendelse i ét og samme mærke. Med D-mærket giver vi virksomhederne mulighed for at vise deres kunder og samarbejdspartnere, at de tager digitalt ansvar, siger direktør for D-mærket, Mikael Jensen i en pressemeddelelse.
For at kunne benytte D-mærket, skal virksomhederne ansøge om det. Kravene, man skal leve op til, varierer afhængig af størrelsen på det pågældende firma og firmaets brug af data og it.
Techlivs Take:
Umiddelbart er det et virkelig fint initiativ, og det viser med al tydelighed en seriøsitet omkring et af tidens vigtigste emner indenfor digitaliseringen af vores samfund.
Hvordan det virker i praksis, må vi vente at se. For det er klart, at det kan være svært at forholde sig til som forbruger, når der ikke gælder samme regler for alle virksomheder.
Det sagt, så kunne jeg godt forestille mig, at mærket vil sprede sig rimelig hurtigt, og at initiativet i fremtiden kan være med til at få endnu flere firmaer til at få bedre styr på deres data.
Personligt kunne jeg sagtens se mig selv begynde at navigere efter D-mærket. Så foreløbigt 👍 herfra.
---

3. Facebook udpeger ny CTO: Får ansvar for at transformere Facebook til et metaverse-firma
Facebook har udnævnt Andrew 'Boz' Bosworth, som firmaets nye CTO — Chief Technology Officer.
Hvis navnet ringer en klokke, er det nok fordi du har hørt det nævnt i forbindelse med en af de mange nylige historier om Facebooks hardware, AR og VR.
Boz, som han blot kaldes, er nemlig nuværende chef for Facebook Reality Labs, der er den gruppe, der driver Facebooks initiativer indenfor AR og VR. Afdelingen står også for firmaets hardware, inklusive VR-brillen Oculus og den nyeste Facebook-kamerabrille, Ray-Ban Stories.
I rollen som CTO bevarer Andrew 'Boz' Bosworth ansvaret for Facebook Reality Labs, men får altså samtidig ansvaret for den bredere teknologiudvikling, såsom AI.
I en blogpost gør Mark Zuckerberg det klart, at der særligt er ét ansvarsområde, der vil stå højt på den nye CTO's todo-liste; nemlig at drive Facebooks udvikling af det der efterhånden er blevet Zuckerbergs hellige gral: The metaverse
- Jeg er spændt på fremtiden for dette område under Boz' ledelse, siger Mark Zuckerberg.
---

4. Litauen beder befolkningen om at smide deres kinesiske telefoner ud: Bekymrede for censur
"Lad være med at køb kinesiske telefoner, og smid dem ud I har."
Sådan lyder opfordringen fra Litauens forsvarsministerium til det baltiske lands borgere.
Grunden er, at blandt andet de varmt sælgende Xiaomi-telefoner angiveligt kan detektere og censurere termer som "free tibet", "demokratibevægelse" og "længe leve Taiwans uafhængighed".
Ifølge Litauens cybersikkerhedscenter er funktionen slået fra i EU i Xiaomi-telefonen Mi 10T, men den kan angiveligt slås til fra centralt hold i Kina når som helst.
- Vores anbefaling er, at man ikke køber nye kinesiske telefoner og at man skiller sig af med dem, der allerede er købt, så hurtigt som muligt, lød det ifølge Reuters fra vice-forsvarsminister Margiris Abukevicius, da han offentliggjorde rapporten om problemerne til en række journalister.
Af rapporten fremgår det, at der nu er 449 termer, som kan censureres i en række af de indbyggede apps, inklusive standardbrowseren. Listen bliver tilmed konstant opdateret.
Desuden fremgår det af rapporten, at Xiaomis telefoner sender krypterede data om telefonernes brug til en server i Singapore. Myndighederne har også fundet et sikkerhedsproblem i en Huawei P40 telefon, mens producenten One Plus' telefoner er blevet frikendt.
Huaweis baltiske repræsentant afviser, at der sendes brugerdata fra firmaets telefoner. Xiaomi har endnu ikke udtalt sig i sagen.
Relationerne mellem Litauen og Kina er i øvrigt gået alvorligt ned ad bakke på det seneste, efter at det baltiske land har tilladt, at Taiwan åbner et såkaldt Taiwanese Representative Office i Litauen. Det falder som bekendt ikke i kinesernes smag.
---

5. Apple: Epic får ikke sin udviklerkonto tilbage, før ankesagen er endeligt afsluttet
I lyset af den nylige dom i sagen mellem Epic og Apple havde nogen måske håbet, at det populære spil Fortnite ville vende tilbage til Apples App Store. Men det kommer ikke til at ske foreløbig.
Epic havde bedt Apple om at genåbne deres udvikler-konto, som Apple lukkede sidste år, efter Epic valgte at bryde reglerne for App Store ved at introducere deres egen betalingsløsning inde i Fortnite-appen.
Men det har Apples advokater nu definitivt afvist.
I en email sendt fra Apples advokater til Epics, og som Epic har offentliggjort, skriver Apple følgende:
- Apple har besluttet ikke at genåbne Epics udviklerkonto på nuværende tidspunkt. Desuden vil Apple ikke behandle yderligere anmodninger om genåbning af kontoen, før dommen i retssagen er endelig og ikke kan ankes.
Epics direktør, Tim Sweeney, er bestemt ikke tilfreds med Apples afvisning og skriver på Twitter, at det kan tage op til fem år, førend alle ankemuligheder er udtømte.
Apple henholder sig til, at Epic er blevet dømt for at have brudt App Store reglerne, og at dommeren mente, det var rimeligt, at Apple derfor lukkede Epics konto.
Epic har allerede betalt 6 millioner dollars til Apple, som kompensation for de indtægter, Apple gik glip af, mens Epics egen betalingsløsning stadig kunne benyttes.
---

LINKS TIL LÆSEHESTE
Brave introducerer privatlivsfokuserede videokonferencer direkte i browseren: Kun den der starter samtalen behøver at bruge Brave
---
Apples anti-tracking feature får Facebook-aktien til at falde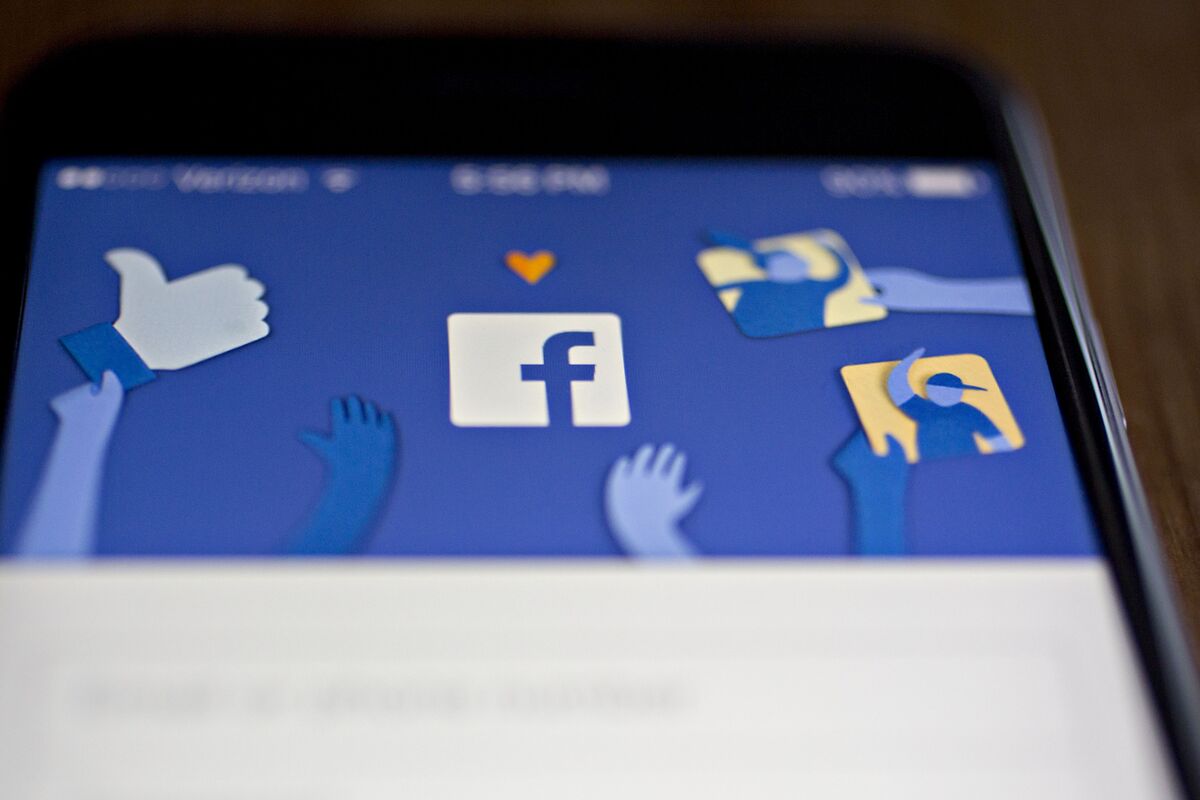 ---
Ensretning af mobilopladere i EU tæt på at blive til virkelighed
---
Facebook lancerer miniudgave af deres Portal smart-display
---