Glassholes are back: Facebook lancerer "smart" kamerabrille
Vi skal i dag kigge på Facebooks nye smartbriller, som de har udviklet i fællesskab med Ray-Ban. Desuden får du en oversigt over, hvad du kan høre i ugens podcast.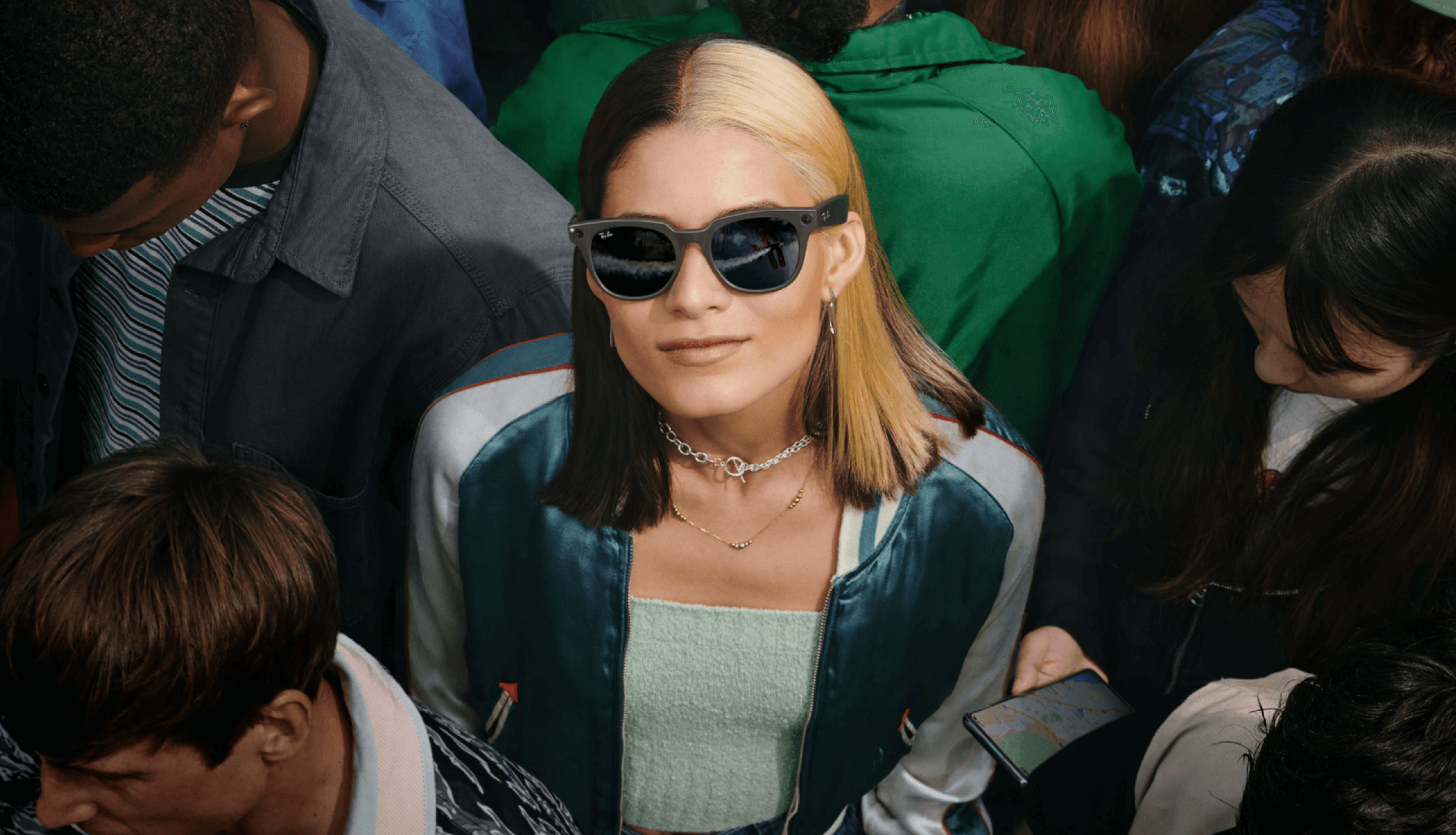 ---

Facebook lancerer kamera-briller i fællesskab med Ray-Ban
Så kom de langt om længe. Facebooks første almindeligt udseende "smart-briller".
Men hvis du havde sat snuden op efter, at de ville være et skridt ind i en verden, der kan lægge et digitalt lag oven på virkeligheden, så bliver du slemt skuffet. For der er intet display i glassene.
I virkeligheden er der blot tale om et par briller med indbyggede kameraer,  mikrofoner og højttalere.
Hvis det lyder creepy med et par Facebook-briller, der kan skyde foto og video og optage lyd, så forstår du nok bedre, hvorfor de har udviklet brillerne sammen med Ray-Ban og givet dem navnet Ray-Ban Stories.
Det virker bare mere uskyldigt, at dine Ray-Bans nu har fået kamera, end at gå rundt med et Facebook-logo på brillen.
Smart træk af Facebook, at samarbejde med et mærke, der af mange opfattes som cool, og få dem til at lægge navn til dit produkt. For Facebook kunne jo sagtens have bygget et brillestel selv.
Du slipper dog ikke for at skulle have en Facebook-konto for at kunne benytte brillens funktioner. Du skal nemlig logge ind på den tilhørende app med din Facebook-konto og acceptere Facebooks betingelser.
Og hvad er det så i virkeligheden, disse briller kan?
Jo, de er udstyret med to 5-megapixel kameraer — et til fotos og et til video. De minder altså i høj grad om Snapchats første Spectacles, som blev lanceret i 2016, men som aldrig er blevet det store sus.
Historien fortæller dog med al tydelighed, at det ikke altid gælder om at komme først. Det kan også Google skrive under på med Google Glass, der første gang blev vist frem for offentligheden i 2012.
Dengang fik bærere af Google-brillen hurtigt tilnavnet Glassholes, fordi mange opfattede det som grænseoverskridende, at folk i det offentlige rum og på caféer og barer kunne filme dem, uden at det var ret tydeligt, at det foregik.
Facebook har forsøgt at undgå dette, ved at lade en hvid pære lyse, når brillerne optager. Men som det må forstås på nogle af de folk, der har fået lov at prøve Ray-Ban Stories, så er lyset ikke ret kraftigt.
Brillerne kan opbevare omkring 35 30-sekunders video clip eller omkring 500 fotos lokalt på enheden. Herefter skal billederne overføres til din smartphone, hvilket foregår via Wi-Fi.
De overføres til en app, der hedder Facebook View, hvor billederne kan redigeres og deles via alle andre apps — ikke kun på Facebook eller Instagram.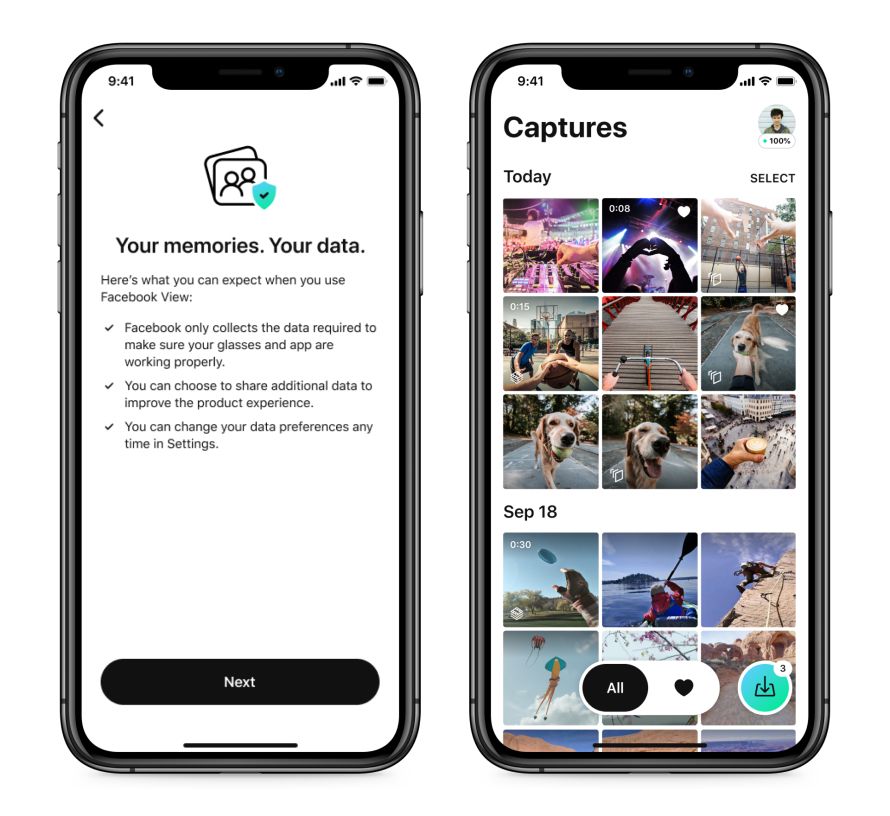 Kameraerne kan enten aktiveres ved at sige "Hey Facebook, take a photo" 🥶 eller ved at trykke på en knap på brillen.
På siden sidder også en touchfølsom plade, som kan bruges til at skrue op og ned for lyden og til at trykke play og pause, hvis du lytter til podcast eller musik. Lyden afspilles ud af brillernes indbyggede højtalere via bluetooth fra din telefon.
Du kan også bruge mikrofon og højttaler i brilleren til at føre en telefonsamtale.
Brillerne kører omkring 6 timer på en opladning med sporadisk brug. Derefter må de en times tid i laderen, før du igen kan bruge dem til andet end at se godt ud. Den gode nyhed er, at de kommer i en æske, der kan lade brillerne op tre gange.
Og det er så det, Facebooks første almindeligt udseende smart-brille kan.
Brillerne kommer i tre forskellige stel og med forskellige konfigurationer — fx med eller uden polaroidglas. Der kan også sættes brilleglas med styrke i.
Prisen starter fra 299 dollars svarende til 1.879 kroner, hvis man omregner det direkte.
I første omgang kommer de (som altid fristes man til at sige) kun i udvalgte lande. Faktisk kun i fem engelsksprogede lande (USA, Canada, Storbritannien, Irland og Australien) samt i Italien, hvor Ray-Bans moderselskab hører hjemme.
Jeg skal ikke lægge skjul på, at brillerne ved første øjekast er ganske undervældende, men derfor tror jeg ikke man skal afskrive Ray-Ban Stories helt.
Det er ret tydeligt — og det siger Facebook også — et meget tidligt kig ind i fremtid, hvor briller er spået til at levere det næste markante teknologiske gennembrud.
Det her er klart en test fra Facebooks side, hvor de smider et produkt på markedet, som de både kan afprøve om giver mening i brug og om vil blive socialt accepteret.
Ray-Ban får så lov til at være poster boy, for dét der med al tydelighed er et Facebook-produkt.
Ray-Ban vil helt sikkert gerne undgå at blive kørt over, på samme måde som urbranchen er blevet det af Apple Watch. Måske lykkes de. For det kræver i hvert fald virkelig meget på design-fronten, hvis vi alle sammen skal til at bære computere på ansigtet.
Facebook kan dog til enhver tid lave et partnerskab med et andet brillefirma — eller sågar købe Ray-Ban, hvis de var interesseret i det.
Med mere end 10.000 mand ansat til at udvikle AR-briller, smarture og andet grej til fremtidens metaverse, så er det i hvert fald ikke fordi Facebook mangler modet til at investere.
Tjek eventuel en video skudt med Ray-Ban Stories, som er optaget af Mark Zuckerberg him self under en lille rotur.
Eller se videoen fra The Verge, der på et minut viser, hvordan brillerne ser ud og hvad de kan.
---

Ugens podcast: Forkølede app-regler
Hvis du går på weekend med Techliv i ørerne, så er her, hvad du kan lytte til:
I ugens tema kigger vi på Google og Apples strikse regler for deres app-butikker, som er under tiltagende pres.
Vi gennemgår de seneste historier, som sammen med verserende sager i USA og EU peger i retning af et markant opgør med de to firmaers de-facto monopoler på salg af mobil-apps.
Vi skal også tale om en privatlivsvenlig emailtjeneste, der har udleveret oplysninger om en klimaaktivist, og om Facebook der må undskylde for en forvirret algoritme, der forveksler sorte mænd med aber.
Bitcoin har hovedrollen i et par af podcastens andre nyheder. Blandt andet er kryptovalutaen nu blevet officiel valuta i El Salvador.
Der bliver selvfølgelig også tid til at trække en ny brik op af Bonusposen, hvor Anders først tror, han skal imitere Mike Tramp — det skal han dog ikke.
Til sidst runder vi af med at tippe om, hvordan man billigt og let kan få en email-adresse med sit eget domæne.
Links vi har lovet i podcasten:
---
Følg Techliv — og del med dem du kender...
Del gerne dette nyhedsbrev med folk du kender, som er interesseret i tech.
Følg os på sociale medier:
Techliv på Twitter og Facebook | Nicolai på Twitter | Anders på Twitter
---