Episode 12: Bonuspodcast & verdens hurtigste elbil
I dag er der både bonus-podcast og nyhedsbrev. Blandt andet om den nye Tesla, der rammer 100 km/t på lige godt 2 sekunder.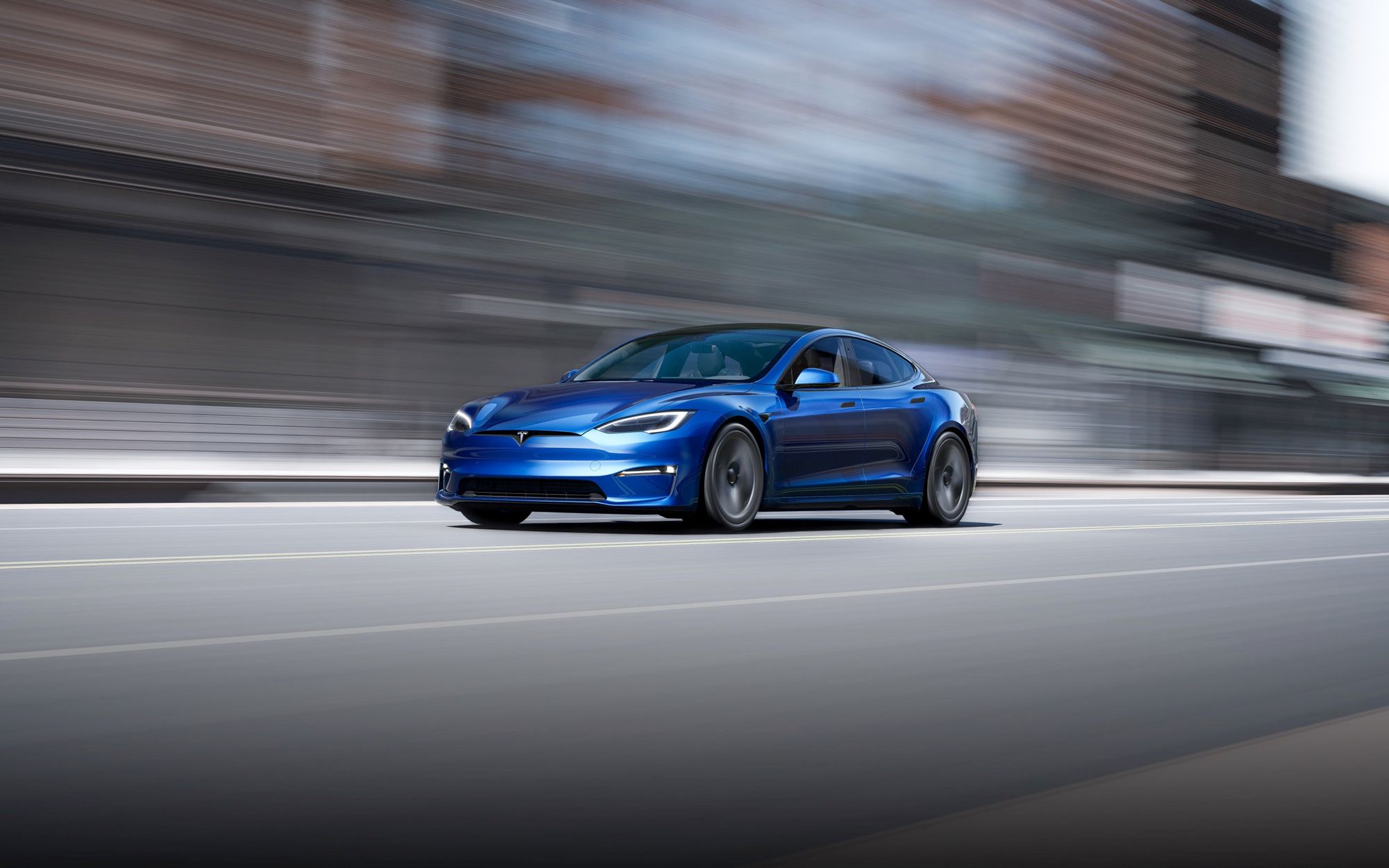 Som lovet i sidste uge er vi nu klar med en bonusepisode af Techliv podcasten, som ene og alene handler om ugens store Apple-event WWDC.
Vi har hver især lavet en top 3 over de nyheder, vi synes er de mest interessante.
Og så skal vi selvfølgelig også have gjort regnskabet op fra sidste uges bonuspose, hvor vi begge forsøgte at spå om, hvad Apple ville præsentere.
---
Nyhedsbrevet indeholder dog også tre lynhurtige nyheder, hvor særligt den første kommer rasende hurtigt fra 0-100.
Derefter ræser vi forbi et dansk projekt, der skal eliminere engelsk-dansk-oversættelser som: "Du lyder som en nøddetaske".
Og så tegner der sig for alvor et billede af fremtidens (tech-)arbejdsplads: 3 dage på kontoret og 2 dage hjemme.
Vi slutter med en håndfuld links til lige at spice fredagen lidt op. Blandt andet har endnu et firma offentliggjort deres bud på fremtidens elektriske luft-taxa-fly-copter.
God weekend fra os begge,
Nicolai
---

1. Tesla præsenterer verdens hurtigste produktionsbil: Model S Plaid
Det var ikke kun Apple, der havde planlagt en event i denne uge.
Lige før midnat amerikansk tid — og altså fredag morgen dansk tid — gik Elon Musk på scenen i Teslas hjemby, Fremont i Californien, hvor han løftede sløret for den nye Model S Plaid.
Først og fremmest er det, ifølge Musk, verdens hurtigst accelererende bil, som menig mand kan købe. Og er man dansker lyder prisen på godt 1.250.000 kroner.
Den accelererer fra 0-60 mph (altså lige under 0-100 km/t) på 1,99 sekunder — en fuldstændig vanvittig raketstart, som man let kunne argumentere for burde være ulovlig.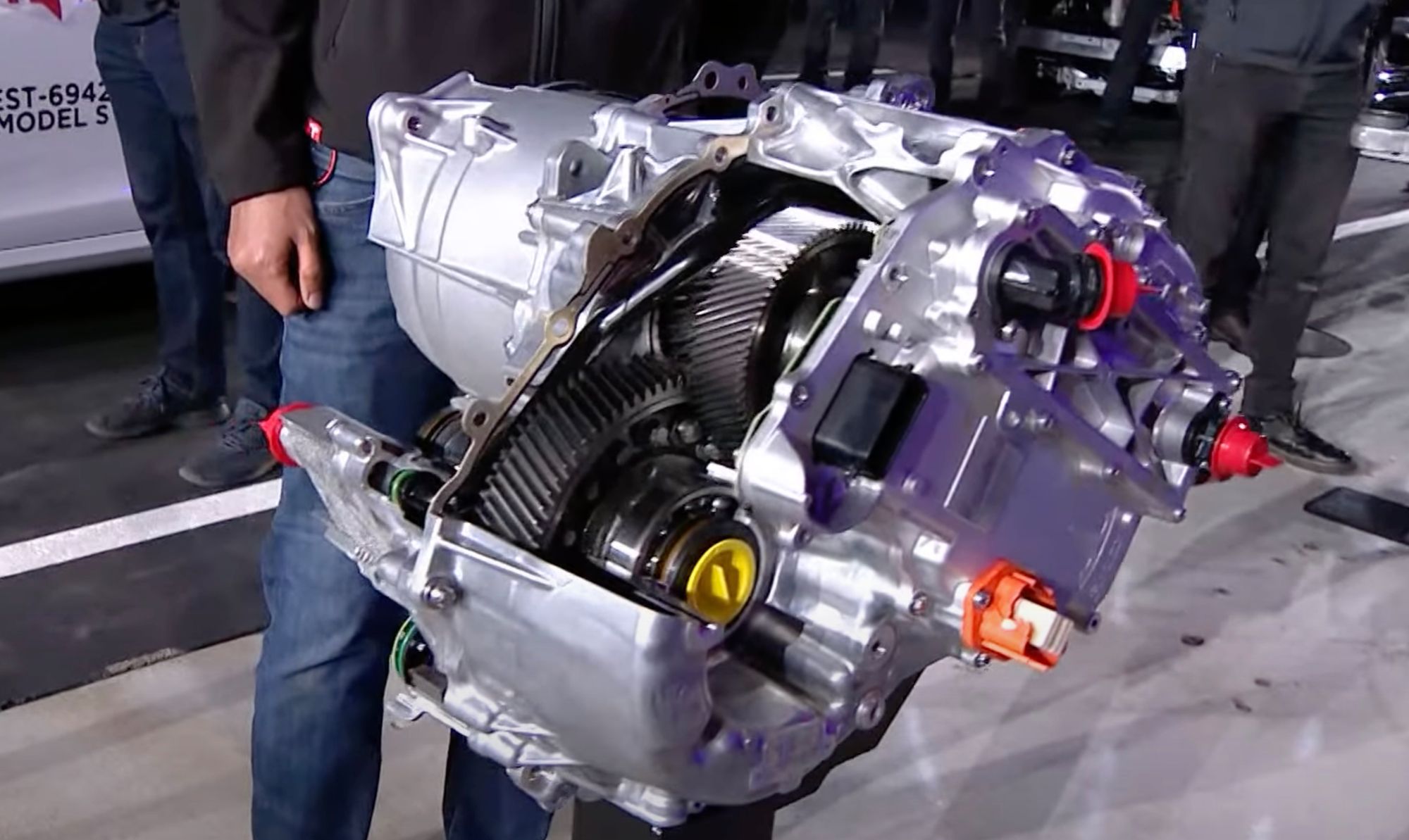 Plaid er den første store opdatering af Model S siden 2012, og Musk fremviste blandt andet et nyt såkaldt tri-motor drivetrain (altså tre motorer der er integreret i en), som er så lille og let, at en person kan løfte den.
Den nye Model S kommer også med et rat, der ser ud som om det er skåret over på midten, hvilket giver mere frit udsyn (og hvem ved hvad det så ellers gør ved køreoplevelsen).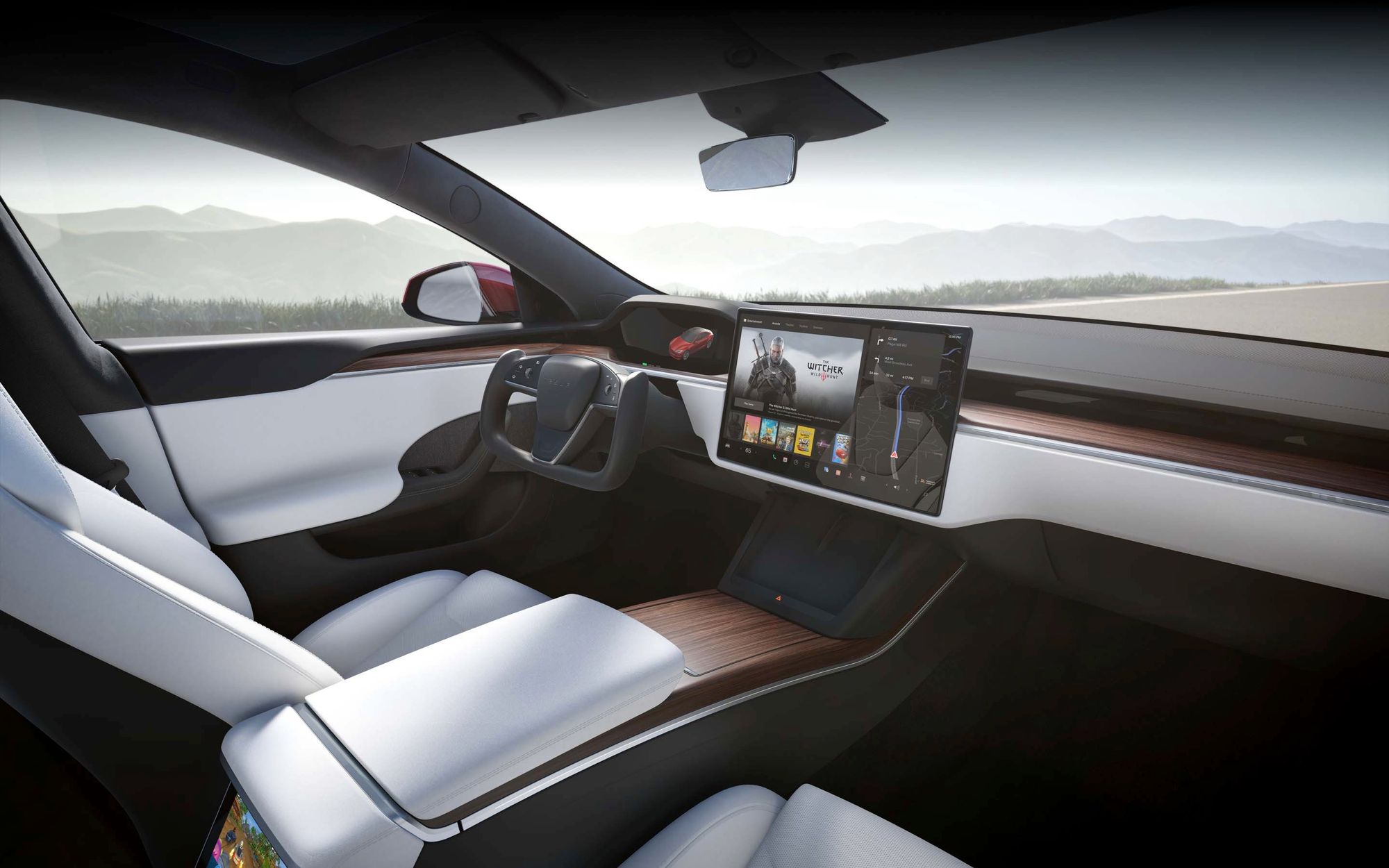 Samtidig er bilen endnu stærkere integreret med ejerens mobiltelefon. Døren vil simpelthen åbne for chaufføren, når denne nærmer sig bilen.
Det vil heller ikke længere være nødvendigt at sætte bilen i gear for at kunne køre den. Det er bare at sætte sig ind og træde på speederen (og håbe bilen kører i den rigtige retning).
Hvis nogen skulle være i tvivl om Elon Musks marketingsevner, så forklarede han den videre færd for den nye Tesla således:
- Den vil bare fortsætte med at minimere mængden af input fra dig, indtil bilen kan læse dine tanker.
Det er sgu på et niveau, hvor selv Steve Jobs nok havde sagt stop.
Skærmen i Model S Plaid vender i øvrigt nu horisontalt, som i Model 3 og Model Y, så den er langt mere meningsfuld at se tv og serier på mens bilen lader op.
Dog må du nok nøjes med at se et kvart afsnit — eller spille en enkelt bane af Cyberpunk 2077 — inden du skal videre. For ifølge Musk kan der på 15 minutter smides 300 kilometers rækkevidde på Model S Plaid, hvis man stopper ved en Tesla Supercharger.
Om det holder i virkeligheden, får vi sikkert at se, når de første 25 ejere, der modtog deres Plaid i dag, får prøvekørt dem  — hvis de altså smider deres oplevelser på YouTube.
Men alt er som det plejer at være i Elon Musk- og Teslaland: rosenrødt, great og fantastic.
(The Verge har samlet højdepunkterne fra præsentationen i en fem minutters video, du kan se her) 👇
---

2. "Du lyder som en nøddetaske": Ambitiøst ITU-projekt skal gøre det danske sprog nemmere at maskinoversætte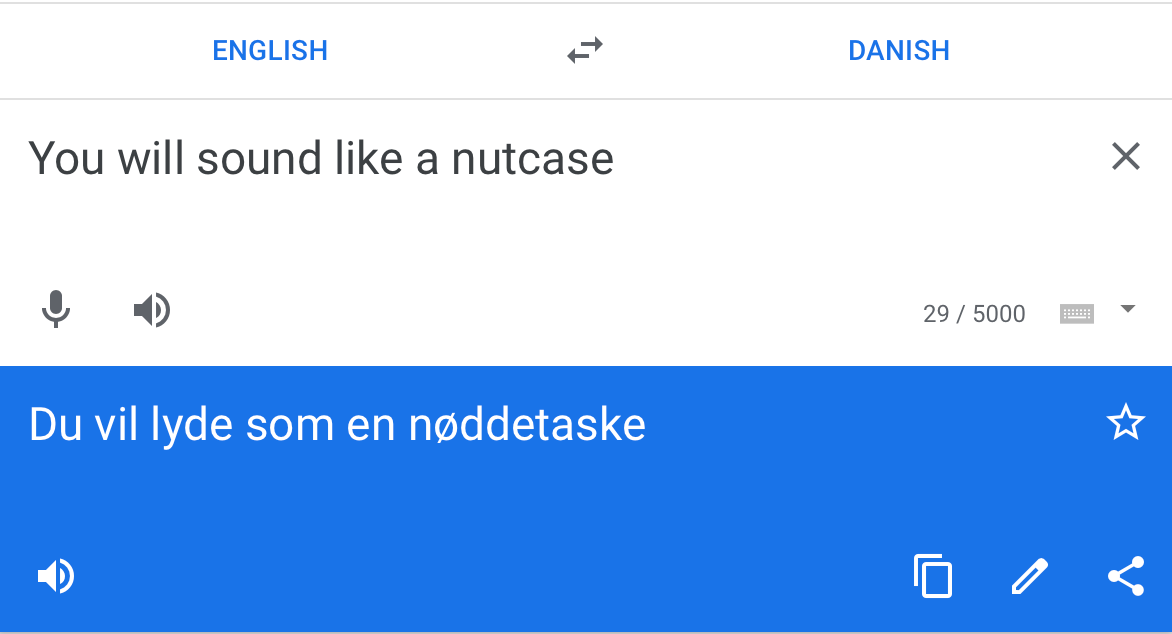 Hvis man sidder og småkeder sig en dag, kan man hurtigt få løftet humøret ved at gå på Google Translate og bede systemet oversætte frem og tilbage mellem tilfældigt udvalgte sprog. Det tager ikke lang tid at sende den oprindelige mening ud i en dødsspiral og ende med fjollede oversættelser.
Det har ITU gjort, blandt andet med:
"You will sound like a nutcase" (Du vil lyde som en nøddetaske) og
"I am feeling under the weather" (Jeg føler mig under vejret).
Men lige præcis det problem skal forskningsprojektet Danish Gigaword Project forsøge at gøre en ende på.
Nærmere bestemt vil forskerne samle et såkaldt gigaword-datasæt, som ifølge ITU defineres som "samtlige nuancer og sproglige spidsfindigheder i skriftlig kommunikation på et givent sprog".
Men det kræver, at der kan indhentes langt mere varieret tekstmateriale, end det er tilfældet i dag.
- Hvis man kun træner sine algoritmer med fx nyhedsartikler, så vil de kun være i stand til at forstå nyhedsartikler. Det kan være fint i visse sammenhænge, men det er de færreste af os, der kommunikerer med det samme sprog som DR eller Weekendavisen bruger, siger lektor på ITU, Leon Derczynski, der leder forskningsprojektet.
Ambtionen med det danske gigaword-datasæt er at samle over en milliard danske datapunkter – heraf selvfølgelig navnet.
Får de held med deres foretagende kan det altså på sigt være slut med at Google falder i med begge ben og oversætter klassiske vendinger som:
"Det står ned i stænger", til "It stands down in bars" (selvom de rent faktisk har lært at oversætte "It is raining cats and dogs" til… "det står ned i stænger").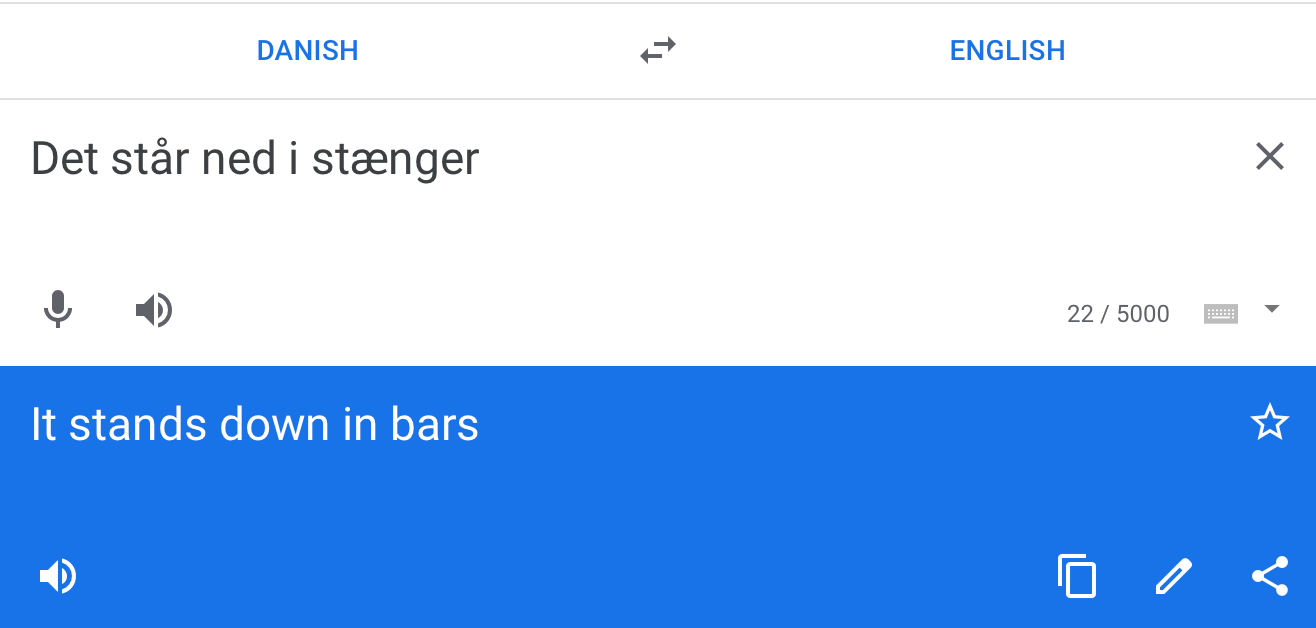 Du kan læse mere om Danish Gigaword Project på projektets hjemmeside.
---
3. Tre dage på kontoret og to dage hjemme er den nye arbejdsuge: Nu følger Amazon trop
Techfirmaerne har det med at kopiere hinandens bedste features og produkter. Men tendensen ser ud til at fortsætte, når det drejer sig om fremtidens arbejdsplads.
Der tegner sig nemlig et ret klart billede af, at Corona-pandemien kommer til at vende markant op og ned på work/life-balancen, og skabe en bred accept af at mange gerne vil arbejde mere hjemme.
Tre dage på kontoret og to hjemmearbejdsdage ser ud til at blive det nye kodeks for, hvordan big techs medarbejdere skal returnere, når kontorerne nu langsomt åbner igen.
Google var først til at introducere netop denne 3/2 model, så fulgte Apple efter, og senest har Amazon fulgt trop med en lignende model.
Amazons medarbejdere kan dog søge om flere hjemmearbejdsdage hos deres nærmeste leder. Men får man lov, vil man blive anset som remote worker og vil således ikke længere have ret til et fast bord eller kontor.
Derudover vil Amazon (også) give medarbejderne mulighed for en gang om året at tage en længere periode væk fra kontoret. Op til fire uger kan man få lov at fjernarbejde uden forventning om, at man skal møde op på kontoret.
Som vi skrev i Techliv den 18. marts 2020, da Corona lukkede verden ned: Det store teknologieksperiment er i gang. Og et af resultaterne ligner altså, at arbejdspladsen, som vi kendte den, er en saga blot.
---

LINKS TIL LÆSEHESTE
Up, up and awaaaay. Endnu et firma præsenterer "fremtidens elektriske fly-taxi-copter"
---
Dagens Hack: EA har fået stjålet kildekoden til nogle af deres spilklassikere — som nu sælges online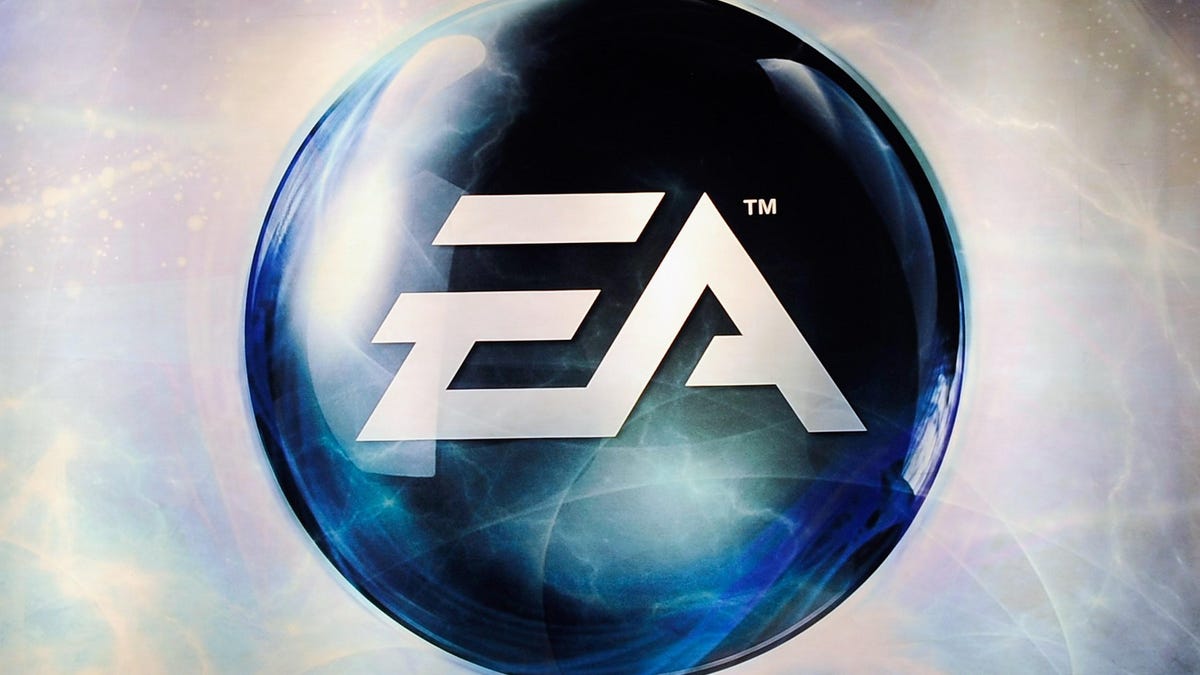 ---
Apple vil — ligesom Microsoft og Google — eliminere kodeord: Login på hjemmesider med FaceID og TouchID skal inden længe erstatte passwords
---
Facebook arbejder på smartur med to kameraer… Yiikes
---
Google bruger kunstig intelligens til at designe næste generations AI-chips: Og den er hurtigere til det end mennesker
---
Var det noget med en bil? Apple hyrer tidligere BMW-topchef
---
---