Spotify skaber problemer i podcast-land
Der er gang i tingene i podcast-land, hvor den evige kamp mellem åbne og lukkede platforme er blusset op på ny, efter Spotifys aftale med sværvægt-værten Joe Rogan.
---

Podcast-problemer?
I sidste uge annoncerede Spotify, at de havde indgået en aftale med Joe Rogan, der nu skal flytte sin ekstremt populære podcast, Joe Rogan Experience, ind på den svenske platform. Fra slutningen af 2020 kan JRE udelukkende høres på Spotify.
JRE ligger som regel i top 3 på listerne over de mest lyttede podcasts, så det er lidt af en sværvægter Spotify nu har fået i stalden. De seneste tal siger oppe i nærheden af 190 millioner månedlige downloads(!)
Og Joe Rogan har utvivlsomt tjent mange, mange millioner dollars på sine podcast-annoncer - og ikke mindst  på sin YouTube-kanal, hvor videoudgaven af JRE også kan ses - inklusive udvalgte klip.
Altsammen jo dejligt for Joe Rogan, der givetvis har tjent en masse penge - omend der sikkert også lurer nogle potentielle konflikter imellem den mildest talt kontroversielle vært og de svenske chefer, der trods alt også skal tage hensyn til firmaets omdømme.
Der er ingen officielle udmeldinger om prisen for den eksklusive aftale, men det har ikke været billigt. Der er dog næppe tvivl om, at Spotify forventer at kunne tjene en god bid af pengene ind igen, fordi de nu kan sælge flere annoncer.
For man kan nok forvente, at nogle af de mange, mange millioner lyttere også følger med ind i Spotify. Og selvom de ikke allesammen tegner abonnement, så vil de mange ekstra lytninger jo give anledning til at spille mange flere reklamer — og samtidig kan Spotify samle en masse data om de nye lyttere, som kan bruges til at sælge flere annoncer…
Altsammen kan det hjælpe Spotify med at booste sin annonceforretning, trække flere podcastproducenter ind i folden og måske endda blive en slags YouTube for podcasts (udover den musikstreaming, som de naturligvis fortsætter med).
Men selvom dealen med Rogan afgjort er i den tunge klasse, og selvom Spotify nu har markeret sig som den foreløbig største platform, så er den "bare" endnu et slag i den langvarige kamp mellem åbne og lukkede systemer.
Åben vs. lukket
Det er en kamp som foregår i podcast-land, men jo også altid har foregået på nettet og i diverse medier.
Når det gælder podcasting har fænomenet i sine 15 års tid stort set altid været åben, i den forstand at episoderne bliver distribueret via rss-feeds, er gratis (men ofte med annoncer), og kan lyttes i en hvilkensomhelst podcastapp man har lyst til.
Men de senere år er der dukket flere og flere tjenester og platforme op, som vil producere eksklusivt betalings-indhold, og ikke sende deres shows ud i de åbne feeds til alle lyttere.
Herhjemme havde vi i høj grad balladen, da podcast-tjenesten Podimo launchede i efteråret 2019, og hvor brugerne betaler 39 kroner om måneden for adgang til ekslusive podcasts (men dog også kan lytte en stor del af de "åbne" podcasts, lige som brugerne kan på Spotify).
(Disclaimer: Techlivs "søstermedie", podcasten SuperDigital, launchede på Podimo, men er i dag frit lytbar for alle).
Dengang diskuterede man jo, om det er "i orden" at nogle podcasts kun kan lyttes med en bestemt app, om de konkrete shows var gode nok til at man gad betale for dem, om det egentlig ikke var fint at kunne producere podcasts uden at skulle have reklamer og annoncer, og om det ikke også var en god idé at have fokus på dansk indhold til danske lyttere, og så videre…
Kontrol og penge
Det er en kompleks diskussion. Det handler både om penge, kontrol og ideologi, der er mange interesser på spil, og det kan få folk helt op i det røde felt på Twitter:
Fuck Spotify, and fuck any "podcast" that's only playable in one app.— Marco Arment (@marcoarment) May 19, 2020
Men sagt helt kort: jo mere kontrol et firma har over indholdet, jo mere kontrol har de over brugerne/lytterne/seerne — og jo større chance er der for at kunne tjene penge på annoncer. (Se Google, Facebook, YouTube, etc…)
Investeringer og fremtidsplaner
Vi kommer ikke til at udrede alle tråde i dag, men har samlet en håndfuld aktuelle nyheder, der sammen med Spotifys Joe Rogan-aftale viser, at gryden koger og bobler mere end nogensinde før.
Luminary, der med millioner af investorpenge i ryggen forrige år lancerede sit bud på et abonnements-baseret podcastnetværk (i stil med Podimo, men de kom altså før den danske tjeneste), har ikke klaret sig så godt.
Ifølge Bloomberg har Luminary kun fået fat i cirka 80.000 betalende lyttere. Ikke desto mindre  har firmaet rejst endnu 30 millioner dollars i en ny investeringsrunde — så der er åbenbart nogen der stadig tror på det…
I en noget tungere vægtklasse er også Amazon ved at komme op i gear. Seattle-giganten har gennem lydbogs-tjenesten Audible været på jagt efter flere såkaldte 'originals' — deres interne ord for podcasts.
Axios skriver, at Amazon, ifølge mediets kilder, investerer i flere Seattle-baserede podcastproducenter, især med fokus på sport og lokalstof.
Her i Danmark fortalte Podimo for omkring en måned siden, at de nu har over 200.000 "med om bord", og selvom de næppe alle betaler, så skriver Podimo dog selv, at de ser "…stigende tal hvad angår aktivitet, konvertering til premium og nye podcastere, der tilstutter sig økosystemet."
Den foreløbig største ubekendte faktor er dog Apple. Frugtfirmaet er mere eller mindre snublet ind i at være de facto-katalog for verdens åbne podcast-feeds, men har ellers ikke blandet sig nævneværdigt.
Spørgsmålet er dog, om Spotifys moves nu kan få Tim Cook & Co på barrikaderne. Spotify og Apple er ikke bedste venner, og selvom Apple normalt absolut ikke går af vejen for selv at kontrollere alting i lukkede økosystemer, så har de altså valgt at holde alle døre pivåbne når det gælder podcasts. Og det må de i øvrigt gerne blive ved med, hvis I spørger mig.
Foreløbig er det dog usikkert, om Apple vil begynde at flekse med musklerne, eller om de bare spiller vent-og-se.
Det eneste aktuelle udspil er denne nyhed, som fortæller at Apple åbenbart er på jagt efter en direktør, der skal have fokus på at producere originale Apple-podcasts.
Det vil dog ifølge Bloombergs kilder primært handle om at lave en slags podcastbaseret markedsføring af deres serier og film på streamingtjeneste Apple TV+, og skal næppe ses som en klar markering i forhold til Spotify.
Personligt må jeg indrømme, at jeg er lidt nervøs ved tanken om, at podcasting kan gå hen og blive fragmenteret, opdelt og rodet, men krydser fingre for at størstedelen af de hundredetusindvis af shows fortsat vil forblive tilgængelige for hvemsomhelst, hvorsomhelst og nårsomhelst.
---

Trump-tweet bliver markeret som vildledende
Twitter har trukket en streg i sandet overfor den  powertweetende præsident.
Et nyligt opslag fra Trump, om det han kalder valgsvindel i forbindelse med brevafstemning, bliver af Twitter markeret som vildledende.
Under selve tweetet er der blevet placeret en opfordring til at man får "fakta om brevstemmer", og der linkes til mere information.
Præsident Trump har naturligvis straks taget til genmæle, og kalder det et indgreb i ytringsfriheden.
---

Schweiz lancerer som de første en Apple-Google COVID-app
Google og Apple frigav jo for nylig deres API til 'exposure notification', og det forlød at over 20 landes myndigheder straks gav sig i kast med at udvikle apps til smittesporing.
Nu er Schweiz så tilsyneladende kommet først med rent faktisk at få lavet en app, selvom den dog stadig kun er i en pilotfase, hvor den testes på udvalgte universiteter og hospitaler, og i hæren.
Går testen godt, forventes det at schweizerne vil få mulighed for at installere appen i løbet af juni.
Og apropos Corona-apps kan vi da lige supplere med at fortælle, at Indiens Aarogya Setu-app nu bliver gjort open source.
Appen har været udsat for en mængde kritik, og har været plaget af problemer med både privatliv og datasikkerhed.
Måske kan den åbne adgang til koden på Github hjælpe.
---

NASA og SpaceX er klar til affyring
Hvis man læser nyhedsbrevet her onsdag den 27. maj, er det lige oppe over.
I aften sender NASA to astronauter afsted mod den Internationale Rumstation, ISS, med en Falcon9-raket og det spritnye Crew Dragon-modul, begge dele fra SpaceX.
Ifølge planen skal Robert Behnken og Douglas Hurley fyres af kl 22.33 dansk tid.
Det bliver første gang i 9 år, at amerikanske astronauter skal sendes afsted udelukkende med udstyr bygget i USA — tidligere har man brugt de russiske Soyuz.
Og det ser ud til, at all systems are go for launch.
Skulle du have lyst til at følge med live, så kan du se launchen via NASA TV eller på YouTube.
---

LINKS TIL LÆSEHESTE
Tillykke! CNET fejrer 25-års jubilæum som et af verdens førende tech-sites.
---
Cyborg-teddybjørn. Trænger du til en krammer?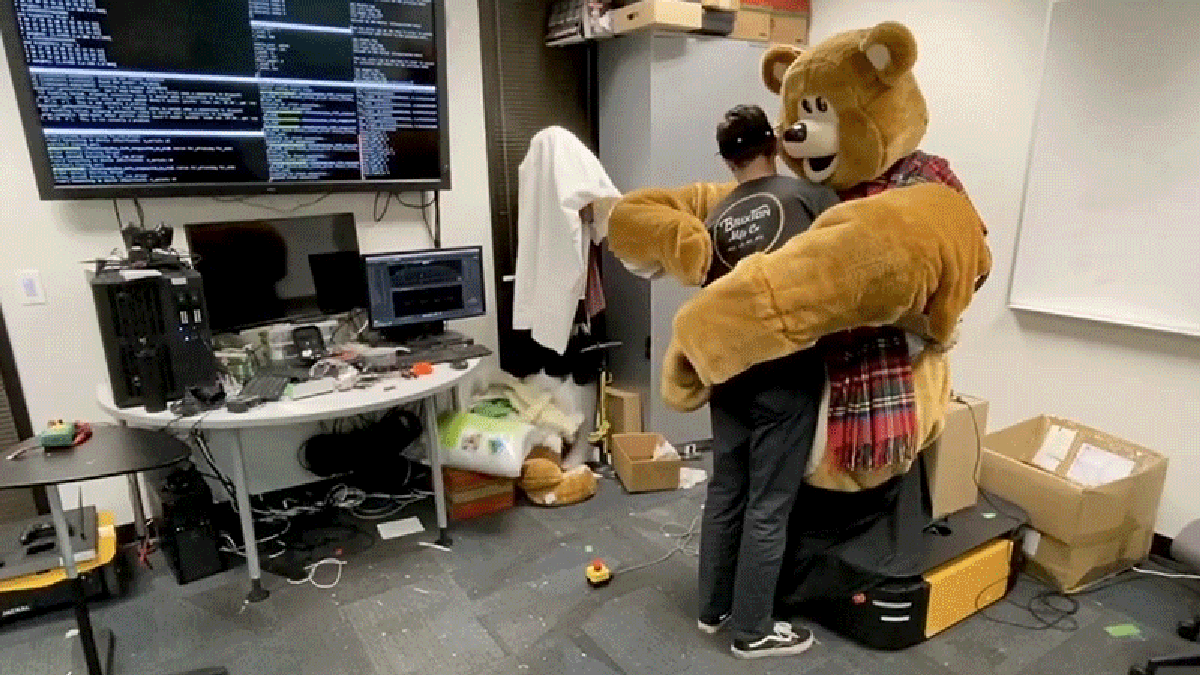 ---
VROOOOM! Der er nu planlagt 300 km testveje til selvkørende biler i England.
---