World Wide Web sat til salg
Tim Bernes-Lee sælger kildekoden til World Wide Web som en NFT. Android understøtter nu end-to-end krypterede beskeder. Og så skal vi også have en omgang dimsenyt.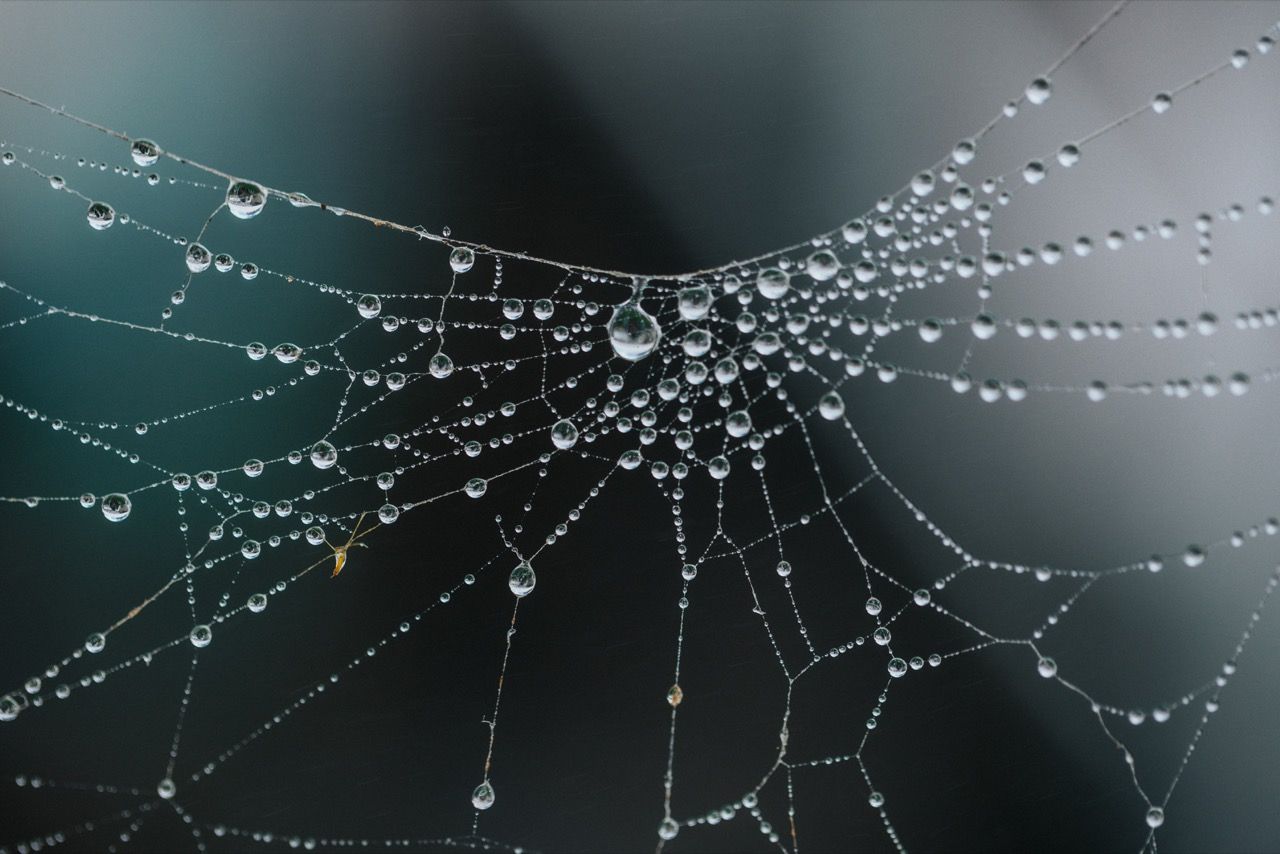 ---

1. ENDelig: End-to-End kryptering kan nu slås til i Androids besked-app… men der er tre hår i suppen
Mens iPhone-brugere har sendt end-to-end krypterede beskeder til hinanden så længe nogen kan huske, så har Android-brugere måtte acceptere en langt mindre privat kommunikation. Indtil i dag.
For langt om længe har Google nu gjort det muligt at sende end-to-end krypterede beskeder via Androids standard beskedapp.
Der er dog tre hår i suppen:
Først og fremmest er kommunikationen ikke end-to-end krypteret som standard. Det skal aktiveres i Googles besked-app, hvor Chat-funktionen skal slås til.
For det andet kræver det, at begge parter i samtalen har slået end-to-end kryptering til.
(Det gør sig jo i øvrigt også gældende på en iPhone, hvor begge parter skal slå iMessage til).
For det tredje virker end-to-end krypteringen ikke i gruppebeskeder.
Hvis din Android-kommunikation er end-to-end krypteret, vil du kunne se et lille låseikon i chatten, som vist på billedet nedenfor  — hvis du kan spotte låsen under datoen.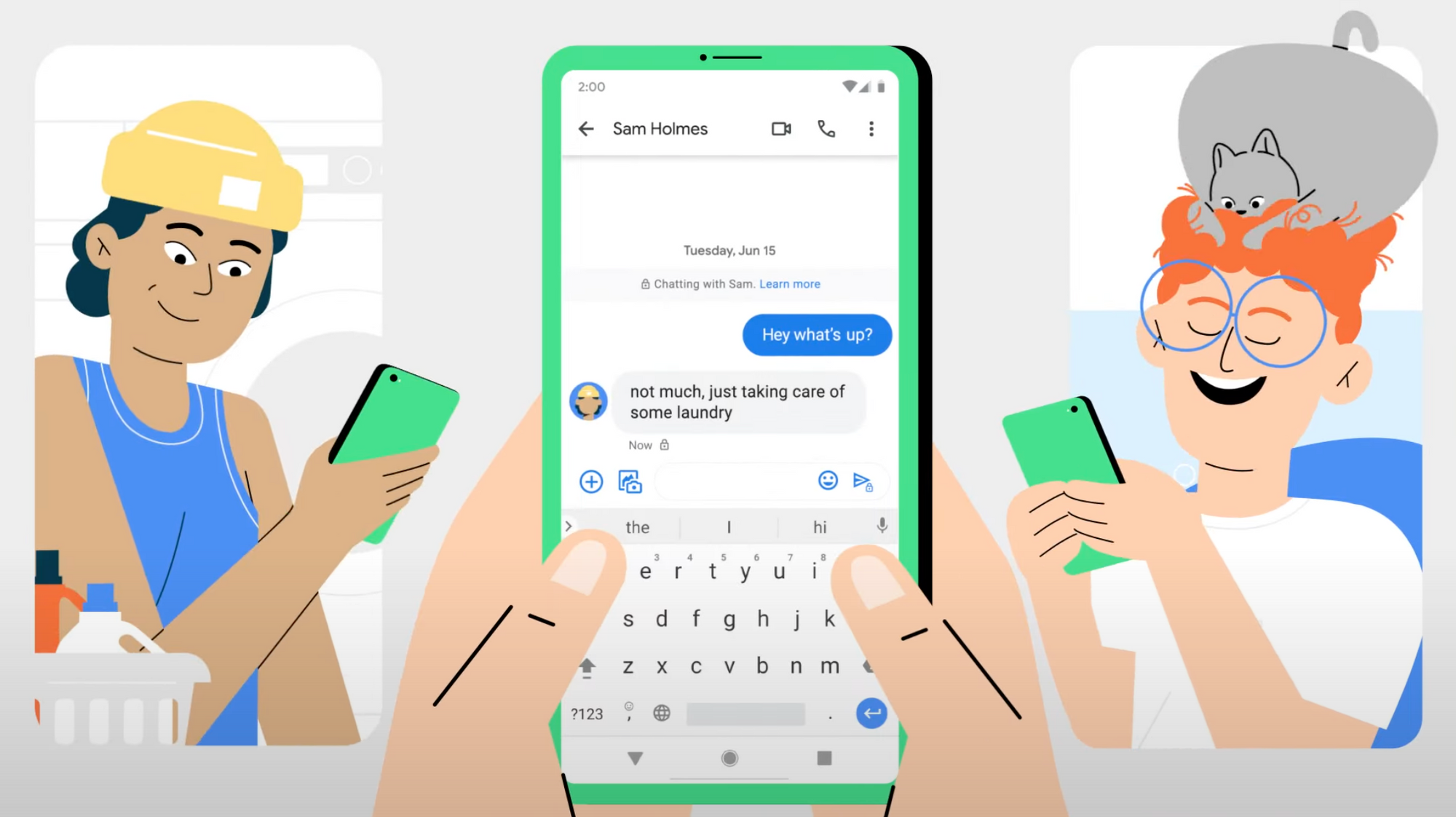 Men bedre sent end aldrig… selvom det næsten føles som om, det har taget Google en evighed.
---

2. Sonos bekymret over techgiganternes dominans i det smarte hjem
Der har efterhånden været så mange tech-høringer i det amerikansk senat, at ingen kan holde styr på dem.
Seneste grillfest havde det smarte hjem som omdrejningspunkt. Det drejer sig ikke mindst om digitale assistenter, lock-in og markedsdominans hos særligt Google og Amazon, men også i stigende grad Apple.
Ifølge Senator Amy Klobuchar, som er formand for det antitrust-udvalg, der havde indkaldt til høringen, så sidder Amazon på mere end 50 procent af smart-højttaler-markedet i USA, mens Google har omkring 30 procent.
Hun var bekymret for, om den massive dominans leder til at brugerne låser sig inde i de pågældende økosystemer.
- Om få år har folk måske 20 eller flere internetforbundne enheder i deres hjem (…). Vi ønsker, at disse enheder fungerer problemfrit med hinanden. Du skal ikke vælge enheder til dit hjem baseret på, om de spiller pænt sammen med Googles eller Amazons digitale assistenter, sagde Amy Klobuchar.
Et af de firmaer, der deltog for at give deres udlægning af problematikken, var højttaler-firmaet Sonos.
Sonos chief legal officer Eddie Lazarus' beretning fra virkeligheden lignede præcis det, som Klobuchar gerne vil undgå; nemlig at det smarte hjem er ved at udvikle sig til endnu en walled garden.
Blandt andet forklarede Lazarus, at Google kræver, at kun én digital assistent må være aktiv, hvis Sonos skal have lov til at integrere Google Assistent i deres produkter.
Teknisk set er der intet til hinder for, at Sonos kan give brugeren mulighed for både at bruge Googles og Amazons digitale assistenter, uden at skulle vælge den ene eller den anden fra i indstillingerne. Men Googles kontrakt vil det altså anderledes.
Selvom Apple foreløbig (endnu) ikke spiller så stor en rolle i det smart hjem, så havde Sonos også et par klare bekymringer omkring Cupertino-firmaet.
Den ene drejer sig om Apples nye tiltag, hvor man fremover kan stemmestyre andre firmaers smart-produkter ved hjælp af Siri. Det kræver nemlig, at brugeren også ejer en HomePod, for at det kan lade sig gøre.
Sonos mener, det er et problem, at man er tvunget til at købe et Apple-device, hvis man ønsker at stemmestyre andre produkter med Apples digitale assistent.
Den anden bekymring drejer sig om den nye smart home-standard Matter, som blandt andet er et samarbejde mellem Apple, Google og Amazon.
Matter skal gøre det nemmere for forskellige producenters devices at kommunikere med hinanden. Men selvom det umiddelbart lyder som en god ting, så er det ikke uden problemer.
Eddie Lazarus forklarede, at Matter i høj grad er bygget på kode fra netop Apple og Google:
- Det er næppe en opskrift på fair konkurrence eller flere kreative opfindelser. Det er en opskrift til yderligere forankring af de ganske få, sagde Lazarus.
Høringen fandt sted få dage efter at de amerikanske lovgivere vedtog fem nye love, som alle fremadrettet skal gøre det nemmere for politikerne at tæmme techgiganternes markedsdominans.
Blandet andet skal det være lettere at bryde selskaberne op, eller tvinge dem til at sælge dele af virksomhederne fra.
Desuden skal den nye lovgivning sætte en stopper for at techgiganterne giver egne services fortrinsret på egne platforme, eller at de bare opkøber mindre firmaer, hvis de potentielt kan udfordre deres markedsdominans.
---
3. Tim Berners-Lee sælger den originale kode til World Wide Web som NFT
Salg af NFT (Non Fungible Tokens) har været en af de varmeste trends i 2021. Simpelt fortalt betyder det, at man kan sælge sin ophavsret til et digitalt værk til andre.
Den galej er Tim Berners-Lee, opfinderen af World Wide Web, nu også gået med på.
Han bortauktionerer nemlig den originale kode til netop World Wide Web.
Mere præcist er der tale om:
De originale tidsstemplede filer, som indeholder kildekoden
En animation af koden der bliver indtastet på en computer
En vektor-grafik af koden
Et brev fra Tim Berners-Lee, skrevet i år, hvor han reflekterer over koden og processen med at skrive den.
Du kan byde med hos auktionshuset Sothebys, og de tager også mod betaling i kryptovaluta… Velkommen til 2021!
---
4. Dimsenyt: Væghængt kunsthøjttaler og et forstørrelsesglas til dit ur
Vi slutter i den helt bløde ende; først med to nye dimser, der på hver sin måde kan et eller andet.
Dims 1 er den nyeste blomst fra samarbejdet mellem IKEA og Sonos, som i fællesskab laver den smarthøjttaler-serie, der hedder Symfonisk.
Nu får symfonien endnu en streng at spille på, når IKEA i midten af juli lancerer en kombination af "kunst" og en Wi-Fi højttaler.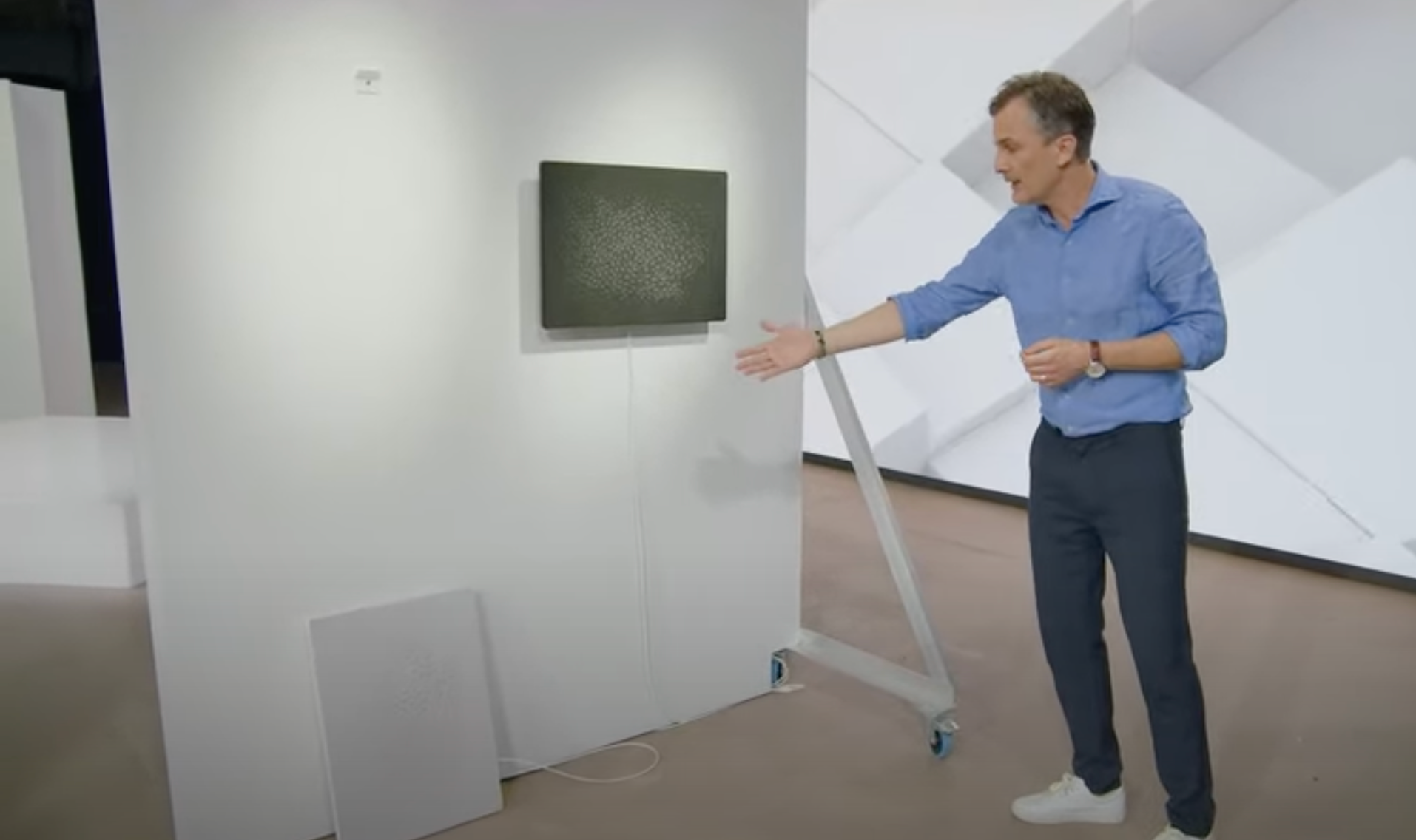 Nærmere bestemt kan du hænge det, der ligner et kunstværk (hvis man kan sige det om noget IKEA har lavet) på væggen, men som i virkeligheden er en meget flad højttaler.
Som IKEAs marketingsfolk formulerede det ved launch-eventen:
- Vi gør det faktisk muligt at møblere med lyd snarere end højttalere.
🥶
Højttaler-kunstværket kommer umiddelbart i to forskellige designs, men lur mig om der ikke godt kunne blive en mindre skov af tredjeparts-fronter til de flade højttalere, så man kan vælge noget mere unikt, der passer ind i stuens indretning.
Den nye udgave af Symfonisk kan kobles sammen som et sæt stereohøjttalere, og de kan også bruges i i et TV-setup, sammen med en Sonos soundbar, som de to højttalere placeret bag dig.
Én højttaler kommer til at koste 199 dollars. Så mon ikke det er noget i stil med 1.500 kroner, når den kommer til DK.
---
Dims 2 hedder Nightwatch og er en slags forstørrelsesglas til Apple Watch, som skal gøre uret til et mere… lad os kalde det vækkeurs-lignende vækkeur.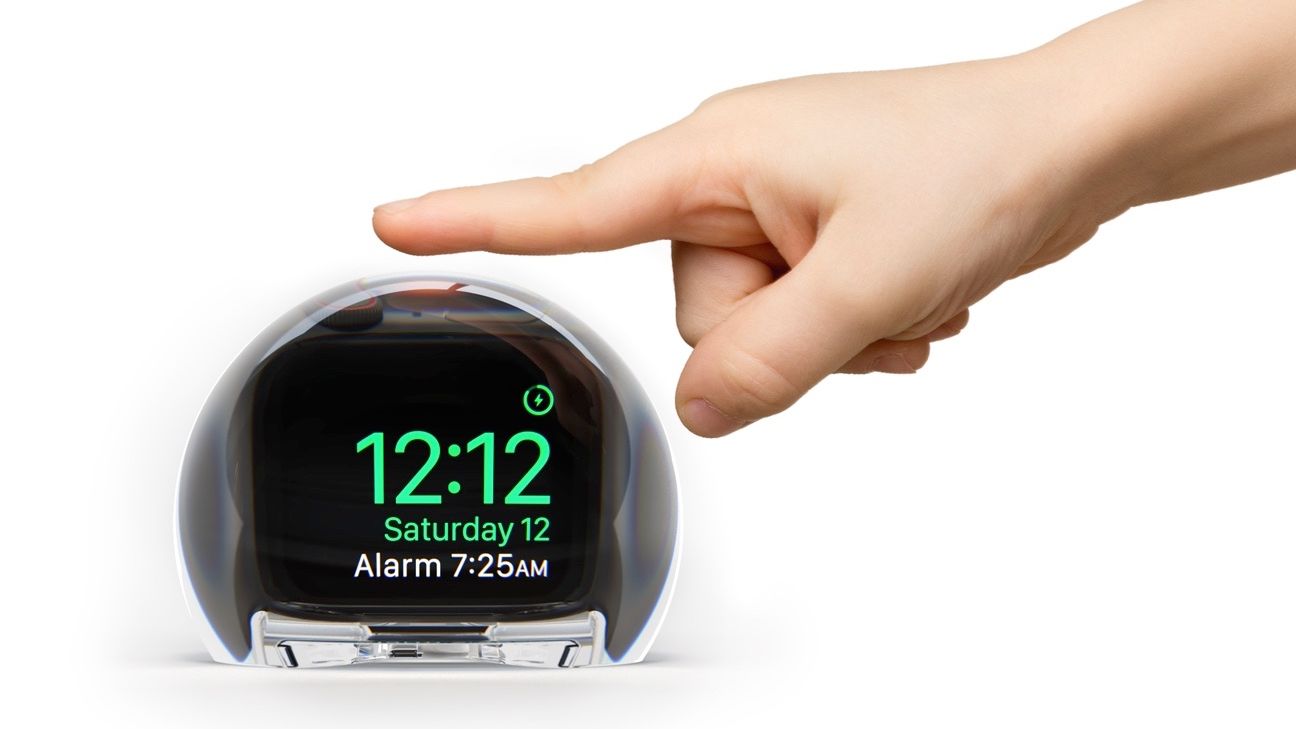 Konceptet er altså, at du smider uret i glasboksen, som får uret til at se langt større ud, end det i virkeligheden er.
Her kan det også oplade (med din egen oplader integreret), samtidig med at man stadig kan få skærmen til at lyse op ved blot at skubbe til glasset, hvis man vil vide hvad klokken er midt om natten.
Et first world problem, som er løst på en ret old school måde — mod et beløb på 49 dollars.
Smartheden vokser dog ikke ind i himlen. Man er stadig nødsaget til at trykke på urets knapper, hvis man vil slukke alarmen eller snooze den (og det vil man gerne hver morgen).
---

5. VIDEO: Så dumt er det at køre med et halvt rat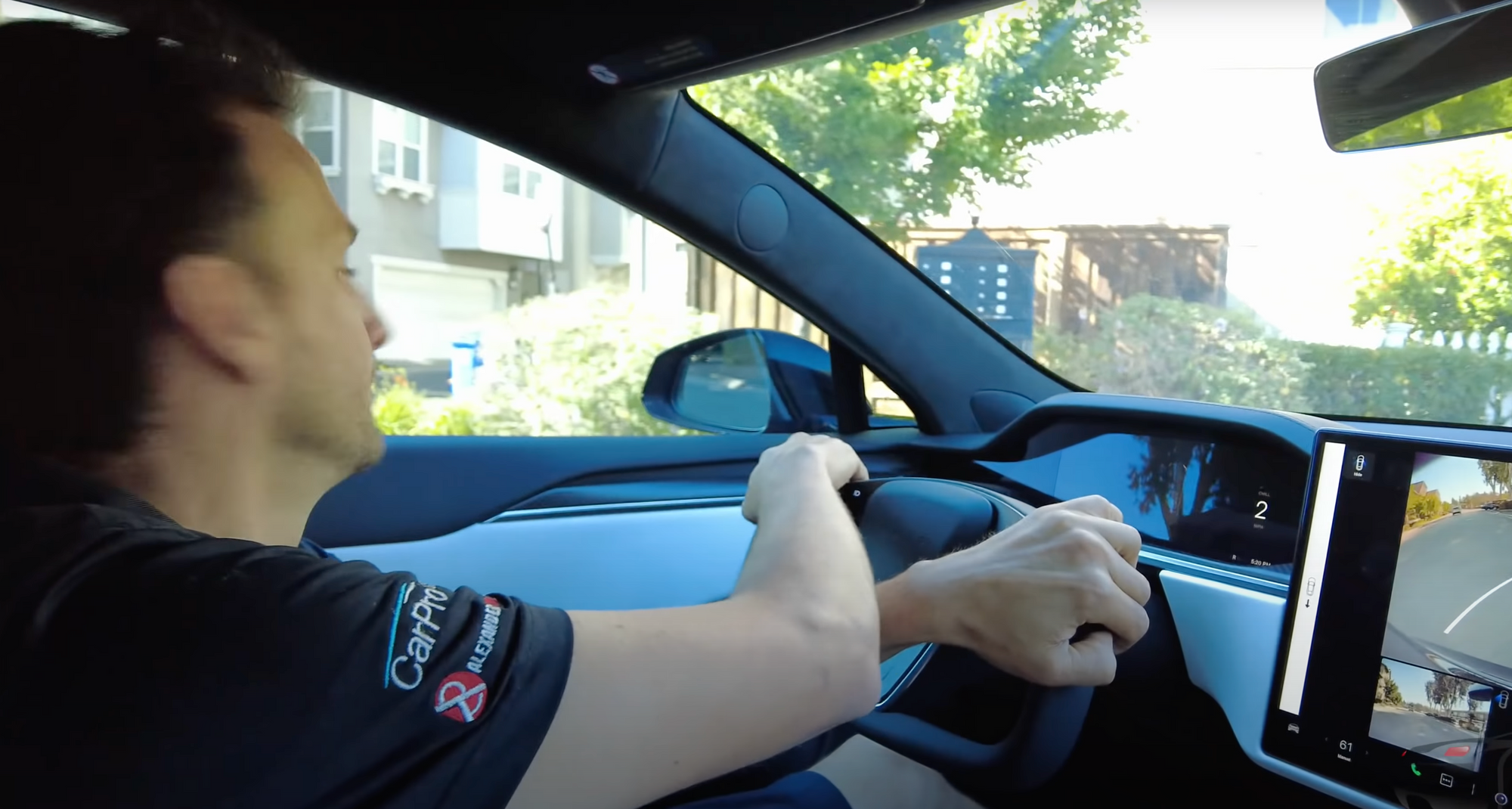 Jeg kunne ikke lade være at slutte dagens nyhedsbrev med videoen nedenfor 👇 — en af de første, hvor man ser, hvad det vil sige at køre en bil med et halvt rat.
Der er selvfølgelig tale om det såkaldte yoke-rat, som Tesla netop har introduceret i den nye Model S Plaid.
Udover at det ser lettere absurd ud, så viser videoen med al tydelighed, at rattet giver klare udfordringer for chaufføren, særligt når bilen skal vendes, parkeres eller drejes skarpt.
Måske er det bare en læringskurve, men for at være helt ærlig, så ligner det altså et klart tilbageskridt for brugervenligheden.
Se og bedøm selv — og som en bonus kan du også se, hvordan det i virkeligheden er at skifte gear på en skærm.
---

LINKS TIL LÆSEHESTE
En uge inden officiel lancering: Windows 11 er lækket
---
Fodboldklubber lancerer deres egne kryptovalutaer: Mange fans har allerede tabt penge
---
Efter forsinkelse: Apple Podcast-abonnementer er nu live… og Apple tager 30 procent
---
Er online-reklame-auktioner en overtrædelse af brugernes privatliv? Nu sagsøges online-reklamebranchen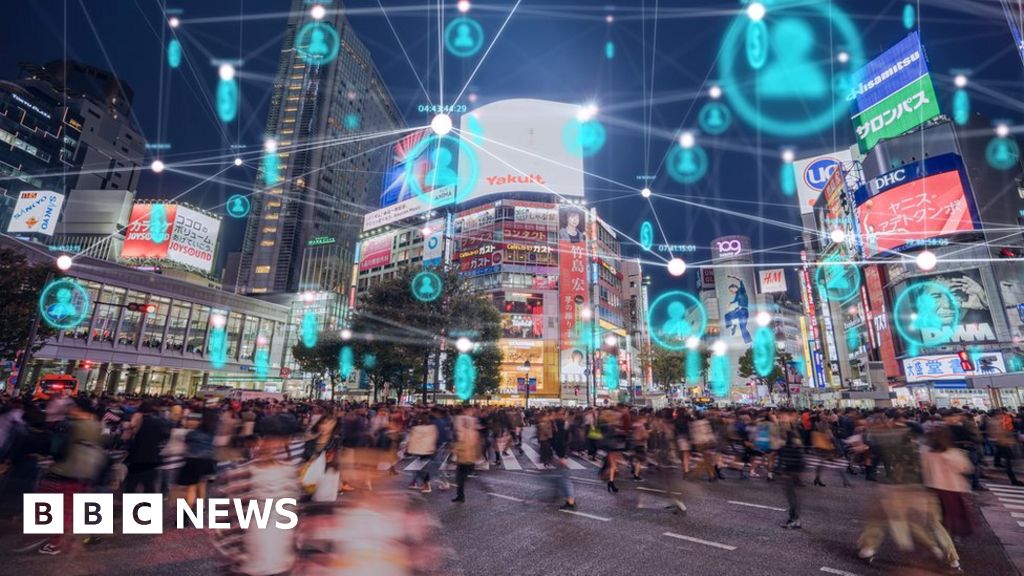 ---
Facebooks Clubhouse-klon snart klar: Mark Zuckerberg var vært på første test af Live Audio Rooms
---
---