EmailExtravaganza 2020
Vi tager temperaturen på Hey og Onmail - to emailudbydere, der lokker med smarte funktioner, men koster penge.

Email, email, email
Den 23. juni fik jeg adgang til den hippe nye email-tjeneste Hey, og har således nu en perfekt anledning til at holde...æhm, 78-dages jubilæum.
Indrømmet, det lyder en smule random, men jeg har faktisk en lille undskyldning for at gøre en foreløbig status over min brug af Hey.
Forleden annoncerede firmaet Edison Software nemlig, at de også vil være med til at "gentænke email", med lanceringen af deres Onmail.
Derfor kan jeg i dag både tage temperaturen på Hey efter et par måneders brug, og samtidig sammenligne med de indledende erfaringer fra Onmail.
Det bliver en total EmailExtravaganza(tm)!
Men lad os begynde med lige at se på en håndfuld hovedpunkter fra de to nye emailtjenester.
HEY:
Emailtjeneste fra folkene bag team-værktøjet Basecamp.
Koster $99 om året (der er mulighed for en to-ugers prøveperiode).
Fås til iOS, Android, Windows, macOS og Linux(!)
Fremhævede features: Screening af alle indkommende mails og sortering i tre hoved-mapper, privacybeskyttelse, indbygget markering af mails til opfølgning, etc.
Hey kan kun bruges med Heys egne apps — og der er indtil videre ikke mulighed for at tilknytte sit eget domæne, så man skal altså kunne leve med en emailadresse, der slutter på hey.com.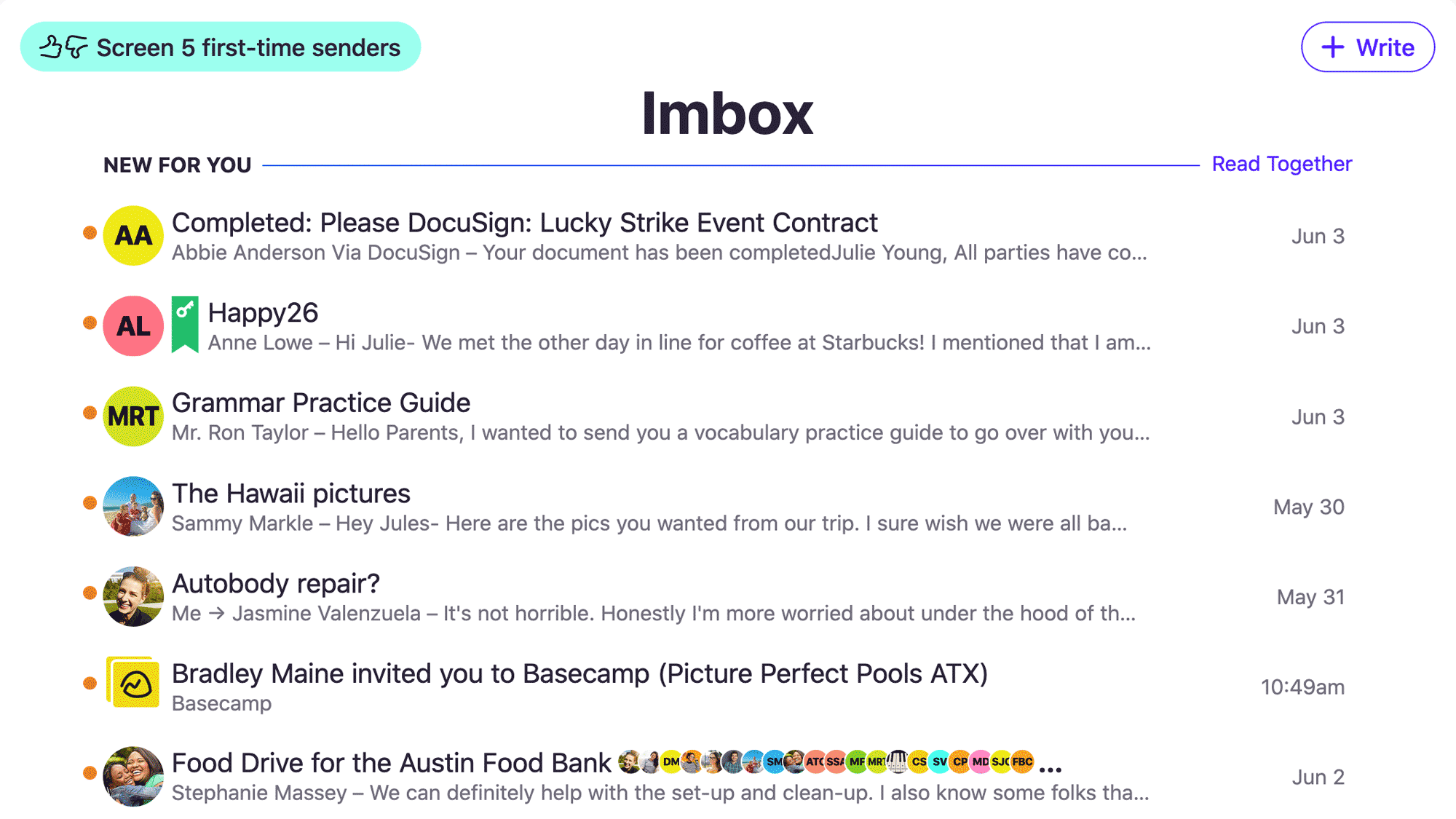 ONMAIL:
Emailtjeneste fra folkene bag mail-appen Edison (til iOS, Android, macOS).
Fire forskellige prisniveauer - fra gratis til $19.99 for større virksomheder.
Fremhævede funktioner: screening af afsendere, bedre organisering af kontakter/korrespondance i 'Split Inbox', vedhæftning af store filer, etc.
Visse af funktionerne i Onmail er indtil videre kun tilgængelige i browseren, selvom man godt kan bruge Onmail i sine Edison-apps, bare uden visse af funktionerne (som først kommer til appsene i 2021)
I modsætning til Hey kan man knytte en Onmail til sit eget domæne — og altså sende fra fx hej@mitdomæne.dk i stedet for

[email protected]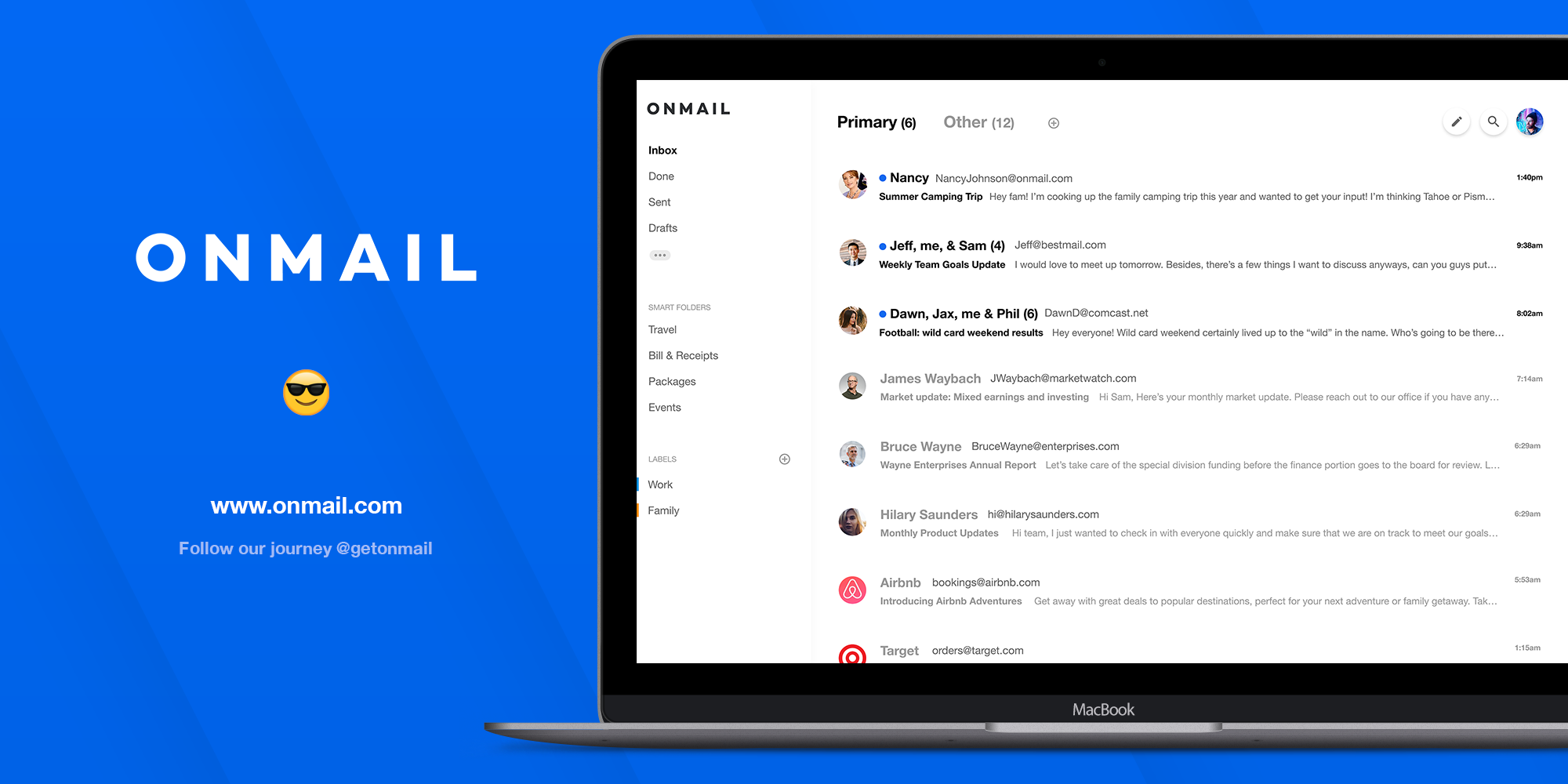 Hvorfor skal man ha' en nye emailtjeneste - og betale for den?
Email er for mange en uomgængelig del af hverdagen, på godt og ondt.
Det er jo grundlæggende fantastisk, at vi kan skrive til hinanden på tværs af kloden gennem åbne standarder, der gør email til en sand global platform.
Men samtidig oplever mange nok også, at de bliver oversvømmet af mails, inklusive spam, nyhedsbreve, ligegyldige reply-all-tråde og hvad har vi.
Derfor er der — måske — et behov for nye måder at tackle emails på. Email er et problem, vi er nødt til at leve med, men det er samtidig også noget, vi kan prøve at omkalfatre til en mulighed, måske endda til noget der giver ægte værdi i hverdagen.
Hey eller Onmail er langt fra de første, der har forsøgt at gentænke email. Foreløbig er Gmail dog uden sammenligning den største succes med over 1.5 milliarder brugere (hvilket ikke er tosset for en tjeneste mange troede var en aprilsnar, da den blev lanceret i 2004).
Gmail er særlig, fordi det ikke bare er en app, der fx giver muligheden for at 'snooze' mails eller den slags. Gmail er en emailudbyder med en hel infrastruktur, der behandler mails på en særlig måde — med spamfilter, 'smarte mapper' og så videre.
Man kan ganske vist bruge en Gmail-konto i andre apps, men så går man glip af nogle af de mange funktioner, som man kan bruge i Gmail hos Google i browseren.
Sådan er det også med Hey og Onmail, der også er emailudbydere. Dem kan man dog ikke engang bruge i andre mail-apps (men det kommer forhåbentlig en dag).
Oven i købet skal man også betale for dem, i modsætning til Gmail — selvom Onmail ganske vist kommer i en gratis version, som dog foreløbig ikke er tilgængelig for alle.
Penge op af lommen
Og hvorfor så betale for noget man kan få gratis fx hos Outlook eller Gmail?
Ja, det må man jo gøre op med sig selv. Men både Hey og Onmail slår, udover de særlige funktioner og deres brugervenlige interface, også på beskyttelsen af privatliv.
De sælger ikke annoncer, og de gør opmærksom på eller blokerer automatisk, hvis en mail indeholder trackingpixels, der kan bruges af afsenderen til at tjekke, om du har åbnet en mail.
Onmail/Edison har dog en forretningsmodel, hvor man kan vælge at sige ja til at ens shopping-mails bliver analyseret i anonymiseret form, så det kan bruges som "insights" i købsvaner. Men det er altså noget, man kan sige fuldstændig nej til, fra starten eller senere.
Men om smarte features har så høj værdi, at man vil betale i størrelsesordenen 7-800 kroner om året for sin email, det er jo en individuel vurdering.
Personligt har jeg dog valgt (i første omgang) at betale for et år med Hey, og tager i hvert fald et abonnement på Onmail resten af 2020.
Jeg tror på at betale for mine apps og mine tjenester, når jeg kan — og fordi jeg er så heldig at jeg kan — i håbet om at det hjælper med at holde tjenesterne i live, giver dem mulighed for at udvikle nye funktioner, og holder reklame-overvågnings-profilerings-kapitalismen bare en lille smule i ave.
Men hvordan fungerer det så i hverdagen?
Mine oplevelser med Hey
Som sagt har jeg haft over to måneder med Hey, og er generelt ganske godt tilfreds, må jeg indrømme. Men det har krævet en vis underkastelse at vænne mig til Heys temmelig subjektive ideer om, hvordan en emailtjeneste skal fungere.
Der er dog heller ikke meget grund til at bruge eller betale for Hey, hvis ikke man går all-in på screening af afsendere, sortering i Imbox/Feed/Paper Trail, eller de andre særlige funktioner. (Ja, Hey kalder indbakken 'Imbox' - Important Box...)
Men jeg har altså taget en for holdet, og har således brugt tid på at vælge om de indkommende mails skal i den vigtige indbakke Imbox, i Feed (hvor alle mine nyhedsbreve havner) eller i Paper Trail (hvor jeg lægger kvitteringer, togbilletter og den slags). Det er dog vigtig at påpege, at det kun skal gøres første gang — derefter sker det selvfølgelig automatisk.
Og det virker! Det er superfint ikke at skulle se alt det uvæsentlige, når jeg tjekker mails, og at jeg selv kan vælge, hvornår jeg vil se på mit Feed og tjekke nyhedsbreve, eller se om der er kommet nye regninger i Paper Trail.
Det kræver måske lidt omtanke at beslutte, hvor man anbringer nogle af de mails man modtager, men man kan altid lave om på det, og adgangen til at styre sortering af kontakterne/afsenderne er rigtig fin.
Et par af andre rigtig fede funktioner er Ignore, Reply Later og Set Aside.
Ignore er powerknappen for folk der er trætte af uendelige og ligegyldige Svar Alle-tråde. Klikker man 'Ignore' modtager man stadig mails i tråden, men de bliver ikke fremhævet i sektionen for nye mails i toppen af Imboxen.
Reply Later giver, som navnet antyder, mulighed for at samle en eller flere mails i en lille stak i bunden af appen, som man så kan svare på, når man har tid — samtidig med at stakken hele tiden minder en om, at det jo skal gøres.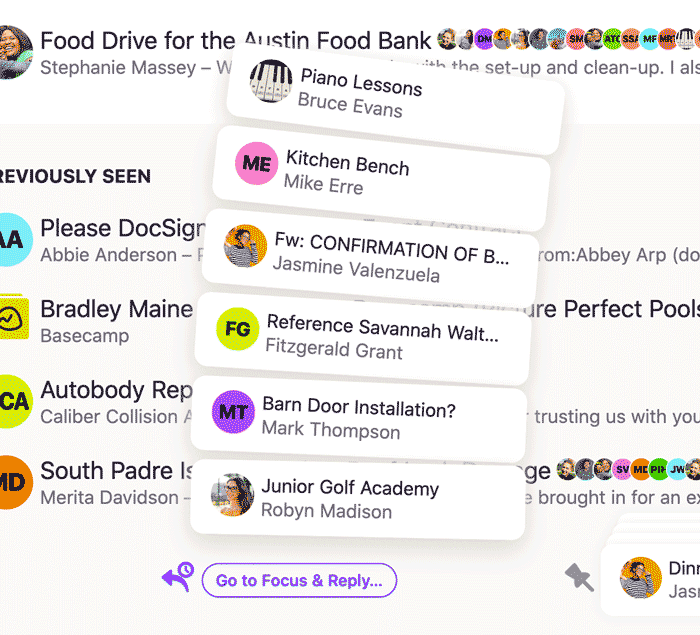 Set Aside fungerer lidt på samme måde, men er mere beregnet til fx billetter eller andre emails man gerne vil have ved hånden uden at skulle søge eller gå på jagt i en af de tre mapper.
For mig fungerer det superfint i hverdagen, så jeg slipper for at sætte flag eller at markere mails som Ulæst, sådan som jeg plejer at gøre.
Jeg har også flere gange gemt Clips — små tekstbidder fra emails — i Hey, så de er lige ved hånden, fx hvis jeg skal sende de samme informationer til flere personer.
Der er dog også features som 'labels', altså emnemærkater, jeg først lige er begyndt at udforske, men som sikkert kan hjælpe. Det peger så på, at det faktisk kræver en vis indsats, hvis man gerne vil udnytte alle funktionerne til fulde.
Ikke alt er fantastisk med Hey
Der er dog også ting, som irriterer mig, eller som jeg savner i Hey.
Jeg er ikke vild med det overordnede look, men det er jo personligt.
Mere relevant er det måske, som et eksempel på nogle af de uheldige interface-valg, at Feed-mappen med nyhedsemails og den slags er uhensigtsmæssigt bygget op.
Det er fint, at man ser et overblik over sine mails og så kan vælge at klikke 'Læs mere', hvis man vil læse hele nyhedsbrevet, men hvorfor pokker ikke en knap med 'Læs mindre', så jeg ikke skal scrolle forbi et langt brev for at komme til næste mail?
I det mindste har de nu automatiseret det, så mailen "lukker" hvis jeg hopper til Imbox og så tilbage i Feedet (men det er på den anden side heller ikke sikkert man ønsker det).
Og så irriterer det mig også, at man ikke kan svare, sende videre eller slette en mail direkte fra Feed-oversigten, men skal klikke på overskriften på den pågældende mail, før man kan gøre noget ved den — et unødvendigt ekstra skridt.
Det største savn er dog nok, at Hey ikke har et arkiv. Jeg er sådan en der gerne vil have at indbakken (Imboxen) er så tømt som muligt, men det kan jeg ikke i Hey medmindre jeg sletter mails. Der ligger altså altid en lang stribe af "tidligere sete" mails nederst i indbakken.
Hvorfor, Hey, hvorfor?
En sidste frustration er, at Hey ikke (endnu) kan bruges med éns eget domæne. Jeg ville rigtig gerne (også) kunne bruge Heys smarte funktioner i mit lille firma, hvor jeg modtager mange flere emails og nyhedsbreve end i den private indbakke, og hvor jeg kunne udnytte de nye funktioner langt bedre.
Det kan jeg bare ikke uden at sende arbejdsmails fra hey.com, og det har jeg ikke rigtig lyst til, når det gælder kunder og professionelle kontakter.
Men de arbejder på sagen, skriver de, så lad os se...
Mine oplevelser med Onmail
Det med domænet var faktisk også grunden til at jeg straks hoppede på Onmail, da den blev tilgængelig sidste uge.
Jeg koblede den nemlig straks til mit podcastfirma, så jeg kan bruge Onmail/Edison-appen til at håndtere al min firmakommunikation, mens det private altså ligger hos Hey.
En favoritfunktion her er, at man ligesom hos Hey bliver spurgt om man vil have mails fra en afsender, første gang man får en mail fra dem. Det er nemlig langt fra alle, man har lyst til bare at lukke indenfor.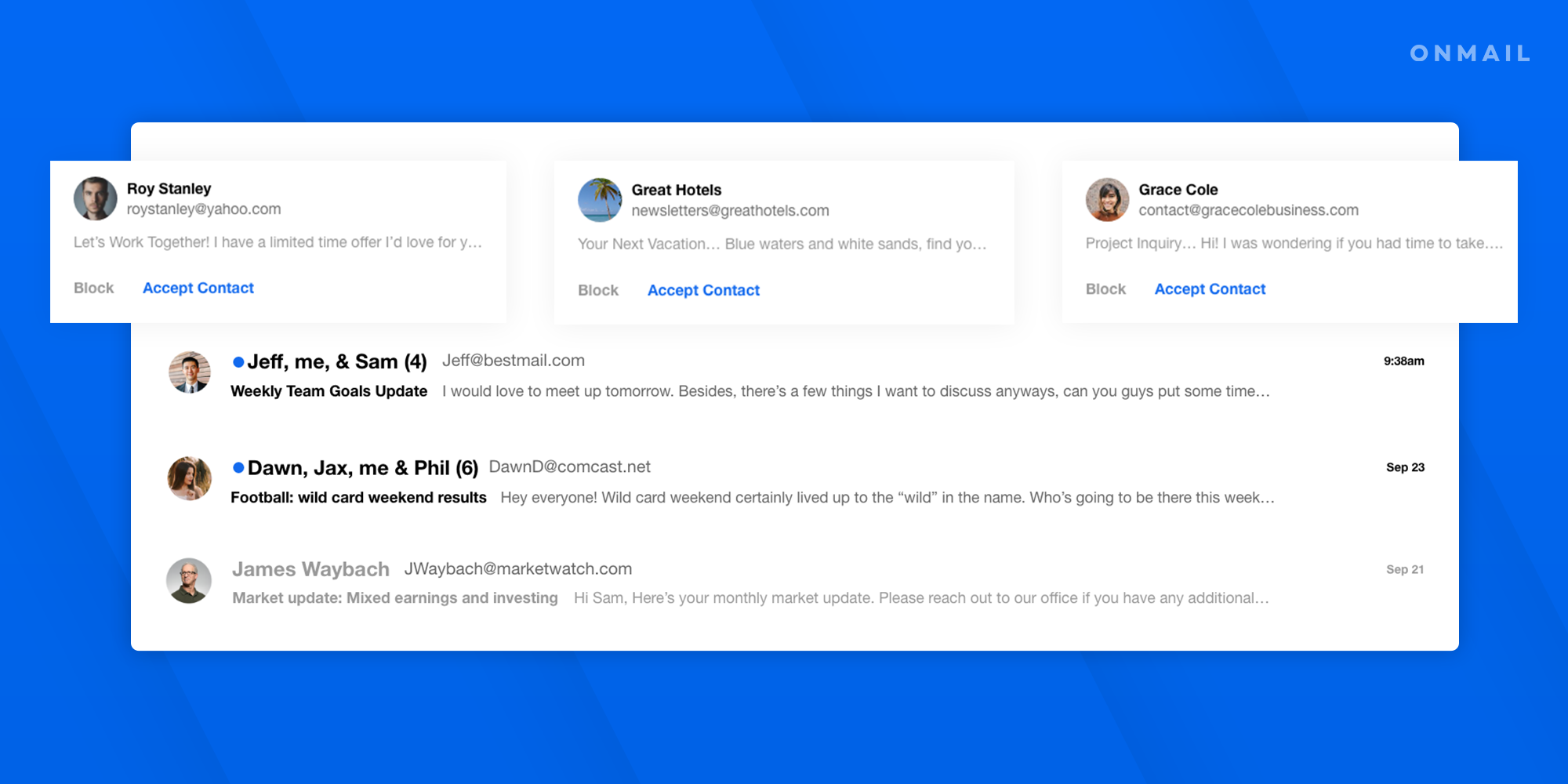 Jeg må dog indrømme, at erfaringerne med Onmail generelt har været lidt mere blandede end med Hey.
Det har fx voldt udfordringer, at Onmails særlige features ikke er spejlet i Edison-appsene fra det samme firma, og at der indledningsvis var lidt knas med synkroniseringen — spammails, der blev slettet og dukkede op igen og den slags. Det lader dog til at være fixet nu.
Men jeg kan godt lide Onmails fine og rene design, der er overskueligt og nemt at navigere i, fx med god fremhævning af vedhæftede filer. Det er måske lidt anonymt sammenlignet med Hey, men til gengæld nemmere at sluge.
Desværre følger designet fra overblikket på inboxen ikke med ind i selve emailsene. Det virker som om, man har taget et fint design og viklet om en gammel email-app. Sjusk.
Der er også enkelte forvirrende oplevelser med ulogisk og inkonsekvent interface-design, ligesom jeg altså også oplever det et par steder i Hey. Fx hvis jeg klikker på en mail, jeg har modtaget og svaret på, så får jeg en oversigt over de mails, jeg har skrevet, i stedet for en oversigt over mails fra afsenderen/modtageren, hvilket jo ville være mere relevant.
Til gengæld har Onmail så den arkivfunktion, jeg savner hos Hey. Det er nemt at klikke 'done' og sende mails til arkivet. Jeg kan nemlig godt lide arkiver, og at valget ikke bare står mellem at have alle mail i indbakken eller slette dem.
Aaah, den tomme indbakke...
Afsluttende bemærkninger
Der er desværre intet, der er perfekt i denne verden — heller ikke hverken Hey eller Onmail. Begge tjenesterne har fordele og ulemper.
I virkeligheden ville jeg gerne (som med så mange andre apps og tjenester) kunne udvælge funktioner fra de to tjenester og smelte dem sammen til én app, en særlig AndersMail, der dog indrømmet sikkert kun ville passe til min hverdag og mine præferencer.
Når det så er sagt, så har jeg — delvis af nød, delvis af egen fri vilje — valgt at organisere min hverdag med private mails i Hey og mine arbejdsmails i Onmail/Edison. Dén adskillelse gør det også lidt nemmere for mig, når jeg prøver kun at arbejde i arbejdstiden.
Jeg må dog indrømme, at hvis jeg blev tvunget til at vælge, så er Hey en klar vinder. Den er mere gennemtænkt, helstøbt og innovativ, og jeg er rimelig sikker på, at jeg nok kommer til at fortsætte mit abonnement også efter det første år.
Onmail er dog på mange måder en fin emailtjeneste, og er ikke helt smidt på porten. Jeg håber dog at folkene bag opdaterer softwaren ligeså hurtigt som Hey, der har nået at rette mange fejl og uhensigtsmæssigheder i løbet af de første knap 3 måneder.
Så foreløbig bruger jeg altså Onmail som arbejdsmail, og det bliver jeg nok ved med nogle måneder endnu.
Til allersidst må vi dog nok hellere lige nævne, at der jo findes en del andre emailtjenester derude, som man også kan tjekke ud, hvis man ikke gider sin Outlook, sin Gmail eller den mailtjeneste, der følger med éns domæne.
FastMail er en af de populære og bundsolide muligheder, mens ProtonMail er en supersikker og privacyfokuseret tjeneste, der dog efter min mening desværre (indtil videre) halter voldsomt på interface og helt basale funktioner.
Uanset hvad, så er det, for første gang i mange år, spændende tider på emailfronten. Jeg glæder mig vildt til at se, hvad det næste bliver!
---

1. Kampen fortsætter
Slagsmålet mellem spilfirmaet Epic og Apple fortsætter.
Epic har forsøgt at få retten til at tvinge Apple til at lade Fortnite-spillet komme tilbage i App Store - dog foreløbig uden held.
Efter sigende koster de manglende iOS-spillere Epic et tab på 26 millioner dollars om måneden, så det er ikke underligt de presser på.
Apple giver sig dog ikke uden kamp. I firmaets redegørelse til retten skriver Apple blandt andet:
"Selvom Epic forsøger at tegne billedet af sig selv som en moderne Robin Hood, er de et multi-million-dollar-firma, som ganske enkelt ikke ønsker at betale for den kolossale værdi de får fra App Store."
Det sidste ord er dog næppe sagt i dén sag...
---

2. Hackere stjæler cpr-numre fra biblioteker
"Det er lykkedes organiserede it-kriminelle at stjæle cpr-numre fra danskere, som har benyttet offentlige computere, fx på landets biblioteker."
Sådan skriver Kommunernes Landsforening i en pressemeddelelse tirsdag.
KL samarbejder med politiets Nationale Cyber Crime Center og med Digitaliseringsstyrelsen, men kan endnu ikke sige noget om hvor mange cpr-numre der er blevet opsnappet, eller hvilke andre data de kriminelle har fået adgang til.
De berørte vil få spærret deres NemID og modtage en henvendelse fra politiet (men husk lige at tjekke at det ikke er et phishing-angreb, hvis du får sådan en henvendelse...).
---

3. Nyt til Android-folket!
Google har annonceret, at udrulningen af Android 11 begynder nu.
Det betyder blandt andet features som den såkaldte Boble-funktion til beskeder, hvor samtalen "flyder oven på" andre apps, så du hurtigt kan læse og svare uden at forlade det du ellers var igang med.
Som altid er det dog desværre langt fra alle mobiler der vil modtage opdateringen og de nye funktioner.
Udover Googles egne Pixel-mobiler vil udvalgte OnePlus, Xiaomi, Oppo og Realme-modeller dog få tilbudt Android 11.
---

LINKS TIL LÆSEHESTE
Vis, hvad du føler! Kjolen aflæser dine hjernebølger og viser verden hvordan du har det.
---
Mega-mange pixels! Verdens største digitalkamera skal bruges til astronomi, men det første billede var af en broccoli!
---
Knap så fantastisk? Guardian har offentliggjort en artikel skrevet af tekst-algoritmen GPT-3...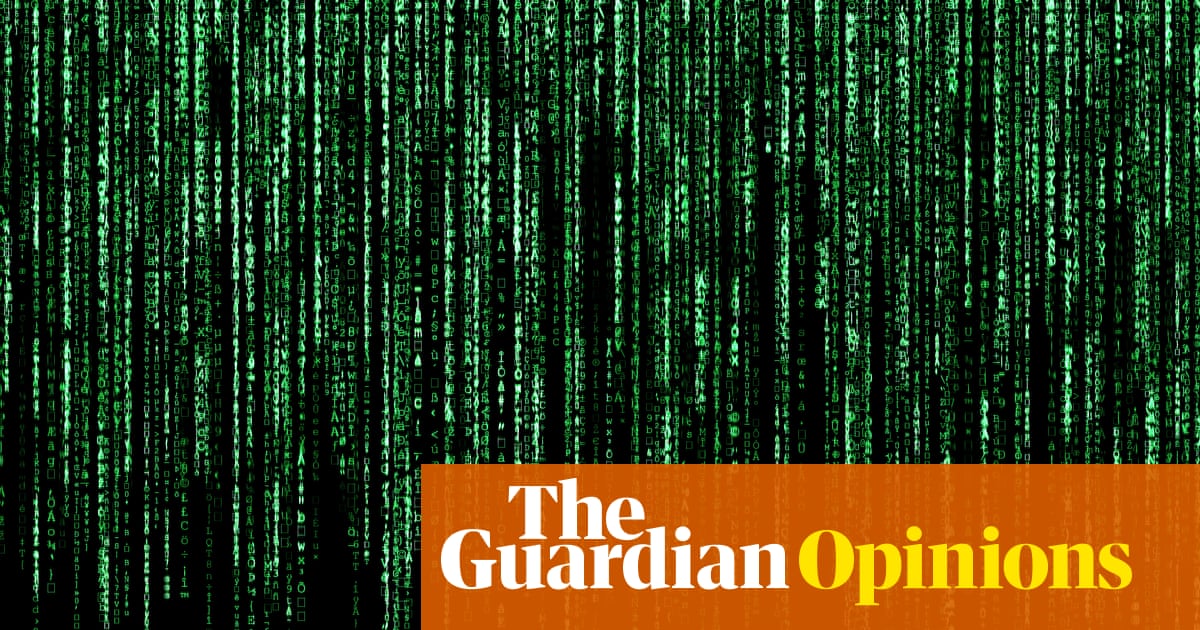 ...men har de snydt lidt?
---
Wheeeeee! Fremtidens ræs bliver (måske) i elektriske droner.
---
Baghjul til Neuralink. Det er heldigvis ikke kun Elon Musk, der arbejder med Brain-Computer Interfaces. Og de her kan bruges til noget...
---