En verden uden techgiganter: nyheder fra resten af verden
Vi tager en pause fra techgiganterne. Så i dag står den bl.a. på bitcoins i El Salvador, apps til kriminel kommunikation, indonesiske madbude, og en test af en elektrisk én-personers helikopter-rygsæk.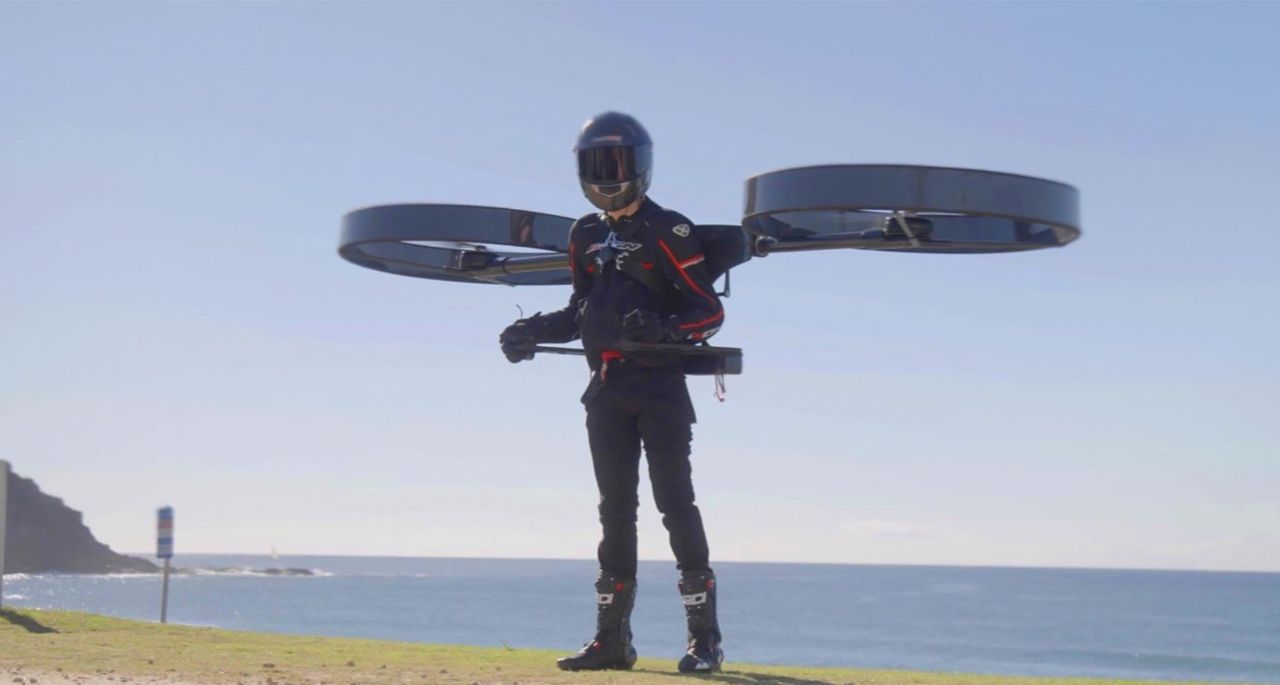 PS
Vi er glade for at du læser vores nyhedsbrev. Men husk at kigge op fra skærmen en gang imellem, hvis du læser, mens du går, så du ikke generer andre eller bliver til fare for dig selv i trafikken.
Alternativt kan du søge teknisk hjælp…
Og så til nyhederne:
---

1. Ransomware er terrorisme – i hvert fald i USA
For et par uger siden skrev vi her i Techliv et helt nyhedsbrev om den aktuelle bølge af ransomware-angreb, der har ramt både amerikanske olievirksomheder og irske hospitaler med krav om betaling af en løsesum, hvis man vil have adgangen til sine data tilbage.
Den hidtil største (kendte) løsesum blev tidligere i maj betalt af netop oliedistributøren Colonial Pipeline, der pungede ud med hele 4,4 millioner dollars til DarkSide-hackergruppen.
Men det sidste ord er ikke skrevet i dén sag, hverken når det gælder DarkSide eller problemet med ransomware.
Forleden meddelte FBI, at man i samarbejde med Colonial Pipeline havde kunnet tracke en stor del af betalingen, der var sket i bitcoin, og at man havde beslaglagt knap 64 bitcoin, svarende til 2,3 millioner af de 4,4 millioner dollars.
Det hjælper måske også lidt for firmaets direktør, Joseph Blount, der måtte stå skoleret for et panel i det amerikanske Senat og forsvare sin beslutning om at betale afpresserne. Her kom det dog også frem, at betalingen altså var sket i samarbejde med FBI.
Allerede ugen inden var det også annonceret, at de amerikanske ordenshåndhævere nu prioriterer ransomware-angreb på linje med terrorisme, og at man vil forsøge at koordinere efterforskningen nationalt gennem en nyoprettet task force.
Det betyder blandt andet, at alle efterforskere i de enkelte stater skal indrapportere til den fælles gruppe.
---

2. El Salvador gør bitcoin til officiel valuta
Mange ransomware-grupper kræver betaling i kryptovalutaer, og vi bliver lidt endnu ved dét emne.
For nu er bitcoin nemlig ved at blive gyldig valuta i El Salvador, der netop har vedtaget den såkaldte Bitcoin Law i landets kongres, med 62 ud af 84 stemmer. Loven skal dog viderebehandles i systemet, før den bliver praksis i landet.
Det betyder, at man fremover vil kunne betale sin skat i bitcoin, og at firmaer kan vælge (også) at skrive deres priser i bitcoin, udover i US dollars, som ellers har været El Salvadors eneste officielle valuta.
Loven gør dog intet for bitcoins vildt svingende kurs – den vil fortsat blive fastsat af markedskræfterne.
For nylig har præsident Bukele også meddelt, at man vil arbejde sammen med det amerikanske firma Strike om at lave en helt ny, bitcoin-baseret 'finansiel infrastruktur' i El Salvador.
Nu er landet jo ikke verdens største økonomi (befolkningen er cirka på størrelse med Danmarks, men set på GDP rangerer landet på en 106. plads, sammenlignet med Danmarks 36. plads), men det er absolut interessant at se om – og hvordan – den nye lov og den nye infrastruktur bliver ført ud i livet.
Det kan vise sig at være et første skridt i en global udvikling, en slags national beta-test, eller det kan flyde ud i sandet, ligesom Venezuelas fejslagne kryptovaluta, Petro.
BITCOIN BONUS:
Det er dog ikke kun på den anden side af Atlanterhavet, at man udforsker kryptovalutaernes muligheder og udfordringer. Også herhjemme er der gang i tingene.
Skatteministeriet har fx lige meddelt, at man vil opdatere sine regler for kryptovaluta, fordi cirka to tredjedele af de identificerede krypthandler i perioden 2015-19 ikke har været korrekt oplyst til skattemyndighederne.
Ministeriet skriver blandt andet:
"Skatterådet har bl.a. af den grund udtrykt bekymring over det forhold, at det er vanskeligt for skattemyndighederne at kontrollere, om gevinster fra salg af kryptovaluta oplyses til skattemyndighederne, da der efter gældende regler ikke er en indberetningspligt for kryptovalutabørser eller andre aktører på markedet."
Om skattereglerne kan være årsagen til, at et stort dansk Blockchain-projekt har valgt at have base i Schweiz, er ikke til at sige.
Uanset hvad, så bliver projektet Concordium lanceret officelt her i dag, onsdag kl 14.
Firmaet er stiftet af tidligere Saxo Bank-direktør Lars Seier, og skal lave firmaløsninger til 'smarte kontrakter' og andre transaktioner med Blockchains "distribuerede regnskabsbøger".
Concordiums Blockchain er baseret på Proof of Stake, et verifikations-princip som bruger langt mindre strøm en den efterhånden katastrofale klimabelastning fra bitcoin og andre kryptoprojekters Proof of Work, der kræver ekstreme computerberegninger og har tårnhøjt energiforbrug.
Men uanset metoden, så skal der jo bruges strøm. Og her har en engelsk landmand fundet en snedig løsning – nemlig gylle.
Philip Hughes, der opdrætter kvæg, samler køernes efterladenskaber og gemmer kokasserne i tanke til gæring. Den metan, som kommer ud af processen brændes af, og driver en generator som laver strøm.
Strømmen bruges til Hughes' almindelige strømforbrug, men cirka en tredjedel bruger han til at drive et rack af specialbyggede computere med store grafikkort, som miner mønter fra kryptvalutaen Ethereum.
Og det er da ganske smart.
---

3. Forbrydere fanget med besked-app fra FBI
Tirsdag meddelte en gruppe af lovhåndhævere fra både USA, Europa og Australien, at de netop havde arresteret over 800 personer fra hele verden, som beskyldes for en lang række forbrydelser, herunder narkohandel.
Det er i sig selv ikke nødvendigvis Techliv-stof, men måden, de efterforskede forbrydelserne på, er absolut interessant!
Det viser sig nemlig, at FBI og de australske politi "over en øl" i 2018 fandt på at overtage mobilappen AN0M, som de havde fundet på et antal beslaglagte telefoner, der tilhørte kriminelle.
AN0M gav forbryderne en fuldstændig sikker kanal med krypterede beskeder på telefoner, der udelukkende blev brugt med AN0M-appen. I hvert fald indtil FBI og politiet udklækkede deres snedige plan. Via de beslaglagte telefoner fik de nemlig adgang til al kommunikationen, og samtidig forsøgte de også at overtale flere og flere til at bruge AN0M.
Det lykkedes over al forventning. I alt indsamlede efterforskerne over 27 millioner beskeder i de følgende måneder, om alt fra lejemord og røverier til narkosmugling. Og nu har man så anholdt over 800 personer fra både Asien, Europa, Mellemøsten og Sydamerika.
Det er i øvrigt ikke første gang, sådan en plan lykkes. Sidste år kom det således frem, at politiet i EU og England havde arbejdet sammen om at infiltrere appen Encrochat, der blev brugt især af europæiske kriminelle, og man arresterede i hundredevis af mistænkte som følge af de indsamlede beskeder.
Nu regner vi selvfølgelig ikke med at Techlivs læsere er på kant med loven, men lad os bare sige, at man skal tænke sig godt om, når man vælger, hvilken kommunikations-tjeneste man bruger, hvis man gerne vil værne om sit privatliv og sine hemmeligheder…
---

4. Kæmpe internet-nedbrud!
Vi kan nok ikke undgå lige at nævne, at store dele af verden tirsdag blev ramt af udbredte internet-nedbrud, som betød at en lang række sites i en periode var utilgængelige.
Nedbruddet blev opdaget omkring kl. 12 dansk tid tirsdag, men størstedelen af de berørte websites var oppe igen ved 13-tiden.
Selvom det altså relativt hurtigt lykkedes at finde og rette problemet, så viser det, at selv et robust og fejlresistent system som selve internettet kan lægges ned.
Nedbruddet skyldtes en fejl hos CDN-firmaet Fastly. CDN står for Content Delivery Network og er et digitalt distributionssystem, som fordeler webdata og streamingindhold på servere rundt om på kloden, så informationen ikke altid skal rejse mange tusinde kilometer fra udbyderen til forbrugeren.
---

5. Strejke blandt indonesiske bude og nyt fællesprojekt for europæisk bude
Det er ikke kun herhjemme, at det er blevet almindeligt at se flokke af cykel- og knallertbude i kulørte uniformer, som bringer mad og andre varer ud til de bekvemmelige (læs: dovne?) forbrugere.
Det er et fænomen, som har bredt sig på hele kloden, på godt og ondt. For det er langt fra altid, at de hårdtarbejdende bude behandles anstændigt. Lav løn, lange arbejdsdage, ingen ferie, og så videre.
Således også i Indonesien, hvor budene hos regionens udbringnings-gigant, Gojek, i disse dage strejker som en konsekvens af en varslet lønreduktion.
I sidste uge blev det annonceret, at taksten til budene skulle nedsættes med hele 50 procent; fra 10.000 rupiah for 5 udbringninger til kun 5.000 rupiah for det samme arbejde (fra cirka 4 kroner til cirka 2 kroner).
Strejken er planlagt til at finde sted i byerne Jakarta, Bogor, Depok, Tangerang, Bekasi og Bandung, og det forventes at omkring 1.000 bude (som teknisk set ikke arbejder for Gojek, men firmaet GoSend) vil deltage.
De opfordrer til, at alle firmaer i strejkedagene ikke tilbyder levering samme dag, og at brugerne også vil støtte deres kamp for bedre arbejdsvilkår.
På vores breddegrader har budene nok generelt en højere løn, men ikke nødvendigvis meget bedre vilkår. Interessant nok føler udbringningsfirmaerne også, at de heller ikke altid bliver behandlet rimeligt højere oppe i systemet.
Ifølge stifterne fra de fire firmaer kan "platformsøkonomiske tjenester" bidrage til innovation, nye jobs og økonomisk vækst, men de accepterer, at det også kræver regulering.
Derfor har Delivery hero, Bolt, Glovor og Wolt slået sig sammen og dannet det såkaldte European Purpose Project, i håbet om at kunne influere på EU-lovgivningen for budtjenester.
En lobbyorganisation, med andre ord…
---

LINKS TIL LÆSEHESTE
Elektrisk rygsækshelikopter. Australske Copterpack flyver før første gang. Turde du?
---
Intelligent kørsel. AI-projekt skal reducere TDCs teknikertransport med 25%
---
Inception-agtige drømmebyer. To millioner fotos og kunstig intelligens skaber interaktive, digitale billed-byer, man kan gå på opdagelse i
---
Radiputer? Computere kræver strøm, og beregninger kræver energi. Hvorfor ikke kombinere det med opvarmning?
---