Apple-nyheder fra WWDC: En lavpraktisk opdatering
Vi har samlet de vigtigste nyheder fra Apples udviklerkonference, WWDC, som blev skudt i gang i går aftes.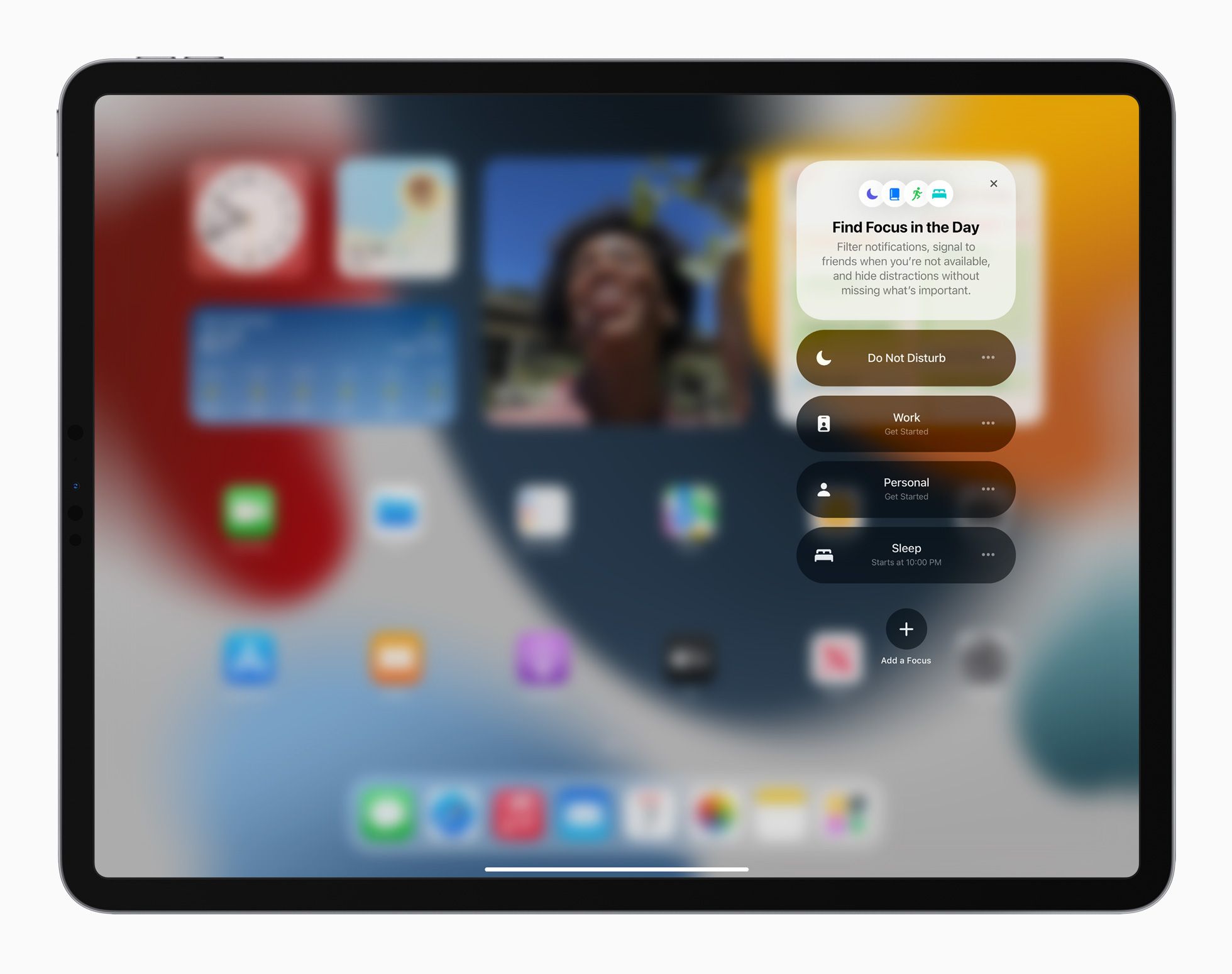 ---

Apple WWDC 2021: En lavpraktisk opdatering
Apples årlige udviklerkonference WWDC blev skudt i gang mandag aften dansk tid med en 1 time og 45 minutters forproduceret præsentation.
Som vanligt var der fokus på nye features og opdateringer af firmaets efterhånden mange styresystemer og services, som traditionen tro vil blive sendt ud til brugerne til efteråret.
Hvis du (som jeg) havde håbet, at Apple ville præsentere det første udkast til det AR/VR brille-styresystem, som de arbejder intenst på i kulissen, så har jeg dårligt nyt. For det blev ikke nævnt med så meget som ét ord.
Der var altså i væsentlig grad mindre opdateringer, men til gengæld mange af dem — og mange ganske lavpraktiske.
Vi har samlet de vigtigste nyheder her i kronologisk rækkefølge:
---
iOS 15
iPhone-styresystemet iOS er nået til version 15 og vil kunne installeres på alle iPhones, der også kan køre iOS 14.
FaceTime-opdatering — og et nyt deleformat: SharePlay
FaceTime fik en ganske store overhaling, og måske vigtigst vil Apples videosamtale-service nu kunne bruges af Android og Windows-brugere i en browser.
Derudover introducerede Apple nogle nye features under navnet SharePlay.
Blandt andet Listen together og Watch Together, som går ud på, at man nu kan lytte til musik eller se serier synkront med andre, mens man hænger ud på FaceTime.
Det bliver også muligt at dele sin skærm, som altså skal gøre FaceTime til lidt mere af en Zoom-oplevelse.
Desuden vil man nu kunne oprette FaceTime-links, så man kan invitere andre til en samtale på et bestemt tidspunkt.
Fokus på fokus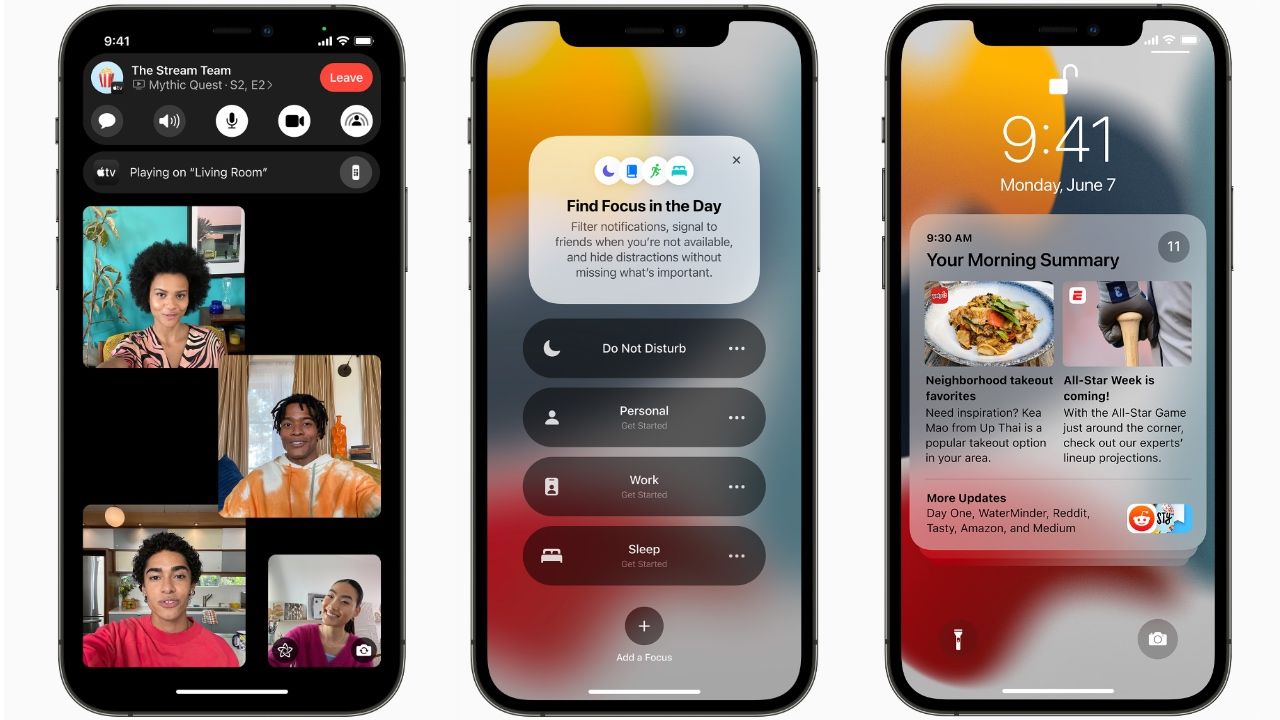 Et andet og langt mere relevant tiltag kalder Apple for Focus.
Tanken er, at du kan indstille din telefon eller computer, så den passer til den situation, du befinder dig i; fx arbejde, familietid, koncentration, weekend eller hvad du nu ønsker.
Det er en slags videreudvikling af 'Forstyr ikke', hvor du kan oprette forskellige fokus-modes, som blandt andet kan lukke for bestemte notifikationer i et bestemt tidsrum og kan vise en særlig tilpasset hjemmeskærm med bestemte apps, der passer til.
Dit fokus synkroniserer til alle dine enheder.
Focus er en af de funktioner, som på papiret ser rigtig interessant ud, men som skal prøves i praksis over et stykke tid, for at vurdere om det giver mening.
Konceptet med færre forstyrrelser går igen i en opdateret udgave af notifikationer, som du nu kan få præsenteret på forskellige tidspunkter af døgnet, når det passer dig.
Avanceret tekstgenkendelse — men ikke på dansk
Apple forsøger også at skrue op for deres maskinlærings-evner med en ny (Google-agtig) feature, de kalder 'live text'.
Det går ud på, at telefonen og telefonens kamera kan aflæse tekst og tal fra så godt som alle formater, så du altså kan copy/paste tekst fra fra skærmbilleder på din telefon, et whiteboard på din arbejdsplads, eller et skilt der hænger på døren til en forretning med telefonnummer og åbningstider.
Det virker dog desværre ikke på dansk.
Wallet: nu med digitale nøgler til din hoveddør
Wallet-appen kommer i iOS 15 til at understøtte digitale nøgler, så du kan låse dig ind derhjemme eller på arbejde med din telefon.
Det kræver at appen spiller samme med en af de mange udbydere af nøglebrikker. Et af de firmaer der bliver understøttet er Salto, som er ganske udbredt i Danmark.
Det er altså er en klar vinder, og en feature jeg selv ville være vanvittig glad for.
AirPods med Dolby Atmos og ny huskefunktion
AirPods får også en række små nye features. Måske vigtigst for de fleste er muligheden for at kunne lokalisere sine AirPods Pro ved hjælp af Find-appen.
Derudover kan man også fremover få en notifikation, hvis man er ved at gå fra sine AirPods.
Mens stort set alle de nye features tidligst kommer til efteråret, så lancerede Apple i går de nye lydformater: Dolby Atmos og Lossless i Apple Music.
Netop Dolby Atmos (også kaldet Spatial Audio) understøttes på AirPods.
Jeg har lyttet til en del musik i løbet af morgenen og formiddagen på mine AirPods Pro — ikke mindst til Taylor Swifts Folklore, som er et album jeg har lyttet til mange gange før.
Og det giver helt sikkert et andet og klart mere fyldigt og levende lydbillede.
Instrumenterne og de forskellige tracks er simpelthen distribueret på en anden og markant mere rumlig måde, hvor man kan differentiere de forskellige instrumenter og melodier bedre.
Jeg er faktisk mere imponeret end, jeg havde troet jeg ville være. Ikke fordi lyden opleves så meget som 3D, som jeg havde forestillet mig, men den føles bare større, og markant mere defineret.
Anbefaling: Lyt til sangen 'My Tears Ricochet', hvis du vil opleve Dolby Atmos i sin fuldhed — hvis der er noget, der hedder det 😃 ?
Hvis du er den lidt mere old school type, så kan du jo også tage et lyt til The Doors 'Riders on the storm', Kraftwerks 'Trans Europe Express' (der lyder ret vildt) eller Iggy Pops 'The Passenger'.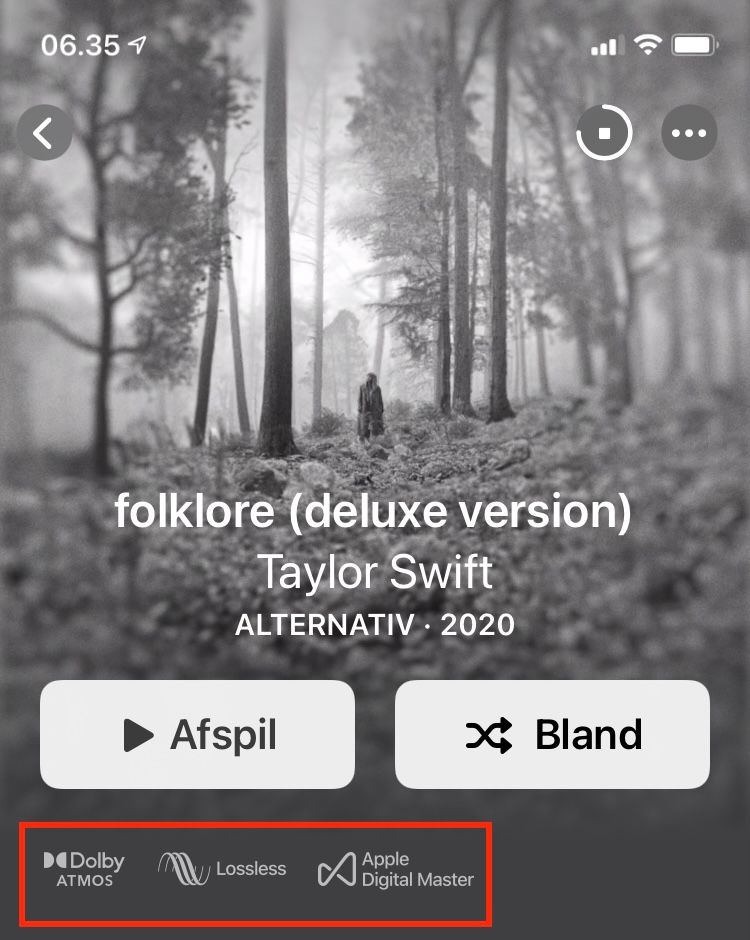 ---
iPadOS 15 — en stor skuffelse
For dem, der forsøger at bruge iPad som et seriøst arbejdsredskab, var den kommende version af iPad OS nok lidt af en skuffelse.
På trods af at de nyeste iPad Pro kommer med den samme processor, som sidder i de nyeste MacBook Air/Pro og den nye iMac, så var der hverken forbedringer af tilkoblingen til eksterne skærme eller mulighed for fx at bruge eksterne audio-interfaces på samme måde som på en "rigtig" computer.
Det er altså lidt svært at få øje på, hvorfor Apple udstyrer iPad Pro med så meget computerkraft, når de ikke følger det til dørs med de features, som deres Pro-brugere efterspørger.
I småtingsafdelingen fik iPad nogle af de features, som iPhone fik sidste år: widgets, der kan placeres hvor som helst på skærmen, og det såkaldte app-bibliotek, hvor du kan se (og søge i) alle dine apps, uden at de fylder på en hjemmeskærm.
Lidt mere væsentligt, så introduceres en ny multitasking-menu, som skal gøre det mere smidigt at skifte mellem apps. I tillæg kommer der et nyt "shelf-område", hvor man kan gemme forskellige konstellationer af apps, som man bruger side om side.
Langt om længe kan man nu kode apps til iPhone og iPad direkte på en iPad. Dog er det kun via appen Swift Playground, der i udgangspunkt blev designet til at nybegyndere kan lære at kode.
Og det var nogenlunde det.
---
Noter får en kærkommen 2021-opdatering
Apples Note-app fik til gengæld en større overhaling.
Her bliver det nu muligt at lave @mentions af folk, man arbejder sammen med, og tilføje tags (det er jo 2021).
Desuden introducers et aktivitets-view, så man kan få et overblik over, hvilke noter der seneste er opdateret, og hvem der har opdateret dem.
Mere fremsynet, så kommer der en ny 'quick note' funktion, så man altid med et enkelt swipe, kan oprette en ny note, hvis man lige har en hurtig tanke, man vil grifle ned.
Funktionen bliver tilgængelig på iPad og MacOS.
Privacy—opdateringer… naturligvis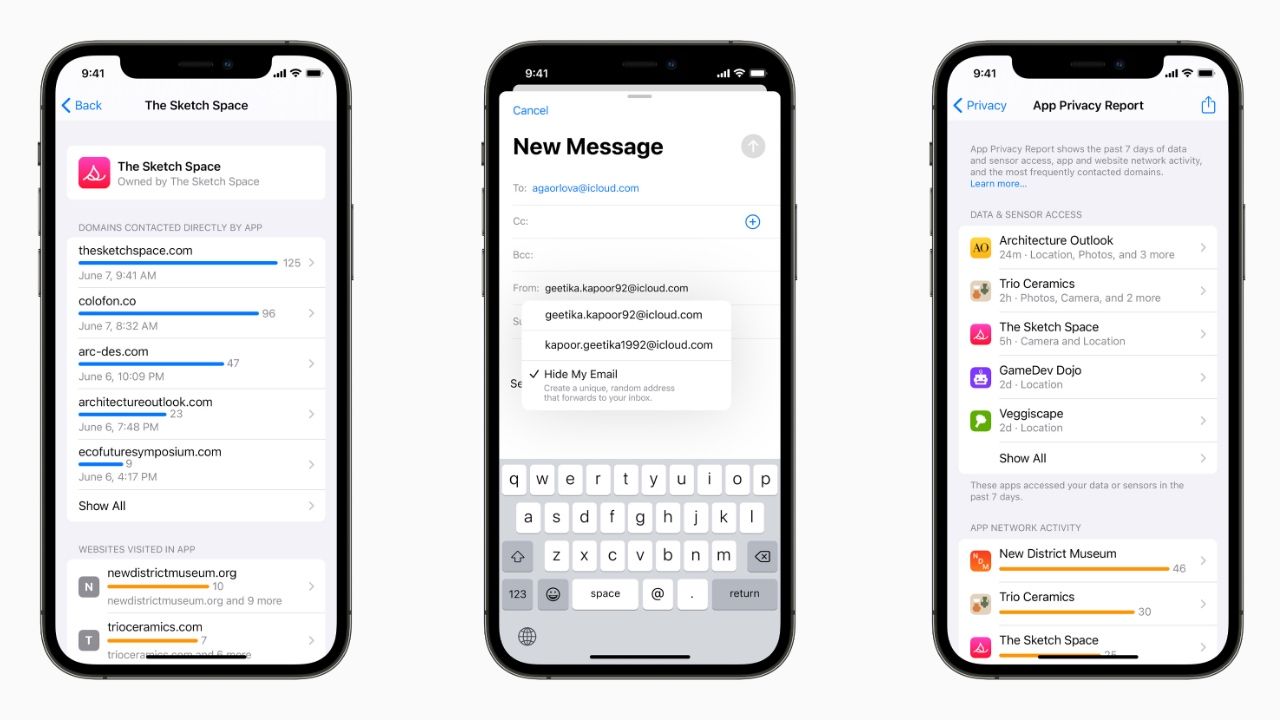 Privacy bliver et større og større fokusområde for Apple, der heller ikke i år havde løftet foden fra speederen.
Mail får en ny feature, som de kalder 'Mail privacy protection'.
Den sætter en stopper for at nyhedsbreve og mails fra firmaer, kan tracke informationer som fx brugernes IP-adresse, lokation og tidspunkt en mail er blevet åbnet.
Samtidig introduceres en ny App privacy report (lidt i stil med den Google løftede sløret for for nylig), hvor du i detaljer kan se, hvilke apps der tilgår kamera, mikrofon, og ikke mindst alle de domæner som en app sender data til.
Siri uden netforbindelse
Siri har længe haft mere end svært ved at forløse sit potentiale. Men måske begynder der at komme mere skub i tingene nu.
Apples digitale assistent vil i langt højere grad benytte sig af talegenkendelse direkte på dit device.
Det betyder, at du blandt andet vil kunne styre musik eller sætte timere uden at din forespørgsel skal forbi Apples servere. Det er ikke bare bedre i privatlivsøjemed, men skulle også gerne sætte Siris reaktionsevne markant i vejret.
iCloud — nu med et +
Den måske største overraskelse var nye (lavpraktiske) features i iCloud.
Fx bliver det nu muligt at få tilsendt såkaldte recovery-koder til et familiemedlem, hvis du ikke kan logge ind på dit device (dine forældre kommer til at elske det).
På den mere alvorlige side, kan man nu vælge såkaldte legacy contacts, som kan få adgang til ens data, når man er død.
Og så kunne Apple ikke stå for muligheden for at putte et + bag endnu en af deres services.
I iCloud + (som er tilgængelig for alle der betaler for iCloud-lagerplads) får du tre særlige tiltag, uden ekstra betaling.
Den første er 'Hide my email', som gør det muligt at bruge nye emailadresser til alle de services, du tilmelder dig.
Det er særligt brugbart, hvis du er nervøs for, om et firma begynder at spamme dig eller dele din email med andre.
Det kan også være rigtig godt, hvis nu et firma er udsat for et sikkerhedsbrud, og du derfor blot kan undgå at bruge den pågældende email-adresse igen.
Desuden får iCloud+-brugere en Apple-fortolkning af en VPN, som har fået navnet Private Relay.
Det betyder, at når du er på farten vil trafikken fra din telefon eller computer blive sendt krypteret gennem to forskellige sikkerhedslag. Ifølge Apple betyder det, at hverken de eller andre kan følge med i, hvad du søger på, hvilke sider du besøger, eller hvilke data du sender og modtager.
Apple påstår samtidig at funktionen ikke vil nedsætte hastigheden på din surf, hvilket ellers er en velkendt bivirkning ved brug af en VPN.
Private Relay vil dog ikke være tilgængeligt alle steder, heriblandt Kina, Saudi Arabien og Hviderusland på grund af lokal lovgivning.
Det sidste iCloud+ element er sikker opbevaring af videofiler fra sikkerhedskameraer i eller uden for dit hjem.
Sundhed for hele familien
Et andet klart fokusområde er Sundhed.
Her var den største nyhed, at man fremover kan vælge at dele udvalgte sundhedsdata med andre.
Fx kan ældre familiemedlemmer lade deres børn følge med i ændringer af puls eller bevægelse, så de kan tage affære, hvis der pludselig er nogle tal, der ændrer sig.
Du kan også vælge at dele udvalgte sundhedsdata med lægen. Dog er det næppe noget der kommer til Danmark foreløbigt, da det skal integreres i en sundhedsplatform (men du kan naturligvis altid dele en pdf).
Samtidig udvider Apple også med det de kalder trends. Det vil sige, at du vil få en notifikation, hvis nogle af dine egne sundhedsdata pludselig afviger fra normalen.
Det er potentielt en virkelig brugbar feature, der kan give dig en advarsel om, at det nok ville være godt at få en læge til at kaste et blik på din sundhedstilstand.
---
WatchOS: Det glemte styresystem
Eventens største skuffelse var efter min mening ur-styresystemet WatchOS, der kun fik ganske små og helt ubetydelige nye features.
Det kan dog være fordi, de først afslører større nye tiltag i forbindelse med lancering af næste Apple Watch, hvis der fx introduceres en ny sensor.
Nye versioner af Apple Watch bliver traditionelt lanceret sammen med iPhones i september/oktober.
Der var heller ikke nogen update på, om Fitness+ servicen skulle være på vej til Danmark.
---
Home: Siri integreres i tredjepart-produkter
En anden ting der heller ikke er på vej til Danmark er HomePod Mini.
Grunden er formentlig den ganske simple, at Siri stadig halter ganske enormt på vores modersmål, og at brugeroplevelsen af Apples smart-højttaler derfor ville være tilsvarende ringe.
Men for dem der alligevel køber HomePod Mini (for de kan sagtens købes på nettet) og bruger dem på engelsk, er den største nyhed, at de kan kobles til Apple TV-boksen, og dermed agere stereo-højttalere for dit TV.
En anden og måske mere væsentlig nyhed er, at Siri, nu bliver sluppet delvist fri. Fremover kan udvalgte Home-devices nemlig stemmestyres via Siri.
I demoen fra eventen så man en Ecobee termostat, der blev stemmestyret via Siri.
Der blev dog ikke offentliggjort detaljer om, hvilke mærker der vil understøtte Siri; blot at det er en del af den nye Matter-standard, hvor tanken er, at det skal blive nemmere at forene home-dimser fra forskellige producenter.
Som jeg nævnte i min kommentar fra marts, da Apple droppede den originale (og bedre lydende) HomePod:
Mit bud er, at Apple måske pønser på at åbne for Siri, så assistenten kan bruges på enheder, der ikke har et æble på siden.
Mere specifikt håbede jeg, at Sonos vil integrere med Apples digitale assistent, og det ville ikke overraske mig, hvis der er noget under opsejling.
---
MacOS 15 Monterey — mere integration med iPad og iPhone
Næste version af MacOS har fået navnet Monterey.
Der var ikke de store nyheder, andet end at Mac også vil understøtte flere af de allerede nævnte nyheder såsom de nye FaceTime-features, SharePlay, Focus og Quick Notes
Der var dog en ganske imponerende ny feature, som blev demonstreret af Craig Federighi, Apples Vice President of Software Engineering, som i øvrigt var tovholder på hele aftenens præsentation.
Den nye feature hedder Universal Control, og gør det muligt at styre op til tre forskellige Macs og iPads med et tastatur og en mus/trackpad.
Med andre ord stiller du bare to Macs og en iPad ved siden af hinanden, og du kan så uden videre trække indhold fra den ene skærm til den anden, eller skrive på det device, hvor du har placeret cursoren.
Igen er det en af de features, man skal prøve i virkeligheden for at teste, om det er en gimmick, eller om det rent faktisk gør brugen af flere skærme bedre.
For de lidt mere avancerede brugere så fik MacOS også tilført Shortcuts (Genveje), der efterhånden har nogle år på bagen på iPhone og iPad. Funktionen bruges til at automatisere dine workflows mere eller mindre efter eget ønske.
Et eksempel kunne være at du laver et shortcut, der åbner Mail, Safari og Word samtidig og placerer vinduerne på skærmen efter lige præcist dit ønske.
---
Safari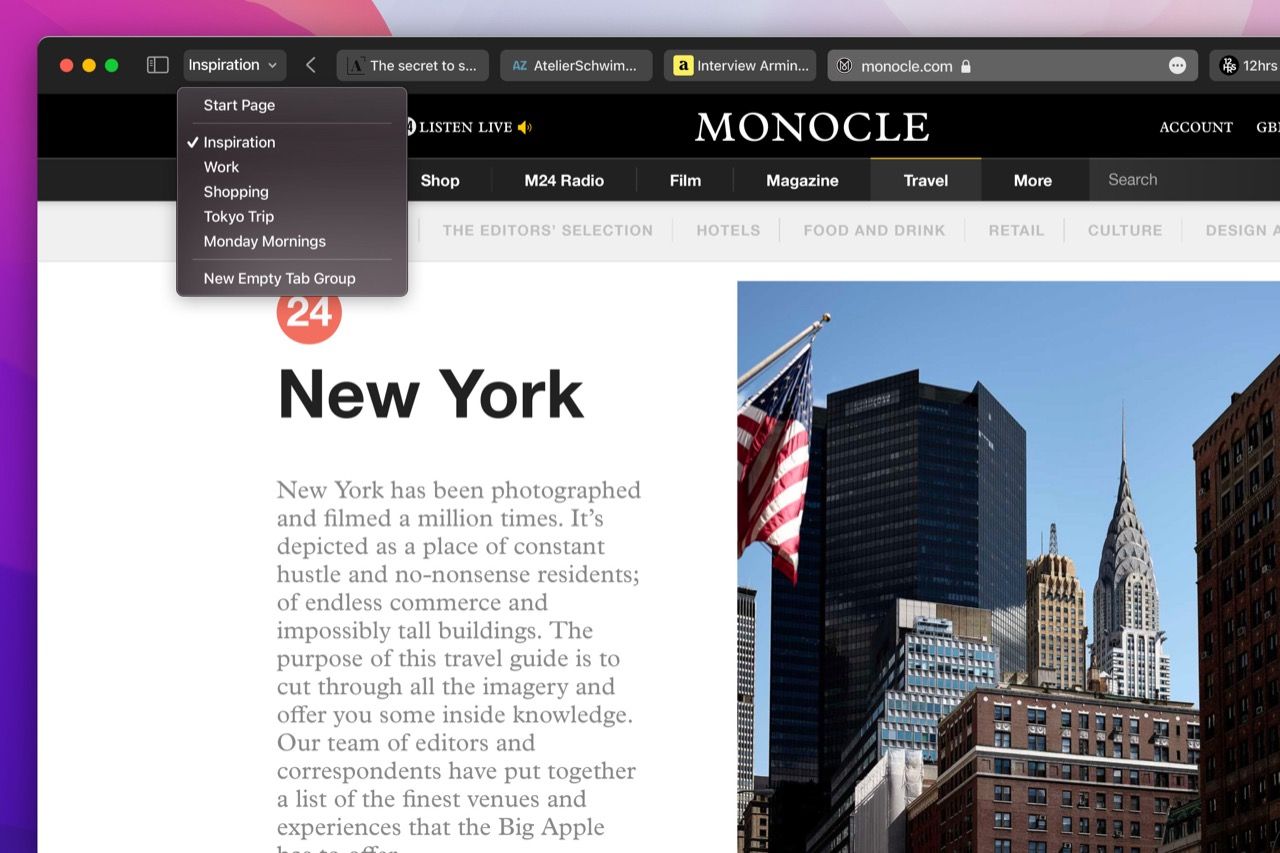 Apples Safari-browser får i år en rimelig stor opdatering.
Blandt andet et nyt design, hvor dine åbne tabs bliver mere flydende og baggrundsfarven på den hjemmeside du befinder dig på, skinner igennem.
Desuden kan man gemme sine tabs i grupper, og søgefeltet rykkes til den aktive tab.
Men måske mest relevant for de fleste, så bliver adressefeltet og søgefeltet på iPhone rykket til bunden af skærmen, hvilket jo i den grad gør det nemmere at betjene telefonen med en hånd
Her vil det også være muligt at swipe mellem åbne faneblade.
Og så kommer Safari-udvidelser til iPhone og iPad, så du også der kan installere ting som ad-blockere, web-klippere og andre udvidelser direkte.
'Nice to have' mere end 'need to have'.
---
Konklusion
Jeg har efterhånden set en hel del WWDC-events, og denne her lander vel ret solidt i midterfeltet.
Højdepunktet for mig er helt klart de lavpraktiske nyheder:
Bedre mulighed for at hjælpe ældre familiemedlemmer, bedre mulighed for at holde sine data private, mere brugbare sundhedsfeatures, og fokus på at være mere tilstede i det man laver.
Det er altså de menneskelige tiltag, jeg synes er de vigtigste. Dem der have håbet på bedre produktionsværktøjer eller nye vilde fremtidsagtige tiltag, sidder nok mere skuffede tilbage.
Men det bliver altså ikke en WWDC, der kommer til at gå over i historiebøgerne (så skulle det da lige være, hvis det blev Tim Cooks sidste. Han så meget træt ud i går.)
De første betaudgaver af de nye styresystemer er allerede frigivet til udviklere, mens almindelige brugere kan få lov til at beta-teste fra en gang i juli.
Så har du abstinenser efter at prøve noget nyt, må du foreløbig nøjes med at smække noget Dolby Atmos i ørerne.
---
Har du ikke fået nok WWDC, kan du se 23 minutters sammenklip fra eventen her:
---