Facebook lancerer nyhedsbrevsplatform — og betaler udvalgte creators for at producere indhold
Facebook har netop lanceret nyhedsbrevsplatformen, Bulletin. Vi kigger på, hvad den indeholder, og om det potentielt nu gør Facebook til en udgiver af medieindhold.
---

1. Facebook lancerer nyhedsbreve — og betaler udvalgte creators for at producere indhold
Er Facebook blot en platform andre kan publicere på, eller en udgiver af medieindhold?
Det har der været meget debat om længe, men med Facebooks lancering af en nyhedsbrevs-platform, bliver linjerne stadigt mere slørede.
Navnet på Facebooks nye nyhedsbrevsservice er Bulletin. Men det særlige ved platformen er, at det ikke umiddelbart er et værktøj, der bliver stillet til rådighed for alle, der ønsker at starte et nyhedsbrev.
I første omgang er det kun creators, som Facebook selv har udvalgt, der kan publicere nyhedsbreve. I nogle tilfælde bliver skribenterne endda betalt af Facebook.
Facebook forklarer udvælgelsen af skribenter og deres uafhængighed således:
Vi ledte efter creators indenfor en bred vifte af emner, perspektiver og discipliner (…). Nogle af disse creators er forfattere og akademikere, mens andre er brancheeksperter og offentlige personer.

Vi definerer "uafhængige skabere" som individuelle journalister eller emneeksperter, der ikke kontraktligt er forpligtet til at skrive udelukkende til en platform eller udgiver.
Facebook afviser altså, at firmaet nu er en udgiver, fordi de udvalgte creators ikke er forpligtet til udelukkende at skrive for Facebook.
I min optik stinker det dog voldsomt. For når freelance-journalister skriver for flere forskellige medier, så har det medie, de skriver for, jo det fulde publicistiske ansvar for det indhold, der bliver publiceret.
Men lad os lige få nogle flere facts på bordet.
Bulletin er både et selvstændigt produkt, og et produkt der er vævet ind i Facebook.
Du kan tilmelde dig nyhedsbreve fra Bulletin med en email-adresse, uden at bruge din Facebook-konto — i hvert fald så længe der er tale om gratis nyhedsbreve.
Dog gør Facebook alt for at få dig til at bruge din Facebook-konto ved at placere en stor fed "fortsæt med Facebook" knap foran dit åsyn, og kun give en alternativ mulighed med bitte små bogstaver nedenunder.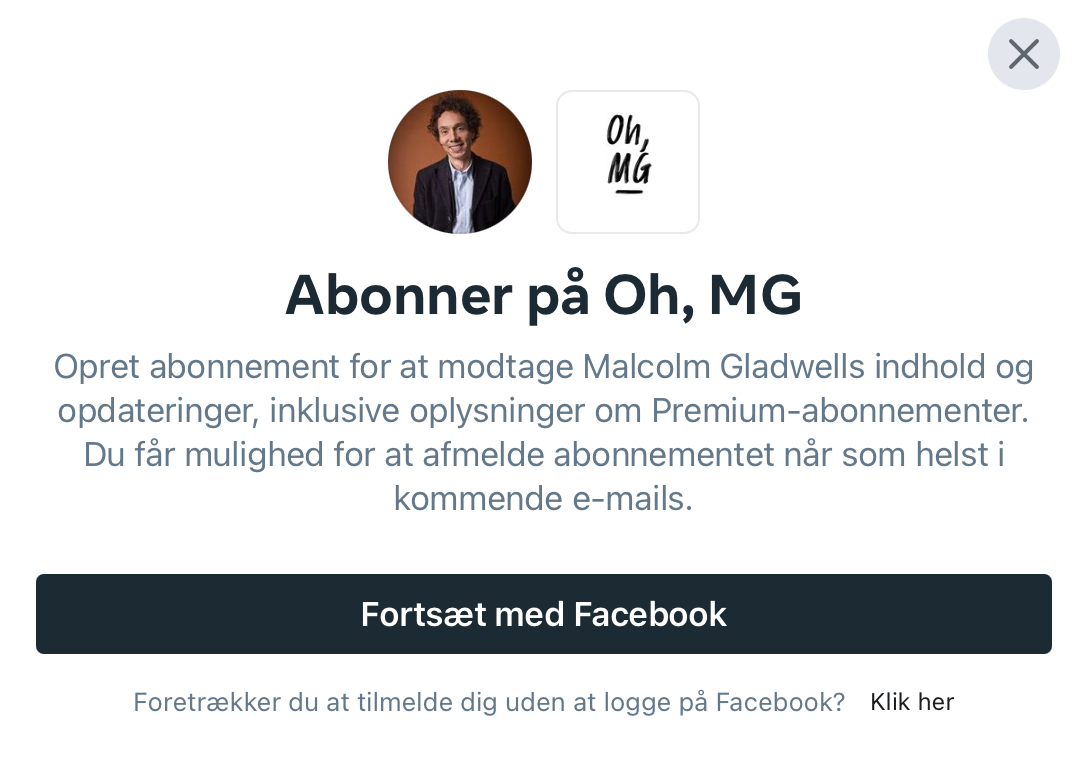 Skribenterne kan sælge abonnementer på deres nyhedsbreve, og Facebook tager ikke et cut af indtægterne. Dog skal man bruge Facebook Pay for at betale.
Den delvise uafhængighed af Facebook betyder også, at skribenterne på et senere tidspunkt kan tage alle deres medlemmer med sig, hvis de foretrækker at publicere via en anden platform.
I første omgang er der stort set kun amerikanske skribenter. Blot to af Facebooks udvalgte er fra andre lande. Dog kan man tilgå indholdet, uanset hvor man bor. Facebook siger at de overvejer at inkludere flere internationale creators på et senere tidspunkt.
Et andet fremtidigt fokusområde, Facebook allerede har udset sig, er lokal journalistik.
Alle nyhedsbreve kan findes på bulletin.com. Hele konceptet er dog, at skribenterne fletter deres indhold sammen med deres Facebook-side og deres community dér.
Her får de også mulighed for at dele podcasts og benytte Facebooks Clubhouse-klon Live Audio Rooms.
Facebook ønsker altså at kunne levere en fuld platform for creators, uagtet om de skriver, taler, diskuterer eller faciliterer samtaler.
Indholdsproducenterne får selv lov til at vælge, om de vil tage betaling for adgang til indhold, eller endda for at kommentere på indhold, eller for at deltage i det tilhørende community.
Men hvor efterlader det os så?
På den ene side ligner det et af de mere sympatiske træk, Facebook længe har foretaget:
Brug vores platform til at skabe et community, og tag medlemmerne med dig, hvis du vil. Tag betaling for dit indhold, hvis du ønsker det, vi skal ikke have en krone.
På den anden side, så handler det jo om, at Facebook lever af reklamer. Jo mere indhold, der bliver publiceret på deres platform, og jo mere engagement, der er på Facebook, jo flere penge tjener de.
Samtidig så underminerer Facebook andre firmaer, der har sat gang i nyhedsbreve som forretningmodel. Mest nærliggende Substack, som tager 10 procent af indtægterne for de skribenter, der publicerer på deres platform.
Bulletin er også en direkte konkurrent til nyhedsbrevsplatformen Revue, som Twitter for nylig købte, og hvor Twitter nu tager fem procent af indtægterne.
Samtidig gør Facebook det heller ikke nemmere for uafhængige nyhedsbrevs-skribenter, hvis de begynder at favorisere indhold delt fra Bulletin over indhold fra andre.
Det ved vi selvfølgelig ikke om de vil gøre. Men du ved. Det er Facebook. De gør aldrig noget, uden at der er en god forretningsmæssig grund til det.
---

2. Er 700 millioner brugeres LinkedIn-data blevet lækket eller ej?
Flere medier rapporterer om et nyt LinkedIn-læk, hvor informationer om 700 millioner brugere af det sociale medie er blevet sat til salg på nettet.
Dataene indeholder blandt andet email, navn, telefonnummer, fysisk adresse, og oplysninger om forskellige geolokationer brugeren har befundet sig på.
Men inden du råber "HVAD NU IGEN" — da det jo kun er få måneder siden at omkring 500 millioner LinkedIn-brugere var udsat for det samme — så skal man måske lige spise brød til
LinkedIn afviser i hver fald, at der er tale om et nyt læk og siger, at en stor del af dataene er identiske med de lækkede data fra april.
Dengang var der ikke tale om et hack eller sikkerhedsbrud, men om scraping. Det vil sige at et computerscript er blevet brugt til at hente data (der i princippet er offentlige) ud af LinkedIns database ved at udnytte en svaghed i måden platformen er designet på.
---

3. Uden radar: Teslas kamera-baserede autopilot blåstemplet i uafhængig test
Vi har for nylig skrevet om Teslas overgang til et fuldt kamerabaseret autopilot-system.
Firmaet er ganske enkelt begyndt at levere biler til kunderne helt uden radar, da de mener, de kan skabe en lige så god — eller bedre — autopilot uden.
Beslutningen om at fjerne radaren fik øjeblikkeligt Consumer Reports (USAs svar på TÆNK) og Insurance Institute for Highway Safety (IIHS) til at trække den tidligere topvurdering af Teslas sikkerhedsfunktioner tilbage.
Nu har de to organisationer så haft mulighed for at lave en uafhængig test af Tesla Vision, som det kamerabaserede system kaldes. Og resultaterne er angiveligt så overbevisende at Consumer Reports og IIHS nu igen vurderer Model 3's overordnede sikkerhedsfeatures til at være "superior".
I den mere detaljerede vurdering, hvor man fx kigger på, hvordan bilen reagerer på henholdsvis et barn, en voksen eller to voksne der samtidig træder ud foran bilen, får Model 3 karakteren "advanced". Det er et niveau under det højest opnåelige.
Elon Musk forventer dog — i ægte Elon Musk-stil — at en softwareopdatering vil sikre topkarakter i alle kategorier i en ny test om 30 dage. Lad os nu se.
---

4. Tysk privatlivs-kommissær: Alle styrelser og ministerier skal lukke deres Facebook-sider inden årets udgang
Den officielle tyske regeringsside på Facebook har over en million følgere.
Men står det til Tysklands privatlivskommissær, Ulrich Kelber, så vil siden snart være lukket.
Kelber har meddelt alle styrelser og ministerier, at de senest ved årets udgang bør lukke deres Facebook-sider, da Facebook ikke er i stand til at garantere, at data om brugerne forbliver i Europa — og dermed lever de ikke op til EU-lovgivningen på området.
I brevet skriver Kelber:
- I betragtning af den fortsatte krænkelse af beskyttelse af personlige oplysninger er der ingen tid at spilde. Hvis I har en fan-side, anbefaler jeg kraftigt, at I lukker den inden årets udgang, lyder det i brevet til regeringsinstitutionerne.
Problemet isolerer sig dog ikke kun til Facebook. TikTok, Instagram og Clubhouse har ifølge Ulrich Kelber præcis samme problem.
---

5. Spot-hunde danser mere synkront end et boyband
Vi slutter med endnu en video i rækken med Boston Dynamics præmiehund Spot.
Boston Dynamics er netop officielt blevet overtaget af sydkoreanske Hyundai, og det skal da fejres med en video med robothundens seneste tricks.
Denne gang er det dog ikke kun en, men et helt kuld af Spots, der danser synkront på et niveau, hvor selv de bedste boy- og girlbands kommer i problemer.
Er det imponerende, at man kan programmere robotter til at foretage bevægelser synkront? Det ved jeg ikke.
Men det er i hvert fald et fint billede på, hvor god særlig balanceevnen er blevet hos menneskets bedste robotven.
Hyundai har iøvrigt købt Boston Dynamics af investeringsfirmaet Softbank for omkring 1,1 milliarder dollars. Robotfirmaet var tidligere ejet af Google.
Det er endnu uvist hvad præcis Hyundai vil bruge robotterne til. Det sydkoreanske firma, som nok er bedst kendt for sine biler, satser dog stort på en række forskelligartede fremtidsteknologier. Heriblandt autonome biler, kunstig intelligens, Urban Air Mobility, smarte fabrikker og altså robotter.
---

LINKS TIL LÆSEHESTE
Ulovlig logning er...lovlig? Den massive logning af danskernes tele-adfærd blev i 2016 kendt i strid med EU-lovgivningen – men er ikke desto mindre fortsat lige siden.
Foreningen mod Ulovlig Logning sagsøgte derfor Justitsministeriet, men tirsdag afgjorde Østre Landsret sagen til Justitsministeriets fordel.
Foreningen mod Ulovlig Logning vil dog anke sagen.
---
På trods af kritik: Apple fastholder at medarbejdere skal være på kontoret tre dage om ugen
---
Kinas svar på Uber brager ind på det amerikanske aktiemarked
---
Googles aftale om betaling til franske nyhedsmedier er sat på pause: Afventer mulig antitrust dom
---
---