Ny email-tjeneste lover orden i din indbakke — hvis du vil betale
Hey er navnet på en ny service, der vil have folk til at betale 650 kroner om året, for at få bedre styr på den digitale post.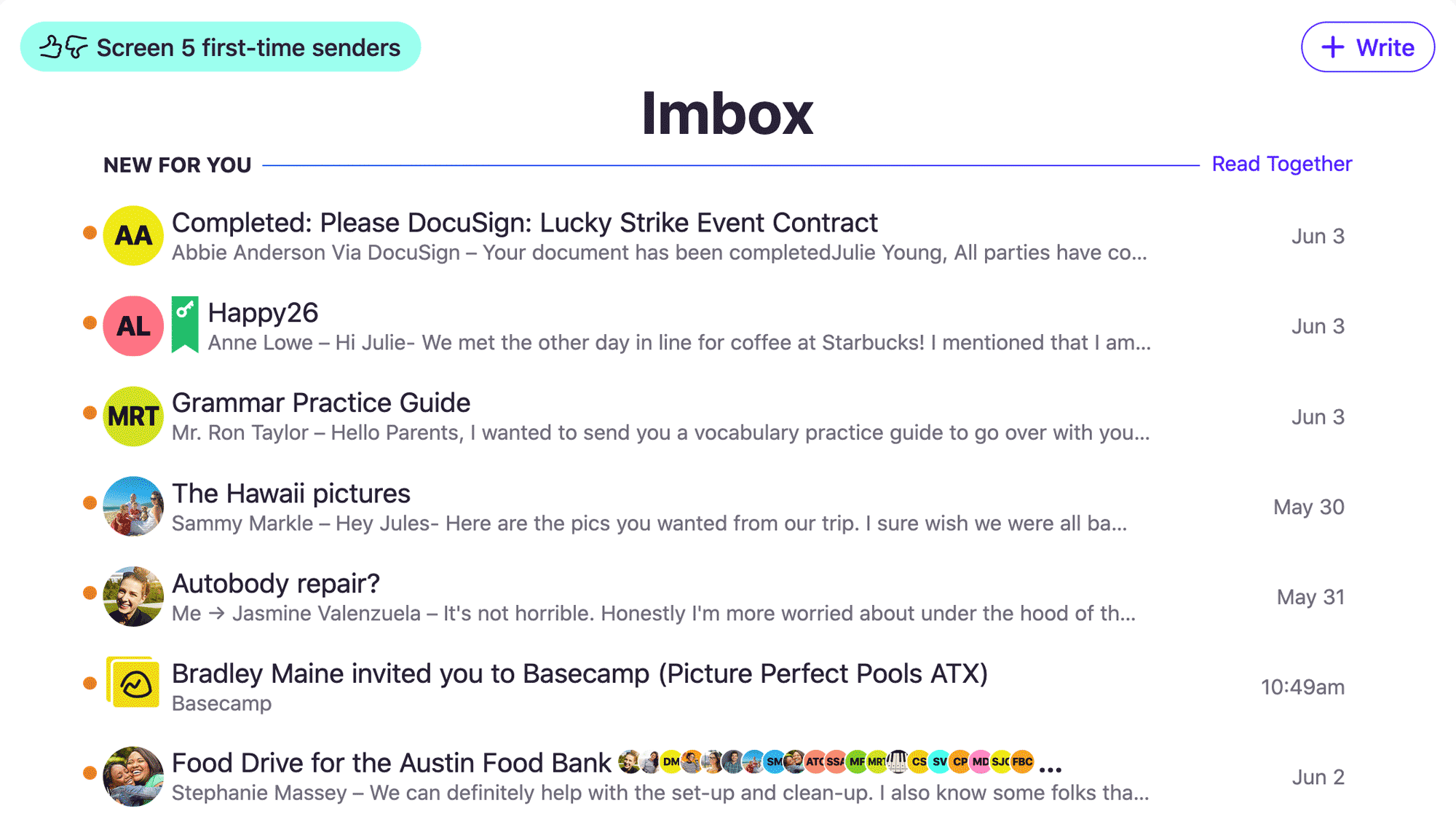 God tirsdag,
Vi skal kigge på email i dag.
En ny emailservice, der går under navnet Hey, har set dagens lys. Folkenen bag siger, at tjenesten er et opgør med alle de fejl og mangler og ulogiske arbejdsgange,  som præger mange email-klienter. Vi kigger på, hvad Hey kan, og om det ligner en succes.
Desuden snupper vi en rundtur i Corona-app land, hvor fiaskoerne hober sig op. Senest har Norge sat en stopper for sin egen app grundet privatlivs-problemer (var der nogen der advarede dem?)
God læselyst,
Nicolai
---

Hey...er der behov for en ny email-tjeneste?
Jeg har netop siddet og set en video på 37 minutter(!), som er en lang demo af den nye emailtjeneste Hey.
Når man kan holde sit fokus så længe, så er det naturligvis, fordi servicen ser rigtig interessant ud.
Men er der overhovedet nogen, der har brug for en ny emailadresse der slutter på @hey.com? Og som samtidig er villige til at betale 99 dollars (650 kroner) om året for den?
Det vender vi tilbage til, men først lige en forklaring af, hvordan Hey adskiller sig fra de (fleste) nuværende email-apps.
Hey — som er udviklet af Basecamp — ønsker at gøre op med et par helt grundlæggende principper. Først og fremmest hvem der har adgang til at kontakte dig.
Alle mails ender derfor i første omgang i det de kalder 'The Screener', som er et virtuelt forkontor til din indbakke. Her skal du tage stilling til, om du overhovedet ønsker mail fra den pågældende afsender.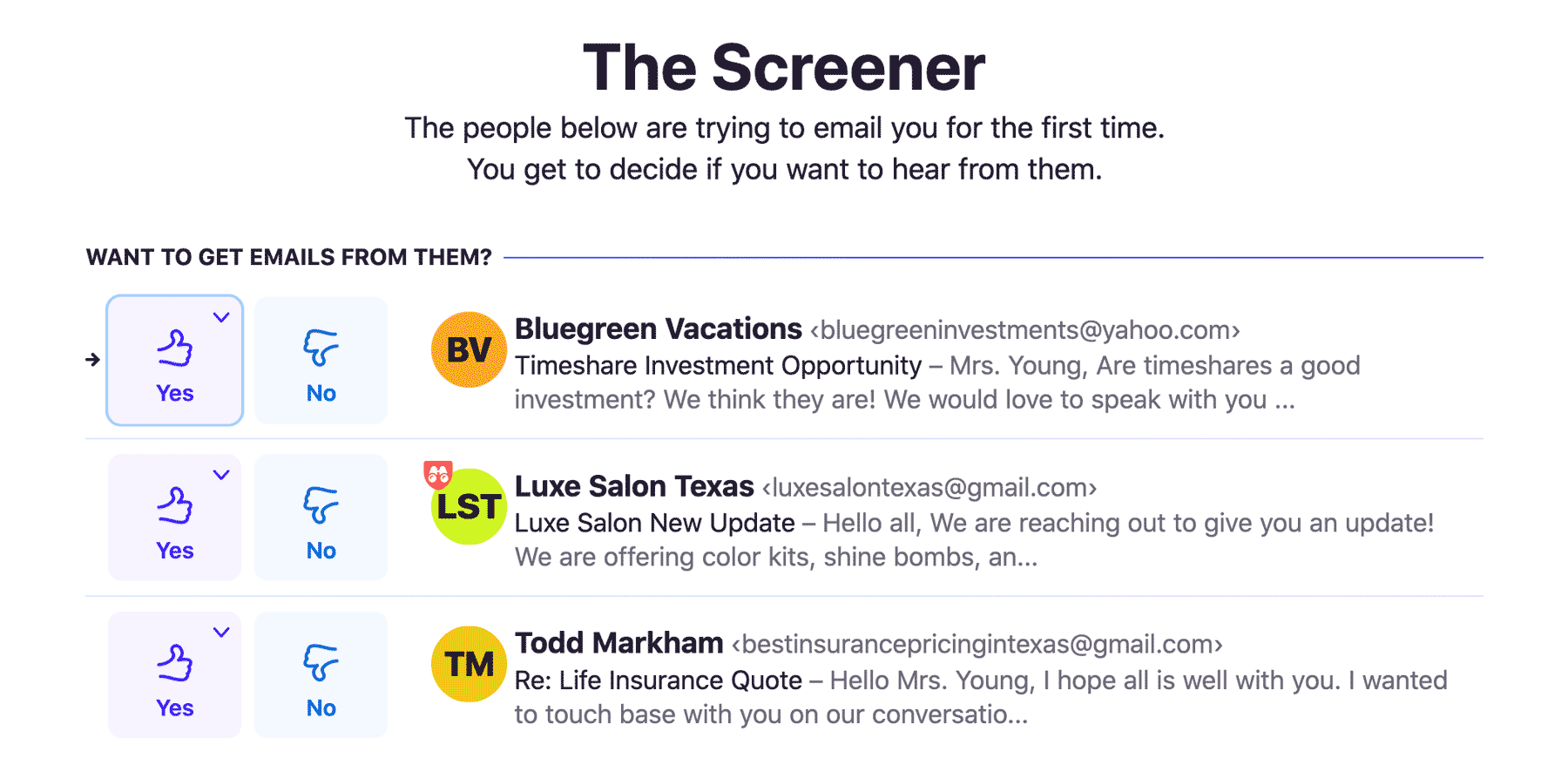 Hvis ikke, vil du aldrig igen modtage en mail fra den blokerede mailadresse (men du kan altid ombestemme dig).
Den anden ting, Hey fokuserer på, er at sortere i, hvilke emails der er vigtige.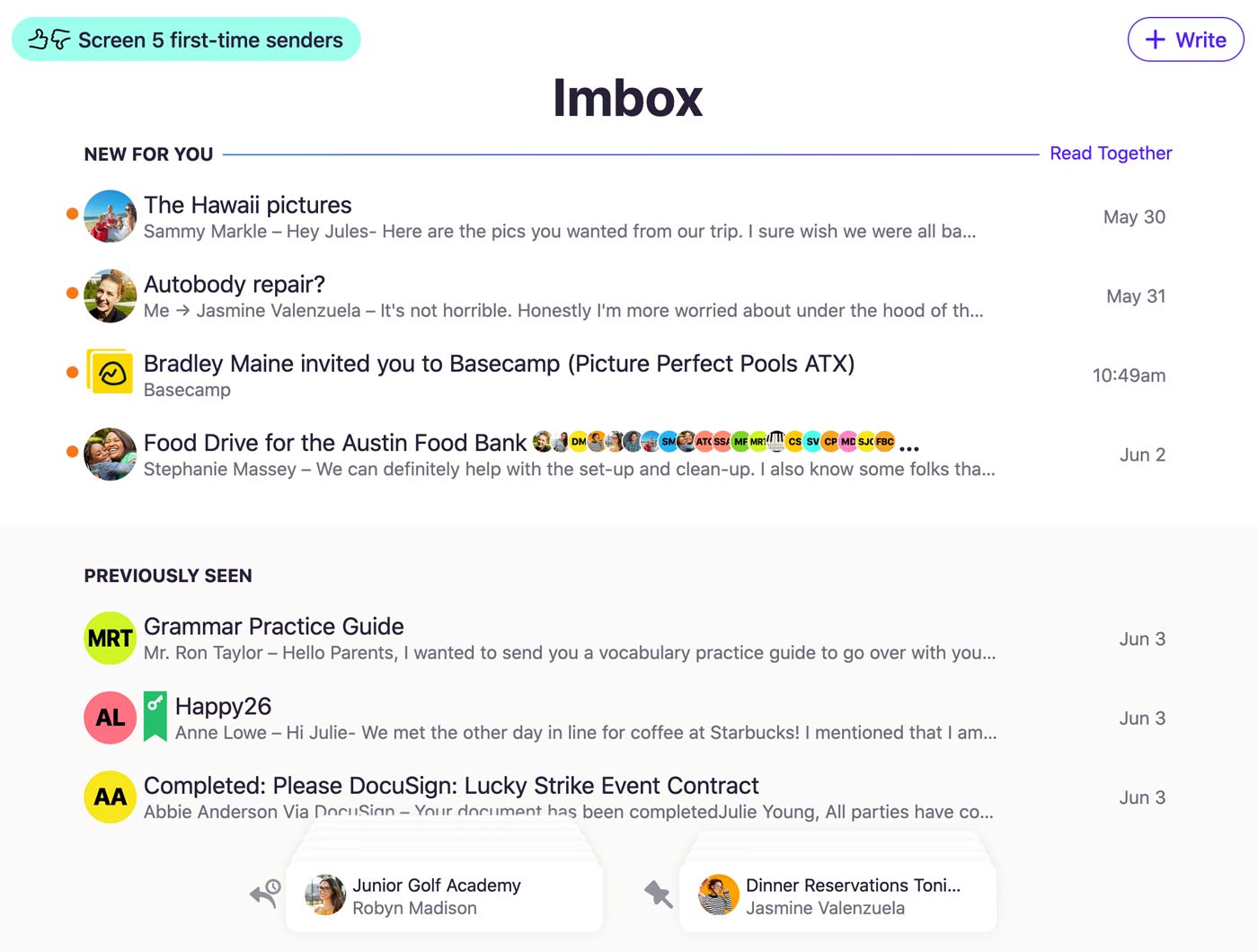 Mails fra de folk, du mener falder i denne kategori, ender i din Imbox (Important Inbox). Ellers ender de i The Feed eller i Paper Trail.
Paper Trail er der, hvor kvitteringer, ordrebekræftelser osv. ryger hen, mens The Feed typisk vil være der, hvor du ønsker at se nyhedsbreve og marketingsemails.
Visuelt minder The Feed lidt om Facebook, hvor du kan se starten af teksten og kan trykke "se mere", hvis du ønsker at læse hele beskeden.
Emails kan også markeres med et særligt kikkert-ikon, således at afsenderen ikke kan indhente information om, hvorvidt du har læst mailen og andre informationer (fx device-type og placering), der kan suges ud af en email.
Nu er det jo ikke fordi andre mailklienter ikke har forsøgt sig med en opdeling af, hvad der er vigtigt, og hvad der ikke er. Hos Hey har de dog fravalgt at sorteringen foregår via algoritmer. I stedet skal du selv manuelt vælge, hvilke kontakter der skal sorteres hvorhen.
Det samme gør sig gældende med notifikationer. Som standard er de slået fra, men du kan vælge at aktivere dem for udvalgte personer eller emailtråde.
Den måske mest interessante feature, er den funktion der hedder "reply later". I stedet for at sætte et flag eller markere en email som ulæst, trykker du "reply later", hvilket tilføjer mailen til en særlig stak.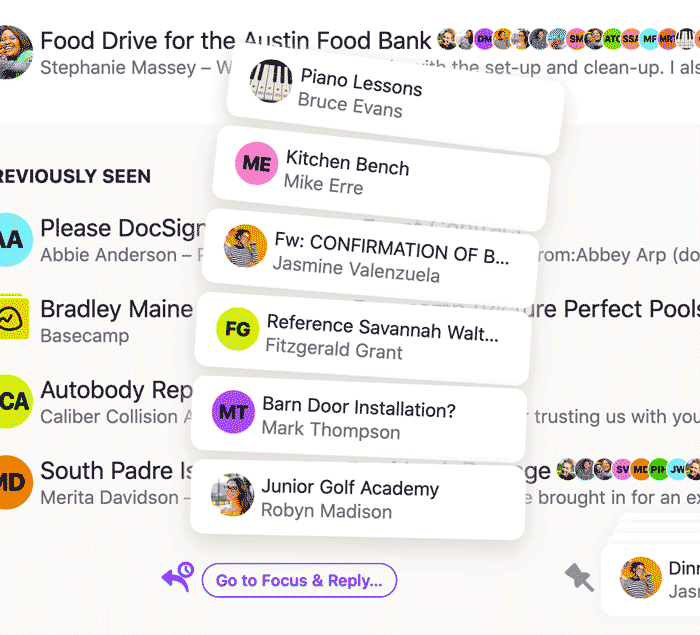 Når du er klar til at svare, åbner du stakken i vinduet 'Focus and Reply'.
Her vises beskederne som en liste af åbne emails i venstre side, mens du kan svare i en tilhørende kolonne i højre side.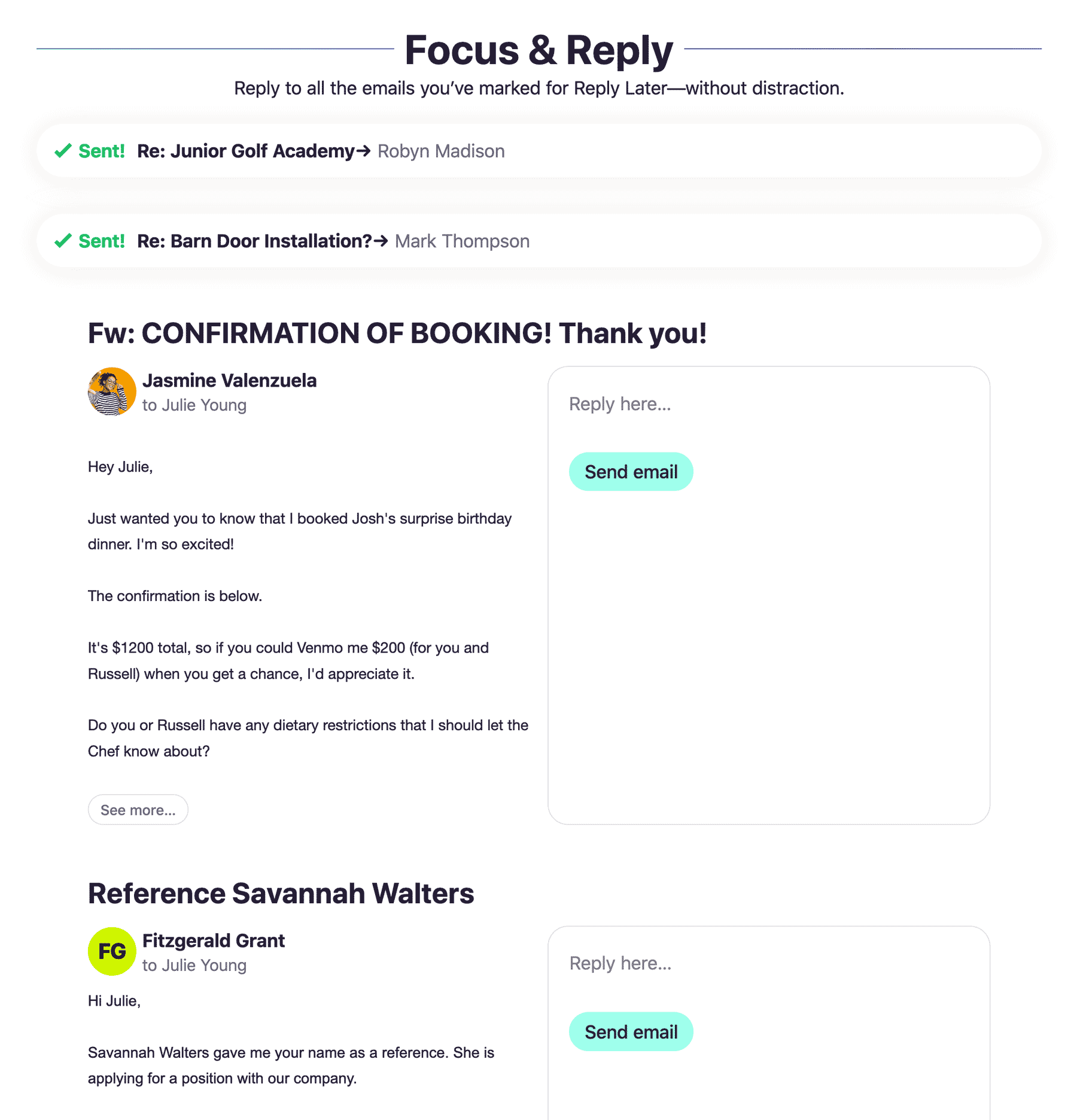 Konceptet er altså, at man sætter lidt tid af hver (eller måske hver anden) dag, hvor man får svaret på alle de mails, man ikke har tid til at svare på, når man læser dem.
Af de mere specielle — men ret cool — features, kan man ændre emnet på en email, man har modtaget, så den giver mere mening for en selv. Det ændrer ikke, hvordan afsenderen ser mailen.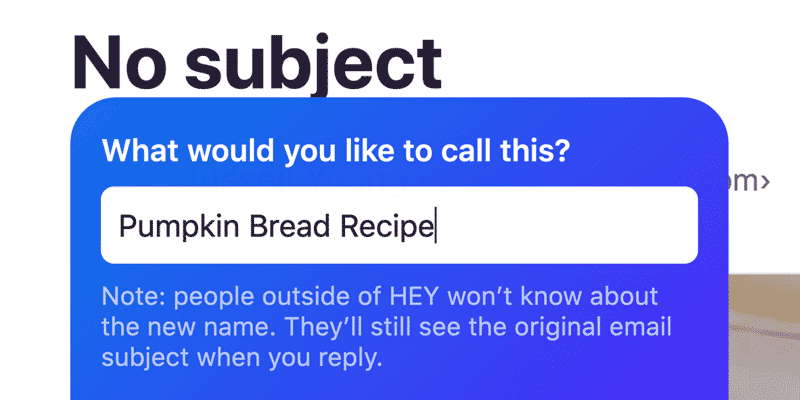 Desuden kan man tilføje noter til mails, som man ligeledes kun selv ser. Og man kan også markere tekst i en email, som bliver gemt i en særlig Clips-sektion.
En anden meget godt tænkt feature er, at hver kontaktperson har sit eget lille "center", hvor man kan se alle vedhæftede filer og alle mails personen nogensinde har sendt, samt mulighed for at sortere og filtrere ret detaljeret.
Hey ser efter min mening visuelt ret godt ud, og der er flere interessante tanker appens brugerflade. Men spørgsmålet er grundlæggende, om email overhovedet er så broken, at der er brug for et fix?
Personligt ser jeg to udfordringer for Hey.
Først og fremmest er det notorisk svært at få folk til at betale for noget, man kan få gratis andre steder. Jeg betaler selv for en email-service, men det er alene for at kunne sende mails via mit eget domæne.
Om Hey understøtter dette, er foreløbigt lidt uklart, men man kan i hvert fald videresende sine mails fra Gmail, Outlook eller iCloud og så bruge Hey som en emailklient.
Og det leder til det andet spørgsmål.
For hvorfor har Hey ikke bare lanceret en app i stedet for en email-service? Det ville på mange måder give langt mere mening, da det nok er de færreste der ønsker at skifte den emailadresse, de har haft siden Ruder Konge var knægt, med en der slutter på @hey.com.
Jeg er ikke blandt de folk, der modtager så vanvittig mange mails, at jeg ikke kan overskue det, og som derfor hungrer efter en radikal anderledes email-oplevelse. Alligevel sidder jeg tilbage med en følelse af, at jeg har lyst til at tjekke tjenesten ud.
Jeg har derfor sendt en email til firmaet, i håbet om at få en tidlig invitation (åh ja, det minder jo om de gode gamle Gmail-dage).
Men selvom jeg glæder mig til at teste Hey, så sætter jeg alvorligt spørgsmålstegn ved, om der er nok nyt under solen til, at de kan få nok mennesker (mig selv inklusive) til at betale 650 kroner om året. Heldigvis er der 14 dages gratis prøvetid til at vurdere, om det er værd at betale.
Vi lover at følge op, så snart vi har haft mulighed for at prøvekøre Hey.
---

Corona-apps er (endnu) ikke blevet en succes
Vi har skrevet stolpe op og stolpe ned om Corona-sporingapps. Ikke mindst om privatlivs-udfordringerne og om Apple/Googles forsøg på at løse dem.
Men vurderet her i midten af juni, er sporings-apps blevet alt andet end en succes.
I Norge har de nu standset indsamlingen af data via deres hjemmebyggede sporings-app, Smittestop, og har slettet alle de indhentede data. Det sker som følge af et varsel om et påbud fra det norske datatilsyn.
Nordmændene valgte som bekendt blandt andet at bruge telefonernes GPS til at spore brugernes bevægelser.
I Storbritannien fravalgte man ligesom i Norge Apple/Google-løsningen til fordel for et hjemmelavet 'hack', der skulle forsøge at omgås de privatlivsforanstaltninger, som særligt begrænser hvordan Bluetooth kan bruges på iPhone.
I starten af maj lancerede briterne et forsøg med appen på øen Isle of Wight, men de  seneste uger har der været ganske stille fra de britiske myndigheder, om hvad de videre planer er. BBC rapporterer, at de angiveligt vil vente med at sende appen bredt ud, "indtil den virker perfekt". Held og lykke.
I USA har mindre end en håndfuld af landets stater foreløbigt lanceret en app, som er baseret på Apple/Google-løsningen. Men ingen af stederne har særligt mange brugere installeret appen.
I Singapore overvejer man nu — netop som et resultat af udfordringerne med Bluetooth på iPhone — at give alle borgerne et wearable device som er specielt udviklet til kontaktsporing. Det vides endnu ikke, om det i så fald bliver påkrævet, at indbyggerne skal have enheden på sig.
På den lidt mere positive side, så har italienerne taget relativt pænt mod landets løsning, som ER baseret på Apple/Google-løsningen.
Tyskland har også netop lanceret deres app, der ligeledes bruger Apple/Googles API.
Det planlægger vi jo som bekendt også at gøre i Danmark, hvis altså Smittestop-appen nogensinde kommer. Appen skulle efter planen lanceres i midten af juni — og det er jo altså nu.
---

LINKS TIL LÆSEHESTE
WhatsApp nu med indbygget Mobile Pay-lignende løsning: Foreløbigt kun i udvalgte lande
---
Farvel til Master & Slave: GitHub ændrer sin mangeårige terminologi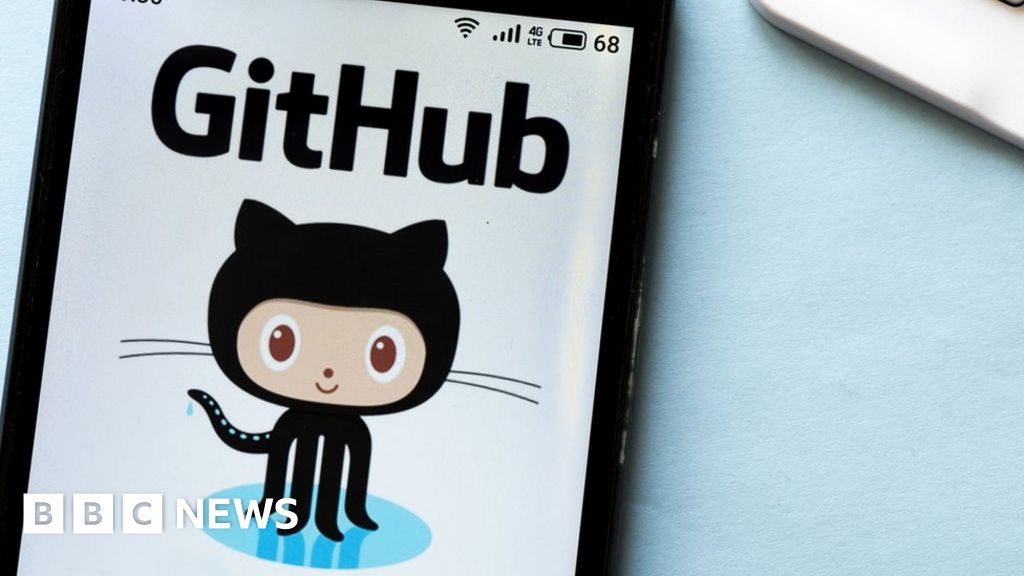 ---
iPhone-bilnøglen tæt på lancering
---
Betal 100.000 kroner… for 10 minutters Zoom-snak med en kendis
---