Slå kølevand i raketten, der
God mandag,
Snart er rummet over vores hoveder ikke bare fyldt med bippende satellitter, men også en digital regn af data der skal give alle planetens beboere adgang til det store interweb. Vi håber, at det kun er data og ikke udbrændt rumskrot, der drypper ned.
Inden jeg vil fortælle dig om det nye internet-rumkapløb, snupper vi lige tre korte om en menneskelignende chatbot der kan kommunikere om alt, et kontroversielt biometrisk ID-program der bliver sat på pause, og en konge der forlader Facebook.
God dag,
Anders
---
DAGENS TRE KORTE

[1] Chatbot-gennembrud hos Google?
Chatbots har efterhånden været en del af mange firmaers digitale kommunikation i en del år, uden at de dog rigtig har taget skridtet videre end halv-avancerede tekstversioner af automatiserede telefonsvarere.
Men nu hævder Google at have taget et stort skridt fremad med botten Meena, som de kalder verdens mest avancerede chatbot.
Meena er nemlig trænet på over 340 Gigabyte data med tekst og samtaler fra sociale medier, og kan ikke bare give stærkt specialiserede svar om forsikring, it-support i din netbutik eller den slags, men deltage i deciderede samtaler om en lang række forskellige emner. Faktisk påstår forskerne bag botten, at den kan snakke med om alt.
Foreløbig er Google dog stadig igang med at oplære Meena, og der er ikke nogen dato for hvornår vi andre får lov til at møde hende. Den. Chatbotten.
For de teknisk nysgerrige kan man læse mere om hvordan Meena er blevet trænet her.
(Og så må vi håbe, at den ikke bliver racist lige så hurtigt som sin forgænger - Microsofts Tay).
---

[2] Kontroversielt biometrisk ID-program sat på pause
I Kenya har man længe arbejdet på at indføre et nyt, nationalt ID-program, der skal bruge biometriske data - fingeraftryk og portrætbilleder - til at identificere både landets indbyggere og midlertidige beboere.
Systemet, der officielt hedder National Integrated Management System, skal blandt andet bruges til både sundhedsvæsen, uddannelse, valg og køb af mobil-abonnementer.
Men selvom myndighederne allerede har indsamlet data fra og registreret næsten 40 millioner kenyanere, så har landets højesteret netop sat programmet på midlertidig pause.
Retten mente, at ID-systemet var usikkert og var i øvrigt bange for at det ville kunne misbruges til at diskriminere mod visse grupper, eller marginalisere minoriteter yderligere ved at begrænse deres adgang til overhovedet at få det nye ID.
ID-programmet havde tidligere planer om også at indsamle DNA og GPS-data om indbyggerne, men det blev allerede sidste år blokeret af retten.
---

[3] Horrorshowet Facebook bliver for meget for gyserkongen
Stephen King har de sidste mange, mange år været en af verdens mest læste og elskede forfattere, og han har skrevet et utal af bøger som tilsammen har solgt over 350 millioner eksemplarer siden romandebuten "Carrie" i 1973.
Men måske vil eftertiden engang mene, at han satte sit største kulturelle eftermæle, da han forleden valgte at slette sin profil på Facebook.
På Twitter(!) skrev King i fredags, at han ikke følte sig tryg ved floden af falsk information især i politiske reklamer, eller ved at Facebook kan beskytte brugernes privatliv - og snart efter var hans konto på Facebook - der blev fulgt af 5.6 millioner mennesker - slettet.
---
BAG OM

Det nye rumkapløb: Minisatellitter i tusindvis skal give global netadgang, men forurener i rummet
Nutidens rumkapløb står ikke som i fordums tid mellem USA og Sovjetunionen, og det handler ikke om hvem der først får plantet flaget i støvet på Månen eller Mars.
I disse år er fokus meget tættere på vores egen planet, og målet er hverken flag eller international prale-ret. Det handler i stedet om små satellitter, internet-abonnementer og luftrummet kun få hundrede kilometer over jordens overflade.
Drømmen er at skabe et netværk af kommunikations-satellitter, der kan sprede internetadgang som digital regn over alle beboede dele af planeten, så man aldrig skal være uden adgang til sit Twitter-feed eller tage en selvfedfie uden at kunne dele det på Instagram.
Lidt mere seriøst er det naturligvis også potentielt en fantastisk mulighed for de hundreder af millioner af mennesker, som ikke har adgang til nettet i dag - og som næppe heller vil få det, hvis de skal vente på traditionelle mobilmaster, for slet ikke at tale om kobberkabler eller (glem det!) fiber.
Men tilbage til satellitterne. Der er mange spillere på rumbanen - men to af de største er firmaerne OneWeb og SpaceX (som vi jo kender også fra store raketter og Elon Musks mediehype-stunt med en elbil).
SpaceX, der kalder sit satellitprojekt Starlink, har det seneste halve års tid allerede launchet 240 små satellitter i det, der hedder Low Earth Orbit (LEO) - i dette tilfælde omkring 550 kilometer over Jorden.
Det er dog bare en brøkdel af de 12.000 satellitter Starlink planlægger at sende i omløb i løbet af de næste cirka 5 år - og de har oven i købet planer om at sende yderligere 30.000 (tredive tusinde!) satellitter afsted i de efterfølgende år.
Foreløbig bruger SpaceX deres egne Falcon 9-raketter til opsendelserne, og det giver dem lidt af en fordel sammenlignet med konkurrenterne.
OneWeb er dog også ved at komme op i gear - og i omløb. Firmaet sendte de første 6 satellitter afsted i februar 2019, og er nu klar til at launche yderligere 34 fra en russisk Soyuz-raket i denne uge. De skal ligge i en bane cirka 1200 km fra Jorden.
OneWeb er altså foreløbig bagud, men slaget er ikke tabt endnu. SpaceX skal trods alt lige have udstyret i omløb først - og så er der spørgsmålet om forretning.
De to firmaer slås nemlig ikke bare om at komme først og have bedst dækning, men også om forbrugernes gunst.
Starlink satser på en løsning, der i princippet minder om et 4G-modem til private - hvor selve netforbindelsen kommer fra satellitterne ned i en modtager, som så laver et lokalt netværk man kan koble sig på.
OneWeb satser i stedet på at lave en Business-to-Business (B2B)-model, hvor man vil hjælpe teleselskaber med at dække nye områder og nå nye kunder med satellit-net.
---
Nu lyder det måske altsammen temmelig smart og som en potentiel sejr for både den ingeniørmæssige hittepåsomhed og det globaliserede informationssamfund.
Men slå lige kølevand i raketten, dér.
For selv hvis vi et øjeblik glemmer spørgsmålene om monopollignende (eller duopollignende) tilstande, eller hvilke lokale effekter en pludselig digitalisering kan få, så er der også konsekvenser for vores forskning, vores miljø og den øvrige rumfart.
Astronomer har således allerede klaget over, at satellitterne forstyrrer deres observationer med både lys- og radioforureninger, og at det kan gøre det sværere at bedrive deres videnskab.
Men det stopper ikke her. Vi har længe måttet slås med det man kalder rumskrot; udbrændt udstyr, løsrevne dele eller rester af tidligere opsendelser. Over 3.000 gamle satellitter og millioner af mindre genstande suser rundt om kloden, mange af dem så små at de ikke kan trackes.
Men selvom meget rumskrot er småt, så kan det være fuldstændig katastrofalt hvis det rammer en satellit, eller værre endnu: en bemandet raket eller den Internationale Rumstation, ISS.
SpaceX's Starlink siger dog, at de af samme grund har valgt en lav omløbshøjde, så gamle satellitter eller løsdele hurtigt vil falde mod Jorden og brænde op i atmosfæren.
Man arbejder i øvrigt også med at konstruere en slags rum-skraldebiler, der skal indsamle rumskrot i de mest trafikerede omløbsbaner, men de projekter har stadig lang vej endnu.
Så alt i alt er det nok stadig for tidligt at afgøre, om satellit-internet bliver en bonus for den digitaliserede og globaliserede befolkning på planeten, eller endnu et storslået og visionært teknologi-projekt, der bare ender med at sende regningen for oprydningen videre til brugerne og de kommende generationer.
---
LINKS TIL LÆSEHESTE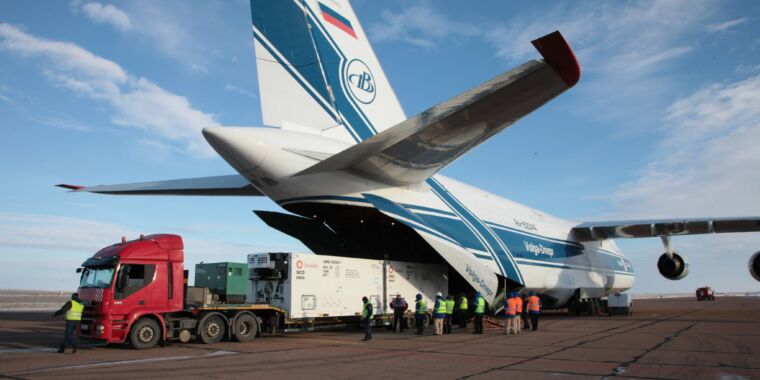 ---