9 ud af 10 siger nej til app tracking
87 procent af alle iOS-brugere har foreløbigt sagt nej tak til at apps må spore dem. Tallet i USA er hele 95 procent.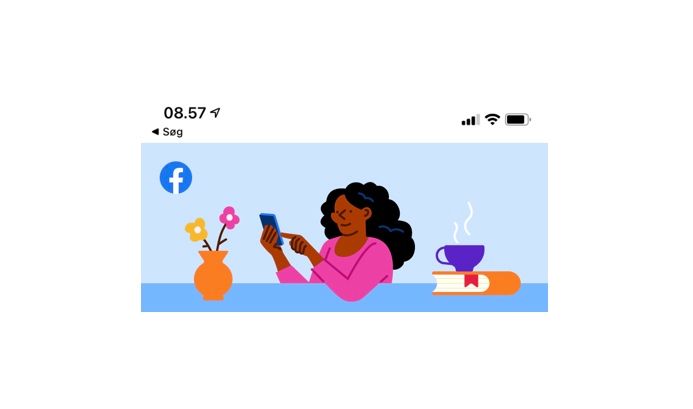 ---

1. 87 % siger nej til app tracking
Det er nu ved at være to uger siden, at iOS 14.5 blev sendt ud til iPhone og iPad — en opdatering hvis væsentligste nyhed er, at apps nu skal spørge brugerne, om de må tracke dem via andre firmaers apps og hjemmesider, det der også kaldes App Tracking Transparency.
Og tallene taler sit eget tydelige sprog.
Ifølge analysefirmaet Flurry, som dagligt sender nye opdateringer ud, så siger et overvældende flertal af brugerne nej.
På verdensplan har 87 procent sagt nej tak til at apps må tracke dem. I USA udgør nej-sigerne massive 95 procent.
Kan man så stole på Flurrys tal? Ja, det kan man formentlig godt. Firmaets analyseværktøj er indlejret i over 1 million apps, og deres data bliver indsamlet på tværs af 2 milliarder devices, så der er altså tale om et meget omfattende statistisk materiale.
Flurry opdaterer som nævnt tallene dagligt, så hvis du vil følge med, kan du gøre det her.
Tallene er i og for sig ikke så overraskende. Således havde Facebook på forhånd forventet, at 80 procent ville sige nej til deres tracking.
Men det sociale medie gør nu alligevel et hæderligt forsøg på, at overtale brugerne til at sige ja til deres tracking.
I udgangspunkt havde jeg fravalgt at apps overhovedet måtte spørge, om de må spore mig. Men af journalistiske årsager har jeg haft slået funktionen til for at se, hvad der ville dukke op.
Og endelig skete der så noget her i weekenden: En popup fra Facebook:
"Denne version af iOS kræver, at vi beder om tilladelse til at spore aktivitet, som vi modtager fra apps og websites, du besøger på denne enhed, med henblik på at forbedre dine annoncer".
(Mine annoncer — det er alligevel en ret vild formulering).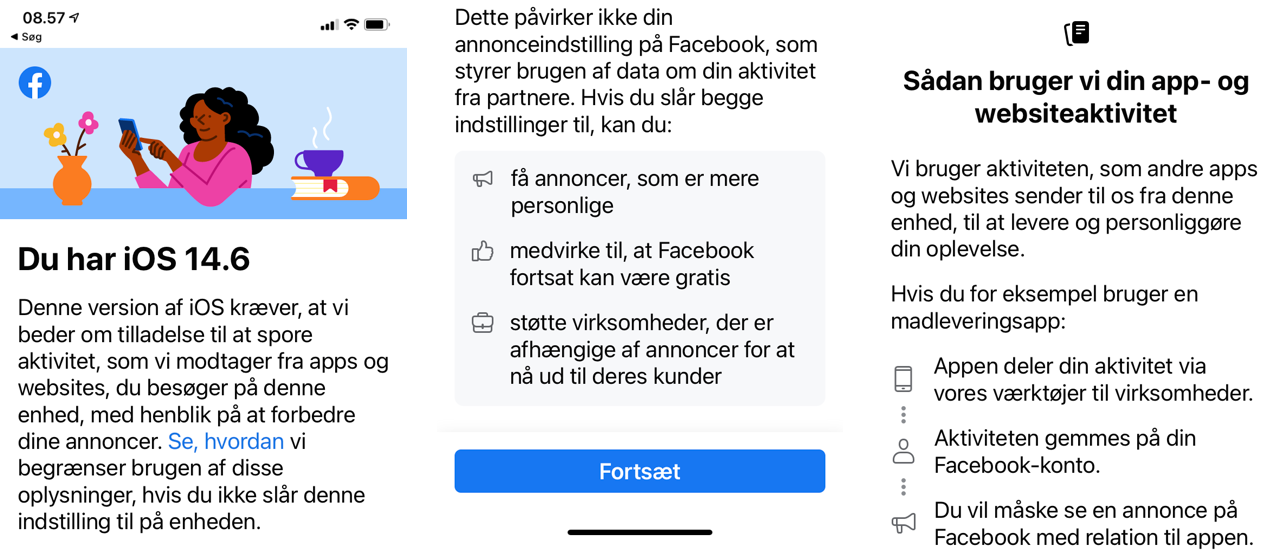 Herefter gør Facebook brug af regulære 'dark patterns', altså formuleringer, der bevidst er formuleret, så man bliver forvirret:
"Se, hvordan vi begrænser brugen af disse oplysninger, hvis du ikke slår denne indstilling til på enheden".
Det er virkelig ikke for at spille dum, men det er ekstremt svært at afkode, hvad det er, der står i ovennævnte sætning.
Hvad det er for en indstilling, der henvises til? Og hvad du skal vælge, for at begrænse brugen af dine private oplysninger?
Facebook fortsætter:
"Dette påvirker ikke din annonceindstilling på Facebook, som styrer brugen af data om din aktivitet fra partnere".
På dette tidspunkt vil jeg vove at påstå, at langt de fleste almindelige brugere er godt og grundigt forvirrede.
Så slutter de (måske) lidt mere tydeligt:
"Hvis du slår begge indstillinger til kan du:
Få annoncer, som er mere personlige
medvirke til, at Facebook fortsat kan være gratis
støtte virksomheder, der er afhængige af annoncer for at kunne nå ud til deres kunder. "
Så siger du nej tak til Facebooks data tracking i apps og på hjemmesider, der ikke er ejet af Facebook, må du altså forstå, at du BÅDE er med til at underminere, at Facebook kan forblive "gratis", og at du ødelægger forretningen for mindre virksomheder, som annoncerer på Facebook.
Der er egentlig ikke så meget at sige andet end, at Facebook i stedet burde kigge alvorligt indad, og se om det i virkelighedens verden er en fornuftig forretningsmodel, de har sat i verden, når 95 procent af brugerne i deres eget hjemland ikke ønsker deres invasive tracking.
---

2. Android-apps får (også) privatlivs-labels
Vi bliver i datatracking-verdenen, hvor der er gode nyheder fra Google.
Android-firmaet følger nemlig nu i Apples fodspor og vil fra 2022 gøre det til et krav, at app-udviklere oplyser, hvilke data de indsamler, og hvad de bruger dem til.
- Alle apps på Google Play — inklusive Googles egne apps — skal dele disse oplysninger og offentliggøre en privatlivspolitik, skriver Google på sin blog.
Der er overordnet set tale om en copy/paste af de privatlivs-labels Apple indførte i iOS 14 — det som nogle også kalder for en app-varedeklaration.
Helt på samme måde som hos Apple risikerer apps at blive smidt ud af Google Play Store, hvis de ikke overholder de nye krav.
Vi sender en 👍 til Google for at følge det glimrende initiativ.
---

3. Twitter-forsøg: Tweets bliver mindre aggressive, hvis man beder brugerne tænke sig om, inden de trykker send
Vi fortsætter vores lille tur gennem nye funktioner, som skal gøre det lidt bedre at færdes på nettet.
Twitter har i et stykke tid kørt et forsøg, hvor udvalgte brugere er blevet bedt om at overveje, om de ville ændre ordlyden i deres tweet, inden de sender det. Det er typisk tweets med aggressive eller stødende formuleringer, som algoritmen har spottet.
Forsøget har vist sig ganske succesfuldt, og derfor bliver funktionen nu rullet bredere ud — i første omgang dog kun til engelsksprogede brugere.
Ifølge Twitter besluttede 34 procent af de folk, der fik en pæn anmodning om at læse deres tweet igennem, inden de trykkede send, enten at ændre deres tweet, eller slet ikke at sende det.
Samtidig viser Twitters data, at de mindre stødende tweets resulterede i… mindre stødende svar retur.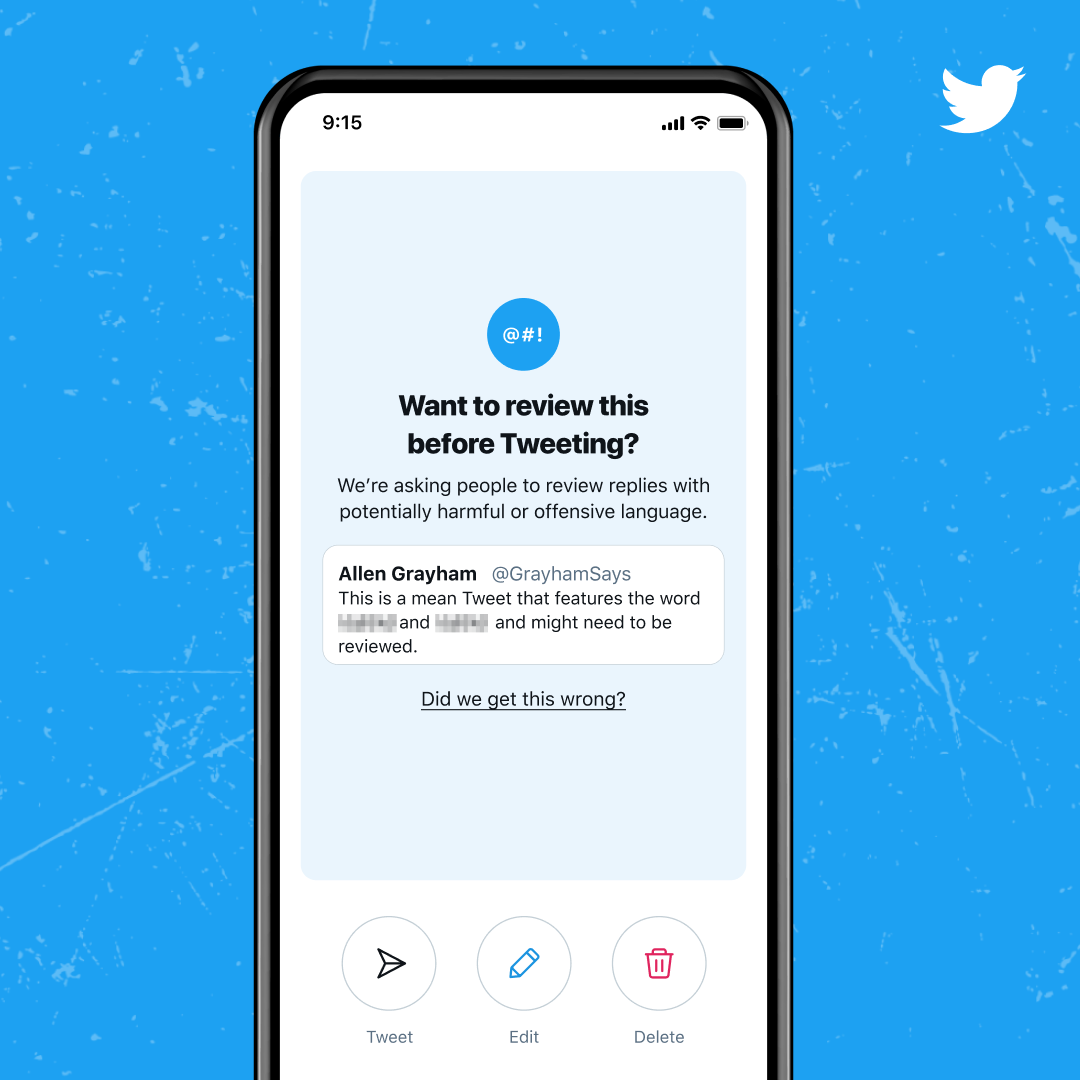 Nu når vi er ved Twitter, så har de også netop indført en Tip Jar funktion — altså muligheden for at give "drikkepenge", så man kan støtte sine foretrukne creators direkte på det sociale medie.
Igen er det til en start kun for engelsksprogede brugere, men planen er snart at rulle Tip Jar bredere ud.
---

4. Tredobbelt Elon: Førerløse overdrivelser — og Dogecoin-mission til Månen
Vi slutter dagens rundtur med en tredobbelt Elon.
I den mere seriøse ende, så viser dokumenter fra Californiens trafikmyndigheder, at Elon Musk overdriver Teslas selvkørende evner.
I januar sagde Musk i forbindelse med kvartalsregnskabet, at han var "meget sikker på, at bilen i løbet af i år vil være i stand til at køre sig selv bedre end et menneske kan".
Udtalelsen kom godt en måneds tid efter, at Tesla-chefen i et december-interview med Business Insider sagde:
- Jeg er ekstremt sikker på, at Tesla vil nå niveau fem næste år, ekstremt sikker, 100%.
(Niveau fem er vel at mærke det ypperste niveau for en førerløs bil, hvor den kan køre alle steder uden menneskelig indgriben.)
Men Musks selvsikkerhed afspejler bare ikke virkeligheden. Det fremgår af dokumenter fra de Californiske trafikmyndigheder DMV.
Her skriver DMV efter en samtale med flere repræsentanter fra Tesla, heriblandt Teslas chef for autopilot software CJ Moore:
- Elons tweet stemmer ifølge CJ ikke overens med den tekniske virkelighed. Tesla er på niveau 2 i øjeblikket.
Af samme dokument fremgår det, at Teslas ingeniører siger, de stadigvæk er solidt plantet på niveau 2, og at de vil vide det i god tid, inden de blot når til niveau 3 — hvilket man altså må forstå ikke er lige rundt om hjørnet.
---
Mens Teslas ingeniører diskuterer teknologi med myndighederne, så har Elon Musk brugt weekenden som vært på TV-showet Saturday Night Live. Og det var alt andet end en succes for kryptovalutaen Dogecoin.
I umiddelbar sammenhæng med showet og Elon Musks forskellige jokes om netop Dogecoin faldt værdien med næsten 30 procent (!).
Men som om det ikke skulle være nok, så kom Musks rumfirma SpaceX i går på banen med nyheden om, at de i fællesskab med firmaet Geometric Energy Corporation har lanceret "DOGE-1 Mission to the Moon" — en satellit der skal med ombord på SpaceX Falcon 9-raketten til Månen kun finansieret via Dogecoin.
- Vi er glade for at lancere DOGE-1 til månen! Denne mission vil demonstrere anvendelsen af kryptovaluta ud over Jorden kredsløb og lægge grundlaget for interplanetarisk handel, siger SpaceX Vice President of Commercial Sales Tom Ochinero.
Jeg tror bare, vi stopper dagens nyhedsbrev her.
---

LINKS TIL LÆSEHESTE
Første test: AirTags kan let misbruges til at stalke folk
… og AirTag er allerede blevet hacket
---
Ingen Chrome OS-killer? Microsofts letvægtsudgave af Windows ser ud til at være lagt i graven
---
Kan de snart blive mindre? IBM fremviser 2-nanometer chip
---
Endnu et kinesisk elbil-firma kommer til Europa: NIO lanceres først i… Norge selvfølgelig
---