Statsadvokater til Facebook: Drop børneudgaven af Instagram
Instagram for små børn er skadelig af utallige årsager. Det mener 44 amerikanske statsadvokater, der i et åbent brev beder Facebook om at opgive planerne om et Instagram designet til børn under 13 år.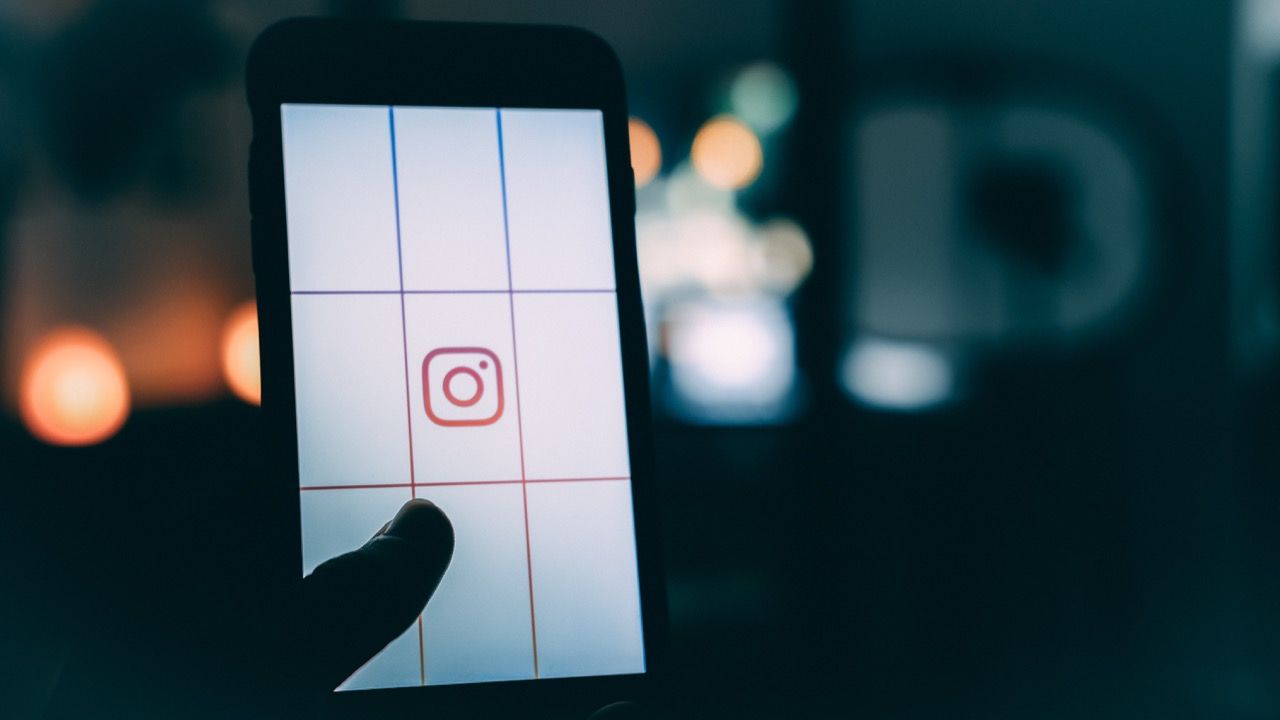 ---

1. 44 statsadvokater beder Facebook skrinlægge Instagram for børn
I marts kom det frem, at Facebook arbejder på en udgave af Instagram specielt designet til børn under 13 år.
Men det mener statsadvokaterne fra 44 amerikanske stater er så dårlig en idé, at de nu har sendt et åbent brev til Mark Zuckerberg, hvor de direkte beder Facebook skrinlægge planerne.
- Statsadvokaterne ønsker at beskytte vores yngste borgeres tarv, og Facebooks planer om at skabe en platform, hvor børn under 13 år opfordres til at dele indhold online, er i strid med dette, står der blandt andet i brevet.
Bekymringerne er begrundet i en række forskellige nyheds- og forskningsartikler. Herunder problemer med cybermobning og "platformens ubarmhjertige fokus på udseende, selvpræsentation og branding, som giver udfordringer for unges privatliv og velbefindende," som det er formuleret.
Der bliver da heller ikke lagt fingre imellem i brevet, som er adresseret til Mr. Zuckerberg.
Statsadvokaterne skriver at "Facebook historisk har undladt at beskytte børns velfærd på sine platforme", og at de med Instagram for børn skaber et behov, som børnene ikke har.
- Kort sagt er en Instagram-platform for små børn skadelig af utallige årsager. Statsadvokaterne opfordrer indtrængende Facebook til at opgive sine planer om at lancere denne nye platform, lyder det som afslutning.
I en udtalelse til blandt andet mediet Protocol, siger en talsperson fra Facebook, at virksomheden "lige er begyndt at udforske en version af Instagram til børn", og at Facebook forpligter sig til ikke at vise annoncer på et kommende børne-Instagram:
- Vi er enige i, at enhver oplevelse, vi udvikler, skal prioritere sikkerhed og privatliv, og vi vil konsultere eksperter inden for børns udvikling, børns sikkerhed, mentale sundhed og privatliv.
- Vi ser også frem til at arbejde med lovgivere og regulatorer, herunder landets statsadvokater, lyder det endvidere fra Facebook-talspersonen.
Med andre ord: Facebook arbejder ufortrødent videre med deres børne-Instagram.
---

2. Hvilken mobil holder batteriet længst? DxOMark tester nu også batterier
Hvis navnet DxOMark ringer en klokke, er det nok fordi den franske hjemmeside er kendt for dybdegående test af kameraer; både traditionelle kameraer og dem der sidder i vores mobiler.
Men nu har DxOMark også slået sig på test af mobilbatterier: Hvor længe holder de, hvor hurtigt lader de, og hvor energieffektive er de i forhold til deres størrelse?
Der er tale om grundige laboratorietest, hvor blandt andet robotarme trykker og scroller på telefonerne i mønstre, der efterligner, hvordan vi typisk bruger en smartphone i virkelig brug.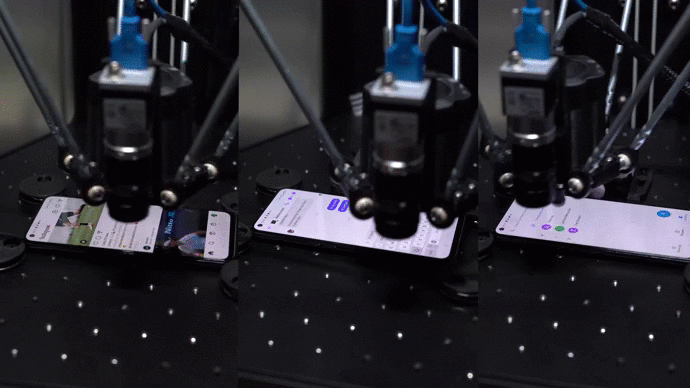 Samtidig kommer telefonerne også ud af laboratoriet, så DxOMark kan teste, hvordan det påvirker telefonerne, når de søger efter nye Wi-Fi-netværk og bruger GPS og lokationsservices i den virkelige verden.
Testen varer rundt regnet 6,5 dage.
Topscoreren blandt de telefoner, DxOMark har testet, er Samsung M51, hvilket måske ikke er helt så overraskende, da den kommer med et massivt 7.000 mAh batteri. Men den holder altså også over tre dage på en opladning.
Den telefon der scorer højest på ladehastighed — en samlet vurdering af et hurtigt boost og fuld opladning — er kinesiske Oppo Find 3X NEO. Blot 36 minutter tager det at lade Oppo-telefonen fra 0-100 procent, og så holder dens 4.500 mAh-batteri i øvrigt over 2 dage på en opladning.
Den mest energieffektive er iPhone 12 Pro Max. Den holder faktisk også batteriet i over to dage på trods af dens mindre batteri på blot 3.687 mAh.
Hvis du har en forkærlighed for batteritest, kan du læse mere om DxOMarks batteritest-protokol her.
---

3. Hey guys: Her er listen over mest populære åbningssætninger på YouTube
Vi snupper lige en liste til; denne gang af den mere sjove og kulturelle slags.
YouTube har lavet en liste over, hvad den mest populære startsætning er i videoer på deres platform.
Selvom tiderne jo som bekendt skifter, så er de frosset en smule fast på YouTube. For der findes angiveligt ikke en bedre startlinje end "Hey guys".
Netop de to ord har været den mest populære måde at indlede en YouTube-video på siden 2010.
"What's Up" er nu nummer 2, hvor den har henvist "Good Morning" til tredjepladsen.
Som det fremgår af billedet nedenfor, så er der ikke den store udskiftning i, hvordan de fleste starter en YouTube-video.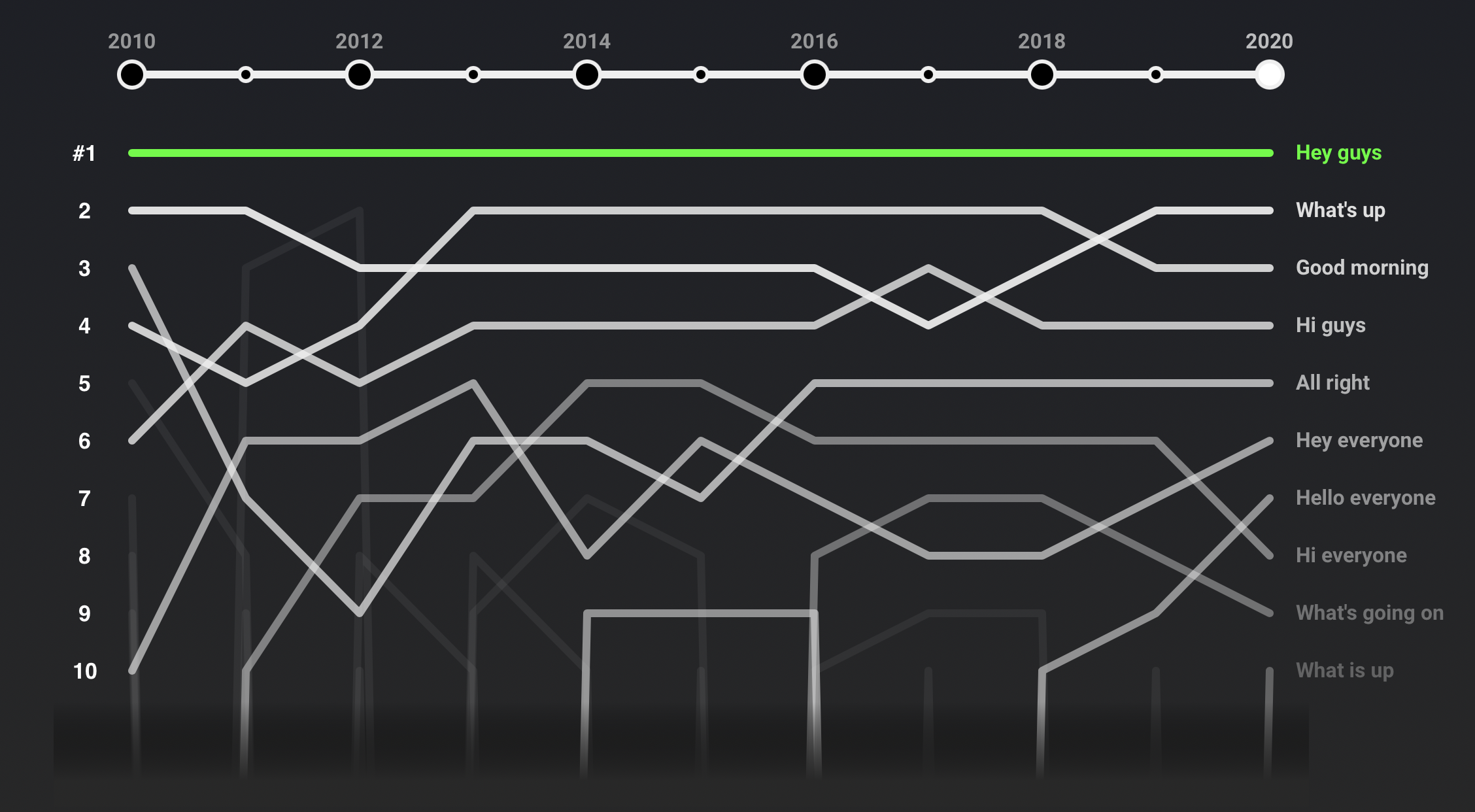 Åbningssætningen varierer dog fra område til område, og inden for Tech-videoer, er det (måske lidt overraskende) "Ladies and gentlemen", som er den foretrukne introduktion.
Vi kender desværre ikke den mest populære åbningssætning på dansk, men her er et lille overblik over, hvordan det ser ud på nogle af de andre store sprog:

---

4. Clubhouse nu på Android… men antallet af nye brugere styrtdykker
Kan du huske Clubhouse? 2021s mest hypede app, som (måske) allerede er på vej i glemmebogen?
Antallet af nye Clubhouse-brugere er nemlig allerede stærkt faldende, efter det hele eksploderede i februar.
I årets anden måned havde Clubhouse således 9,6 millioner downloads af appen. I april var det faldet til en tiendedel, hvor blot 922.000 nye brugere installerede Clubhouse på deres telefon.
Det forhindrer dog ikke Clubhouse i at forsøge at udvide butikken.
Således er de nu klar med en Android-app. I første omgang kun i USA, men den skulle blive tilgængelig for alle i løbet af de kommende dage og uger.
Det kræver dog stadigvæk en invitation fra en anden Clubhouse-bruger at blive lukket ind. Men der er næppe noget, det er meget nemmere at tiltuske sig en invitation til, hvis altså ikke alle dine Clubhouse-venner allerede har slået notifikationer fra.
---

5. WhatsApp skruer ned for aggressiviteten: Brugere, der ikke accepterer nye brugervilkår, beholder kontoen
Vi slutter med endnu en opfølger på en af vinterens helt store historier.
WhatsApp røg i januar ud i en alvorlig shitstorm, da de truede deres 2 milliarder brugere med konto-lukninger, hvis de ikke accepterede et sæt nye brugervilkår.
Det fik millioner af folk til at søge mod særligt Signal og Telegram, mens WhatsApp valgte at udskyde implementeringen af de nye vilkår til 15 maj.
Det er som bekendt om fire dage, så nu er det altså ved at være tid til, at brugerne skal sige ja, hvis de fortsat vil kunne benytte den Facebook-ejede kommunikationsapp.
Gør man ikke det, vil WhatsApp dog ikke længere deaktivere ens konto, som de oprindeligt havde truet med.
I stedet vil de stille og roligt slå en række essentielle funktioner fra, såsom notifikationer og adgang til brugerens chatliste. Men man kan altså foreløbigt godt bruge appen.
Samtidig vil WhatsApp gentagne gange minde brugerne om, at de skal huske at acceptere de nye brugervilkår.
Pisken er altså (foreløbig) blevet erstattet med en halv skrællet gulerod.
---

LINKS TIL LÆSEHESTE
Stort studie: Smartphones er blevet menneskets sneglehus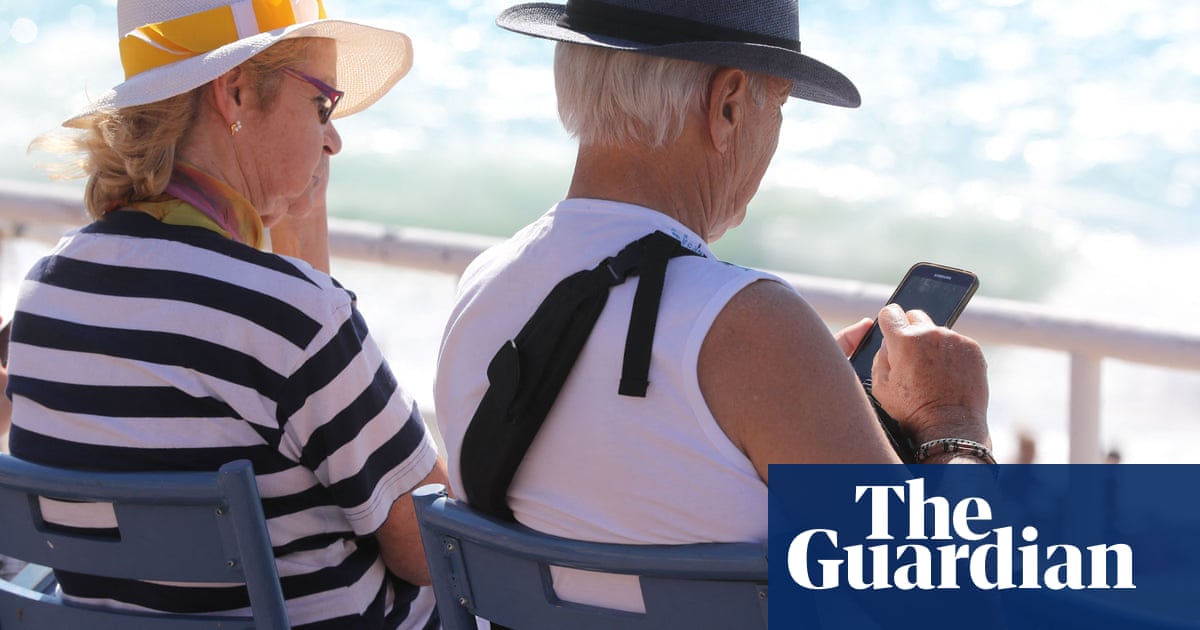 ---
Er du sikker på, du vil dele denne artikel, du ikke har læst? Facebook klar med ny pop up
---
Tilbehør-til-tilbehør-til-tilbehør 😬: 3D-printet æske kombinerer TV-remote og AirTag
---
Ny rapport: Apples forsyningskæde linkes sammen med Uyghur-tvangsarbejde
---