2.$$$.$$$.$$$.$$$
Fordoblet på 21 uger: Apples markedsværdi rammer 2.000 milliarder dollars.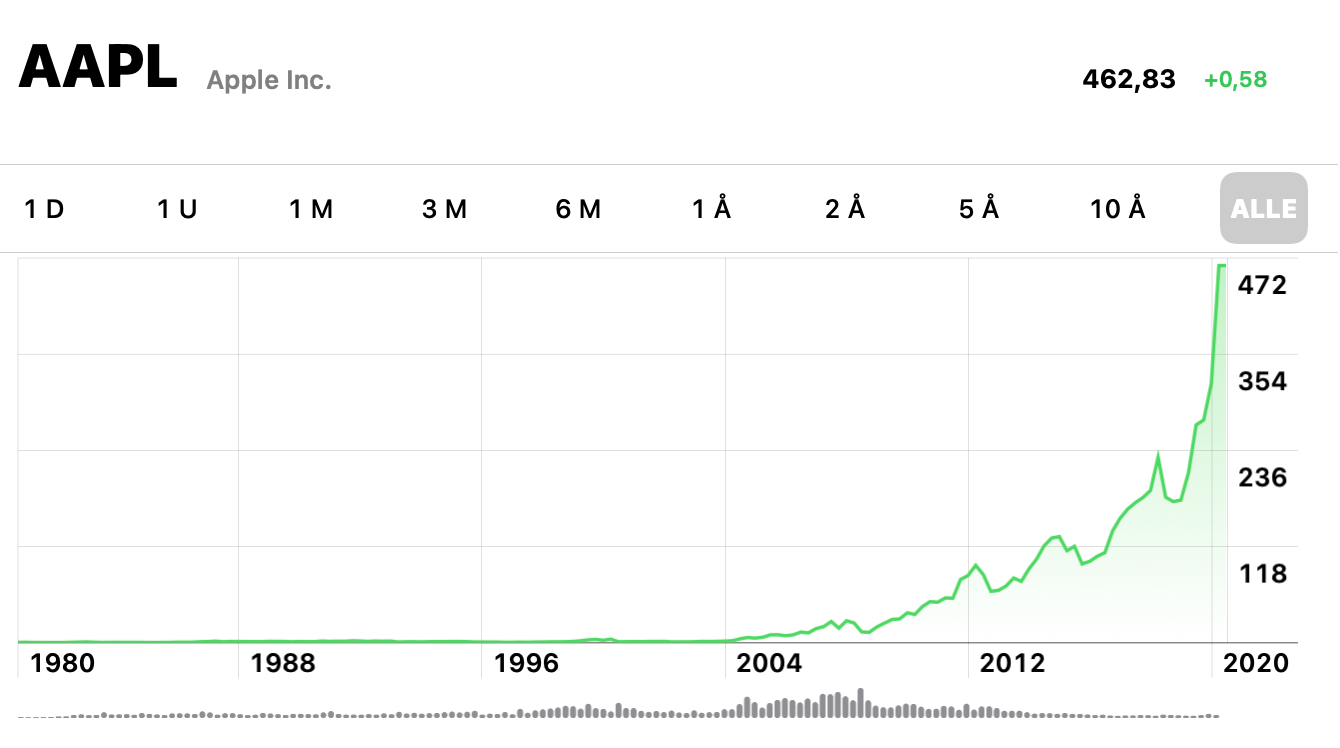 ---

1. Apple runder markedsværdi på 2.000 milliarder dollars: Fordoblet på 21 uger
Hvis nogle skulle være i tvivl om, hvorfor der er så meget snak om at techgiganterne er ved at vokse sig for store, så kan man jo starte med at kigge på deres økonomiske tal.
Apple har, som det første firma i verden, netop rundet en markedsværdi på 2.000 milliarder dollars, svarende til lige godt 12.500 milliarder danske kroner.
Hvorfor skulle det nu være SÅ vildt?
Jo, som New York Times tørt konstaterer, så tog det Apple 42 år at nå 1 billion dollars… og 2 år at nå til 2 billioner.
Men endnu vildere, så er de seneste 1.000 milliarder dollars kommet på bare 21 uger(!).

Mens hele verden har været ramt af Coronakaos, og mange virksomheder har betalt dyrt for krisen, så er Apple-aktien altså vokset i et helt uhørt tempo.
Kigger man på, hvilke banebrydende produkter Apple har lanceret i de seneste to år — eller de seneste 21 uger for den sags skyld — ja, så er det vel ret beset ikke nogen.
I 2019 lancerede firmaet nogle nye services (bl.a. Apple Arcade og Apple TV+), men ikke noget der minder om en succes.
I juni i år præsenterede de så en vision for overgangen fra Intel-processorer til egne computer-chips i firmaets Mac-computere. Men netop Macs udgør en ganske lille del af Apples samlede indtægter, så det er altså heller ikke her forklaringen skal findes.
Til gengæld er Apple over de seneste to år lykkedes med at ændre firmaet, fra at tjene så godt som alle pengene på iPhones, til nu at tjene en tiltagende stor del på henholdsvis services (læs App Store og iCloud lagerplads) og tilbehør til iPhone (særligt AirPods og Apple Watch.)
Jævnfør den seneste uges store historie (Epic vs Apple) skal jeg ikke gøre mig til dommer over, hvor stor en procentdel Apple med rimelighed kan tage fra de små og store app-udviklere, der udbyder deres services gennem Apples App Store.
Men det er svært at forestille sig, at Apples eskalerende markedsværdi ikke vil komme i spil, når dommere og politikere begynder at kigge nærmere på de 30 procent, som Apple tager for hvert salg i app-butikken.
Selvom man nemt kan glemme det, så er amerikanerne faktisk historisk set ikke så glade for, når firmaerne vokser sig så store, hvilket blandt andet AT&T og Microsoft har måtte sande i tidligere antitrust-sager.
---

2. NGO: Facebook er farlig for folkesundheden
Man skal altid være en smule på vagt, når man læser rapporter fra interesseorganisationer.
Ikke desto mindre, så har den amerikanske NGO Avaaz netop publiceret en rapport, som konkluderer at misinformation på Facebook er farlig for folkesundheden.
Ifølge Avaaz's research, så har der alene i løbet af det seneste år været 3,8 milliarder visninger af vildledende opslag om sundhed på Facebook.
Ikke overraskende er misinformationen toppet under Corona-pandemien, hvor vilde påstande — lige fra at Covid-19 skyldes 5G-netværk, til at man skal drikke blegemiddel for at kurere Coronavirus — har fået lov til at florere bredt.
Facebook anerkender da også, at der er et problem:
"Vi deler Avaaz's mål om at begrænse misinformation. Takket være vores globale netværk af faktatjekkere, har vi fra april til juni sat advarsels-labels på 98 millioner opslag med fejlagtig information om Covid-19, og fjernet syv millioner opslag der direkte kunne føre til skade," skriver Facebook i en udtalelse.
Ifølge Avaaz' tal er det kun 16 procent af de misledende opslag som har fået påklistret et label, og altså dermed 84 procent der har fået lov at stå, uden at brugeren er blevet gjort klar over, at informationen muligvis er fuldstændig usand.
Det ser Avaaz' kampagnechef, Fadi Quran, som et kæmpe problem.
"Facebooks algoritme er en stor trussel mod folkesundheden. Mark Zuckerberg lovede at give pålidelige oplysninger under pandemien. Men hans algoritme saboterer disse bestræbelser ved at lede mange af Facebook's 2,7 milliarder brugere hen til netværk, der spreder misinformation om sundhed," siger han til BBC.
Quran kalder problemet for en "info-demic", og mener at Facebook skal "afgifte sin algoritme" ved at sende korrekt information ud til alle de brugere, der er blevet eksponeret for misinformation.
Avaaz' undersøgelse viser, at 42 Facebook-sider, som tilsammen følges af 28 millioner brugere, er omdrejningspunktet i misinformationen. De 42 sider skulle alene have generet 800 millioner visninger med misledende indhold om sundhed.
Tallene i rapporten stammer kun fra USA, Storbritannien, Frankrig, Tyskland og Italien, så de er formentlig langt højere på verdensplan.
---

3. Nu kommer telefonen med kamera indbygget bag skærmen
For 2 måneder siden skrev vi om den kinesiske skærmproducent Visionox, der var på vej med en skærm, hvor kameraet er bygget ind bag glasset. Konceptet er altså, at du kan få en telefon helt uden udskæringer.
Og nu ser den første af slagsen ud til at nærme sig hylderne.
Den kinesiske mobilproducent ZTE oplyser, at de 1. september introducerer modellen Axon 20 5G, som netop har kameraet bygget ind bag skærmen.
Uagtet at kameraet formentlig ikke er i nærheden af at kunne konkurrere med de bedste, så er vi altså tilsyneladende nået til smartphonens hellige gral: Fuld glasplade... i hvert fald næsten.
For på de billeder, der er offentliggjort af telefonen, er der faktisk en lille kant i bunden af skærmen, der "skæmmer" det ellers helt rammeløse og udskæringsfri smartphone-design.
Om Axon 20 5G kommer til Danmark er endnu uklart, men ZTE har tidligere lanceret telefoner i de nordiske lande, som et af få steder udenfor Kina.
---

LINKS TIL LÆSEHESTE
Trump giver tommelfinger op til Oracle-køb af TikTok: Ville være et great firma til at overtage det kinesiske sociale medie 👍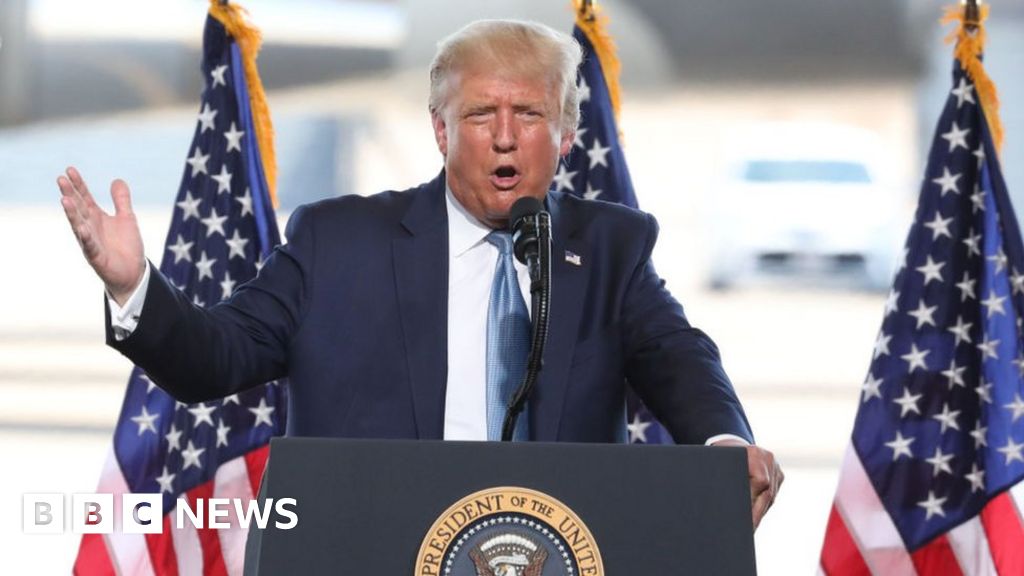 ---
Apple fjerner tusindvis af spil fra kinesisk App Store: Kan være første skridt mod kinesisk modsvar til Trumps forbud mod TikTok og WeChat 🇨🇳 💔 🇺🇸
---
Facebook fjerner knap 800 sider relateret til konspirations- og pro-Trump-bevægelsen QAnon 🤬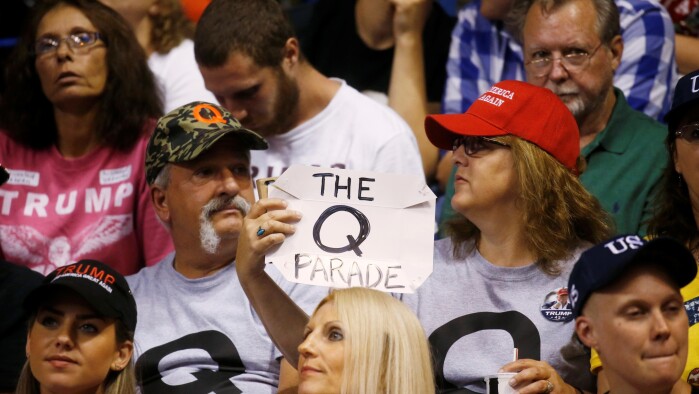 Men måske kommer de for sent?
---
Samtidig beskyldes Zuckerbergs sociale medie for at være i lommen på den indiske regering og tillade hadefulde opslag fra ledende politikere på deres platform 😡🤷‍♂️
---