De 9 vigtigste nyheder fra Google I/O — og en samtale med en papirflyver
Vi har i dag fuldt fokus på de vigtigste nyheder, der kom ud af den to timer lange åbnings-keynote af Google I/O.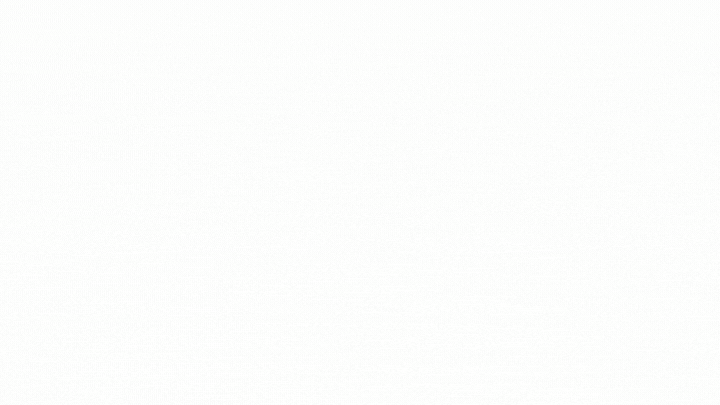 ---
Google I/O: Her de 9 vigtigste nyheder
Google skød i går aftes sin årlige udviklerkonference Google I/O i gang med en to timer lang keynote.
Ordet lang er ikke misvisende; men Google skal have bonuspoint for at afvikle eventen live, selvom den var uden publikum. Det giver altså en bedre oplevelse, når det hele foregår præcis, mens du sidder og kigger med.
Selve keynoten er Googles årlige opsummering af, alt det nye firmaet arbejder på og snart lancerer:
Fra højtragende fremtidsambitioner om kvantecomputere, til øget fokus på kaffebarer i Google Maps om morgenen.
Fra fremtidens AI, hvor du fører samtaler med en papirflyver, til en ny farvepalette i Android.
Man kom vidt omkring i en lidt ulogisk opbygning, men sådan en event kan jo næsten ikke undgå at blive lidt småforvirrende, med det store spænd firmaet opererer indenfor.
Her er ni af de vigtigste ting, Google præsenterede:
---
1. Android 12 og nyt designsprog
Et af de centrale omdrejningspunkter ved Google I/O er naturligvis den næste udgave af Android-styresystemet.
Android er nået til version 12, og det er i udpræget grad en oprydningsversion, hvor der er mest fokus på en mere strømlinet og moderne brugerflade, og mindre fokus på nye teknologier.
Google præsenterede redesignede widgets, mere markante knapper og sliders, og i det hele taget et mere sammenhængende visuelt udtryk.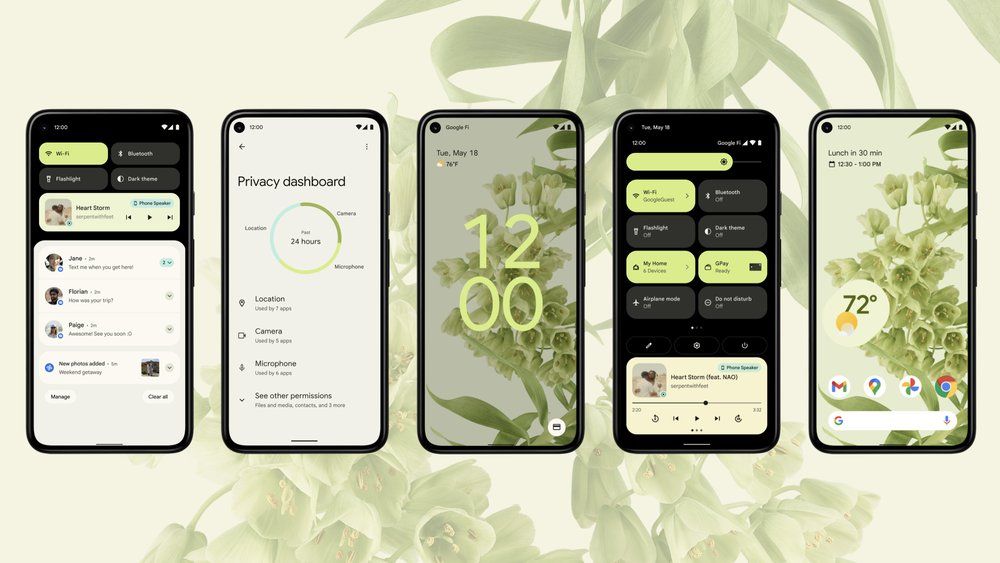 Android 12 gør brug af et helt nyt designsprog, som skal gå igen på alle Googles produkter. Google kalder det Material You.
En af tankerne er, at du selv kan vælge hvilken farve-palette, din brugerflade skal have. Telefonen kan endda selv skabe en farveskala til dig, ud fra det billede du uploader som dit baggrundsbillede.
Widgets kan placeres frit på skærmen (dog indenfor et grid) i modsætning til på iPhone, hvor widgets vil klæbe sig til dine apps.
Android 12 får også et nyt Privacy Dashboard, hvor du blandt andet kan se, hvilke data dine apps senest har tilgået. Herfra kan du også let trække en tilladelse tilbage, hvis du ikke længere vil have, at en af dine apps må bruge din mikrofon eller lokation.
De bliver også muligt i 'quick settings' fuldstændig at deaktivere mikrofon eller kamera, hvis du befinder dig i en situation, hvor det måtte være belejligt.

---
2. Fornyet fokus på smart-ure: Google slår pjalterne sammen med Samsung
Google havde også fornyet fokus på smart-ure, et område de har gjort forbløffende lidt ved de seneste par år.
Meget overraskende har de nu slået deres Android-ur-styresystem Wear OS sammen med Samsungs styresystem Tizen, som sydkoreanerne har brugt på deres Galaxy-ure.
Fremover vil Samsungs ure altså blive koblet op på Play Store og Google Play services.
Ur-styresystemet der før hed Wear OS kommer nu blot til at hedde Wear. Det vil også være det styresystem, som FitBit (som Google jo har købt) kommer til at bruge på deres ure.
Med FitBit i loopet vil der også komme øget fokus på sundhed og fitness-tracking.
Med andre ord er der altså sket en komplet konsolidering, som giver Android en fornyet start på smart-ur-markedet, og som gør det lettere for app-udviklere, når de ikke skal udvikle apps til flere forskellige systemer.
En velkommen konkurrent til Apple Watch og Watch OS, der har sat sig solidt på markedet.
---
3. LaMDA — Snart kan du snakke med en papirflyver
Fra det nære, tager vi nu et skridt op på den helt store Google-klinge.
Google præsenterede en ny AI-sprogmodel, som har fået navnet LaMDA (Language Model for Dialogue Applications).
LaMDA er groft sagt en næste generations chatbot. Dens særlige evne er at kunne konversere og holde en samtale i gang – det der også kaldes Conversational AI.
Google viste to (båndede) demoer af chatbotten 👇. Den ene, hvor en kvinde har en samtale med planeten Pluto, og den anden, hvor hun snakker løs med en papirflyver(!)
Ja, det lyder dumt, men i virkelighedens verden er det også ret imponerende (uagtet at jeg hellere ville tale med en digital assistent, der fortæller mig om Pluto og ikke med planenten selv).
LaMDA blev italesat som et af Googles såkaldte moonshots, så det er altså ikke noget, der bliver hverdag her og nu.
Men det giver et kig ind i en fremtid, hvor vi ikke bare taler til en computer, men taler med den.
---
4. Project Starline — fremtidens videosamtale?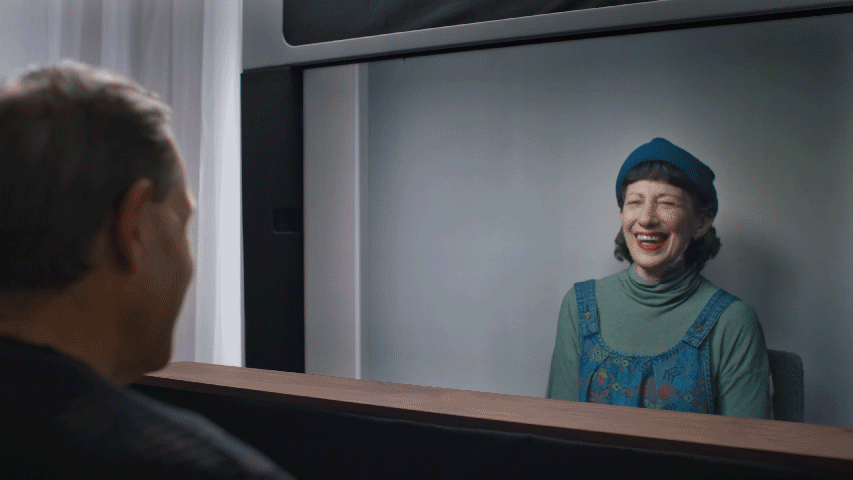 Vi bliver i moonshot-land og en ny form for videosamtale, som Google kalder Project Starline.
Helt kort går det ud på at skabe en langt mere levende oplevelse under videosamtaler, hvor højopløsnings-kameraer og dybdesensorer kan skabe en 3D-model af dig, komprimere dataene cirka 100 gange, overføre dem til den person du taler med, som så ser en holografisk udgave af dig på deres skærm.
Resultatet af de demoer, Google viste (se video ovenfor), var virkelig imponerende. Og de folk, som har prøvet det, var lige så imponerede over følelsen af at sidde direkte overfor et familiemedlem eller ven — de beskriver følelsen som, at man nærmest kunne røre hinanden.
Samtidig kan man holde ægte øjenkontakt, hvilket som bekendt er ret svært med de nuværende videosamtale-muligheder.
Denne form for nærhed havde jeg nok forventet kun kunne lade sig gøre med et par digitale briller på. Men det ville jo være væsentlig federe, hvis det kan være mere naturligt og direkte.
Der er ganske vist langt endnu, før det kommer ud af Googles egen lille hule, men det er nemt at se, hvordan det særligt i professionel sammenhæng kan bruges i alt fra sundhedssystemet til TV-Avisen.
---
5. Privacy og sikkerhed var keynotens 'buzz words'
De begreber, der nok blev gentaget flest gange i den to timer lange præsentation, var privacy og sikkerhed.
Uagtet at der ofte — også her på Techliv — sættes spørgsmålstegn ved Googles håndtering af brugernes privatliv, så gør de altså en række ting for at forbedre privatlivet, og ikke mindst for at hjælpe brugeren til at indstille sin Google-konto, så den passer til ens privatlivstemperament.
Et par af de nye tiltag er, at man fremover direkte fra menuen kan slette sin historik fra de seneste femten minutter, hvis man nu har søgt på noget, man ikke ønsker skal gemmes.
Ligeså kan man let(tere) slå lokationshistorikken fra i Google Maps.
Og i Google Foto kan man fremover sætte en lås på udvalgte albums, hvis man har billeder, som man ikke ønsker andre (fx familiemedlemmer) skal kunne få adgang til.
Nej, det ændrer ikke ved den store annonce-elefant i rummet, men det er nu engang reklamer Google lever af, og altså det man skal leve med, hvis man vil bruge deres services.
Samtidig rykker Google endnu flere Machine Learning-funktioner i Android ind i en særlig Private Compute Core — fx live-tekstning af det du siger (foreløbig ikke på dansk) eller automatiske forslag til svar på beskeder.
Det betyder altså, at de private data kan processeres direkte på telefonen og ikke bliver sendt til Googles Cloud.
---
6. Skift dit password på hjemmesider uden at forlade din password manager
En anden lille — men cool — nyhed er en opdateret password manager.
Fremover vil du kunne ændre passwords på de tjenester, du har gemt, direkte i Googles password manager — den der er bygget ind i Android, Chrome og Google på iOS.
Du behøver altså ikke længere logge ind på en tjeneste, finde din profil, bede om at ændre password, generere et nyt, og sørge for at det også bliver opdateret i password manageren.
Det er altså en virkelig brugbar feature… hvis den virker.
---
7. Google Fotos kan nu animere dine fotos
Tilbage til Google Fotos, hvor der også var et par interessante (små) nyheder mere.
Den ene kalder Google 'Little Patterns'. Det er altså mønstre i måden du tager billeder på, som bliver samlet i særlige albums.
Det kan være billeder, hvor du har den samme rygsæk på. Det kan være billeder, der har det til fælles, at de har den samme form, eller det kan være billeder taget i den samme sofa, på samme terrasse etc.
En anden nyhed er det, Google kalder Cinematic Moments.
Kort fortalt kan Googles algoritmer nu lave små animationsfilm ud af dine stillbilleder. Typisk vil det være en situation, hvor du har taget to-tre-fire billeder af den samme situation, som så efterfølgende bliver omformet til en animation.
Der er altså ikke tale om en ægte repræsentation af det øjeblik, du har fotograferet, men en algoritmisk behandling, som kommer tæt på.
Desuden vil Google give brugeren større kontrol over dine 'minder'. Fx kan du fjerne en ex-kæreste fra dine minder (uden at du sletter billederne), så han/hun ikke pludselig dukker op på fotorammen i stuen.
(Læs Lauren Goodes historie om hvor nederen det er, når man konstant bliver mindet om sin ex-forlovede).
---
8. Bedre computer-fortolkning af mørke ansigter
Vi bliver i billedernes verden med en opgradering til det, der kaldes Computational Photography.
Billeder er efterhånden langt fra blot at være et resultat af, hvor god en sensor dit kamera har. En vigtig del af dine billeders udseende er baseret på algoritmer og software.
Et af de meget markante problemer, kameraerne dog har haft, er, at de er særdeles dårlige til at gengive folk med mørk hud.
Ofte kan et ansigt ikke adskilles ordentlig fra baggrunden, eller ansigtstrækkene være udvisket.
Det vil Google — forsøge at — rette op på ved ændringer i algoritmen på deres mobil-kameraer og deres fotoprodukter.
---
9. Smart Canvas: En samarbejds-opgradering af Google Workspace
Vi slutter med en nyhed til det der i gamle dage hed G-Suite, og som nu til dags hedder Google Workspace (Googles svar på Microsoft Office 365).
Workspace får nemlig nu en opgradering, som Google kalder Smart Canvas.
Konceptet er, at det skal blive langt mere smidigt at arbejde på tværs af Google Docs, Sheets og Slides. Fx kan man kan lave @mentions af hinanden og afstemninger og den slags, som en integreret del af ens dokumenter.
Det vil også blive muligt at bruge Googles Meet-videotjeneste direkte i Google-dokumenter. Med andre ord håber Google at gøre det nemmere for folk at samarbejde på tværs af, og direkte inde i, dokumenter.
Google var først med muligheden for at kunne samarbejde direkte i et dokument, men langsomt er de begyndt at halte en del efter mere moderne samarbejdsværktøjer, som efterhånden har vundet indpas mange steder.
Men nu skal der altså moderniseres. Fx ændrer Google nu udformningen af et Google Doc, så det ikke længere ligner et stykke pair, der skal printes.
Det siger vist det hele.
---
En event i Coronaens skygge
Efter 2 timers keynote sad jeg lidt tilbage med en følelse af, at Google havde måtte grave dybt for at finde nogle bare nogenlunde spændende nyheder frem.
Når jeg læser det igennem, jeg har skrevet, så bærer det præg af mange små forbedringer — krydret med et par af de vanlige Google-satsninger, som skal vise omverdenen, at de stadigvæk har blikket stift rettet mod fremtiden.
Måske er det bare fordi teknologien lige nu står lidt i et vadested, hvor mange løsninger er blevet hverdag og er så færdigudviklede, at der ikke er plads til andet end lidt krymmel på toppen.
Men hvis fremtidens tungeste sus er, at jeg kan lege, at jeg snakker med et papirfly, så er det måske bare ikke den fremtid, jeg er mest spændt på at møde.
---

LINKS TIL LÆSEHESTE
Forbudt for politiet på ubestemt tid: Amazon forlænger forbuddet mod at ordensmagten må bruge ansigtsgenkendelses-softwaren Rekognition
---
Microsoft bekræfter: Windows 10X er død — og det er den futuristiske dobbeltskærms-tablet Surface Neo også
---
Spotify vil auto-transskribere podcasts: I første omgang dog kun i udvalgte shows
---
---