Din mobilafhængighed skyldes ikke notifikationer
Det er din hjerne, den er gal med. Nyt studie viser, at kun 1 ud af 10 gange du tager din telefon frem skyldes det en notifikation.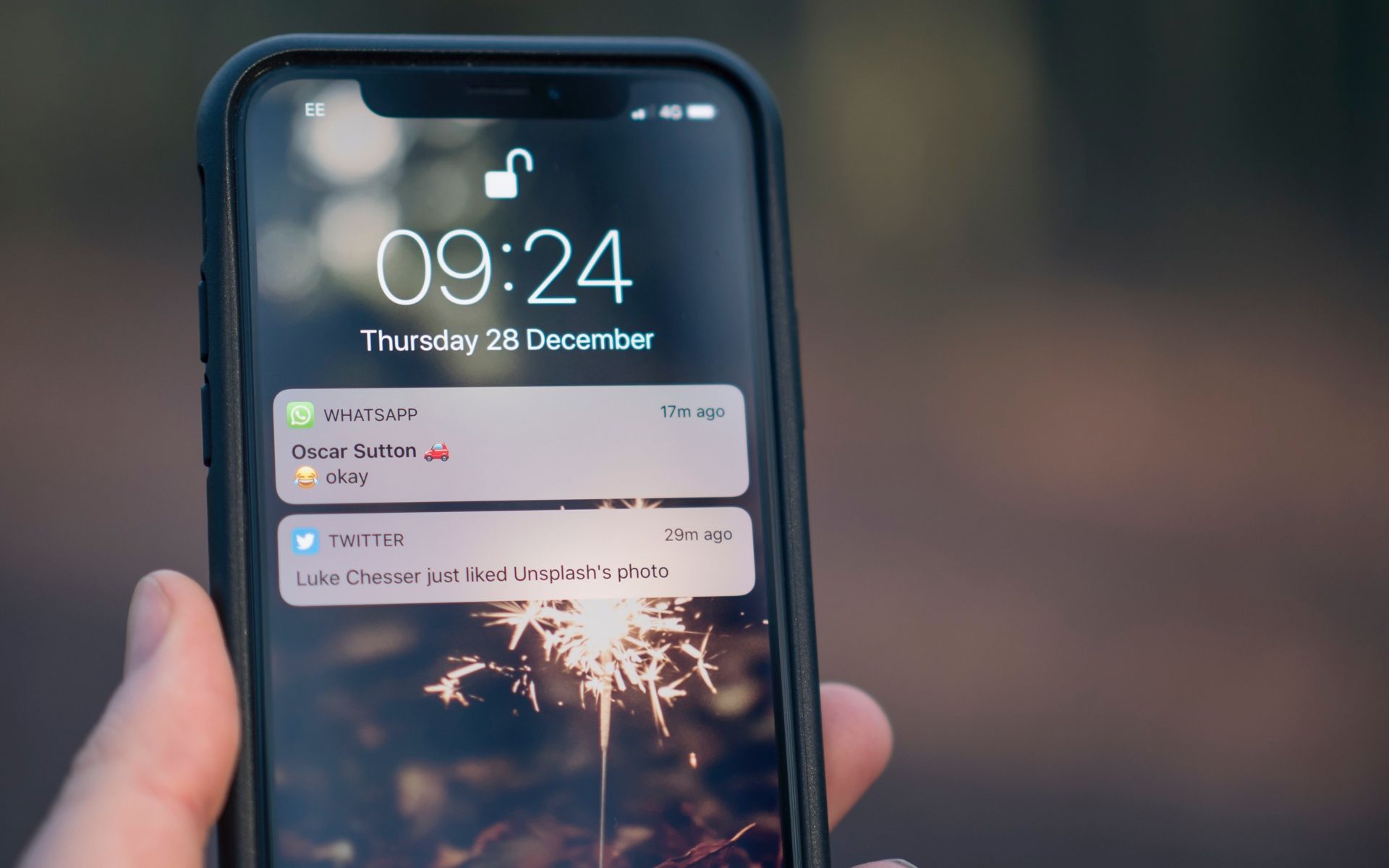 ---

1. Din mobilafhængighed skyldes ikke notifikationer
Notifikationer får ofte skylden for at mange af os konstant hiver telefonen op af lommen.
Men ifølge et nyt studie fra London School of Economics er det mere en myte end en sandhed.
Rapporten, der har titlen "Why Are Smartphones Disruptive?", viser at 89 procent af de gange undersøgelsens deltagere tog telefonen frem, skete det per automatik, og altså uden at telefonen har rystet eller ding'et i lommen.
En af konklusionerne i rapporten er, at der er "en trang fra brugeren til at interagere med sin telefon, der synes at forekomme på en næsten automatisk måde, ligesom en ryger ville tænde en cigaret".
Undersøgelsen er baseret på 1.130 interaktioner og 200 timers videooptagelser, hvor deltagerne har haft et kamera monteret på sig, der har optaget fra et first person perspektiv.
Desuden har forsøgspersonerne i interviews forholdt sig til deres interaktioner med mobilen.
Flere af deltagerne er lettere forbavsede over at se deres brug af mobilen på videooptagelserne. De kan ofte slet ikke huske at de har taget mobilen frem, og de er overraskede over hvor mange gange de kigger på mobilen uden nogen god grund.
Ifølge professor Saadi Lahlou, som er medforfatter af studiet, er der altså i overvejende grad tale om en regulær afhængighed.
"I stedet for at bruge enheden til kommunikation er selve handlingen med at tjekke telefonen blevet et behov for mange brugere."
"Dette er et alvorligt problem, især for børn, og vi løber ind i mørket uden fuldt ud at forstå, hvordan disse enheder ændrer vores livsstil," siger han til BBC.
Professorens løsningsforslag til at undgå de mange mobilinteraktioner (cirka hver femte minut blandt forsøgspersonerne) er dog mere vage.
Han foreslår blandt andet, at man "ligesom cowboys der lod pistolerne ligge uden for saloonen", ganske enkelt lægger telefonen væk eller slukker den, hvis man skal kunne koncentrere sig eller være fuldt tilstede i sociale sammenhænge.
"De fleste ting kan vente et par timer - du vil alligevel ikke gå glip af meget," lyder det fra professor Saadi Lahlou.
Techlivs take:
Jeg er ikke overrasket over resultatet, selvom jeg ville have gættet på, at notifikationer var mere medvirkende til de mange interaktioner med mobilen.
Professorens forslag om at lægge telefonen væk eller slukke den kan måske virke letkøbt og forsimplet. Men det er, efter min egen oplevelse, noget der virker.
Jeg lavede for et års tid siden et forsøg med i 14 dage at lægge min mobil på en mobilhylde, når jeg var hjemme. Det er det eneste jeg har prøvet, der rent faktisk har gjort en forskel i forsøget på at bruge telefonen mindre.
Du kan læse om mit forsøg her (rubrikken er ikke en jeg selv har fundet på, og jeg er bestemt ikke glad for den).
Og her følger mine syv tips til, hvordan du kan forsøge at blive lidt mindre mobilafhængig.
---

2. Techgiganter skal punge ud: Frankrig indfører digital service-skat på tre procent
Frankrig har besluttet at indføre en skat på digitale services på tre procent — endda med tilbagevirkende kraft fra i år.
Det rammer blandt andre Facebook og Amazon, som er nogle af de firmaer, der er blevet kontaktet af de franske myndigheder vedrørende den nye lovgivning.
Den digitale skat forventes at indbringe Frankrig i omegnen af 500 millioner euros i år, svarende til godt 3,5 milliarder kroner.
De nye regler har været på tegnebrættet et godt stykke tid, men har været sat på pause efter at USA tidligere har truet Frankrig med at lægge en forhøjet skat på franske varer, som blandt andet vin, håndtasker og makeup.
Men alligevel har Frankrig altså nu besluttet at gå enegang på området i stedet for at afvente en bredere løsning.
"Vi kan ikke vente længere, og teknologivirksomhederne er de store vindere af pandemien. Deres omsætning stiger kraftigt, og de har ikke betalt rimelige skatter, selv før pandemien," siger en unavngiven talsperson fra de franske myndigheder til Financial Times.
Facebook siger til Business Insider, at de mener der er behov for en bredere løsning, end at hvert land indfører sine egne regler:
"Vi vil fortsat betale alle skatter, der skal betales i Frankrig, og tilskynder regeringer globalt til at fokusere på en international skattereform, fordi vi i sidste ende har brug for en global løsning," lyder det fra Facebook.
---

3. Nye EU-regler vil tvinge techgiganter til mere åbenhed
Om mindre end to uger offentliggør EU udkastet til en ny og langt mere kontant lovgivning på det digitale område — det der hedder Digital Services Act og Digital Markets Act.
Men EU-kommissær, Thierry Breton, der sammen med Margrethe Vestager har ansvaret for det digitale område, løftede allerede i går lidt af sløret for hvad techgiganterne kan forvente sig af de nye regler.
Blandt andet vil EU tvinge techvirksomheder til at forklare hvordan deres algoritmer fungerer, og de skal lade lovgivere og forskere få adgang til et kigge deres reklameforretning efter i sømmene.
Desuden skal de gøre mere for at tackle hadefuld tale og andet skadeligt indhold på deres platforme.
Techgigantene kan også se frem til at skulle dele visse former for data med deres konkurrenter, ligesom der vil blive slået hårdt ned på firmaer, der favoriserer deres egne produkter og tjenester.
Hvis ikke techfirmaerne retter ind, så har Thierry Breton sanktionerne klar:
"Vi starter med en bøde, og herefter en større bøde," siger kommissæren i en online briefing til blandt andre Reuters.
Breton nævner, at der også er mulighed for midlertidige sanktioner mod firmaerne, hvis de ikke retter ind, og at man i sidste instans vil overveje at bryde techfirmaerne op.
Margrethe Vestager har dog for nyligt sagt, at hun ikke tror, at der bliver behov for at splitte de store amerikanske techvirksomheder op i Europa.
---

4. TikTok farcen fortsætter: Afgørelse om salg eller forbud udskudt en uge mere
Forbudt? Eller solgt til amerikanske investorer?
De færreste kan efterhånden holde hoved og hale i, hvor mange gange afgørelsen om TikToks skæbne i USA er blevet udskudt.
Førts skulle der være fundet en løsning i september, så var det lidt senere i september, så starten af november, slutningen af november og nu er afgørelsen så foreløbigt skudt en uge til den 4. december.
Ifølge Cfius (den amerikanske styrelse for udenlandske investeringer), skyldes den seneste udsættelse, at de er blevet forelagt nye oplysninger, som de har brug for tid til at se igennem først.
Hvilke oplysninger myndighederne skal forholde sig til, nævnes ikke.
Forlængelsen af fristen til den 4. december blev i første omgang ikke officielt meldt ud fra myndighederne. Den nye frist blev derimod nævnt af TikTok i et sagsdokument, som indgår i det kinesiske firmas søgsmål mod den amerikanske stat, der kører sideløbende.
TikTok mener som bekendt ikke, at den amerikanske stat har lovhjemmel til at tvinge det sociale medie til et salg.
Vi bliver måske klogere i december.
---
5. På himmelflugt og ned igen: Bitcoin-kursen dykker voldsomt
Hvis der er nogen, der er i tvivl om, at investeringer i bitcoin er en tvivlsom affære, så er den seneste uges op og nedtur et perle-eksempel på kryptovalutaens totale ustabilitet.
Som vi skrev i starten af ugen, så var værdien af 1 bitcoin på vej til at nå sit højeste leje nogensinde, men lige før målstregen er den nu dykket ret dramatisk igen.
For halvandet døgn siden var 1 bitcoin næsten 19.300 dollars værd, og dermed få hundrede dollars fra en ny rekord. Men i løbet af det seneste døgn er kursen faldet ret markant og har været nede og vende på godt 16.300 dollars, inden den har rettet sig en smule op igen.
For at sætte det hele lidt i relief, så var værdien af 1 bitcoin i starten af oktober 10.500 dollars. I starten af marts var den blot 5.300 dollars værd.
Det går op og ned i showbusiness — og i kryptovalutaland. Ofte uden nogen aner hvorfor.
---

LINKS TIL LÆSEHESTE
Længere levetid og mere genbrug: Stort flertal i EU-parlamentet vil give europæerne "retten til at reparere" elektronik.
---
Apple vil rykke dele af produktionen fra Kina til Vietnam
---
Morris-varevogn fra 1948 får nyt elektrisk liv
---
Facebook gjorde algoritmen lidt "rarere" i forbindelse med det amerikanske præsidentvalg
---
Følg Techliv — og del med dem du kender...
Vi har brug for flere medlemmer, så del gerne dette nyhedsbrev med folk du kender.
Følg os på sociale medier:
Techliv på Twitter og Facebook | Nicolai på Twitter | Anders på Twitter
---