Endelig: Apps skal fortælle, hvordan de bruger dine data
Ny mærkningsordning i App Store skal give brugeren en forståelse af, hvordan apps udnytter private data.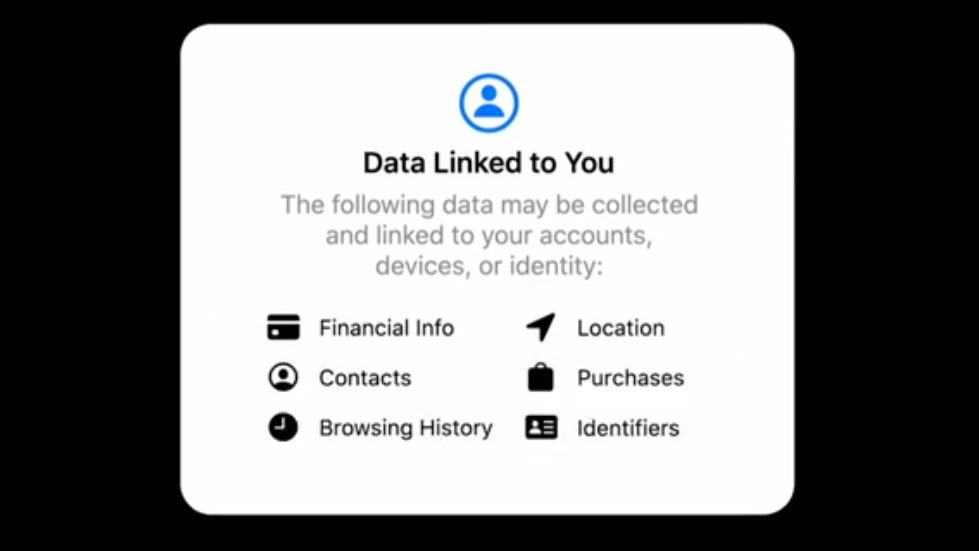 ---

Endelig: Nu kan du se, hvordan (og hvor voldsomt) apps tracker dig
For næsten præcis fem år siden skrev jeg en kommentar på dr.dk med overskriften "Fri mig for gratis".
Det var umiddelbart inden 2015-udgaven af WWDC, og få dage efter Apple-direktøren Tim Cooks frontalangreb på blandt andre Google og Facebook. Her kaldte han deres forretningsmodel "lodret forkert", med henvisning til den gængse model med at give en service væk gratis og tjene penge på data om brugernes.
Men selvom Apple er gået langt for at beskytte kundernes data, så lægger firmaet samtidig butikshylder til millioner af apps, der ikke har lige så rent mel i posen.
Derfor skrev jeg i min kommentar følgende:
"Vi har mærker på økovarer og svanemærkede produkter. Vi har varedeklarationer på fødevarer. Vi har energimærkning af huse. Alt sammen med det formål at skabe gennemsigtighed, så vi som forbrugere kan se, hvad det er, vi køber. Folk kan jo både købe burhønseæg og huse, der er pivhamrende utætte. Men i det mindst står der på varen, hvad det er, de køber. Hvorfor har vi ikke det på apps og services?"
Mere specifikt skrev jeg at Apple — der jo altså lige havde udråbt sig selv som det techfirma der tog privatliv alvorligt — burde indføre en mærkningsordning i deres app store:
"Apple kunne sagtens bede alle app-udviklere om detaljeret at oplyse, hvordan brugernes data bliver brugt, og ud fra disse oplysninger tildele appen en karakter. Eller de kan bruge nogle af de nærmest grotesk mange penge, de ejer, på at sætte et system på skinner, hvor de enten manuelt eller automatisk tjekker apps og services i deres App Store, for hvad de indsamler."
"Bare giv os en indikation på, om en app er til at stole på, om dens eneste formål er at suge vores data, eller om den er midt i mellem."
Og det er netop det, vi nu endelig får her fem år senere.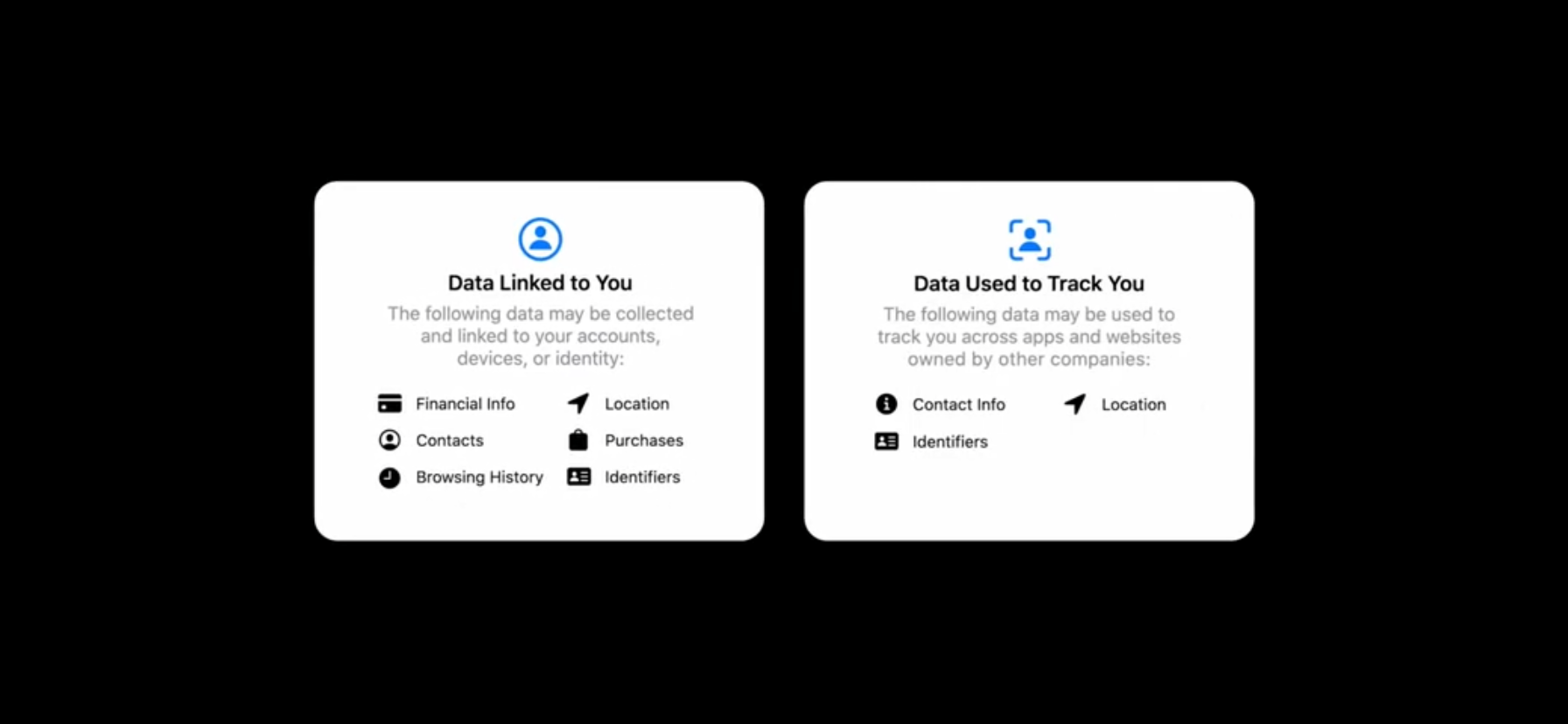 Fremover skal alle app-udviklere oplyse, hvordan de deler brugernes data, og det skal fremgå i App Store, hvad det er, du siger ja til, hvis du downloader en app.
Apple sammenlignede det selv med den information der er bag på fødevarer — og det er virkelig på tide, at vi får sådan en ordning. Jeg håber og tror, at det for alvor kan være med til at sætte fokus på den handel med vores data, som ellers foregår i det skjulte.
Forhåbentlig vil Google følge efter og introducere noget lignende i Play Store, så alle Android-brugere får den samme mulighed.
---

Apples svar på EU-sag: Frit valg af email-app og browser
En nyhed, der ikke blev nævnt af Apple under præsentationen (men som opmærksomme sjæle hos The Verge spottede på en slide) er muligheden for at ændre hvilken browser og email-app, der skal være standard på iPhone og iPad.
Indtil nu har man kun kunne vælge Apples egne apps. Det vil sige, at klikker du på et weblink, bliver det automatisk åbnet i Safari, og klikker på et email-adresse-link bliver det automatisk åbnet i Apples Mail-app.
Men ikke længere.
Fremover får du muligheden for at vælge Outlook, Gmail, Spark (og formentlig også Hey) som din standard email-app. Og du kan vælge Chrome, Firefox, Cliqz eller en helt fjerde som din foretrukne browser, som alle weblinks automatisk åbner i.
Udover at det for nogle brugere vil gøre deres liv meget nemmere, så er det vigtigt at kigge på grunden til, hvorfor Apple langt om længe lukker sin platform en smule op.
Det skyldes indiskutabelt, at Apple snart vil blive tvunget til det, og måske endda med en klækkelig bøde i tillæg.
Som vi skrev i sidste uge, så har EUs konkurrencekommisær, Margrethe Vestager, åbnet en sag mod Apple, blandt andet på baggrund af en klage fra Spotify.
Spotify har krævet, at Apple skal behandle alle tredjeparts-apps på lige fod med egne apps, og det er altså det, der nu langsomt bliver åbnet for.
Et andet af Spotifys klagepunkter gik på, at man ikke kunne bede Siri spille musik i Spotify-appen. Det ændrede Apple sidste år, hvilket vil sige at det nu i særdeleshed er spørgsmålet om Apples 30 procents cut (det der også var omdrejningspunktet i disputten om email-appen Hey i sidste uge), der står tilbage.
Den specifikke sag om Hey ser ud til (foreløbigt) at være blevet løst, da Apple har accepteret den opdatering til Hey-app'en, som de først havde afvist.
Dog skal Hey i den næste opdatering tilføje en gratis mulighed for at tilmelde sig, som gør, at appen nu falder indenfor Apples regler.
Men den store elefant i rummet — om hvorvidt det er konkurrenceforvridende at Apple tager 30 procent af indtægterne fra en appudvikler, hvis brugeren køber eller betaler abonnement via appen — er altså foreløbig ikke løst.
Mit bedste bud er, at Margrethe Vestager vil vurdere, at det er ulovligt, og kræve at Apple sætter beløbet ned. Det samme kan meget muligt ske i USA, hvor formanden for den amerikanske såkaldte antitrust committee, David Cicilline, i sidste uge kaldte de 30 procents kommission for "a highway robbery".
Samtidig vil Apple formentlig få at vide, at de ikke må favorisere egne (betalings-)apps, som konkurrerer direkte med en tredjepart, som det fx er tilfældet med Apple Music og Spotify.
Sikkert er det dog, at Apple har set skriften på væggen, og derfor begynder at lukke op, ved at gøre det muligt for brugeren at ændre på to af de mest centrale standard-apps som email og browser.
Om det er nok for Vestager, må tiden vise. Jeg tvivler.
---

LINKS TIL LÆSEHESTE
Ny førerhund: Japansk ARM-baseret supercomputer er den hurtigste i verden.
---
Snøft: Det er slut for den originale Segway
---
Microsoft klar med antivirus til Android — iPhone-app følger senere i år
---
Good artist copy, great artist steal
---
Twitter i clinch med Trump… igen
---
Facebooks VR-firma Oculus dropper Go. Satser i stedet på Oculus Quest, som får nye muligheder
---