Farvel til Nationen — goddag til fremtidens computer-brugerflade
Vi siger farvel til Nationen — den danske skamstøtte over rædselsfuld internetdebat. Og så kigger vi nærmere på Facebooks bud på en fremtidig brugerflade, der styres med hjernen.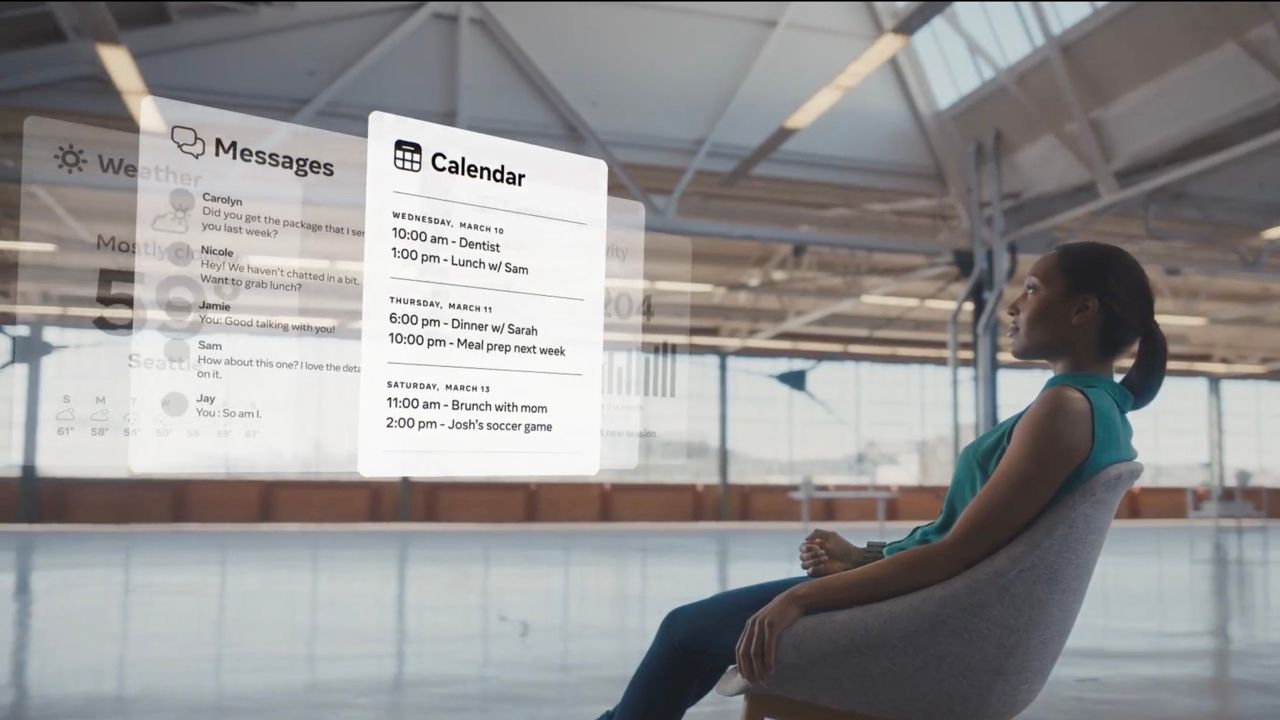 ---

Fremtidens brugerflade: Afløseren for mus, trackpad og touch er usynlig
Vi har skrevet en hel del om fremtidens AR- og VR-briller på det seneste.
Teknologien er dog stadig i en tidlig fase, og en af de største nødder, som skal knækkes, er, hvordan man kontrollerer sådan et par briller, når der ikke længere er et tastatur eller en skærm at trykke på.
I sidste uge nævnte vi et Apple-patent på et par VR-sokker og en fingerring, der altså skal sende signaler fra fødder og hænder op til de digitale briller eller headsets.
Kort efter publicerede Facebooks AR/VR-afdeling Reality Labs et særdeles interessant blogindlæg, hvor de forklarer, hvordan de håber at skabe fremtidens neurale brugerinterface — altså en brugerflade der er styret med hjernen og vores nervebaner.
Nærmere bestemt arbejder de på, at et device, der er placeret omkring håndleddet, skal aflæse, hvad brugerens intentioner er med en bestemt bevægelse.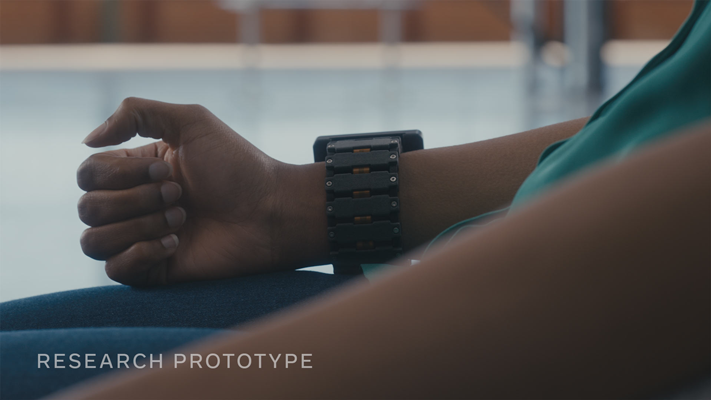 Konceptet, som bliver demonstreret i videoen nedenfor, fungerer ved, at devicet på håndleddet aflæser din hjernes besked til hånden.
Hvis du fx vil scrolle igennem en menu eller trykke på en knap på din computer, så er det jo hjernen, der sender et signal til din hånd om, hvad den skal gøre på din mobil, mus eller trackpad.
Denne impuls fra hjernen arbejder Facebook altså på, at håndleds-devicet kan aflæse, så du via bevægelser frit ud i luften kan navigere din fremtidige brillecomputer.
Det er det, der med et engelsk udtryk kaldes for "neural interfaces".
Facebook forestiller sig blandt andet, at du kan skrive på et usynligt tastatur bare ved at sidde og taste på et tomt bord, eller at du kan skyde med bue og pil ved blot at holde hænderne ud i luften og gøre de rigtige bevægelser.
Jeg er ret stor fan af denne type videoer, fordi de prøver at visualisere, hvordan man forestiller sig, at fremtiden kommer til at se ud.
Sjovt nok bliver fremtiden dog ofte ret anderledes, end man tror.
Et perfekt eksempel er denne Nokia-Morph konceptvideo fra 2008. Her forestillede man sig, hvordan bøjelige skærme (som vi stadig ikke helt kan få til at fungere) ville blive brugt til lige at smide telefonen rundt om håndleddet.
Inden vi når til at kunne styre vores briller med hjernen, er der dog fortsat behov for at holde VR og AR-controllere i hånden.
Hvordan de kan se ud i den nærmeste fremtid, har Sony netop løftet sløret for.
Firmaets næste VR-controller til PS5 kan udover at tracke dine bevægelser også betjenes i stil med, hvordan man bruger en traditionel Playstation Game-controller, hvor du trykker på fysiske knapper og får haptisk feedback.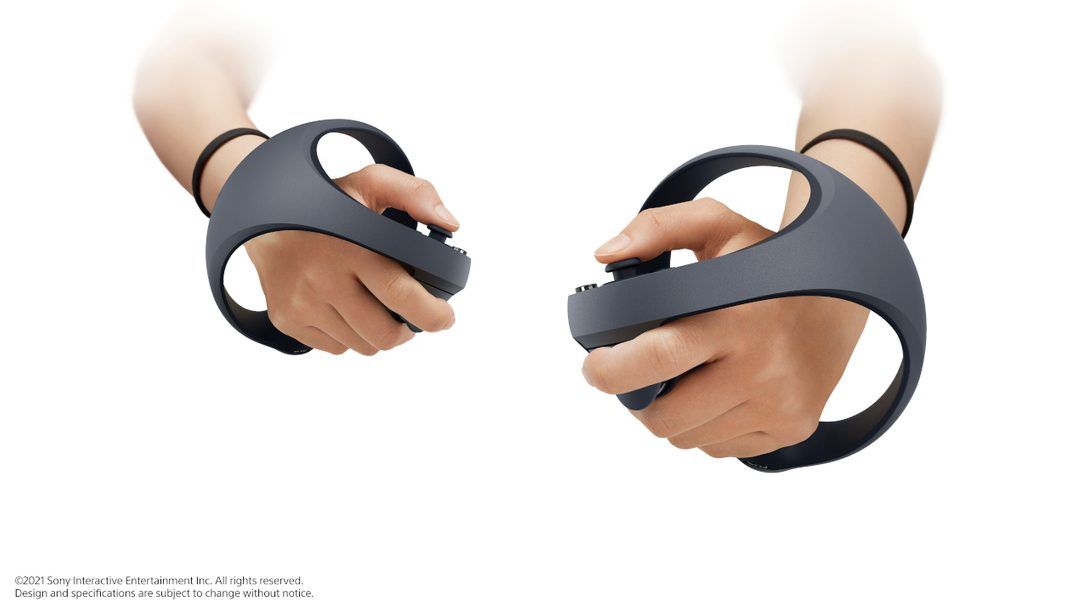 Men derudover har controlleren blandt andet også "finger touch detection", som ifølge Sony betyder, at controlleren kan aflæse hvordan fingrene er placeret, uden at man trykker ind på enheden. Det skulle angiveligt gøre det lettere at aflæse mere naturlige bevægelser, når man spiller spil i Virtual Reality.
Sony har dog endnu ikke fremvist næste generation VR-brille, så lige nu er det hele blot marketings-snak, og altså ikke noget vi ved, hvordan virker i virkeligheden.
De to forskellige devices viser dog meget godt, hvordan man forestiller sig at fremtiden skal udvikles. Foreløbigt er der altså brug for en meget håndholdt controller, hvor nye sensorer langsomt vil blive bygget ind; senere kan den så (måske) blive afløst af et armbånd, som altså kan aflæse vores hjernes impulser.
Spørgsmålet er så bare, om menigmand orker at skulle iføre sig både sokker, ringe, armbånd og briller for at betjene noget så simpelt som en computer? Eller om det overhovedet bliver nødvendigt i almindelig hverdagsbrug?
Seneste oplysninger fra den altid velinformerede Apple-analytiker Ming-Chi Kuo lyder nemlig på, at brugerfladen på Apples kommende headset i høj grad vil blive kontrolleret via eye-tracking.
---

Kommentar: Farvel til Nationen — den danske skamstøtte over en forfejlet internetdebat
Der har de sidste par uger (igen) været et stigende offentligt fokus på hadtale på nettet.
I denne omgang blev problemets omfang og karakter kickstartet i underholdningsprogrammet X Factor, hvor både unge amatørdeltagere og højt betalte TV-dommere fortæller om de mange grænseoverskridende hadbeskeder, de møder i kommentarsporet og deres indbakker.
Senest har flere TV-værter, heriblandt kvindelige værter på fodbold-programmer, fortalt åbent om, hvordan de ligeledes oplever aggressive og nedladende beskeder i hobetal.
Også dommerne — ikke dem i TV-talentprogrammer men dem fra fodboldbanen — står frem og fortæller om direkte trusler mod dem.
Men selvom det her er offentlige personer der står frem, så findes problemet som bekendt overalt på nettet, hvor der er mulighed for at kommentere.
Den møgbeskidte tone er jo i høj grad et resultat af de muligheder, som sociale medier og internettet har givet, og at vi allesammen konstant sidder med et tastatur og en skærm i hånden.
Hvor den store vrede kommer fra er en anden sag — men åbenbart er der mange, der ikke kan administrere, at de kun er et klik væk fra at spy ondskabsfuldheder efter folk, de ikke kender.
I weekenden lukkede Ekstra Bladet så Nationen — et anonymt kommentarspor, som over lang tid har fået lov til at udvikle sig grænsende til det bizarre. Og man kan virkelig undre sig over, hvorfor det har taget så lang tid.
Som Ekstra Bladets konstituerede ansvarshavende chefredaktør, Pernille Holbøll, siger om beslutningen:
- Kommentarsporet har udviklet sig uhensigtsmæssigt, og jeg mener, det er uansvarligt af os ikke at tage konsekvensen.
- Det handler både om sexisme, racisme, chikane og meget andet, og det har udviklet sig til fuldstændigt vanvittige og uberettigede kommentarer uden nogen som helst substans eller relevans. Det er totalt uacceptabelt, mener Ekstra Bladets øverste ansvarlige selv 😳.
Og hun har jo ret.
Men selvom det måske kan hjælpe en smule, at den anonyme debat lukkes, så løser det dog ingenlunde problemet.
For det måske mest chokerende ved at bevæge sig på nettet anno 2021 er, at den indre svinehund får fuldstændig frit løb, uagtet at folk bruger deres egne offentlige profiler.
Debatten om anonym versus ikke-anonym er næsten lige så gammel som debat-mulighederne på nettet. Fx kræver Facebook jo som bekendt, at man skal bruge sit rigtige navn, mens man på YouTube og Twitter stadig kan gemme sig bag et anonymt brugernavn.
Dog er der ikke meget, der indikerer, at der er stor forskel på, om man kan udtale sig anonymt eller ej, da det jo ikke er sådan, at Facebook er et pænt sted, mens at Twitter ikke er det.
Alligevel vil Ekstra Bladet holde fast i det, de kalder Opinionen, hvor folk skal bruge et rigtig navn, inden de kommenterer.
Men også her er det ofte fuldstændig galt og gak, hvad der foregår:
Nedenfor er et skærmbillede jeg tog den 3. februar i år, som meget fint viser, hvilket niveau vi bevæger os på.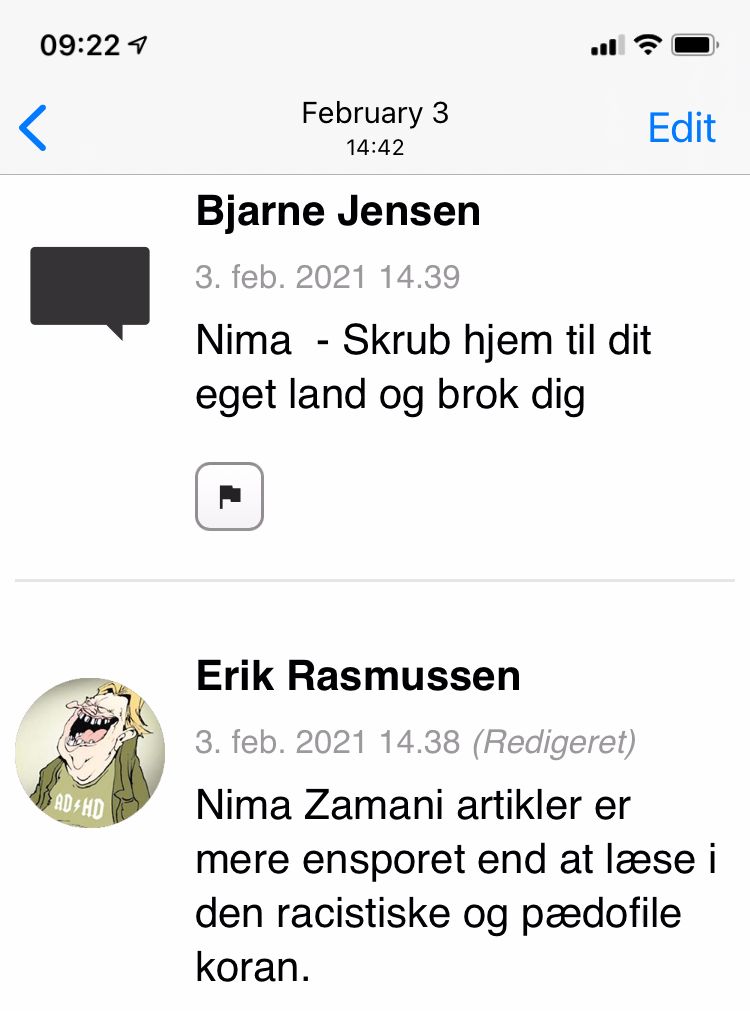 Dette er vel at mærke Opinionen og ikke Nationen — og et hurtigt tjek i dag viser, at i hvert fald den øverste kommentar står der endnu.
Det er mig ganske enkelt ubegribeligt, at noget medie har lyst til at have sådan en skraldespand kørende på deres hjemmeside — kommentarer som sjældent bidrager til dialog eller nuancering, og langt oftere blot er hadefuld tilsvining af andre.
Men er det så anderledes, at Ekstra Bladet lægger platform til dette, end at Facebook og YouTube gør det?
Ja, det er det på sin vis.
Uagtet at de sociale medier har et kæmpe ansvar, for det der foregår på deres platforme, så er det tæt på umuligt at kontrollere de milliarder af beskeder, der bliver publiceret hver dag.
Deres størrelse er dog ikke en undskyldning og den fratager dem ikke deres ansvar (og som vi flere gange har givet udtryk for på Techliv, så er de store sociale platforme på mange måder ude af kontrol). Men det gør det dog mere komplekst at finde en løsning.
Her har Ekstra Bladet rent faktisk haft mulighed for at gøre noget ved problemet langt tidligere.
Det kræver ikke meget mere end en studentermedhjælper eller to at moderere kommentarsporet under deres artikler og slette med hård hånd.
Ovenstående kommentarer (på skærmbilledet) handler ikke om ytringsfrihed. Det handler om at lægge platform til unuanceret hadtale og modbydeligheder.
Ved at lade denne type opslag stå, er man med til at understøtte og sprede en stærkt negativ kultur, som altså også rammer 15-16 årige børn der deltager i en TV-konkurrence, og fører til dødstrusler mod mennesker der gør deres bedste for at dømme en fodboldkamp.
Med endnu værre, så er man med til at legitimere, at det er en rimelig måde at skrive til hinanden på, når et af Danmarks største medier frivilligt lægger platform til.
Lukningen af Ekstra Bladets anonyme kommentarspor er derfor et lille skridt i den rigtige retning.
Men Nationen kommer til at stå som en dansk skamstøtte over den første del af vores digitale tidsalder, hvor idéen om at "alle skal have lov til at give deres mening til kende om hvad som helst — i realtid — og uden at stå til ansvar ", var vigtigere end at understøtte en fornuftig samtale og debattone.
Det kan godt være, at det er teknologien, der gør det muligt, men det er ikke den, der for alvor kommer til at begrænse problemet. Det kræver simpelthen menneskelige og politiske beslutninger — og at vi allesammen kigger på, hvordan vi kommunikerer med hinanden.
---

LINKS TIL LÆSEHESTE
Ikke 'edit' men 'undo': Twitter tester "fortryd publicering af Tweet"… hvis du vel at mærke vil betale
---
Først indrykkede Facebook annoncer mod Apple… Nu mener Mark Zuckerberg, at Facebook kan vinde på Apples nye privacy-advarsler
---
Ingen store overraskelser: Netcompany og Trifork skal udvikle det danske vaccinepas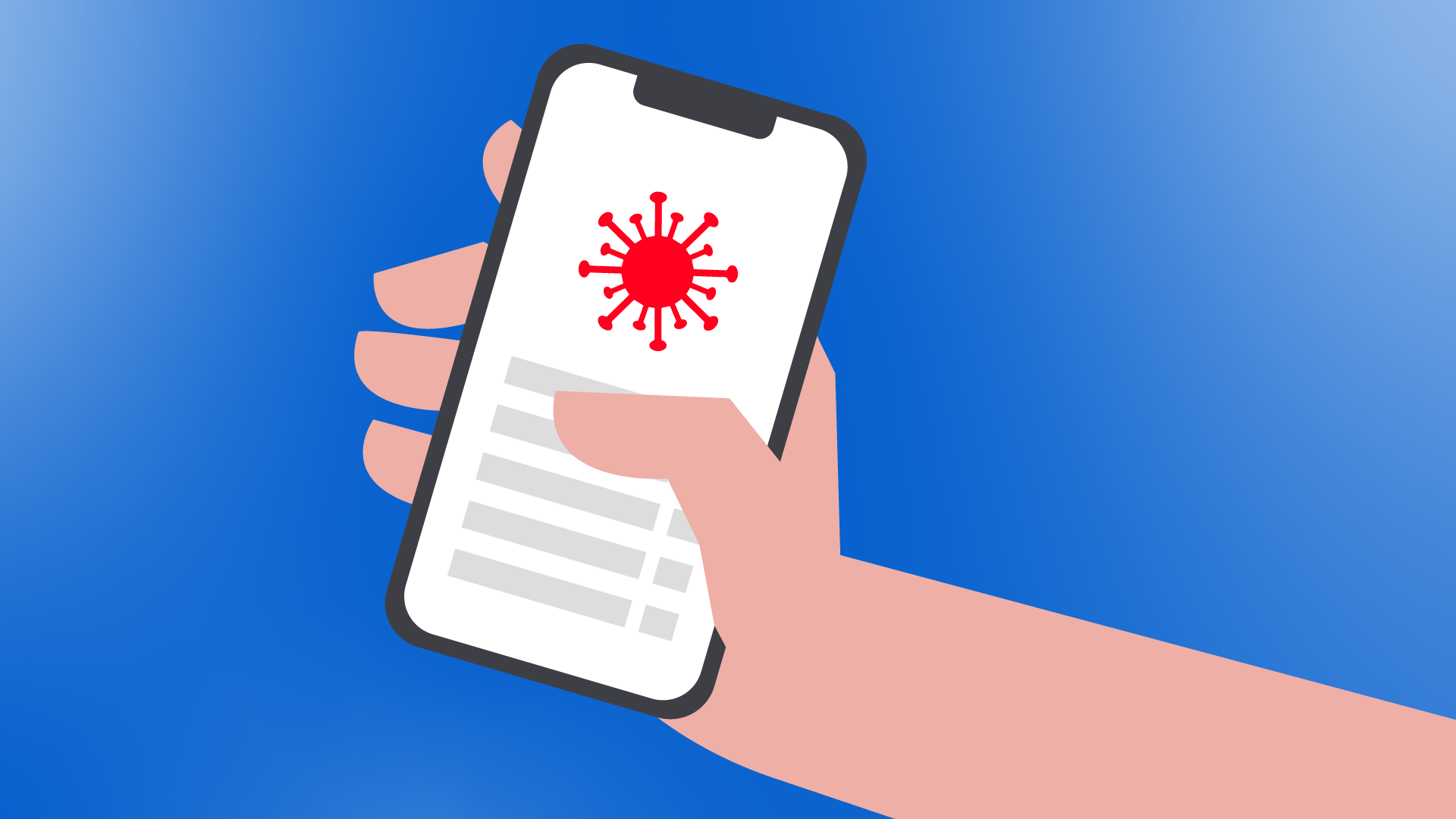 ---
Kina siger tak for sidst til USA: Teslas biler må ikke benyttes af statsansatte kinesere — frygter indsamling af data blandt andet fra bilens kameraer
---
2021s foreløbigt mest solgte elbil… er mikrolille og du har næppe hørt om den
---
I støbeskeen: Instagram på vej til de helt små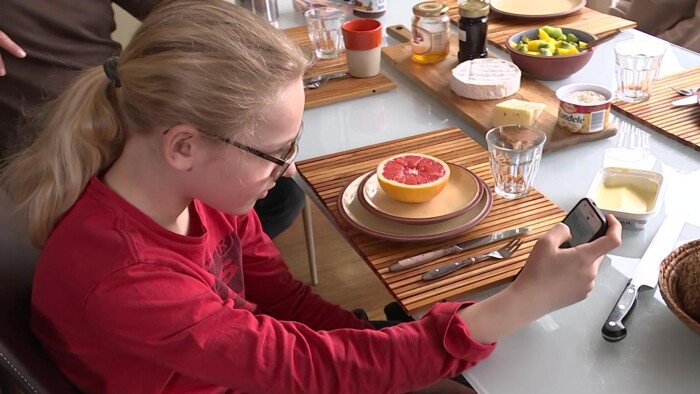 ---
...Og gæt så lige, hvilken app, der indsamler flest data om brugerne 👆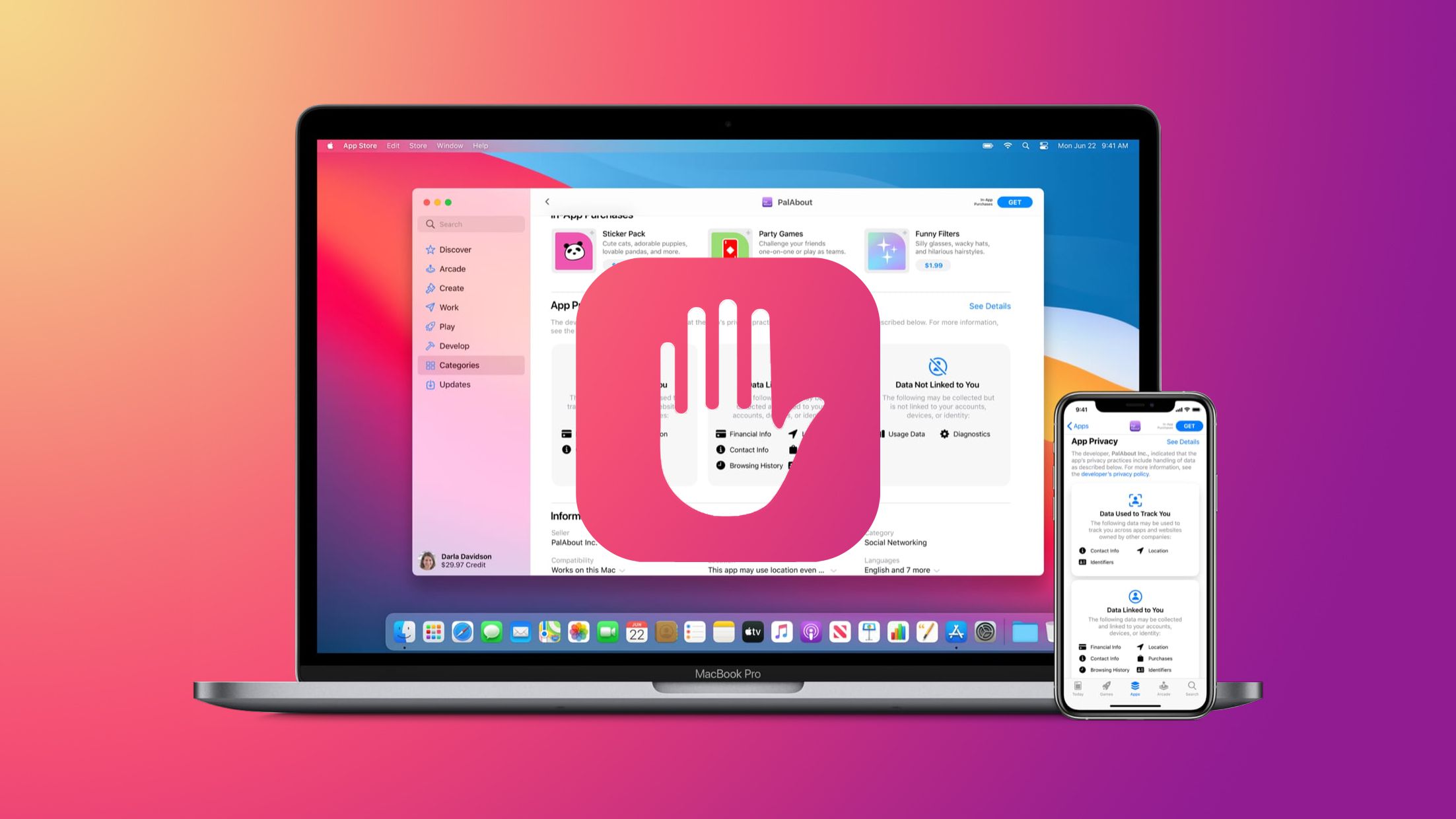 ---