Magnetiske Apple: iPhone 12 kommer med indbygget pengemaskine
Vi går de nye iPhone 12-modeller efter i sømmene.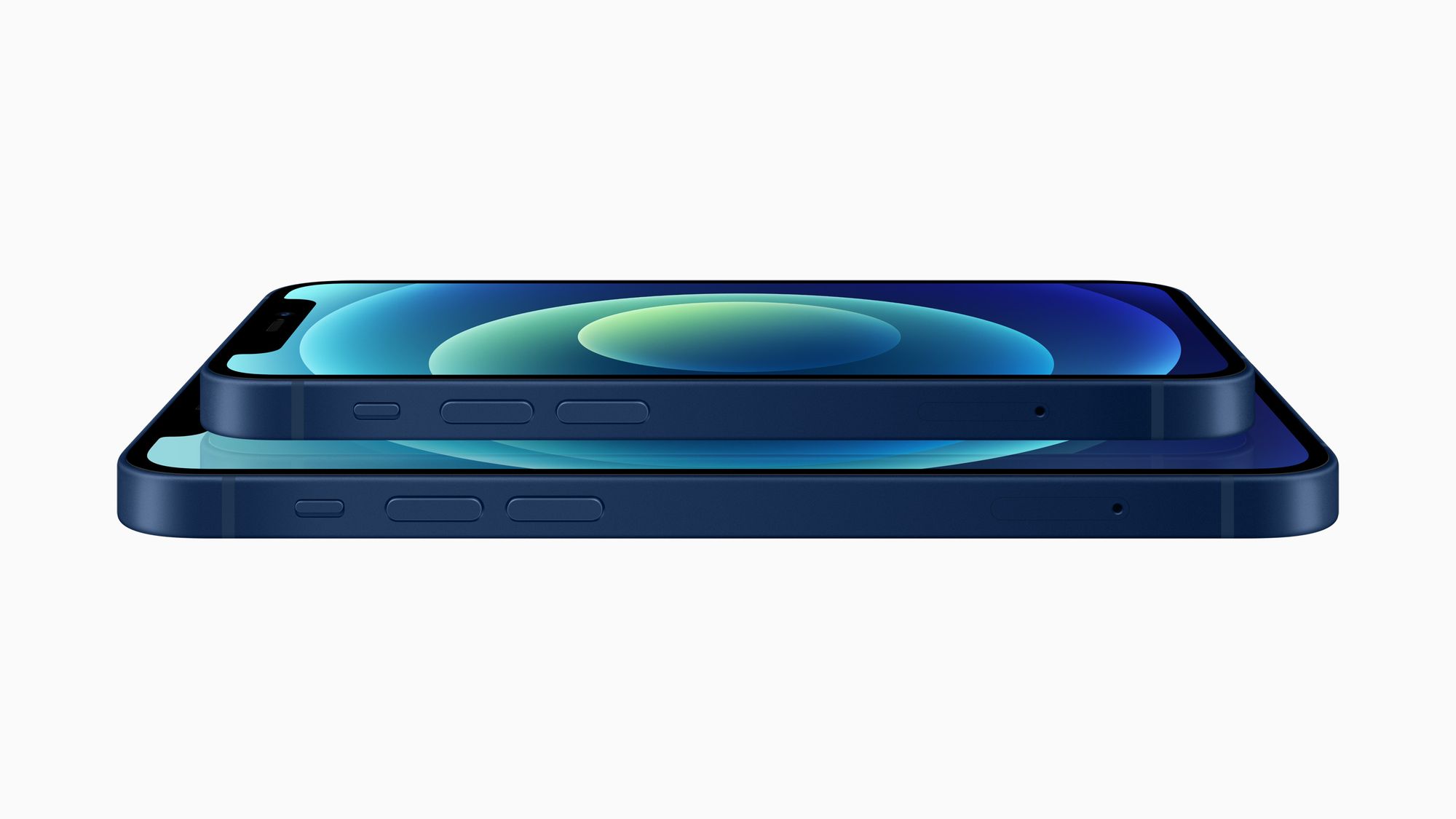 ---

Den magnetiske iPhone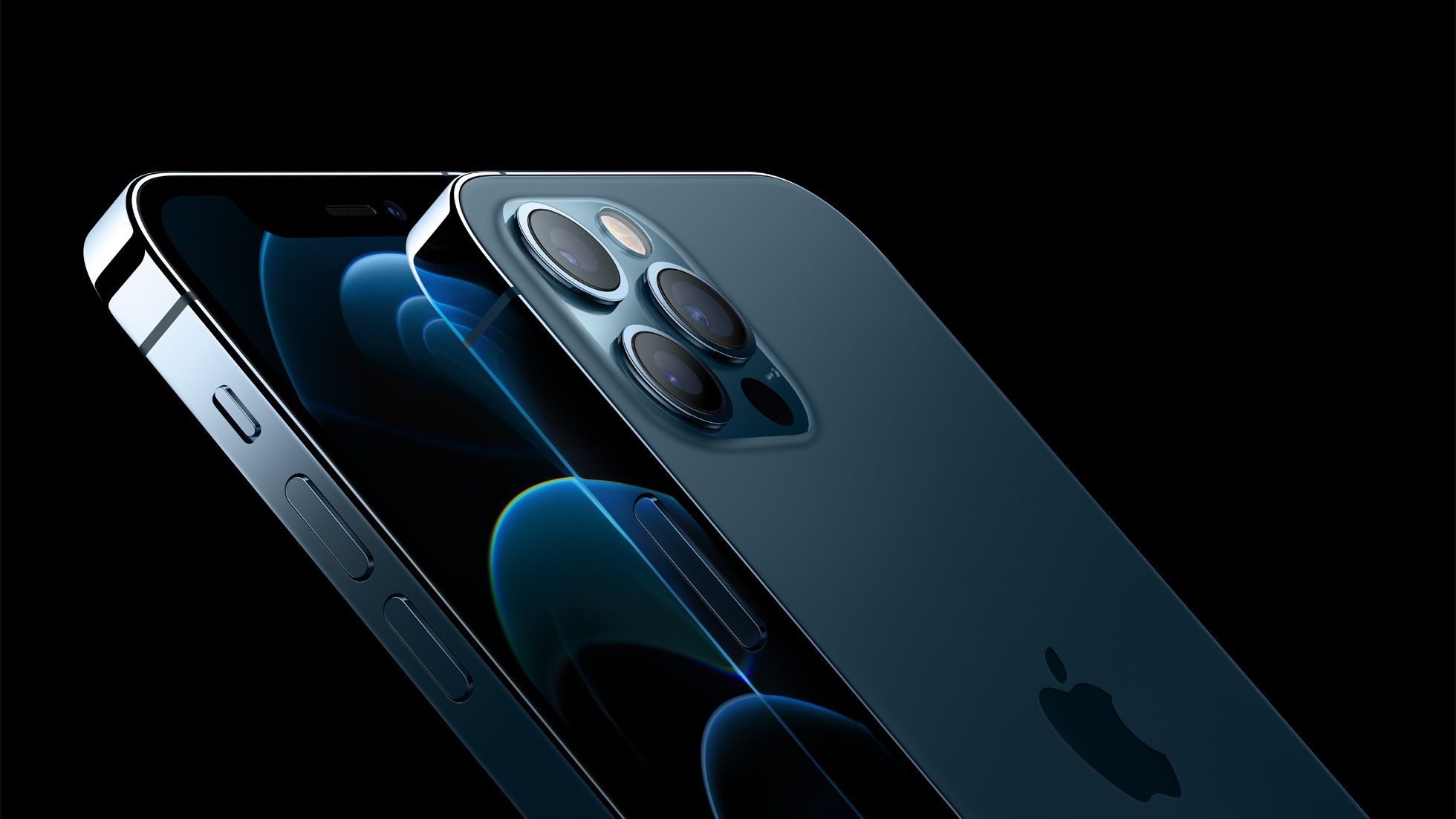 Apple præsenterede i går aftes dansk tid fire nye udgaver af firmaets telefoner — iPhone 12, 12 mini, 12 Pro og 12 Pro Max. Og lad os slå fast med det samme: Det er et godt år at købe ny iPhone, uagtet hvad størrelse og prisleje du er interesseret i.
Allerede ved sidste års iPhone 11 lancering stod det nemlig klart, at det kunne være en god idé at vente til i år, hvor iPhone ville få 5G og et nyt, frisk design.
For at starte med det sidste først, så er de nye iPhone 12 skåret efter den samme overordnede skabelon som den efterhånden ikoniske iPhone 4's strømlinede og lidt kantede design.
Hvis man kan lide det udtryk, så ser 12'eren virkelig skarp ud.
Det hjælper også, at rammen rundt om skærmen er blevet lidt smallere, selvom "the notch" — udskæringen i i toppen af skærmen der huser Face IDs mange sensorer — stadig står i vejen for drømmen om den helt ubrudte glasplade, som man efterhånden ser på de bedst designede Android-telefoner. Den mindre ramme har dog gjort det muligt at introducere større skærme på nogenlunde den samme plads som tidligere.
Skærmene på alle de nye 12'ere er i øvrigt nu OLED og kommer ifølge Apple med et såkaldt ceramic shield, der skulle gøre skærmen op til fire gange mere modstandsdygtig mod fald på jorden eller gulvet. Hvis det passer — og det er jo fuldstændig umuligt at teste for brugerne selv — vil det være en kærkommen nyhed for de alt for mange, der render rundt med en flækket skærm.
I det hele taget var det en event der var præget af tal: 4 gange stærkere, 80 procent hurtigere, 27 procent mere lys, faster, lighter, better og blah, blah, blah derudaf.
Men når en telefon efterhånden bliver markedsført som halv telefon/halvt kamera, er det selvfølgelig væsentligt at fortælle om de forbedringer, der er på kameraet — og det gøres åbenbart bedst i tal og numre, mener Apple.
I menneskesprog er det dog særligt værd at notere, at alle telefonernes kameraer, inklusive selfie-kameraet, nu kan bruges til at tage night mode billeder, og at de nye Pro-telefoner kan skyde RAW-billeder, der kan redigeres på telefonen.
Pro'en har også fået tilføjet en LiDAR — en slags lysbaseret radar, der kan måle afstande — som også findes i iPad Pro. Konceptet i telefonen er (udover at gøre Augmented Reality mere præcis), særligt at hjælpe til at tage bedre billeder i lav belysning, ved at kunne måle afstanden til forskellige objekter.
Alle fire telefoner kommer med Apples nye A14-chip, der i sagens natur er mere kraftfuld end forgængeren. Det er den første mobilprocessor, der er baseret på et kompakt 5-nanometer design, hvilket sætter en tyk streg under, at Apple i øjeblikket er i en klasse for sig, når det drejer sig om at udvikle processorer til smartphones.
Som du nok kan læse allerede, så er det — som altid — de mange små opdateringer af sidste års telefon, der i fællesskab eventuelt skal gøre det relevant at købe en ny. Dette år er nyhederne samlet set bare en lille smule større end normalt.
Magnetiske iPhones var den helt store nyhed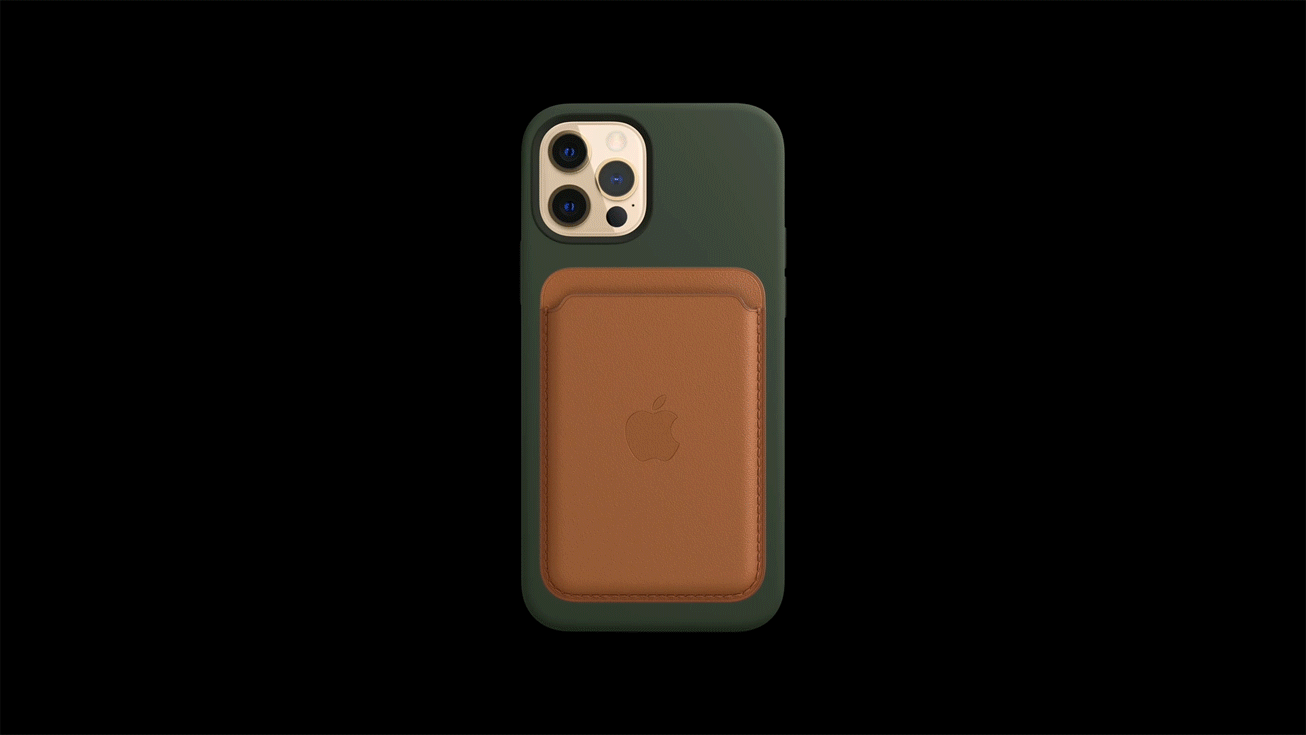 Der var dog en helt ny feature, som for alvor stod ud for mig, nemlig MagSafe: Et ny magnetsystem, der er blevet tilføjet i telefonerne.
MagSafe-navnet var i mange år synonymt med den magnetiske oplader til Mac-computere, der gjorde, at det var stikket der røg ud af computeren, hvis nogen gik ind i ledningen, og ikke computeren der røg på gulvet.
MagSafe er desværre forsvundet fra computerne, men er altså nu blevet genopfundet til telefonerne.
Her har Apple set sit snit til at skabe endnu en indtægtskilde, der kan være med til at få deres bugnende pengekasse til at flyde helt over — og til at differentiere sig fra konkurrenterne.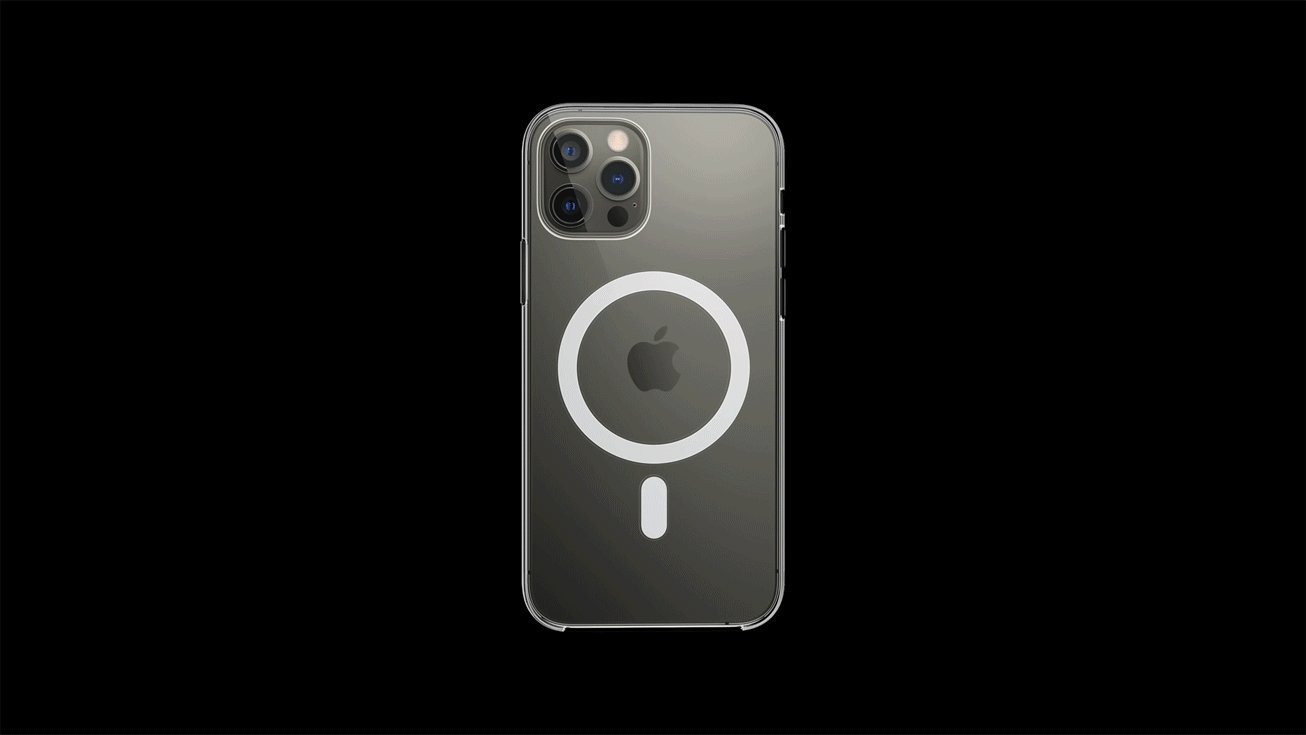 Magneten kan bruges til at sætte en ny trådløs Apple-oplader på telefonen, så man er sikker på, at den får optimal strøm, når den lader. Den nye trådløse lader kan lade med 15W, hvilket er dobbelt så hurtigt, som hvis du lader trådløst med en almindelig Qi-ladeplade. Men du skal købe den trådløse lader separat til 349 kroner(!).
Apple laver også en version, der kan lade telefon og ur samtidig. Dog er pris eller shipping-dato på dén stadig ukendt.
Men det stopper ikke der. Apple har nemlig gjort magneten til et fuldblods økosystem.
De nye covers til telefonerne, som koster 429 kroner, sættes ligeledes på med en magnet. Men ingen kan da leve uden Apples nye magnetiske kreditkortholder, som koster 529 kroner.
Går du all-in på magnet-tilbehøret, har du altså snoldet for over 1.300 kroner eller mere, inden din telefon er blevet helt magnetiseret.
Tredjepartsfirmaer kan også benytte magneten, så kun fantasien kommer til at sætte grænser for, hvad man kan sætte på sin iPhone, eller hvad man kan fastgøre sin iPhone til.
Belkin er snart klar med en magnetisk holder til bilen, der er tilpasset iPhone 12, så det kan altså hurtigt blive en pebret omgang.
Med andre ord, er det en Apple Classic: Det er en dyr fornøjelse at være kunde hos Apple, men deres produkter er altså ofte designet med så stor kløgt, at det er logisk, hvorfor så mange mennesker bliver tiltrukket af dem. Og når først man begynder at eje nyt magnet-tilbehør, der er særligt tilpasset iPhone, ja, så hænger man jo endnu kraftigere fast i Apples økosystem.
Faktisk har Apples magnetafdeling (ja, sådan en må de jo have) virkelig leveret nogle af de mere interessante nyheder de seneste år.
Covers og tastaturer der hæfter sig fast på iPads. Laderen der snapper fast på et Apple Watch. AirPods der nærmest bliver suget ned i ladeæsken, og hvis låg også klakker i med den rette kraft. Og nu et helt nyt økosystem til iPhone.
Alle er de designet med en lækker lyd og en behagelig følelse, der måske mest minder om noget man finder i bildør-design.
For det er jo der, vi er nået til. En gadget handler langt fra kun om udseende eller ydeevne. Det er i høj grad også en følelse.
Endemålet med den nye magnetiske oplader vil jeg tro, vi ser om et eller to år. Nemlig en iPhone fuldstændig uden stik.
Hvem ved, måske bliver der endda designet et lille magnetisk tastatur, man kan klikke sin iPhone fast på?
Rimeligt eller ej? Apple lader brugerne betale prisen for mindre CO2-udledning
Apple har længe markedsført sig som privatlivets beskytter, og næste skridt på rejsen er, at de er gået i gang med at pudse miljø og klima-glorien.
For at spare på Jordens ressourcer skal vi nu hverken have høretelefoner eller en oplader med i iPhone-æsken. Udover at der således produceres mindre elektronik, betyder det nemlig, at Apple kan pakke telefonerne i mindre kasser, der så kan være langt flere af på en palle, og det kan nedbringe CO2-udtrykket, når de fragtes fra Asien — siger de.
Det er alt sammen fint nok, men det er altså tæt på at være en smule ublu ikke at lade en del af besparelsen komme slutbrugeren til gode — priserne på telefonerne er nemlig som de plejer på trods af mindre tilbehør.
Det bliver ikke bedre, når kablet i æsken med en ny iPhone er et USB-C til Lightning-stik. For selvom mange ligger inde med et hav af opladere — og det derfor kunne retfærdiggøre, hvorfor der ikke følger en med — så har de jo alle sammen USB-A stik.
Så man tvinger altså folk, der ikke har en lader, til at købe en ny USB-C lader til 169 kroner, hvis de vil kunne bruge det kabel, der følger med telefonen. De kan så naturligvis vælge at købe den magnetiske oplader til 349 kroner i stedet, og så bare bruge det medfølgende kabel til at lade op fra deres Mac 🤑.
Nu når vi snakker om optrækkeri, så kommer iPhone 12 og 12 mini stadig med sølle 64 GB lagerplads i den billigste version, som jo med en startpris på over 6.000 kroner ikke er billig.
Bare fordi man har en markedsværdi på næsten 2.000 milliarder dollars, bliver man åbenbart aldrig for stor til at trække lidt flere penge ud af sine kunder.
Det Apple ikke sagde
Det er også værd at knytte en kommentar til nogle af de ting, som Apple ikke nævnte med et ord.
Jeg kan ikke mindes, at Apple før har undladt at sige noget om batterilevetiden på de nye telefoner. Muligvis drejer det sig om, at man stadig er usikker på, hvor meget strøm 5G vil bruge i den virkelige verden, men 5G bruger i hvert fald mere end 4G. Apple sagde derfor, at de automatisk vil sende telefonen tilbage på 4G, når du ikke bruger den aktivt til at streame, spille eller downloade, netop for at spare på batteriet.
Ligeså er det vist første gang i mange år (jeg kan tage fejl) de ikke nævnte farven Space Grey. Den er ikke blandt de farver, man kan købe.
Nogle havde måske håbet, at de nye iPhones ville få den samme TouchID-sensor, som findes på den nye iPad Air — særligt på grund af udfordringer med at låse telefonen op, når man bruger mundbind. Men det blev heller ikke nævnt med et ord.
Der blev heller ikke præsenteret nogen AirTags — de efterhånden mytiske små dimser i stil med dem firmaet Tile laver — der længe har været rapporteret på vej. Konceptet er, at man ved hjælp af iPhones U1-chip skal kunne lokalisere tasker, nøgler og andre genstande, man har sat det lille AirTag på. Om de nogen sinde kommer, bliver vist mere og mere usikkert.
Ny HomePod Mini kommer ikke til Danmark
U1-chippen, som blev introduceret i iPhone 11, blev dog rent faktisk nævnt. Men det var i forbindelse med det eneste andet produkt Apple lancerede udover iPhones; nemlig en ny HomePod Mini.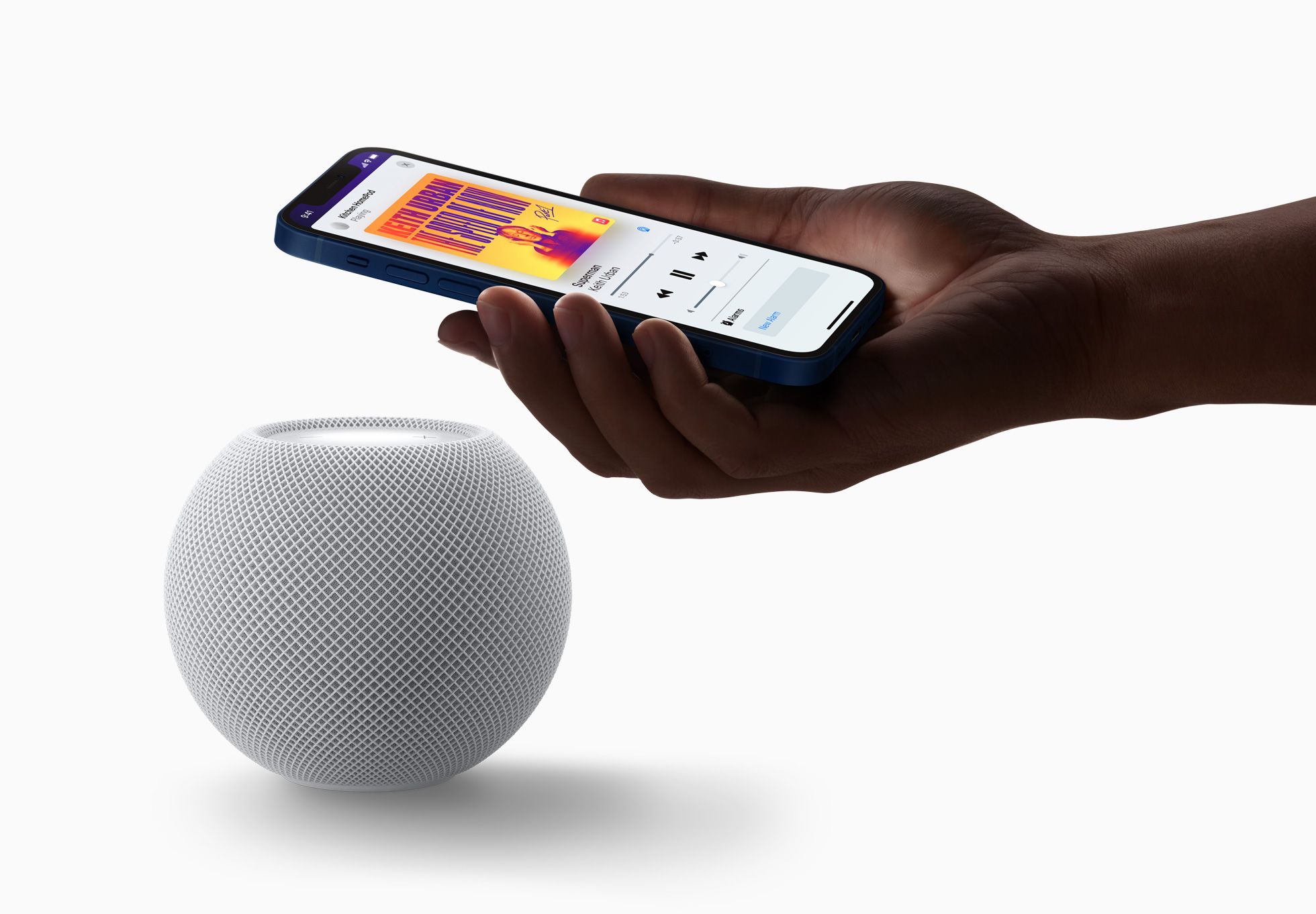 Den nye, mindre udgave af Apples smarthøjttaler kommer dog ligesom sin storebror ikke til Danmark. Grunden er formentlig ene og alene, at Siris evner på dansk er for ringe til, at Apple tør lancere den stemmestyrede dims her.
Den største nyhed i HomePod Mini, er, at de kan bruges som et Intercom-system, hvor familiens medlemmer kan snakke til hinanden, hvis man har flere enheder… "Så er der aftensmad".
Kommunikationen kan foregå direkte via højttalerne, hvis man er hjemme, eller fra telefon til højttaler, hvis man er ude — en funktion Google i øvrigt introducerede for tre år siden.
For mig som HomePod-ejer (der har købt den originale Apple-højttaler af uofficielle online-kanaler og bruger den med Siri på engelsk) er HomePod Mini en kærkommen tilføjelse — også selvom den ligner et kuglelys.
Det er dog grænsende til håbløst, at det har taget Apple 3-4 år længere end Google og Amazon at udvikle en mindre højttaler.
Ligeledes er det bemærkelsesværdigt, hvordan Apple har formøblet det forspring de havde med stemmegenkendelse, da de for hele 9 år siden første gang introducerede Siri.
Selvom HomePod Mini ikke officielt bliver sat til salg i Danmark, vil du formentlig kunne finde den i forskellige danske online-butikker. Grunden til at vælge Apples højttaler fremfor Googles er mest et spørgsmål om, hvilket økosystem man lever i, og hvordan ens forhold er til privatliv.
Men vil du have en smarthøjttaler, der kan forstå dansk, så kan du stadig kun vælge Googles.
Endnu en event uden noget på spil
Eventen var i det hele taget endnu en af dem, vi er blevet vant til i 2020 — uden publikum og hvor alt er optaget på forhånd. Det betyder, at de livedemonstrationer, der førhen gjorde præsentationerne bare en smule interessante, ikke er der mere.
Det var noget, som Steve Jobs gjorde en stor dyd ud af, med den risiko det indebar.
Senest har vi set hvordan Elon Musk kom galt afsted, da han præsenterede Tesla Cybertruck, hvor vinduerne, der skulle kunne modstå en metalkugle, ren faktisk gik i stykker live på scenen. Det gør altså en kæmpe forskel, når der er noget på spil.
I 2020 er "events" for alvor blevet strømlinede reklameshows, og det gør dem markant mere ligegyldige og uinteressante.
Det ændrer dog ikke ved, at iPhone 12-serien med 5G og i fire forskellige størrelser og prisklasser er den mest interessante Apple har introduceret siden iPhone X. Men så igen... det er jo bare smartphones.
---
Bonus-link til videoheste
Se eventen kogt ned til 12 minutter.
---