Microsoft: Nu med Android-telefon med dobbeltskærm
Har Microsoft knækket koden til næste generation smartphone?Surface Duo lander i september, men i første omgang kun i USA.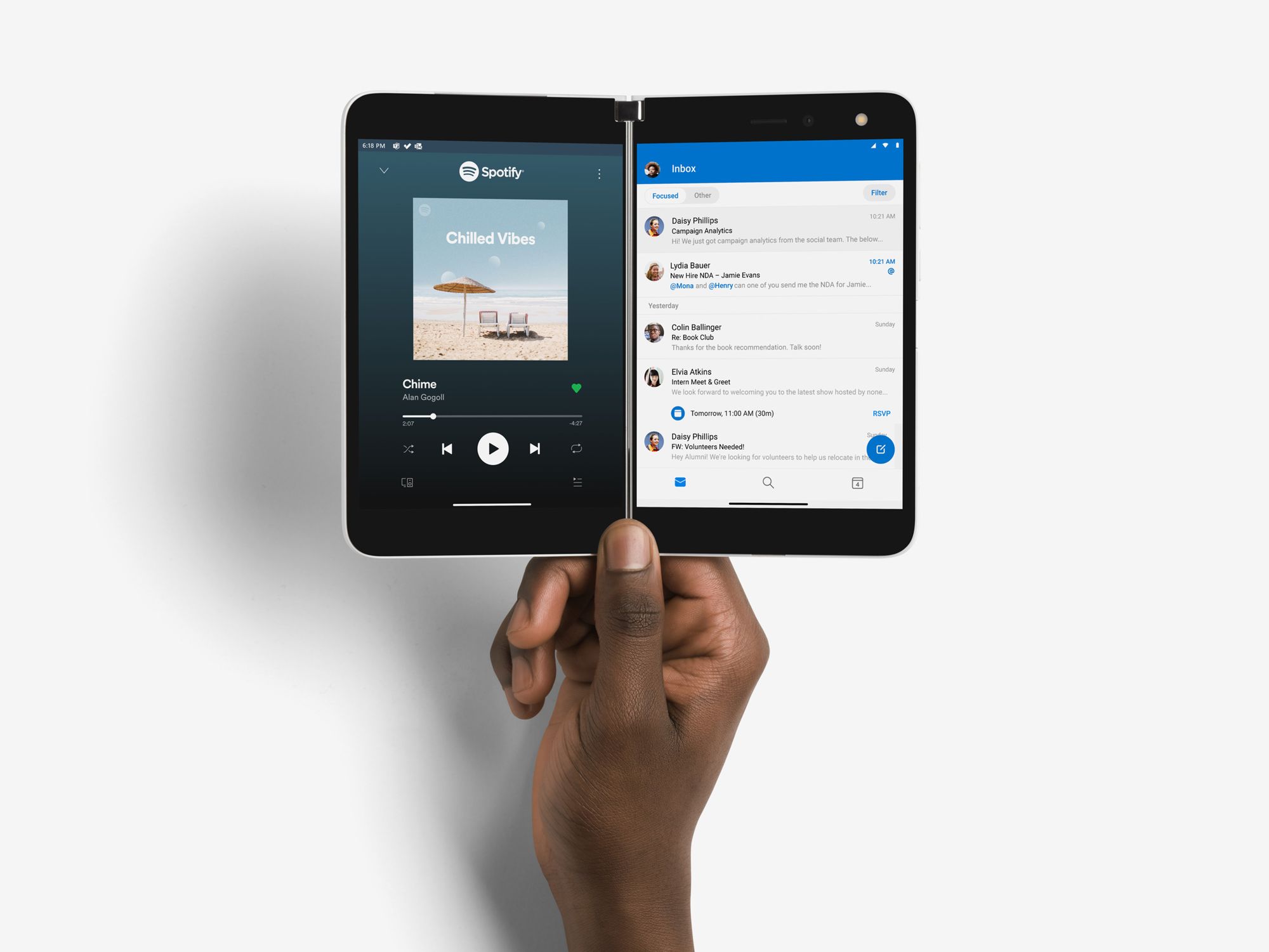 ---

Microsoft Surface Duo: Den fornuftige foldbare telefon skal stå sin prøve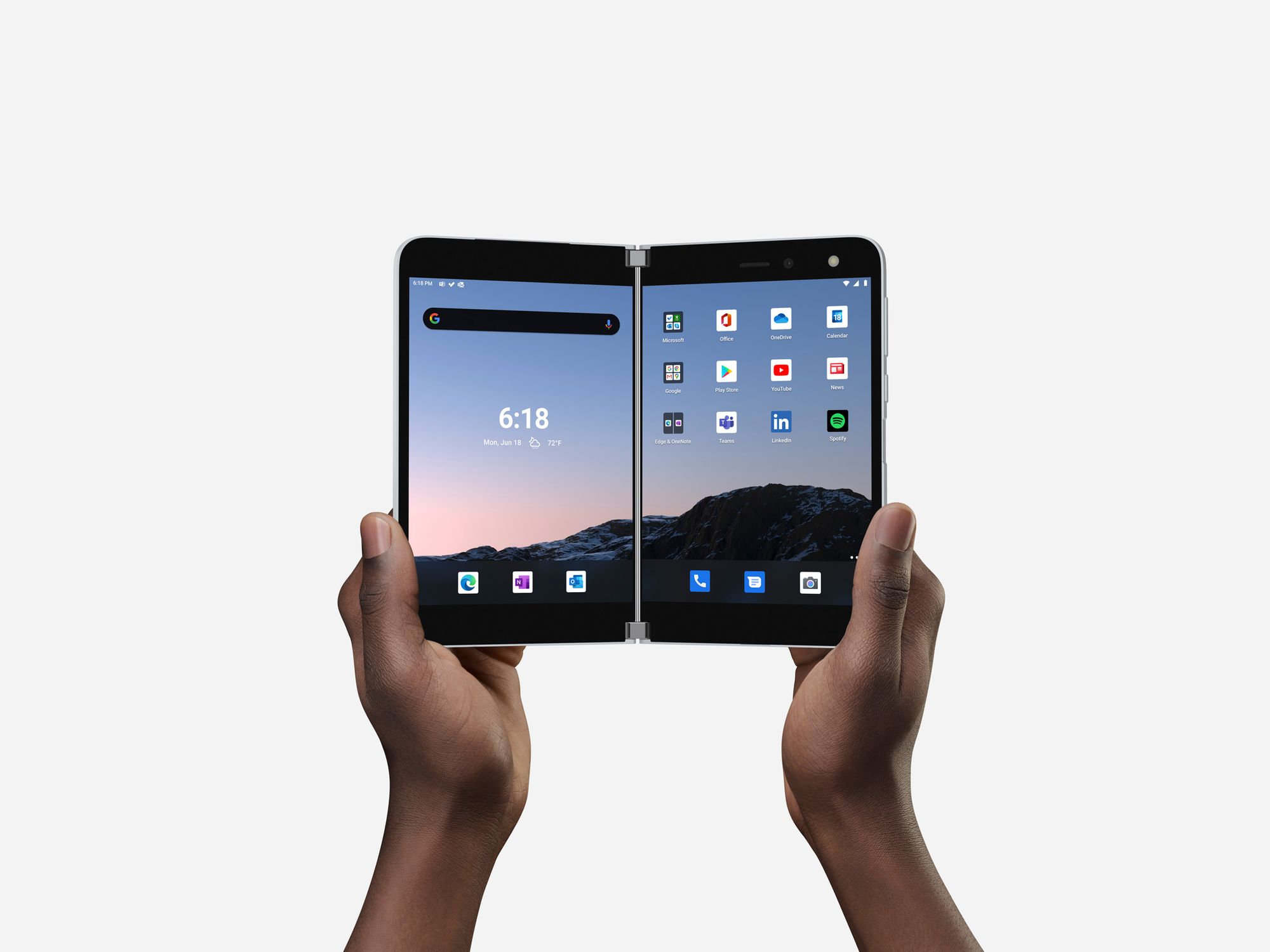 Der skal efterhånden en del til, for at man kan blive opstemt over en ny telefon. Men Microsofts nye Surface Duo falder for mig i den kategori.
Ikke fordi den kører Android, men fordi den har to skærme, og fordi Microsoft lader til at have tænkt en del over, hvad de to skærme skal bruges til.
Det er faktisk et gammelt koncept, som i Microsoft-regi har mere end 10 år på bagen. Tilbage i 2009 arbejde firmaet på en prototype under navnet Courier, som netop havde to skærme med et hængsel imellem, og hvor man kunne køre to apps side om side og trække indhold fra den ene skærm til den anden.
Men nu er den samme idé her altså under navnet Duo, og den kan forudbestilles med forventet levering 10. september. Desværre lanceres Surface Duo kun i USA i første omgang.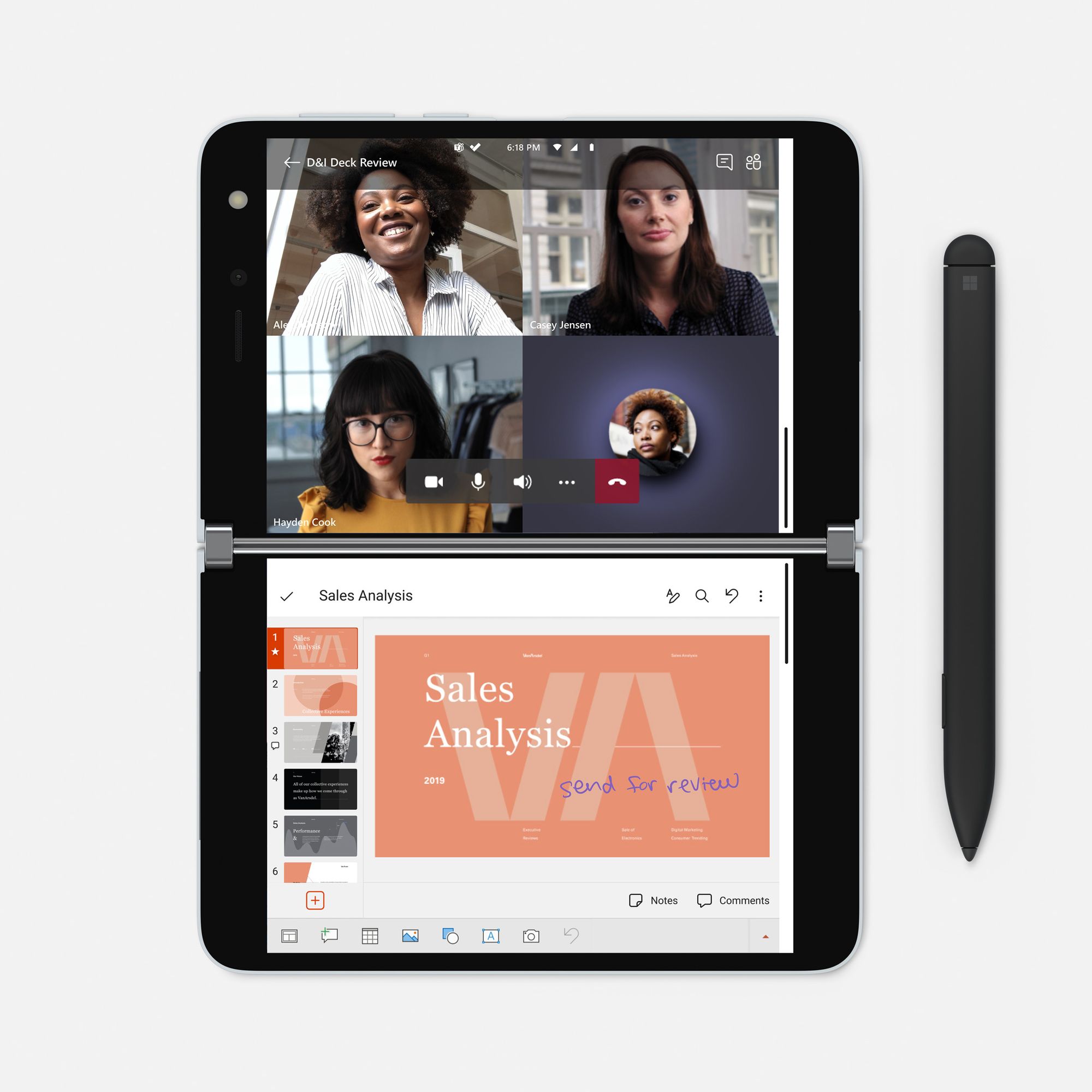 Microsoft er bestemt ikke først med en telefon, der samtidig forsøger sig som en mini-tablet. Men Duo fremstår som et langt bedre gennemtænkt alternativ til de ægte foldbare telefoner, hvor skærmen kan bøjes.
Jeg har ikke været i nærheden af Surface Duo, men alligevel ser jeg flere fordele ved to adskilte skærme, og et hængsel der kan dreje hele vejen rundt, som opvejer den "visuelle ulempe", at skærmen ikke er i et stykke, som på fx Samsungs foldbare telefoner.
På nogen måder understøtter opdelingen af skærmen faktisk brugsscenariet; nemlig at den er designet til at køre to apps (eller to forskellige views af den samme app) ved siden af hinanden.
Selvom det kan synes helt vanvittigt, at styresystems-giganten Microsoft lancerer en Android-telefon, så har firmaet på den måde elimineret det problem, der blev Windows Phones død; nemlig at der manglede apps.
Samtidig prøver de at undgå den direkte konkurrence med den gængse Android-telefon. Duo er designet som et udpræget business/arbejds-device, som i særdeleshed understøtter Microsoft Office, og som samtidig (delvist) retfærdiggør den al for høje prislap på 1.400 dollars.
Direkte omregnet er det 8.500 kroner, men i Danmark ville det nok nærmere være oppe omkring 12.000 kroner. Dog er det usikkert om førsteudgaven overhovedet kommer til Danmark — og i så fald hvornår.
Men jeg glæder mig til at prøve den. For i modsætning til de ægte foldbare telefoner, som mere føles som en teknologi-demonstration, så kunne jeg nemt se min egen telefon med en ekstra skærm og et hængsel imellem.
Fra blot at være en telefon, bliver den til en minibærbar eller en bog. Foldet som et telt kan den stilles på bordet, så man kan se YouTube eller foretage videoopkald uden at skulle holde telefonen.
Samtidig er skærmene beskyttet, når de er foldet sammen, så alt i alt er der mange potentielt anvendelige brugsscenarier, mens den stadigvæk er en smartphone.
For Duo er en smartphone (næsten) som vi kender den - og Microsofts Chief product officer, Panos Panay, er godt klar over, at det ikke er en revolution, de er på vej med.
"Jeg prøver ikke at genopfinde telefonen. Men jeg tror, at det er en bedre måde at få ting gjort, en bedre måde at skabe, og en bedre måde at kommunikere på en mobil enhed".
Måske har Panay ret, men der er jo også en risiko for, at Duo kan ende som en dum gimmick.
Mit bedste bud er dog, at de foldbare telefoner har en fornuftig fremtid. På et marked, hvor telefoner er blevet så drønkedelige, tror jeg mange ville være fristet af at prøve noget nyt, og det ville være en oplagt mulighed for mange mobilproducenter at prøve at skabe en ny kategori eller et alternativ til en gængse glasplade.
Dog skal Microsoft og Google stadigvæk have Android-appudviklere til at ændre deres apps, før de kan understøtte de nye muligheder. Her er Apple (særligt med iPad OS) langt fremme i forhold til at køre apps side om side, så det ville formentlig være ganske nemt at overføre funktionaliteten til en iPhone Double.
Foreløbig er det dog Microsoft, der er frontrunner her. For i modsætning til Samsung, så har Windows-firmaet tænkt over hvordan et foldbart device skal virke, og fundet en målgruppe, der kan gøre brug af de nye muligheder.
Om Duo så rent faktisk virker i praksis, bliver vi meget klogere på, når de amerikanske anmeldelser lander i september.
Fortsættelse følger…
---

1. Efter selvmål: Storbritannien endelig klar til at teste ny Corona-app
Mens Danmark og flere andre europæiske lande for længst har lanceret en Smittestop-app, så kæmper Storbritannien stadigvæk med at komme med på vognen.
Briterne forsøgte (som nogen måske husker) at bygge en hjemmebrygget app, som kunne indsamle markant flere data om brugerne end godt var, og som derfor ikke kunne benytte Apple/Googles mere privatlivsorienterede løsning.
Forsøget på at omgås Apples restriktioner for brug af Bluetooth resulterede i, at kun 4 procent af alle iPhones opfangede, at de var i nærheden af en anden bruger. Appen måtte derfor skrottes.
Efter det fejlslagne forsøg overgav de britiske sundhedsmyndigheder sig, og valgte at adoptere det samme Apple/Google-API, som vi bruger herhjemme.
Men det har kostet flere måneders forsinkelser, og først nu er de klar til at teste den nye app. Igen foregår det på øen Isle of Wight.
Der er stadigvæk ingen dato for, hvornår appen lanceres til hele den britiske befolkning. Det engelske sundhedssystem kan dog heller ikke helt lade være med at komplicere tingene. Således har de indbygget en QR-kode scanner, som de håber folk vil bruge til at scanne, når de fx går ind i bygninger eller transportmidler med mange folk.
Håbet er, at man på den måde kan notificere folk, der muligvis har været i det samme rum som en smittet person, selvom deres telefon ikke direkte har opfanget det.
---

2. TikTok har indsamlet brugernes telefon-ID i mere end et år
TikTok er for alvor i vælten for tiden. Som bekendt mener Donald Trump, at appen er en kilde til spionage, og at data, der indsamles om brugerne, går direkte videre til de kinesiske myndigheder, hvilket TikToks moderselskab ByteDance hårdnakket nægter.
Hvis Trumps antagelser er korrekte, har Kina i hvert fået adgang til en hel del værdifulde data.
Wall Street Journal (betalingsmur) har efter længere tids gravearbejde afsløret, at TikTok i 18 måneder har indsamlet Androidtelefoners MAC-adresse — altså telefonens unikke ID.
Det er sket på trods af at det er forbudt i Googles Play Store (og i øvrigt også i Apples App Store).
Adgangen til telefonens unikke ID gør det muligt at tracke den enkelte bruger særdeles tæt, hvilket blandt andet er særdeles værdifuldt i reklameøjemed.
Ifølge det amerikanske medie stoppede TikTok sin praksis i november sidste år, som led i forsøget på at afværge det politiske pres fra Washington.
TikTok siger i en udtalelse til The Verge, at de er holdt op med at indsamle MAC-adresser, og understreger at den nuværende version af appen ikke gør det.
TikTok har ikke været alene om ulovligt at indsamle Android-brugeres MAC-adresser. 350 andre apps har benyttet det samme smuthul som den kinesiske danse-app.
---

LINKS TIL LÆSEHESTE
Hvis Microsoft 💰TikTok: Adskillelse af data er superkompliceret og kan tage måneder eller år
---
Må politiet tvinge folk til at låse deres telefon op? Amerikanske domstole uenige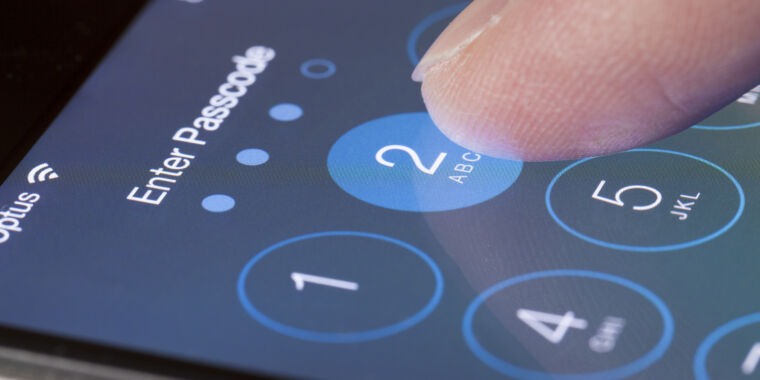 ---
Ude af beta: Dropbox klar med password manager til betalende brugere
---