Ny router: Det ydre tæller
En router er ikke længere blot én router: Vi har testet to af tidens nyeste, der begge kan bruges i et mesh-netværk.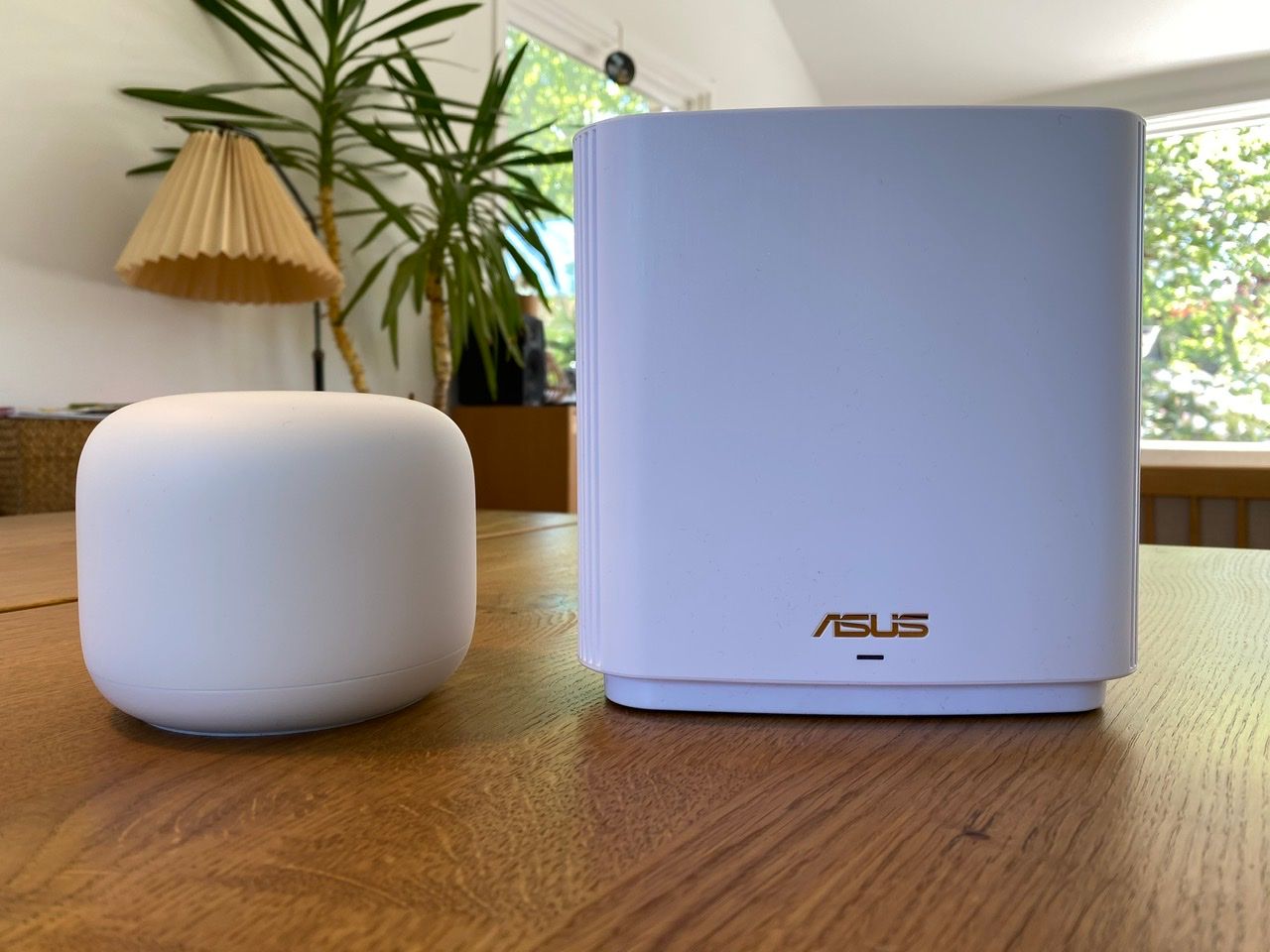 God mandag,
Vi starter ugen lidt alternativt. I stedet for nyheder dykker jeg ned i nogle af de vigtigste ting, du skal vide om tidens routere og tips til et bedre internet i hjemmet.
I særdelehed er luppen rettet mod to af de nyeste mesh-routere fra Asus og Google, som jeg har prøvekørt i privaten.
Har du stærke meninger om denne type indhold — godt eller skidt — så svar på denne mail, så vi kan blive klogere på, om det er noget I vil have mere eller mindre af.
Vi vender stærkt tilbage med et mere klassisk Techliv-nyhedsbrev i morgen.
God læsning,
Nicolai
---

Det skal du kigge efter i en router — og ja, udseendet spiller en rolle
Jeg har den seneste måneds tid interesseret mig for en gadget, som ellers i lang tid har været gemt godt væk — både i mit sind og i mit hjem: Nemlig en router.
Grunden er den simple, at jeg har fået en fiberforbindelse med ordentlig hul igennem: 1.000 Mbit op og ned. Yes, baby!
Men når man skal have hurtigt internet, og dermed må aflevere sin gamle router fra YouSee tilbage, så skal man jo på markedet efter en ny. Og der er virkelig sket noget de seneste par år.
Første og fremmest har de såkaldte mesh-netværk for alvor gjort deres indtræden på markedet. Konceptet er kort fortalt, at i stedet for at du har én router, så har du to eller måske tre routere (en router og ekstra Wi-Fi points) som er forbundet internt, og som kan levere mere stabilt trådløst net i hele hjemmet.
Samtidig er den nye Wi-Fi-standard, Wi-Fi 6, for alvor på vej frem. Wi-Fi 6 kan levere hurtigere hastigheder og bruger mindre strøm på dit device, hvis altså din telefon eller computer understøtter det. Det er der ikke ret mange, der gør netop nu, men det vil ændre sig inden længe.
Så der er nok at holde styr på. Men hvad er det lige, man skal kigge efter? Jeg nævner i flæng:
Hastighed, pris, Wi-Fi 6, privatliv/sikkerhed.
Skal det være et mesh-netværk eller blot en enkelt router, og hvor mange eksterne enheder skal kunne forbindes?
Og måske vigtigst af alt er udseendet... eller hvad?
Jeg er klar over, at der nu sidder nogle derude, der mener, jeg fuldstændig må have tabt både hovedet, sutten og forstanden, hvis jeg vægter det ydre højest. Det har jeg heller ikke helt gjort — men det har fyldt rigtig meget.
Jeg er ganske enkelt chokeret over, at der stadig bliver produceret routere med otte antenner stikkende ud i hver sin retning, som intet menneske med bare en smule æstetisk sans kan have stående frit fremme. Og det er jo netop pointen med en router.
Den skal helst stå så åbent i rummet som muligt for at kunne levere den bedste ydelse, og netop derfor er det supervigtigt, at man kan leve med routeren som en del af sit møblement. Dette bliver kun endnu vigtigere, hvis der er tale om et mesh-netværk, hvor du måske skal have to eller tre enheder fordelt over hele hjemmet.
Nå, men jeg har altså købt en router - og jeg skal nok vende tilbage til, hvilken jeg har valgt. Men kort tid efter jeg havde fået mit nye fibernet og min nye router op at køre, fik jeg mulighed for at teste Googles Nest Wifi mesh-netværk, som netop er kommet i handlen i Danmark.
Her må jeg bare sige, at kigger vi på det ydre, så er Nest Wifi den suverænt pæneste router, jeg har set. Det er virkelig et elegant design: venligt, rundt, og tilpas kompakt og neutralt til at man kan stille den frit fremme i langt de fleste hjem. Sagt med andre ord, ville Nest Wifi blende fint ind i et ethvert Illums Bolighus-katalog, og udseendet er da også i den grad det, Google prøver at markedsføre routeren på.
Jeg ved, det kan lyde enormt overfladisk, men jeg mener rent faktisk, at det er vigtigt.
At Googles router så tilmed leverer et glimrende netværk er selvfølgelig en meget stor og helt afgørende bonus. For det er naturligvis fuldstændig centralt, hvor godt internet, der kan leveres.
Mit eget valg faldt dog på en Asus ZenWiFi XT8 AX6600 (OMG, endnu et modelnavn fra helvede).
Nej, Asus-routeren er ikke lige så elegant som Googles, men den er relativt neutral, også selvom den i størrelse er lidt af et monster. Men den understøtter Wi-Fi 6, og det gør Nest Wifi desværre ikke.
Dermed ikke sagt at Nest Wifi ikke kan levere seriøse hastigheder, for det kan den godt. Hvis du ikke selv har en fiberforbindelse eller udsigt til snart at få en, så vil du formentlig ikke mærke forskel.
Jeg har brugt appen Speedtest til at teste de to forskellige trådløse setups — så det skal altså ikke opfattes som noget videnskabeligt.
Asus ZenWiFi har peaket lige omkring 500 Mbps, mens Nest Wifi har ramt omkring 450 Mbps. Begge er testet på en iPhone 11, der understøtter Wi-Fi 6.
Hastighederne er nogenlunde ens, når jeg har bevæget mig rundt i mit hjem. En lille smule højere og mere jævn hastighed med Asus-routeren på trods af der kun er tale om en enkelt enhed mod Nest Wifis to. De kan dog begge falde ret dramatisk i hastighed i forskellige rum — særligt på mit badeværelse.
Men der ER altså tale om teoretiske test, og i almindelig brug har jeg ikke kunne mærke nogen forskel på de to router-setups i forhold til, hvor hurtigt en hjemmeside loader eller hvor hurtigt filer kan hentes.
Dog har jeg enkelte gange oplevet med Asus-routeren, at min telefon og computer har mistet forbindelsen til netværket. Om det er routerens skyld eller om udfaldet relaterer sig til min udbyder, har jeg endnu ikke fundet ud af. Men i hvert fald er det ikke sket, mens jeg har brugt Nest Wifi.
Prisen på Wi-Fi 6 er for høj
Så er der det med prisen.
Wi-Fi 6 routere er hundedyre, fordi de er helt nye. Men de kommer ned i pris inden længe, og det er derfor ikke det bedste tidspunkt at købe, hvis man kan undgå det.
Det kunne jeg så ikke vente på, fordi mit behov for en router var 'her og nu', og som nævnt endte jeg med at købe en Asus ZenWiFi mesh-router.
I de mange test på nettet, jeg selv trawlede igennem, var ZenWiFi ikke den allerhurtigste knallert på havnen i de mere teoretiske prøvelser sådan en router må gennemgå. Men i virkelige test — altså sådan som den bruges i et almindeligt hjem — scorede den virkelig fint.
I særdeleshed scorede den rigtig fint, når der kun var en enkelt router i brug. Derfor har jeg til en start købt en enkelt enhed, som så altid kan udvides til et mesh-netværk senere, hvis det skulle blive aktuelt.
En helt væsentlig grund til at mit valg faldt på Asus-routeren var (udover udseende, hastighed, og understøttelse af Wi-Fi 6), at prisen ikke er helt crazy. Lige omkring 2.000 kroner måtte jeg slippe. Til sammenligning koster Google Nest Wifi 1.390 kroner for én enhed og 2.090 kroner for en pakke med to (en Nest Wifi + Nest Wifi Point).
Den mesh-router, der topper de fleste performance-test i øjeblikket, er Netgear Orbi 6, men der er prisen altså helt oppe omkring 6.500 kroner for et sæt med to.
Design, design, design
Vi bliver nødt til at kigge lidt mere på design. For udover at man konstant skal kigge på sin router, skal man jo også enkelte gange kigge på den app, som bruges til opsætning af routeren.
Her sætter Asus-appen måske ny rekord i uhyrlig grimhed. Faktisk generer den mig så meget, at jeg var ved at fravælge Asus-routeren alene af den grund.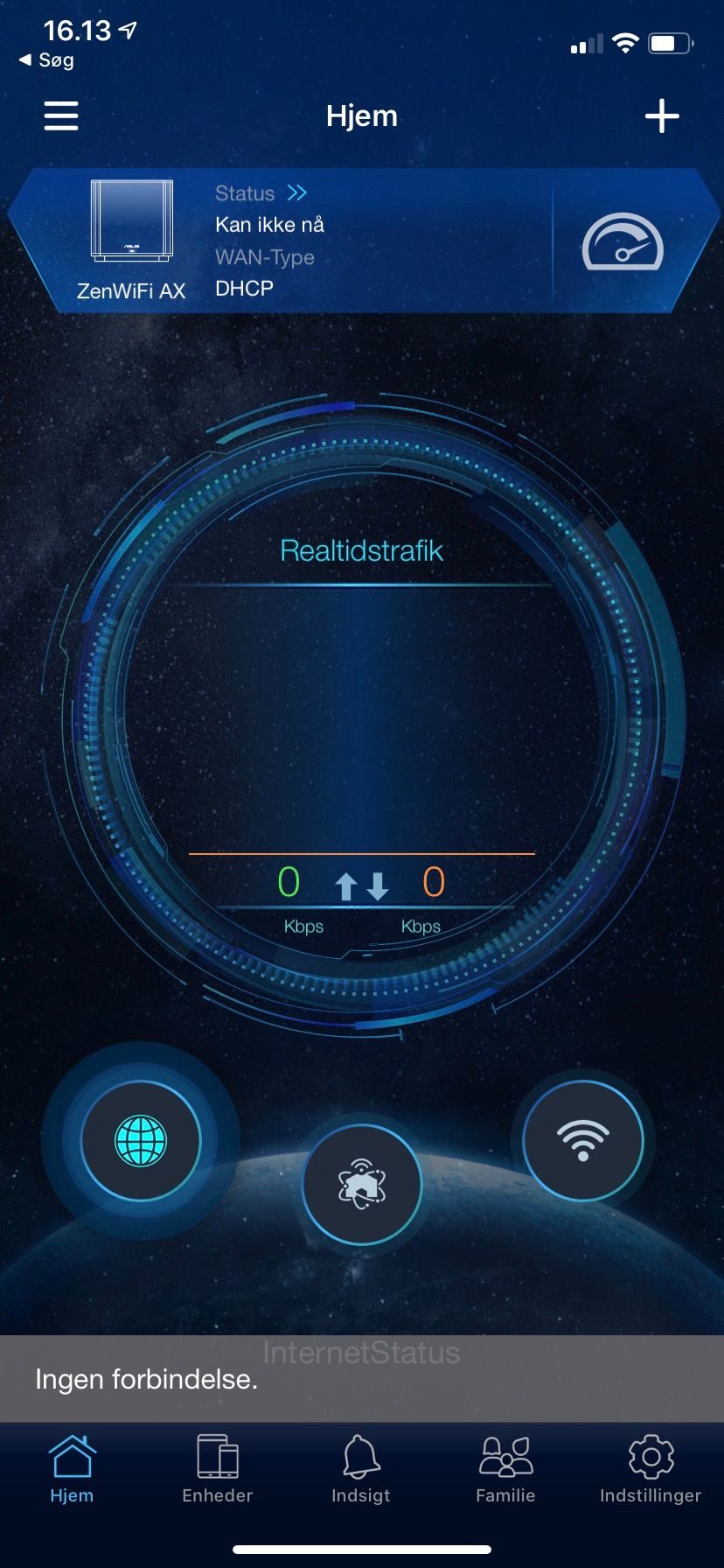 Jeg ville 10 ud af 10 gange foretrække en ren brugerflade uden speedometer- og rumlignende grafik.
Det er Google mere leveringsdygtig i. Men til gengæld har de blandet opsætningen ind i deres Google Home-app, der med al tydelighed viser, at du ikke bare køber en router, men at det er et forsøg på at lokke dig ind i hele Googles økosystem, med Google dimser og digitale assistent som det centrale omdrejningspunkt.
De to apps repræsenterer altså to vidt forskellige design-tankegange.
Asus-appen har rigtig mange indstillinger til nørderne, og også langt flere end jeg nogensinde kommer til at bruge.
Googles er meget mere simpel, og det vil jeg mene er at foretrække for ni ud af ti personer.
Fx opererer Nest Wifi ikke med at opsplitte netværket i et 2,4 Ghz og 5 Ghz netværk. Selvom du har muligheden for at forene de to på Asus-routeren, så vil langt de fleste almindelige brugere sikkert ikke ane, hvad de skal vælge, og hvad det i det hele taget betyder.
Kun en ekstra port på Nest Wifi
En ting, som kan stå i vejen for at vælge Nest Wifi er, at der kun er én ekstra indgang på selve routeren, udover den du bruger til selve internetforbindelsen. Og der er ingen indgang på tilhørende Wifi-points.
Har du fx både en Philips Hue Bridge og en tilsvarende til IKEA Trådfri, eller vil du gerne kable en TV-boks eller din Sonos-enhed eller noget helt femte, så kan det altså kun lade sig gøre fysisk at tilkoble én enhed.
Her har Asus-routeren tre indgange (udover netforbindelsen fra boksen i væggen) og tilføjer du en ekstra Asus-enhed, så du kan lave et mesh-netværk, så får du også tre ekstra indgange på den anden enhed. Desuden har den en USB-port, så du kan tilkoble et eksternt drev.
Så det er altså ret tydeligt, at Googles router henvender sig til den helt almindelige forbruger, der blot har brug for et stabilt netværk, og ikke så meget mere end det.  
Privatliv
Hvis jeg skal være helt ærlig, så ville jeg have det bedre med Googles routere, hvis jeg alene kiggede på det visuelle udtryk.
Men så er der jo den altid store elefant i Google-rummet, som man ikke kan komme udenom: Privatliv.
Det er ekstremt svært at blive klog på, hvilke data der indsamles, uanset hvilken tjeneste man bruger. Men Google er kommet langt i forhold til at kommunikere i et let forståeligt sprog.
Som jeg læser privatlivsbetingelserne, så kan du faktisk med rimelig ro i sindet bruge en Google-router, uden at det er ensbetydende med, at de indsamler unødige data om dig. Her bliver det faktisk straks mere tricky med Asus.
Begge firmaer gør det fx muligt at sætte grænser for, hvilke tidspunkter børn må bruge iPads eller telefoner via en såkaldt Familie-funktion. Men slår du funktionen til på Asus-routeren, siger du samtidig ja til at sende en kaskade af data til et firma ved navn Trend Micro. Og det har jeg ikke tænkt mig at gøre, så jeg kan altså ikke bruge funktionen.
Som altid skal man kigge sig godt for, når man siger ja og nej til diverse aftaler — det gælder ikke mindst når man køber en router, som alle dine internetdata kører igennem.
Jeg er normalt meget på vagt overfor Googles produkter — desværre for de bliver altså bare federe og federe. Men jeg ville faktisk ikke selv være bekymret for at bruge deres Nest Wifi router.
Hvad laver en digital assisstent i en router?
En sidste detalje, det er værd at snakke om, er, om din router blot skal levere internet, eller om den også — som i Googles tilfælde — skal fungere som en smarthøjttaler.
Der er ganske enkelt bygget en højttaler og mikrofon ind i den ene af de to enheder (den der er Wifi-point).
Mikrofonen kan slukkes via en fysisk knap på enheden, og gør du det, bekræftes det via højttaleren, hvor Google Assistenten fortæller, at du har slukket mikrofonen.
For nogle vil det være smart, at Google har bygget assistenten ind. Men for andre kan det være en dealbreaker, hvis man nu fx har tænkt sig at stille den ene enhed i sit soveværelse og ikke er komfortabel med, at der er (endnu) en mikrofon tilstede — uagtet at den kan slukkes.
Uanset, så skal den indbyggede højttaler, mikrofon og assistent have et par ord med på vejen.
Du kan måske nok bruge dit Wifi-point som erstatning for en Google Nest Mini (den der plejede at hedde Google Home Mini), men som det også er tilfældet med mini'en, så skal du ikke høre musik på Nest Wifi. Den lyder ganske enkelt frygtelig dåset.
Og så ved jeg ikke, hvad der sker for Google Assistentens danske evner. Men de er altså virkelig ringe på den Nest Wifi, jeg har testet. Når jeg spørger: Hvem er Danmarks statminister, får jeg svaret:
"Danmarks statsminister er regeringschef i Danmark. Statsministeren leder regeringen, hvis ministre bliver udpeget af statsministeren."
Det kunne Google Assistent trods alt svare på, da den kom i den danske version for halvandet år siden.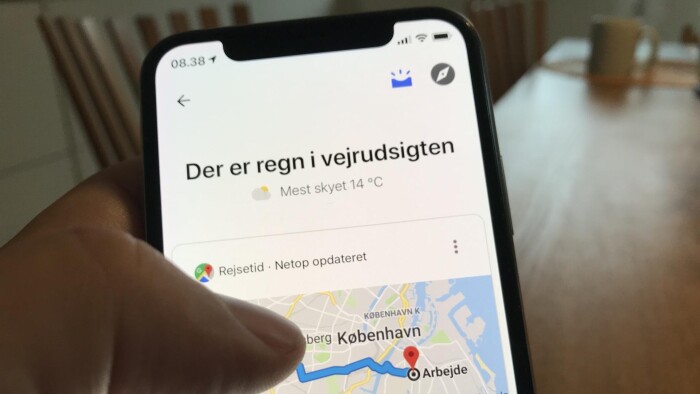 Hvad der er gået galt, ved jeg ikke — og ovenstående er blot et af mange spørgsmål, assistenten svarer helt tosset på.
Nest Wifi kunne altså meget vel blive offer for en klassisk blondine-joke. For godt nok er den smuk, men den er altså ikke ret kløgtig.
Til sammenligning er Asus ZenWifi ikke lige så køn - og decideret grim når man åbner appen. Men på godt og ondt er det blot en router, som er designet til at levere bedst muligt internet og ikke så meget andet.
Der findes rigtig mange andre routere derude, men jeg er ikke i tvivl om, at de to, jeg har nævnt her, er blandt de bedre, du kan købe lige nu — naturligvis afhængig af dit brugsscenarie, din forbindelse og hvor mange penge du vil ofre.
Påtænker du at have routeren stående frit fremme (hvilket altså er centralt, hvis du skal have en god trådløs netforbindelse), så vil udseendet være vigtigt for mange mennesker. Her er Asus ZenWiFi blandt de absolut pæneste. Men Nest Wifi er helt i top.
---
Slutnoter:
Wi-Fi, WiFi eller Wifi?
Det er ikke fordi jeg er forvirret, men Wi-Fi staves på mange forskelllige måder, og jeg har blot gengivet firmaernes egen brug: Nest Wifi og ZenWiFi, mens den mest klassiske måde at stave ordet, og den jeg selv ville vælge, er: Wi-Fi. Derfor er det blandet sammen i en stor pærevælling.
Wi-Fi 6 = ax
Når en router understøtter Wi-Fi 6 så vil ofte fremgå, at den understøtter 802.11 ax. Læg mærke til X'et
Flere modeller hedder næsten det samme, så hvis den "kun" understøtter 802.11 ac (læg mærke til C'et) så er det altså en Wi-Fi 5 model.
Dybdegående test af de bedste routere
Vil du dykke mere ned i, hvordan de nyeste routere klarer sig, så har vi jo heldigvis internettet, hvor der altid er nørder, der tester den slags ting på et niveau, hvor de færreste kan være med.
Jeg kan på det kraftigste anbefale denne oversigt hos CNET, over tidens bedste routere med links til mere dybdegående test af de forskellige enheder. Også dem med de otte antenner.
---