Magiske briller og GPS i bakspejlet
Vi ser tilbage på GPS og Magic Leap, to teknologier der med varierende grader af succes lægger lag af digital information oven på vores fysiske verden.
God onsdag,
I dag har vi iført os briller med bakspejl og ser på historien om to teknologier, der med varierende grader af succes lægger lag af digital information oven på vores fysiske verden.
Vi fejrer først hele to forskellige jubilæer for det Globale Positionerings-System, og så gør vi status for det amerikanske firma Magic Leap, der ville revolutionere sammenblandingen af det fysiske og det virtuelle, men foreløbig er endt med bare at brænde en kæmpe bunke investorpenge af…
Til sidst er der som sædvanlig tre links til læseheste og videokiggere.
God læsning,
Anders
---

Find dig selv - GPS fejrer jubilæum
Spørgsmål som "hvor er jeg?", "hvor skal jeg hen?" og "hvilken vej skal jeg tage?" rangerer rimelig højt på både en praktisk og en eksistentiel skala.
GPS kan næppe hjælpe dig med at få styr på din tilværelse, men har til gengæld nu i 25 år kunne placere dig og os på kloden og fungeret som centralt værktøj til at lægge ruter og finde vej (hvis du gerne vil være et andet sted end der du er).
Og faktisk kan Global Positioning System fejre en slags dobbelt jubilæum. Det er nemlig i denne uge som sagt 25 år siden positionerings-satellitterne blev erklæret fuldt operationelle, og samtidig 20 år siden der blev åbnet for civil adgang til satellitternes mest præcise signaler, der dermed så kunne bruges af os alle.
I disse måneder bliver GPS nok mest diskuteret som en teknologi, der skal - eller ikke skal - bruges til at tracke vores bevægelser i kampen mod virusspredningen. Men selvom GPS bestemt også kan bruges til mere eller mindre tunghåndet overvågning, så skal man næppe undervurdere den betydning det har haft for vores digitale udvikling, med tusindvis af lokationsbaserede apps og tjenester - og for almindelig hverdagslig finden rundt.
Derfor kipper vi med flaget i dag for en imponerende teknologi, som er en fuldstændig integreret del af vores virkelighed.
Det har siden begyndelsen været det amerikanske militær, der står bag GPS. I 1973 satte en gruppe i det det amerikanske forsvarsministerium sig ned og lavede udkastet til positioneringssystemet på grundlag af tidligere erfaringer med satellit-kommunikation. I 1978 blev den første såkaldte Navstar-satellit sendt afsted, og den 24. satellit, der gjorde systemet komplet, havnede i omløb femten år senere i 1993.
Der er dog siden kommet flere opdaterede satellitter til, og i dag udgøres GPS af 33 satellitter, der allesammen ligger i baner cirka 20.000 kilometer over Jordens overflade, og hver dag tager to gange rundt om planeten.
Den brede offentlighed fik allerede tidligt adgang til GPS, men militæret var bange for, at det skulle blive misbrugt, så i første omgang indlagde man nogle begrænsninger på den nøjagtighed, som private brugere kunne få adgang til i systemet.
Men de begrænsninger blev altså løftet i 2000, og alle og enhver med en modtager kan nu få opgivet sin position så præcist som det er muligt for GPS at give den — ned til få meter. Det vil dog stadig være muligt for det amerikanske militær midlertidigt at indføre restriktioner i krigssituationer eller lignende.
Grundlæggende består GPS af to forskellige systemer, der tilsammen gør det muligt for en modtager på Jorden ved hjælp af satellitterne at bestemme sin position nøjagtigt - nemlig radiokommunikation og atomure.
Hvis GPS skal fungere, så skal modtageren både kende satellitternes position og tidspunktet fuldstændig nøjagtigt, og til det bruger man ekstremt nøjagtige atomure.
Tidskoderne sendes så fra satellitterne med radiosignaler, der både indeholder satellittens egen position og det helt præcise tidspunkt for signalet, ned til millarddele af et sekund.
Signalet der afsendes fra satellitterne bevæger sig med lysets hastighed, men alligevel tager det en vis tid for det at nå frem til modtageren, og det er kernen i positionerings-systemets funktion:
Jo længere et signal har været undervejs, jo længere væk er satellitten. Og ved at måle afstanden til flere satellitter kan man triangulere sin position på planeten.
Satellitternes baner er planlagt, så man altid fra stort set hvilketsomhelst sted på Jorden kan "se" fire satellitter og dermed bestemme sin nøjagtige position - hvis man altså er udrustet med en GPS-modtager.
(Hvis du virkelig har lyst til at grave ned i hvordan GPS fungerer, så har den engelske udgave af Wikipedia lidt af et dybdedyk her).
GPS er dog ikke længere alene på himlen eller i vores lommer. EU har udviklet det konkurrerende Galileo-system, som blev taget i brug i 2016, og i Rusland har man sideløbende med USAs GPS siden 90'erne lavet sit eget system, GLONASS - Globalnaya Navigazionnaya Sputnikovaya Sistema.
Og så må man jo ikke glemme, at vi også i det helt nære miljø supplerer satellitterne med både mobilmaster, WiFi-signaler og Bluetooth når vi vil placere os selv fuldstændig præcis på en lille plet i verden.
Det er lidt sjovt at tænke på, at da GPS blev erklæret operationelt for 25 år siden, havde de færreste en modtager. Og selv da de præcise signaler blev gjort tilgængelige for civile i år 2000, var det i de første år stadig lidt eksotisk at have en GPS i bilen, omend den maritime verden var lidt hurtigere til at tage systemet til sig.
I dag kan man ikke rigtig forestille sig IKKE at have en GPS-udstyret dims i lommen, og på godt og ondt efterlader vi digitale fodspor nærmest uanset hvor vi går og står, og de systemer, der hjælper os med at placere os på kloden, samler samtidig en voldsom masse data om, hvor vi har været.
Til gengæld er det altså også meget sjældent, at man behøver at spørge om vej, eller stirre forvirret rundt i alle retninger for at finde ud af, hvor man er…
---

Det magiske kvantespring havnede som en maveplasker
Teknologien fra firmaet Magic Leap har (desværre, ville nogen sige) været knapt så verdensomvæltende som GPS.
Fra at have været techpressens yndling med vilde visioner om en virtuel fremtidsverden, er firmaet endt med et skuffende sæt videobriller, en kedelig omstrukturering og et fejlslagent forsøg på at sælge.
Magic Leap blev grundlagt i 2010 med visionen om at revolutionere såkaldt Augmented Reality, altså ideen om at "lægge et digitalt lag" på den fysiske verden omkring os.
Firmaet ville udvikle et par superavancerede goggles, der kunne sende computerskabt 3D-grafik direkte ind i øjnene, så det så ud som om de virtuelle elementer var en integreret del af vores omgivelser.
Magic Leap har bestemt ikke været alene på dette felt, men da rygtemøllen for alvor begyndte at snurre i 2014 så det ud til, at firmaets light field-teknologi ville give langt bedre oplevelser af den "blandede virkelighed" end konkurrerende produkter som Google Glass og Microsofts HoloLens.
Samtidig modtog firmaet - der havde kørt i stealth mode i årevis - kolossale investeringer fra blandt andet Google og Alibaba, og det så altså ud til at kursen var klar. Fremtiden ville blive et fantastisk mix af 3D-grafik og "virkelighed"!
Jeg må indrømme, at jeg også lod mig rive med. Jeg har altid været dybt fascineret af tanken om Augmented Reality, og demonstrationsvideoerne fra Magic Leap så fuldstændigt vilde ud, med oplevelser af fx at se blåhvaler i naturlig størrelse springe op af gulvet i en gymnastiksal.
Så da en af mine litterære helte, forfatteren Neal Stephenson, blev indrulleret som konsulent til udviklingen af "blandede oplevelser", var jeg helt solgt.
Men da Magic Leaps første briller, Magic Leap One, endelig blev fremvist i 2017 - det var første gang folk udefra fik det mindste glimt af selve hardwaren - blev det modtaget med udbredt skuffelse.
Og da jeg selv fik lov til at prøve et par af de længe ventede goggles var det…undervældende.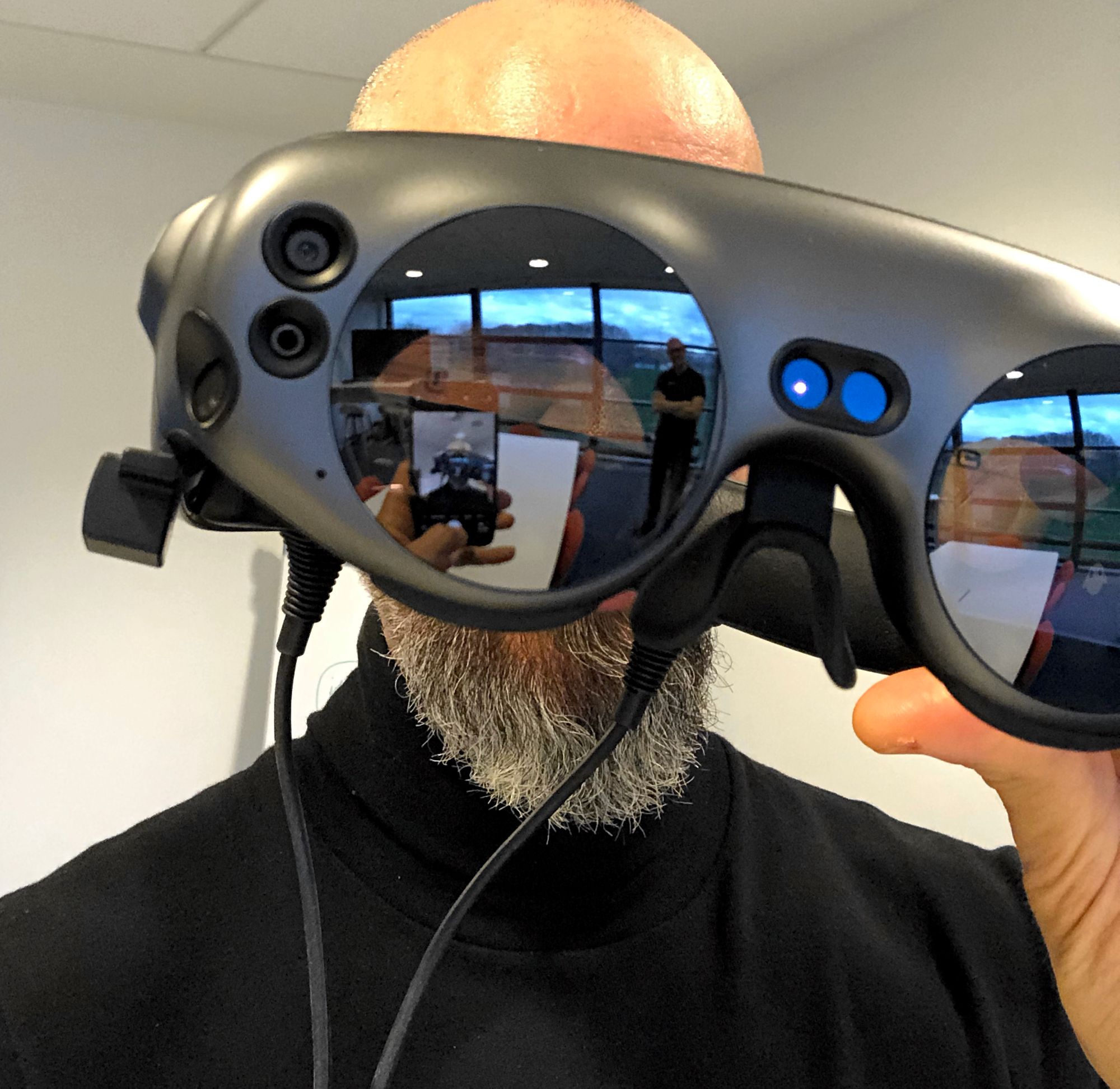 For det første var oplevelsen langt mere begrænset, end firmaets videoer havde antydet, med snævert synsfelt og kantet grafik (det blev også senere afsløret at nogle af videoerne ikke var fra headsettet, men manipulerede optagelser med masser af special effects).
For det andet var både AR og Virtual Reality-briller fra andre firmaer forlængst kommet på markedet med teknologi, der måske heller ikke var overvældende, men afgjort konkurrencedygtig.
Året efter blev en udvikler-version af ML One sat til salg, men det fik heller aldrig den helt store modtagelse, og det ser nu ud til at firmaet har brændt 2.6 milliarder investordollars af på…ingenting?
(TechCrunch's Jon Evans har en skarp gennemgang af den gradvise deroute - med den fantastiske overskrift "Tragic Leap"...)
Da det nu ikke rigtig kunne lykkes at sælge brillerne enkeltvis, forsøgte Magic Leap så i sidste måned at se, om der var nogle købere til hele firmaet til en pris i størrelsesordenen 10 milliarder dollars eller knap 70 milliarder danske kroner. Det lader altså til, at man nu prøver at slippe ud af dødssejleren før alle opdager at skuden er ved at synke.
Der var dog ingen held med salget, heller ikke hos Facebook, der ellers i forvejen arbejder med tilsvarende teknologier og jo har lommerne fulde af penge.
Derfor annoncerede Magic Leap i sidste uge, at man ville 'pivotere', som det hedder i den branche, og kun udvikle løsninger til professionel brug.
Men lad os se hvor længe dét projekt holder - de ellers så blændende visioner er efterhånden kun en sørgelig skygge af ideen om en funklende ny, blandet virkelighed.
---
LINKS TIL LÆSEHESTE
Den selvkørende stormtrooper advarer befolkningen i Singapore om at holde afstand.
---
Kodenavn: "Boble". CNBC-langlæser om historien bag Apple og Googles 'contact tracing'
---
Del et minut i stilhed. Kig et andet menneske i øjnene i et minut - det hjælper på isolationsangsten (hævder de). Den Coronavenlige udgave af Chat Roulette?
---