Trusler eller ej?
Huawei har sendt breve til danske statsministre, der endnu engang åbner diskussionen om, hvorvidt firmaet har en relation til det kinesiske styre.
God torsdag,
Dagen i dag er en huskekage til alle om, at det kan være svært at holde dokumenter hemmelige.
Huawei har sendt flere "forklarende" breve til danske statsministre, som Berlingske har fået fingre i og offentliggjort. Britiske myndigheder har derimod lagt hemmelige dokumenter ud på Google Drive... uden at password-beskytte dem.
Måske er det netop derfor Elon Musk altid kommunikerer via Twitter? Så kan man ikke rigtig blive afsløret.
Vi når også en lille omgang news you can use til folk, der har rod i fanebladene i  browseren. Og så slutter vi med en musikvideo der er fuld af håb (bare rolig, vi har ikke selv lavet den).
Trusselsfrie hilsner,
Nicolai
---
1. Sender Huawei trusselsbreve til danske statsministre?
Hvor tætte bånd har Huawei til den kinesiske regering? Og udgør Huaweis udstyr en sikkerhedsrisiko? Det er to spørgsmål, der jævnligt er genstand for diskussion, og nu blusser den så op igen.
Berlingske har nemlig fået aktindsigt i breve sendt fra Huawei til de to seneste danske statsministre, Mette Frederiksen og Lars Løkke Rasmussen.
Her hæfter mediet sig særligt ved formuleringen i et af Huaweis breve om, at hvis Huawei kommer 'i knibe', så vil andre kinesiske virksomheders lyst til at investere i Danmark blive alvorligt påvirket (will severely affect other Chinese companies' investment confidence in Denmark).
Peter Munk Christiansen, som er professor i statskundskab på Aarhus Universitet, siger om formuleringen til Berlingske, at den er usædvanlig "fordi det får karakter af en trussel".
Det er jo i hvert fald én måde at fortolke ordlyden på. Men om det ligefrem er den rygende pistol, der en gang for alle fortæller, at Huawei er sendt i byen af den kinesiske regering, er måske nok lige at stramme den.
Huawei afviser — naturligvis — som de har gjort mange gange før.
Om der er tale om en trussel, må du selv vurdere (hvis du har adgang bag Berlingskes betalingsmur.)
Berlingske har selv valgt at sætte "truende" i anførselstegn i overskriften på deres forside, mens de kalder brevene "desperate" (igen i anførselstegn) i toppen af selve artiklen.
Trusler eller ej, så er de offentliggjorte breve næppe noget, der gavner Huaweis virke i Danmark.
---

2. USA forlænger Huawei-forbud med ét år
Berlingskes artikel lander iøvrigt netop som Donald Trump har forlænget det handelsforbud, som gør det umuligt for Huawei og andre kinesiske teknologiselskaber at sælge teleudstyr i USA.
Forbuddet er forlænget med et år og gælder nu frem til maj 2021.
Grunden er, at amerikanerne mener, at kinesiske telefoner og netværksudstyr udgør en national sikkerhedsrisiko.
Det betyder også, at Huawei stadig ikke kan bruge Android på firmaets kommende telefoner, da forbuddet betyder, at Google ikke må levere sit styresystem til Huawei.
---

3. Chrome kan nu gruppere faneblade
Vi bliver hos Google og snupper lige en gang regulær news you can use.
Hvis du bruger Chrome, kan du se frem til en ny feature, der skal gøre det mere overskueligt at få styr på de vilde mængder af faneblade, som mange af os har for vane at åbne.
I den næste version af Chrome kan du samle dine faneblade i grupper.
Så i stedet for at du har 40 åbne faner, der allesammen er så små, at du alligevel ikke kan se, hvad der står på dem, så kan du pulje dem i mindre grupper, som (måske) giver dig et bedre overblik.
Det kan fx være 'Privat' og 'Arbejde' — eller måske en 'Læs senere'. Det er kun din egen fantasi og dit behov for orden, der sætter grænser.
Funktionen ruller ud på Chrome OS, Windows, Mac og Linux fra i næste uge.
---

4. Artikler som lyd på vej til Apple News +
Artikler som lyd. Det er et koncept som flere medier — blandt andre Zetland — har haft stor succes med.
Faktisk er det så succesfuldt, at Apple nu vil gøre oplæste artikler til en integreret del af deres nyhedstjeneste Apple News +.
Apples "Spotify for nyheder og månedsmagasiner" har ifølge Apple 125 millioner månedligt aktive brugere. Dog vides det ikke, hvor mange af brugerne der betaler for adgang til et mere fyldestgørende udsnit af indholdet.
Flere af de medier, der har stillet deres indhold til rådighed for Apple News +, klager over meget lave indtægter fra tjenesten og kalder ligefrem indtjeningen "forfærdelig".
Apple News er stadig kun tilgængelig i en håndfuld lande. Det er uklart, om Apple vil rulle nyhedstjenesten bredere ud, og dermed om den nogensinde kommer til Danmark.
---

5. Ups… Hemmelige britiske Corona-app planer lå frit fremme
Det er ikke kun Huawei der har fået offentliggjort dokumenter, der var tiltænkt en mere snæver læsekreds.
I Storbritannien har hemmelige dokumenter om den meget omtalte Coronasporings-app nemlig ligget frit tilgængeligt på Google Drive for alle, der havde et link. Intet password, blot et link.
Wired UK har haft adgang til at se dokumenterne, som er mærket OFFICIAL — SENSITIVE. De beskriver køreplanen for udrulningen af appen, og de muligheder der vil være for på sigt at bede briterne om at sende endnu flere data.
Blandt andet fremgår det, at folk selv skal kunne indrapportere deres Corona-tilstand — fx om de er smittet, om de er gået i selvvalgt karantæne, om de holder social afstand, eller om de ikke tager nogen forholdsregler.
Af dokumenterne fremgår det også, at myndighederne er klar over, at selvrapportering kan ødelægge hele systemet.
De skriver blandt andet, at der er en "høj risiko for tilfældig eller bevidst forgiftning af data", som kan lede til at folk holder op med at bruge appen.
Ligeledes er der bekymringer for, at det kan lede til "panik i befolkningen og uforberedte sundhedsservices", hvis mange briter rapporterer, at de har Coronavirus, selvom de ikke har det.
Desuden fremgår det, at myndighederne på et senere tidspunkt har mulighed for at at registrere brugernes lokation via GPS.
Som bekendt har Storbritannien valgt at basere deres Coronasporings-app på en centraliseret løsning, som betyder, at visse data fra brugerne bliver indsamlet på en central server — en praksis som mange it-sikkerhedseksperter advarer imod.
Vi må i hvert fald håbe, at de har mere styr på de data de indsamler, end de har på deres dokumenter.
Som en lille krølle på halen, så strider briternes Corona-app mod GDPR, da flere links i appen, sender data til Google Analytics.
BBC rapporterer i øvrigt, at Apple/Googles Corona-API — den decentrale løsning som sundhedmyndigheder kan bygge en app ovenpå— skulle blive officielt lanceret i dag.
---

6. Videomøde-video fra musikvideo-konger
Vi slutter dagens nyhedsbrev med en lille videomøde-musikvideo fra bandet OK GO.
Bandet, der netop er kendt for at producere kreative musikvideoer, har denne gang indfanget Corona- og videomøde-tidsånden på bedste vis.
De har naturligvis skrevet deres nye sang "All Together Now" sammen på afstand.
Selve videoen er produceret med en Zoom-lignende grafik, der viser bandets medlemmer i hver deres hjem, blandt andet med optrædener på børneklaver i børneværelset og grydeske på gryde.
Bandets sanger Damian Kulash, forklarer i et brev, der akkompagnerer videoen, at han selv har været smittet med Coronavirus og har oplevet sin kone have svære vejrtrækningsproblemer.
Bandet har derfor lavet en fundraiser på deres website, hvor penge fra sangen går til Sundheds-NGO'en Partners In Health.
---

LINKS TIL LÆSEHESTE
Bliver dit job nogensinde det samme igen? En række virksomhedsledere spår store ændringer i forholt til hjemmearbejde, mødetider og mødekultur.
---
Basketball-tech kan hjælpe mod Corona-spredning: NBA-teknologi bruges til at måle præcis afstand mellem medarbejdere på fabriksgulve og varelagre.
---
Trusler der virker? Elon Musk får nu lov til at åbne Tesla-fabrikken i Californien — hvis han overholder myndighedernes krav.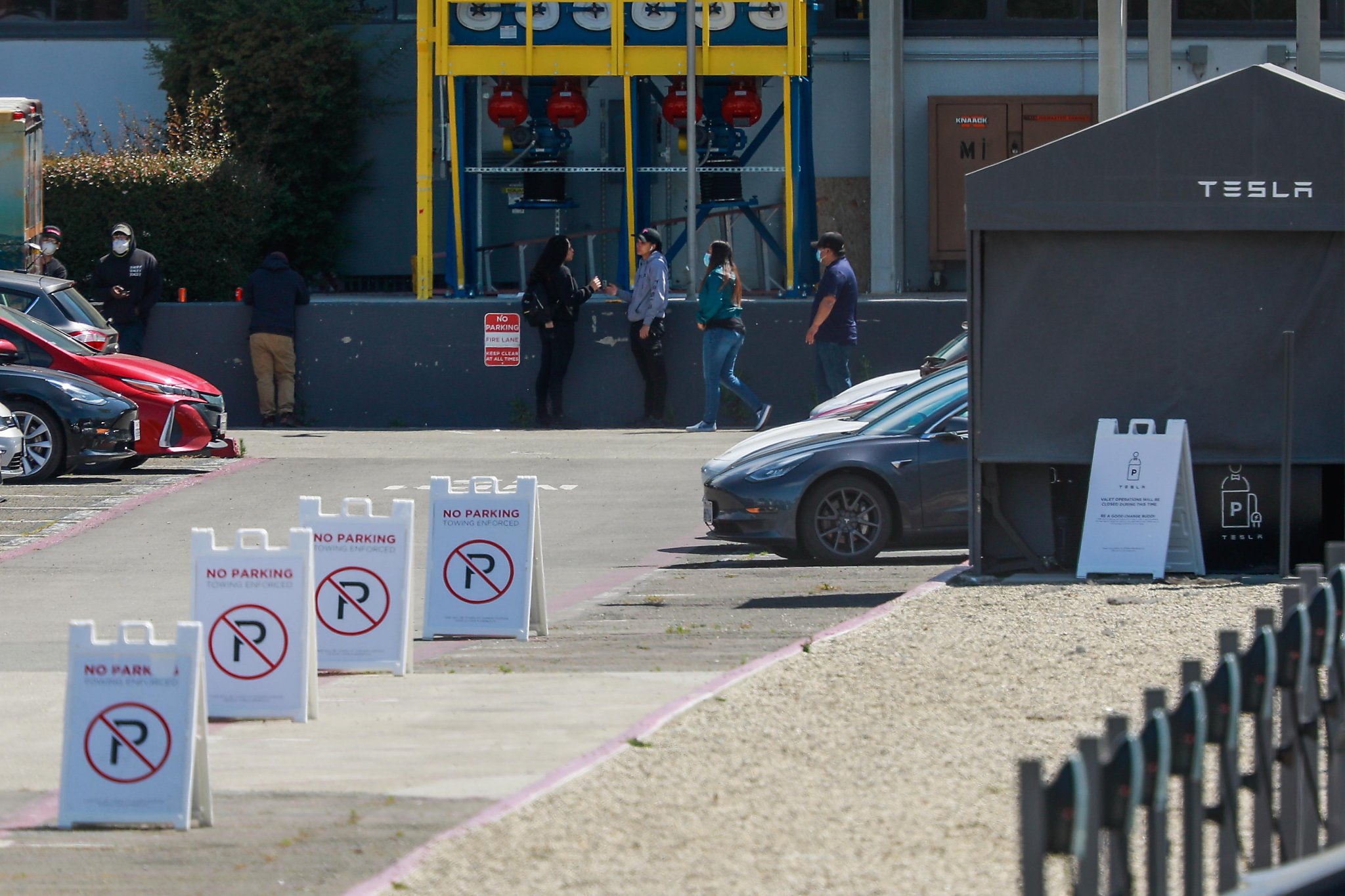 ---