Første kig: Sådan ændrer iOS 14 din iPhone
Ny hjemmeskærm med widgets ændrer både udseende og funktionalitet. Men nye privatlivs-tiltag er langt vigtigere.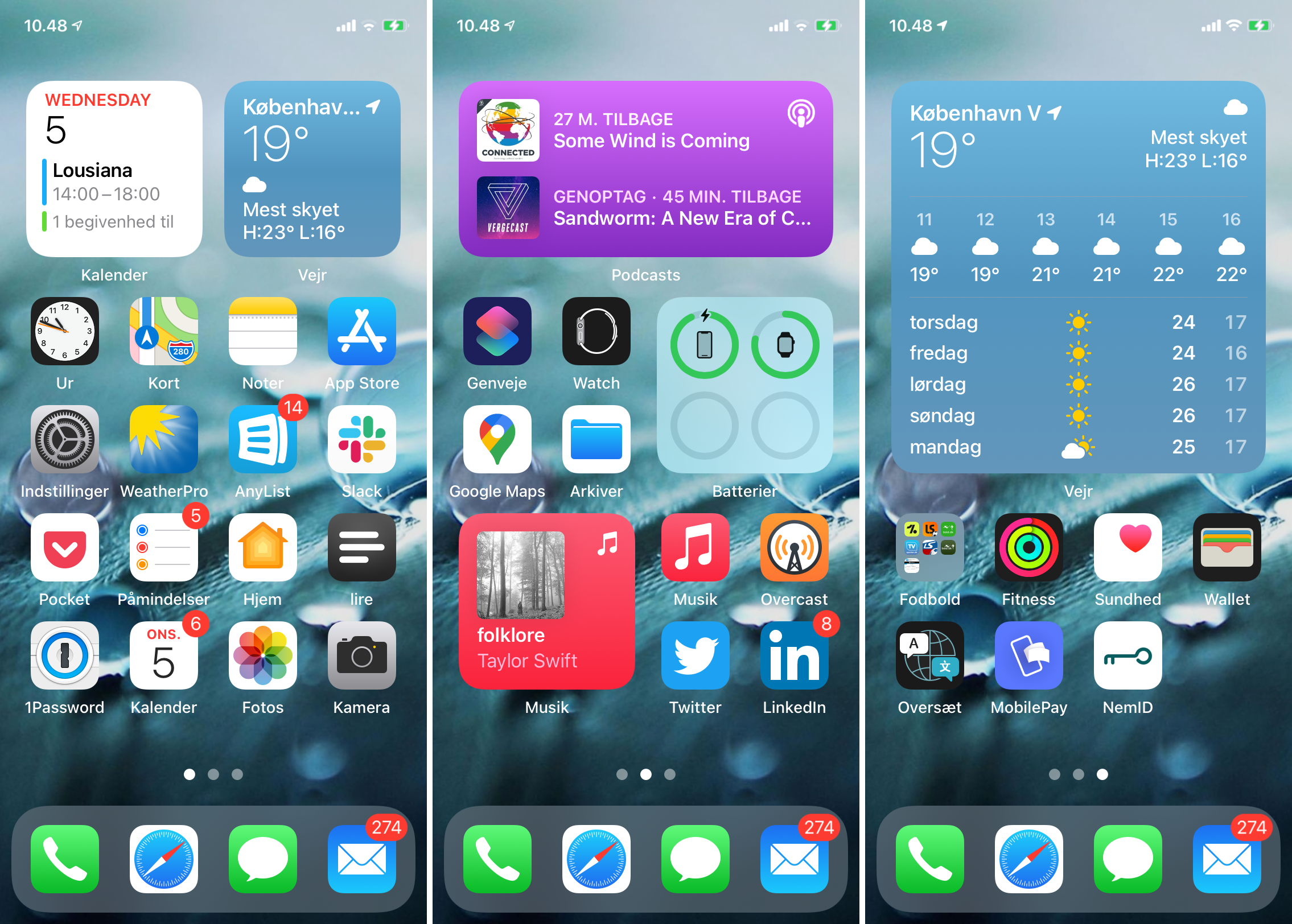 ---

Ny hjemmeskærm på iPhone: Meningsfuld og mangelfuld
Som jeg skrev for et par uger siden, så har jeg installeret beta-udgaverne af iOS 14 på min iPhone 11 og min efterhånden 4 år gamle første generations iPad Pro.
Som altid, når man installerer software, der er i beta, så er der ting, der ikke virker, og man må acceptere, at batteriet bliver udfordret af den ikke-færdige software.
Alt dette er fuldstændig som det plejer, omend de fleste ting i år faktisk virker rimelig fint — og dog.
Smittestop-appen virker ikke (crasher hver gang jeg åbner den), mens NemID nøgleappen er blevet suspenderet, da den mener, der er tale om, at min iPhone er jailbroken.
Det kan man jo ikke ligefrem sige den er, men i hvert fald er det ret frustrerende, at lige netop NemID-appen ikke virker. Derfor denne advarsel: vent med at installere det nye styresystem på din egen iPhone.
Nå, men det skule jo handle om de nye funktioner, der kommer til efteråret, som jeg altså har fået en solid forsmag på.
Årets store tema er en fornyet hjemmeskærm.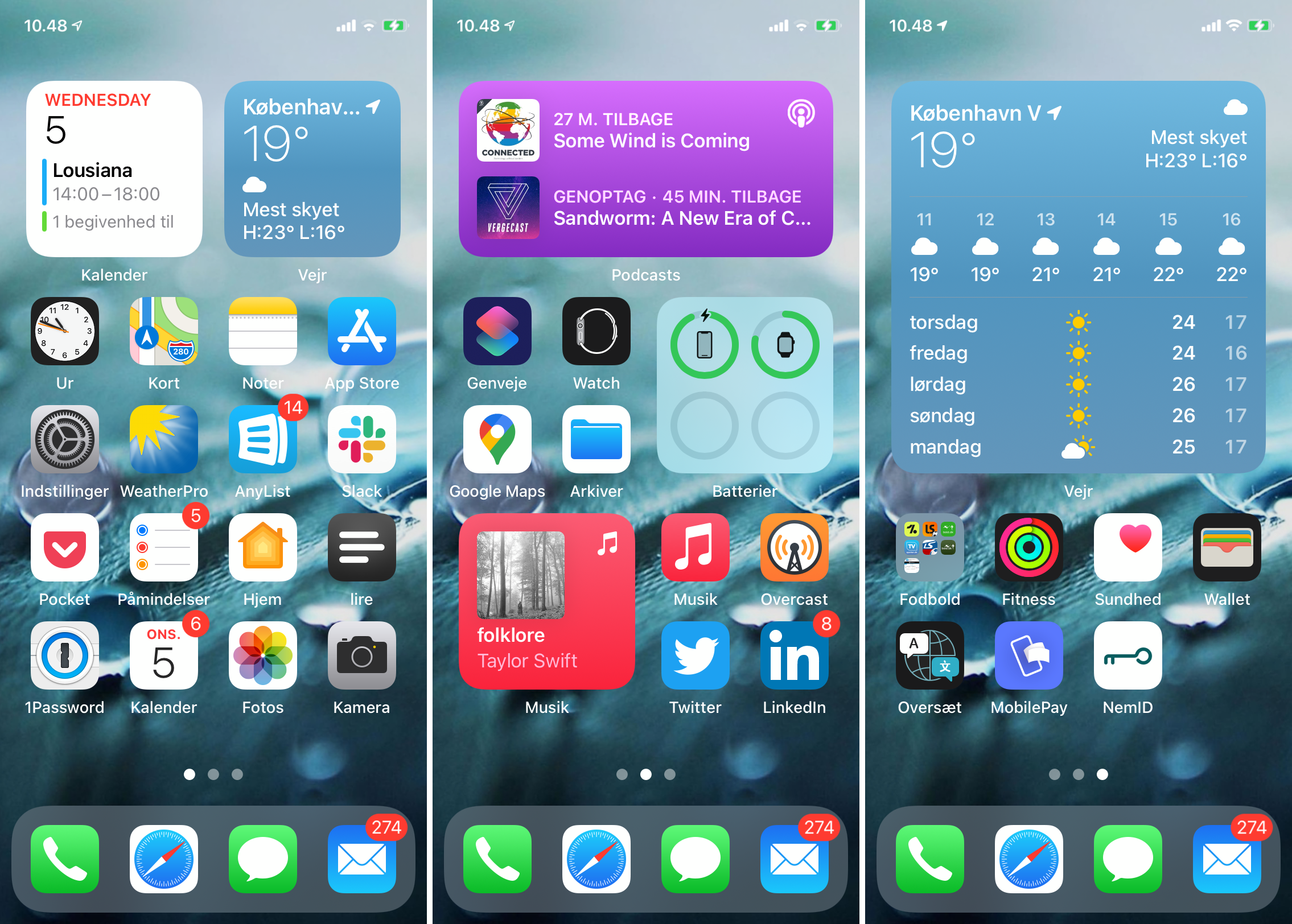 I mere end ti år, har brugerfladen bestået af side efter side fyldt med app-ikoner. Men 2020 er året, hvor Apple ENDELIG går Android (og Windows Phone) i bedene og gør det muligt at tilføje widgets på hjemmeskærmen.
De nye widgets — som jo er en mikro-version af en app, der kan vise udvalgte data — kommer i tre forskellige størrelser. Den mindste fylder det samme som fire app-ikoner. Den mellemste otte, mens den største fylder det samme som 16 app-ikoner.
Eksempler på widgets er vejrappen, der kan give dig et hurtigt overblik over vejrsituationen eller kalender- eller påmindelsesappen, der kan vise dig, hvad der næst på din dagsorden, uden du skal åbne appen først.
Det er ikke kun brugbart, men giver også en friskhed til det super kedelige firkantede net af apps, som i så mange år har været det eneste man kunne se, når man låste en iPhone op.
De nye widgets kan tilføjes fuldstændigt frit på skærmen, og de omkringliggende app-ikoner retter så ind eller bliver skubbet til næste side, hvis der ikke længere er plads til dem.
Du kan også putte widgets oven på hinanden, så de danner en såkaldt stak, hvilket betyder, at du kan scrolle imellem dem direkte på din hjemmeskærm.
Widgets er en fin tilføjelse, der desværre kommer med ret kraftige begrænsninger. For du kan ikke kontrollere noget som helt igennem dem.
Jeg har fx en podcast-widget, der viser mig de nyeste podcasts i mit feed. Men jeg kan ikke trykke play eller pause i widget-brugerfladen. Trykker jeg på en podcast, åbner podcast-appen blot. Jeg er altså nødt til at åbne en app, for at kunne styre den. Og det er virkelig en missed opportunity.
I tillæg kan man ikke scrolle inde i en widget.
Hvis jeg nu fx har seks ting på min to-do liste, og jeg har valgt den mindste udgave af den tilhørende widget, så kan jeg kun se den første opgave på listen efterfulgt af et 6-tal. Men jeg kan ikke scrolle ned i listen og se de andre opgaver; jeg er nødt til at åbne appen.
På den måde, er de nye widgets ikke så anvendelige, som de burde være, fordi du ikke kan styre den bagvedliggende app direkte fra hjemmeskærmen.
Grunden er formentlig, at denne ekstra funktionalitet koster for meget i computerkraft og dermed batteritid. Mit bedste bud er dog, at Apple vil gøre det muligt at bruge widgets mere aktivt næste år (det bliver aaaltid bedre til næste år).
Den anden nyhed til hjemmeskærmen er det Apple kalder appbiblioteket — endnu en funktion Androidbrugere allerede kender.
Tanken er, at i stedet for at du har syv, otte eller ti sider fyldt op med ikoner, så samler du alle de apps, du sjældent bruger, i appbiblioteket.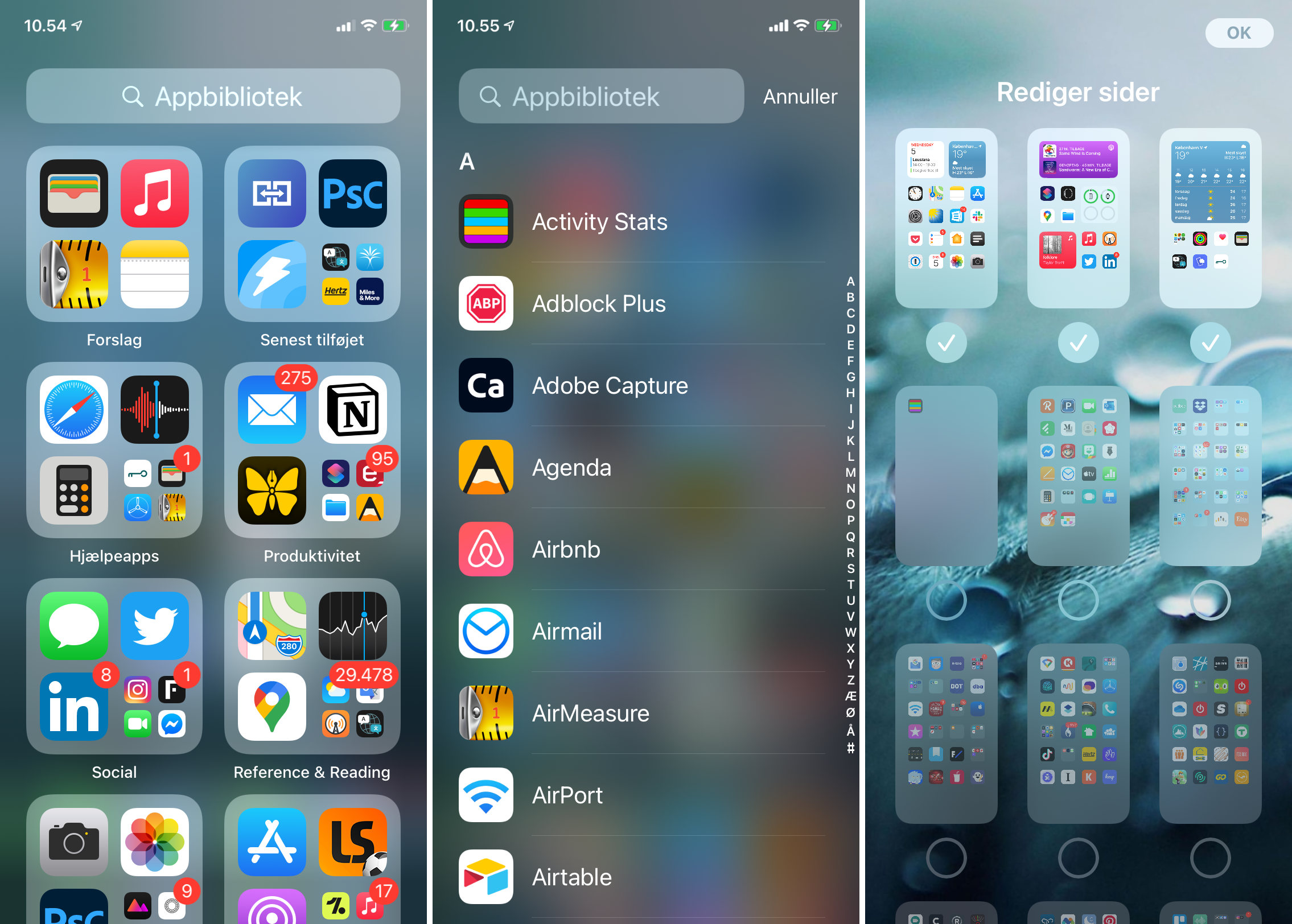 På min telefon har jeg pt. 352 apps(!), hvilket jo gør det fuldstændig umuligt at huske, hvor noget som helst er placeret efter side tre. Og det giver ingen mening for mig at gå til side nummer ti i håbet om at finde en app.
Efter jeg har installeret iOS 14 har jeg (i tillæg til mine widgets) nu 30 apps synlige fordelt på tre sider, samt en mappe der indeholder syv fodbold-apps. Resten af mine alt for mange apps er gemt væk i appbiblioteket, hvor Apple af egen drift har inddelt dem i forskellige mapper.
Det er dog helt ligegyldigt med dette forsøg på automatisk at gruppere apps i kategorier, for hvis jeg vil finde en app i biblioteket, swiper jeg blot ned på skærmen (eller stiller mig oppe i søgefeltet), hvorefter alle apps vises i alfabetisk rækkefølge. Ude i siden kan man så scrolle lynhurtigt ned i alfabetet, hvis man vil lede efter en app manuelt og kender dens start-bogstav; helt på samme måde som man kan i appen, der indeholder ens kontakter.
Appbiblioteket gør i hverdagsbrug ingen stor forskel for mig. Jeg har i mange år åbnet langt de fleste apps direkte fra søgefeltet på hjemmeskærmen, som kommer til syne, når man trækker ned i skærmen.
Den største bonus er, at det gør det meget nemmere at slette apps, man ikke bruger, fra den alfabetiske liste. Og så er det faktisk ganske rart, at der helt overordnet er mindre rod på telefonen.
Til gengæld er det ikke er særligt tydeligt, hvordan man bruger appbiblioteks-funktionen.
Alle apps er synlige i appbiblioteket — også dem du ser på din hjemmeskærm. Men hvis du vil fjerne en app fra hjemmeskærmen, så den kun opholder sig i appbiblioteket, skal man lang-presse på den og vælge 'fjern app' og efterfølgende vælge 'fjern fra hjemmeskærm' (og ikke slet app, som sletter den helt).
Alternativt kan man skjule hele sider med apps, hvilket heller ikke på nogen måde er selvforklarende. (For instruktioner tjek denne video). Funktionen kan fx bruges til at vise en side med særlige ferie-apps, du kun skal bruge i ferien. Eller omvendt kan den bruges til at fjerne arbejdsrelaterede apps fra dit åsyn, når du har fri.
Ligeledes er det heller ikke særligt tydeligt, hvordan man tilføjer widgets til hjemmeskærmen.
De kan enten trækkes ind fra den placering, hvor de har boet de seneste mange år — det såkaldte 'today view', som man kommer til, når man swiper til højre fra hjemmeskærmen. Eller de kan tilføjes ved at trykke på +tegnet, når man har aktiveret 'jiggly mode'. (Tjek evt. video igen).
Jeg er dog ret overbevist om, at det er meget bevidst, at Apple ikke gør det mere prominent, hvordan man bruger de nye funktioner.
Faktisk står det mere og mere klart for mig, at Apple forsøger at give power-brugere mere kontrol og fleksibilitet og adgang til nye features. Samtidig ønsker de, at den mere almindelige bruger skal kunne bruge sin iPhone på præcis samme måde som de seneste mange år.
Af samme årsag ser du slet ikke de nye muligheder, når du har opdateret til iOS 14. Ved første øjekast ser din skærm fuldstændig ud, som den plejer.
Privacy er (måske) den bedste grund til at bruge iPhone
Som det måske nok står klart, så er den nye hjemmeskærm næppe noget, der kommer til at revolutionere dit daglige telefonbrug. Det er mere 'nice to have' end 'need to have'.
Sådan ser jeg det til gengæld ikke, når talen drejes over på privacy. I virkeligheden er det nok en af de væsentligste grunde til at vælge en iPhone i stedet for en Android-telefon. Og i år har Apple drejet endnu mere på privatlivs-håndtaget.
Eksempelvis åbnede jeg rejse-appen Expedia, der gerne ville have adgang til min lokalitet — og efterfølgende spurgte om den måtte få adgang til min præcise lokalitet.
Det er fint for mig at Expedia ved, jeg befinder mig i København, så den fx kan vælge Kastrup som udgangspunkt, hvis jeg søger på en flyrejse. Men de skal da på ingen måde have lov til at se min præcise lokation — altså min hjemme- eller arbejdsadresse.
Derfor er det virkelig fedt, at man nu har muligheden for at sige nej til at dele sin præcise lokalitet, men i stedet kan nøjes med at tillade at appen må se, hvilken by man opholder sig i.
Nogle af de apps, der er klart værst til den slags tracking, er vejr-apps, som jo gerne vil give dig en vejrudsigt, afhængig af, hvor du befinder dig. Men de fleste kan nok leve med, at appen ved, om du er i Hillerød, Odense eller Vejle, uden at vejr-appen minutiøst skal kunne tracke hvert eneste sted du opholder dig — helt ned til vejnavn og husnummer.
Ovennævnte er blot et af flere nye privatlivs-tiltag, der er en integreret del af iOS 14.
En ny anonymitetsrapport-funktion er tilgængelig direkte fra Safari. Trykker du på den, kan du se, hvilke hjemmesider, der har flest trackere, og hvor mange sporingsmekanismer Safari på egen hånd har blokeret.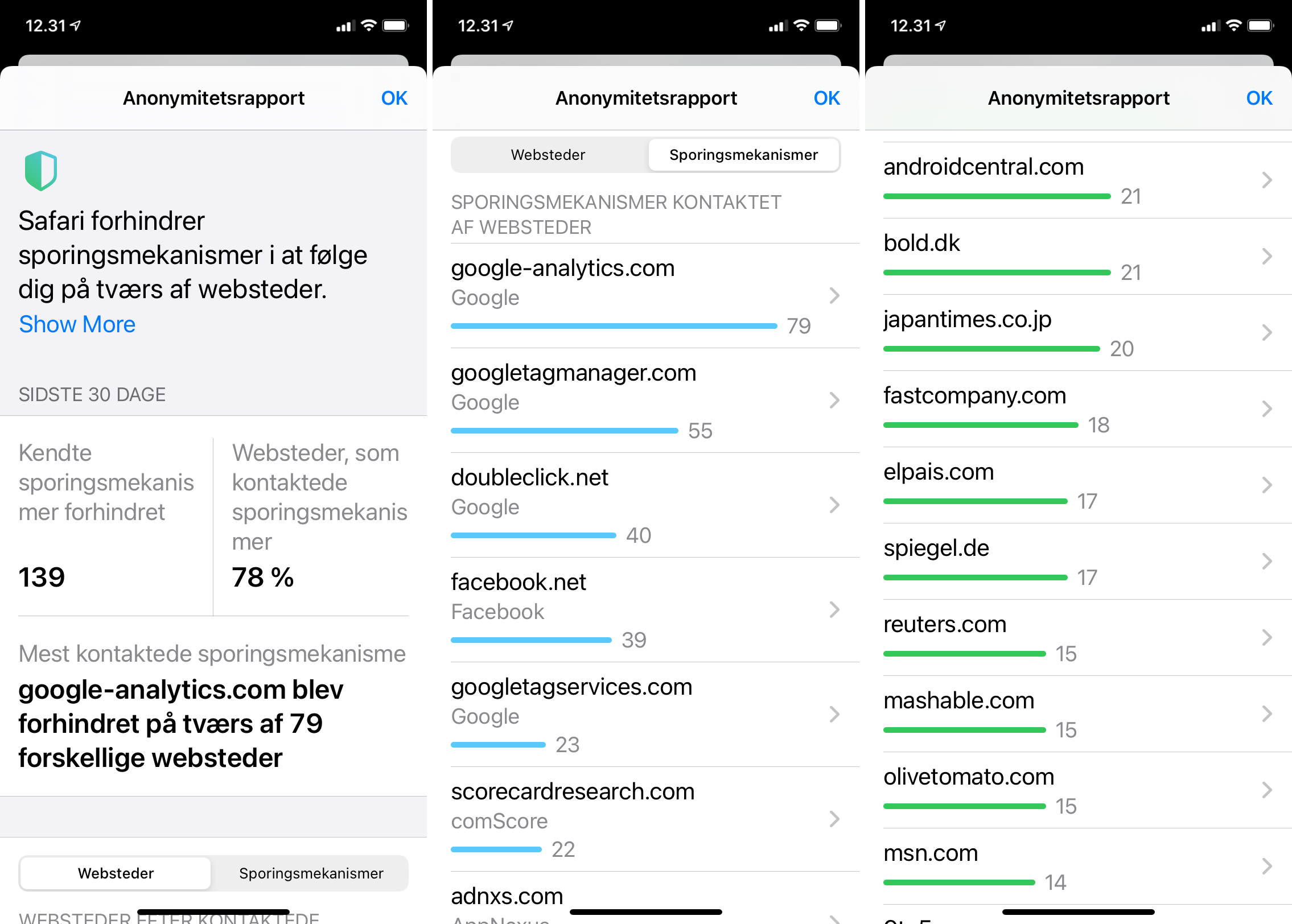 Kigger man på, hvilke sporingsmekanismer Safari blokerer, så er det i høj grad Google, der står højt på listen både med deres reklamenetværk DoubleClick, Google Tagmanager og Google Analytics — stærkt efterfulgt af Facebook.
Privatliv er uden tvivl højt på Apples agenda, men det føles nok kun som en ekstra appelsin i turbanen for firmaet, at de kan give nogle dybe stød til flere af deres værste Silicon Valley-konkurrenter. Men for brugerne er det altså både et effektivt værktøj, og en fin uddannelse i, hvad der foregår i baggrunden, når man surfer på nettet.
Den privatlivsfunktion jeg personligt ser mest frem til er, at alle apps i App Store i fremtiden skal oplyse, hvilke af dine private oplysninger de indsamler (fx lokation, browsing-historik, eller hvad du køber på nettet). Det kommer dog først senere på året; formentlig når iOS 14 bliver sendt ud til alle brugere.
Det samme gør sig gældende med det Apple kalder app clips, som er små mini-udgaver apps, der kan loades direkte fx fra en QR-kode, uden man skal installere appen.
App clips vil typiske være brugbare, hvis du blot skal bruge en app en enkelt gang. Det kunne fx være en nem måde at købe parkering i udlandet eller at få et oversigtskort over et museum eller lignende, på steder hvor man ikke forventer at komme igen.
Hvis jeg lige skal konkludere her til sidst: iOS 14 er på ingen måde en revolution — langt fra. Dertil er Apples mobile styresystem alt for modent. Men visuelt er de nye widgets det største der er sket på Apples mobil-platform siden iOS 7, som gav iPhone et mere moderne look.
Androidbrugere vil nok sige "det har vi da haft længe" om flere af de nye funktioner. Men om ikke andet, så har Apple virkelig strømlinet deres brug. Særligt de nye widgets opfører sig meget eksemplarisk og ensartet, hvilket gør det super nemt at bruge dem, uden at man roder brugerfladen til.
De nye privatlivstiltag er jeg mere begejstrede for. Det er virkelig et område, hvor iOS giver Android baghjul — hvis det altså betyder noget for dig.
---

LINKS TIL LÆSEHESTE
Kina er rasende over Trumps behandling af TikTok
---
Googles køb af FitBit kan blive forpurret af EU: Margrethe Vestager vil nu kigge handlen nøje igennem — blandt andet er hun nervøs for, om Google kan bruge sundhedsdata til at målrette reklamer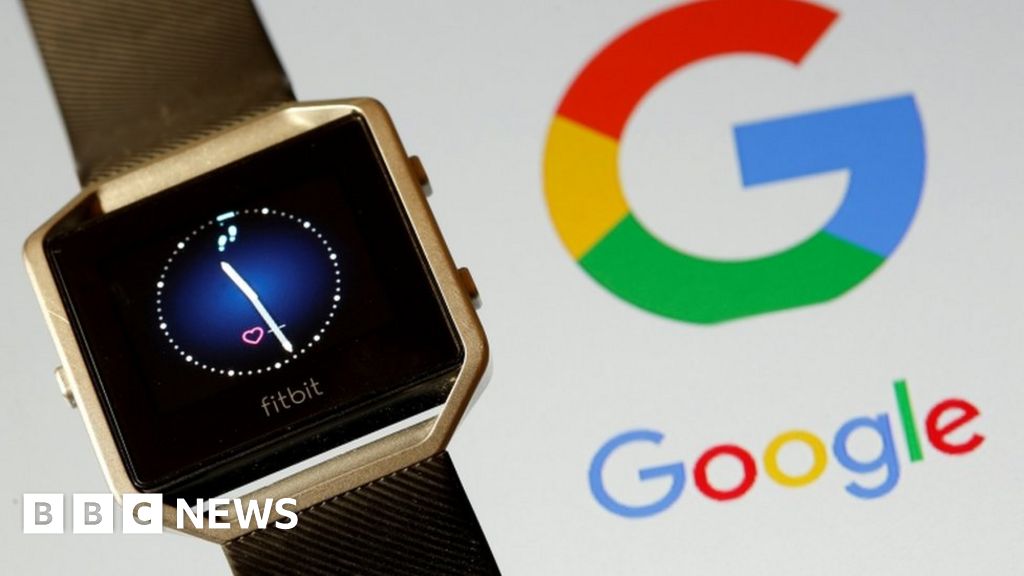 ... Google kan dog ikke se problemet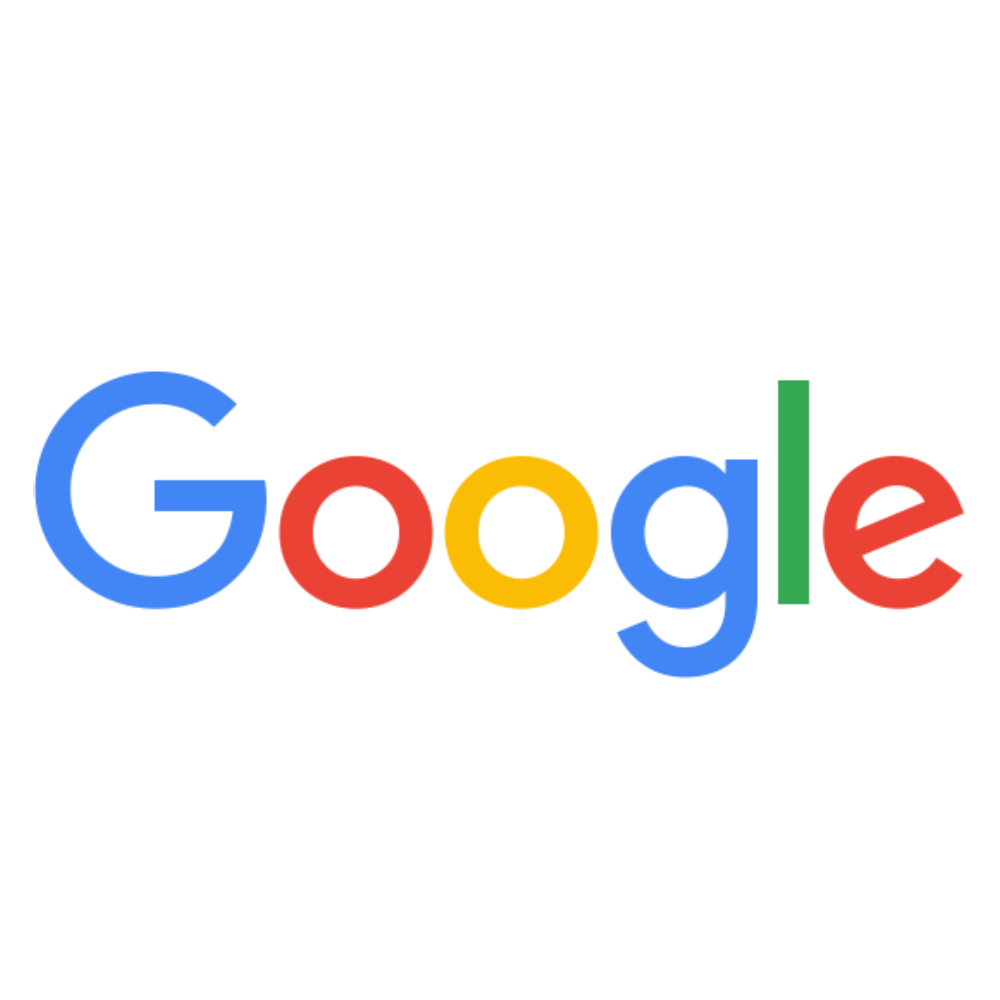 ---
Femte gang var lykkens gang: Lille prototype af Space X's fremtidige monster-raket lettede og landede med succes
---
Stjal selvkørende forretningshemmeligheder fra Google og solgte dem til Uber: Anthony Levandowski skal 18 måneder i fængsel — og sagsøger nu Uber for 4 milliarder dollar
---
Generationsskifte hos Apple fortsætter: Phil Schiller — Apples marketingsboss og manden der igennem mange år har præsenteret nye iPhones — træder til side og indtager ny en rolle som en såkaldt fellow 👀
---
Danmark igen sprunget over: Google lancerer ny billig Pixel-telefon — og løfter sløret for de to næste
---