Mobilen lytter med - men denne gang er det en god ting
Vi ser blandt andet på el-varevogne fra Amazon og på en ny lyttehjælp i Android, og bringer en servicemeddelelse. I link-samlingen til sidst er der god underholdning til weekenden, med historier om alt fra ebogslæsere og podcasttracking til den fortsatte ballade om Apples App Store.

1. Google lancerer mobil-ører i Android til at hjælpe svagthørende
Google lancerede torsdag en ny feature i Android, der i første omgang skal hjælpe svagthørende, men nok også kan bruges af personer der er lukket inde i deres hovedtelefoner hele tiden.
Ideen er kort fortalt, at mobilen lytter på hvad der sker i omgivelserne, og så kan notificere ejeren med vibration eller blinkende lys, hvis den opfanger fx hundegøen, løbende vand, bippende apparater eller andre mere eller mindre kritiske lyde.
Funktionen er også integreret med Wear OS på Android-baserede smart-ure, og man kan oven i købet se en tidslinje over de seneste timers lyde.
Sound Notifications kører direkte på mobilen, og deler ingen data med skyen, siger Google.
---

2. Smittestop virker nu korrekt efter fejlrette…undskyld, løbende tilpasning
I sidste uge var der, som man nok husker, en del ballade over den danske Smittestop-app, der tilsyneladende ikke rigtig udførte en af sine væsentlige opgaver, nemlig at advare folk der havde været i nær kontakt med personer, der var smittede med Covid-19.
Nu er fejlen rettet, skriver DR, og Smittestop har i løbet af den seneste uge hjulpet med at finde hele 8 mennesker, der er blevet testet positive og angiver notifikation fra appen som årsagen til at de blev testet.
Nu er der jo meget usikkerhed omkring så lave tal, men det er en pæn stigning i forhold til de 16 personer, der "blev fanget" i de foregående 3 måneder.
Netcompany vælger dog ifølge DR at kalde det en "løbende tilretning", snarere end en fejl der er fixet.
BONUS:
Via Computerworld kommer en anden Smittestop-nyhed, nemlig at den danske app også fra november bliver en del af det fælleseuropæiske kontaktsporingsappnetværk (ja, det er i ét ord).
EU-projektet skal sørge for, at de nationale sporingsapps - Smittestop i Danmark, Immuni-app i Italien og så videre - kan udveksle data, på forsvarlig vis og uden at kompromittere beskyttelsen af borgernes privatliv.
---

3. Fra automobilhjørnet: El-varevogne, selvkørende taxaer og svenske lastbiler
Amazon sender den første specialdesignede el-varevogn på gaden
Amazon har tidligere lovet at de vil gøre en stor indsats for klimaet, blandt andet ved at udskifte deres hostende dieselvarevogne med elektriske køretøjer.
Nu har de fremvist den første af slagsen, udviklet i samarbejde med med firmaet Rivian - og den ser altså ret kær ud, hvis man kan sige det om en varevogn.
Det er meningen at der skal laves 100.000 af dem - men dog først i løbet af de næste 10 års tid.
Der er også nye modeller fra svenske Einride, der laver autonome lastbiler
Stockholmfirmaet Einride har tidligere præsenteret deres bud på en "lastpod", som de kalder AET - Autonomous Electric Transport.
Nu har de så lukket op for bestillinger af de første udgaver af køretøjet, som dog først bliver leveret i 2021. Det skriver Tech.eu.
AET 1 og 2 er primært beregnet til lukkede områder som fabrikker eller havne, men Einride har også præsenteret to nye modeller, AET 3 og 4, som imidlertid ikke bliver klar for 2023 - men til gengæld kommer til at kunne køre på motorveje med sine avancerede selvkørende funktioner (siger firmaet).
Waymo åbner for flere kunder til selvkørende taxaer i Phoenix, Arizona
Endelig kan vi i Techlivs fredagsbilhjørne(!) fortælle, at Google-firmaet Waymo nu udvider deres tilbud af selvkørende taxaer - dog blot i forsøgsbyen Phoenix i Arizona.
Indtil nu var det kun særligt udvalgte beta-medlemmer af Waymos taxatjeneste Waymo One, der kunne booke de selvkørende biler, men nu bliver det altså udvidet til alle tjenestens ca 1500 brugere i byen.
De har i modsætning til betabrugerne lov til både at tage billeder og fortælle om deres oplevelse, og til at tage familie eller venner med på turen.
Så vi kan nok godt regne med at få lidt flere detaljerede rapporter om hvor godt Waymos biler kører i løbet af de kommende dage og uger…
BILBONUS:
En gruppe belgiske studerende fra Eindhovens Tekniske Universitet har bygget en prototype af en bil, der næsten udelukkende er konstrueret af genbrugsmaterialer - fra plastflasker til kokosfibre.
Og så er den ligesom Rivians Amazon-truck også ret hyggeligt designet.
---

4. Oversight Board vs Oversight Board
Sidste uge fortalte vi om det såkaldte "Real Facebook Oversight Board", en gruppe journalister og aktivister der vil agere som uafhængig modvægt til Facebooks eget Oversight Board.
Ideen med OB'et er jo, at et panel af eksperter skal kunne træffe afgørelser i vigtige og principielle spørgsmål omkring Facebooks anvendelse af fx censur, men det har allerede været udsat for en del kritik inden det for alvor er begyndt at arbejde.
Men på mystisk vis er det website, som hoster det selvbestaltede alternativ, "The Real Facebook Oversight Board", blevet taget offline efter anklager om phishing, skriver VICE.
Det er jo i udgangspunktet fint, at man kan klage over at et website udgiver sig for at være noget det ikke er, med skumle hensigter om at snyde de besøgende - men her er det altså ifølge VICE ansatte i Facebook, der har klaget til ISP-firmaet SupportNation, som efterfølgende altså har taget "The Real Facebook Oversight Board"-sitet offline.
Det særligt kringlede er, at Facebook først havde nægtet at være involveret, men VICE hævder altså at kunne trække en tråd fra phishing-klagen over RFOB tilbage til en email fra Facebook.
Man kan dog fortsat læse om den uafhængige styregruppe her.
---

5. GPT-3-bot skrev kommentarer på Reddit i en uge (uden at nogen opdagede det)
Vi har flere gange fortalt om GPT-3, en superavanceret såkaldt sprogmodel fra OpenAI, som kan skrive tekster der er nærmest umulige at skelne fra noget mennesker af kød og blod kunne skrive.
At det ikke bare er tomt blær blev demonstreret i denne uge, hvor en version af GPT-3 i en flere dage skrev kommentarer på Reddit uden at blive afsløret som en bot.
Det skete dog alligevel til sidst, da en anden Redditbruger ved navn Philip Winston begyndte at mistænke GPT-3's Redditbrugerprofil for ikke at være helt almindelig, fortæller Technology Review.
---

6. Danske forlager lancerer ny streaming-tjeneste
Endelig kan vi fortælle, via Finans, at Danmark snart får en ny streamingtjeneste for lyd- og e-bøger.
Chapter er et samarbejde mellem Gyldendal, Gads Forlag og Modtryk.
Ifølge Gyldendals direktør Morten Hesseldahl sker lanceringen blandt andet som et forsøg på at skabe et dansk islæt på et marked, der ellers er dominteret af udenlandske, internationale firmaer.
---
Mere streaming - en kort servicemeddelelse
Det lader til, at Apple - med henvisning til Coronapokalypsens hærgen i tv-produktionsland - har forlænget den gratis prøvetid for deres tv-tjeneste Apple TV+.
Det betyder, at eksisterende gratis-brugere nu fortsat kan se med frem til 31. januar 2021.
Det betyder også, at man har en ekstra chance for at se eller gense Ted Lasso!
Seriøst, du synes den lyder fjollet, men se den. Nu.
---

LINKS TIL LÆSEHESTE
Lyttedata. Bliver du tracket når du hører podcasts?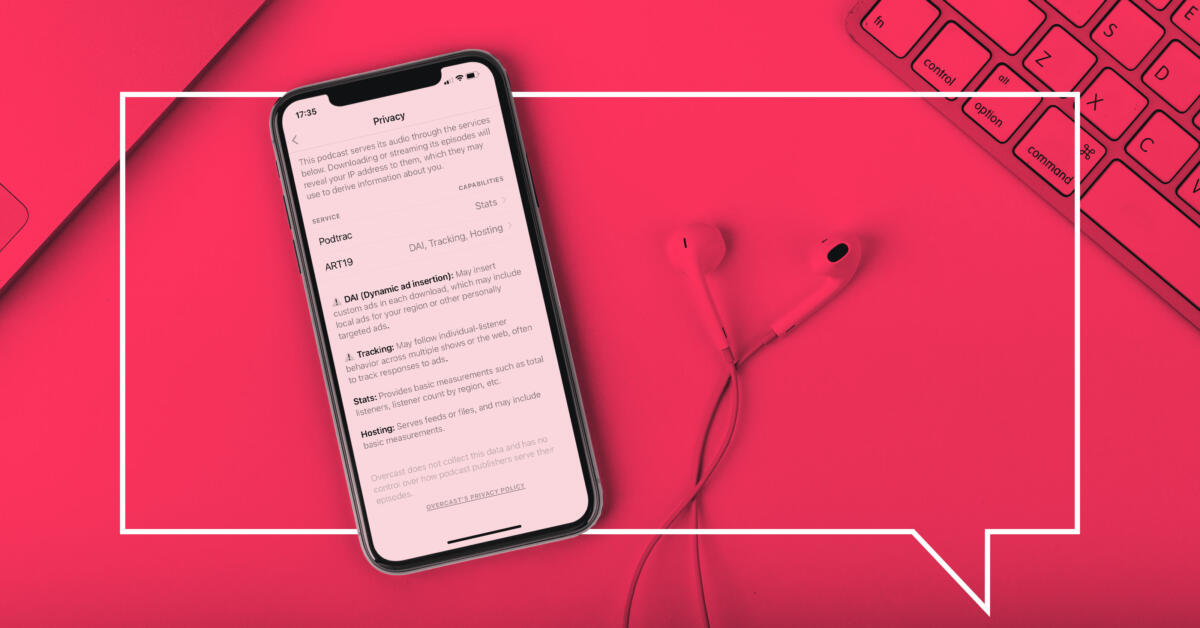 ---
Tvunget til at tage penge. The Verge om flere appudviklere oplevelse af Apples "mafia-metoder".
---
BONUS: Insider-kritik af App Store.
---
Farvelade. Ny farve-ebogslæser fra schweizisk firma.
---
Ouch. "Vi hackede Apple i tre måneder og her er hvad vi fandt…".
---