Smittestop-app 👍 eller 👎: Skepsis og kritik er fuldt berettiget, men jeg vil stadig bruge den og tror vi kan lære en masse
Vi gør midtvejsstatus på den meget kritiserede Smittestop-app.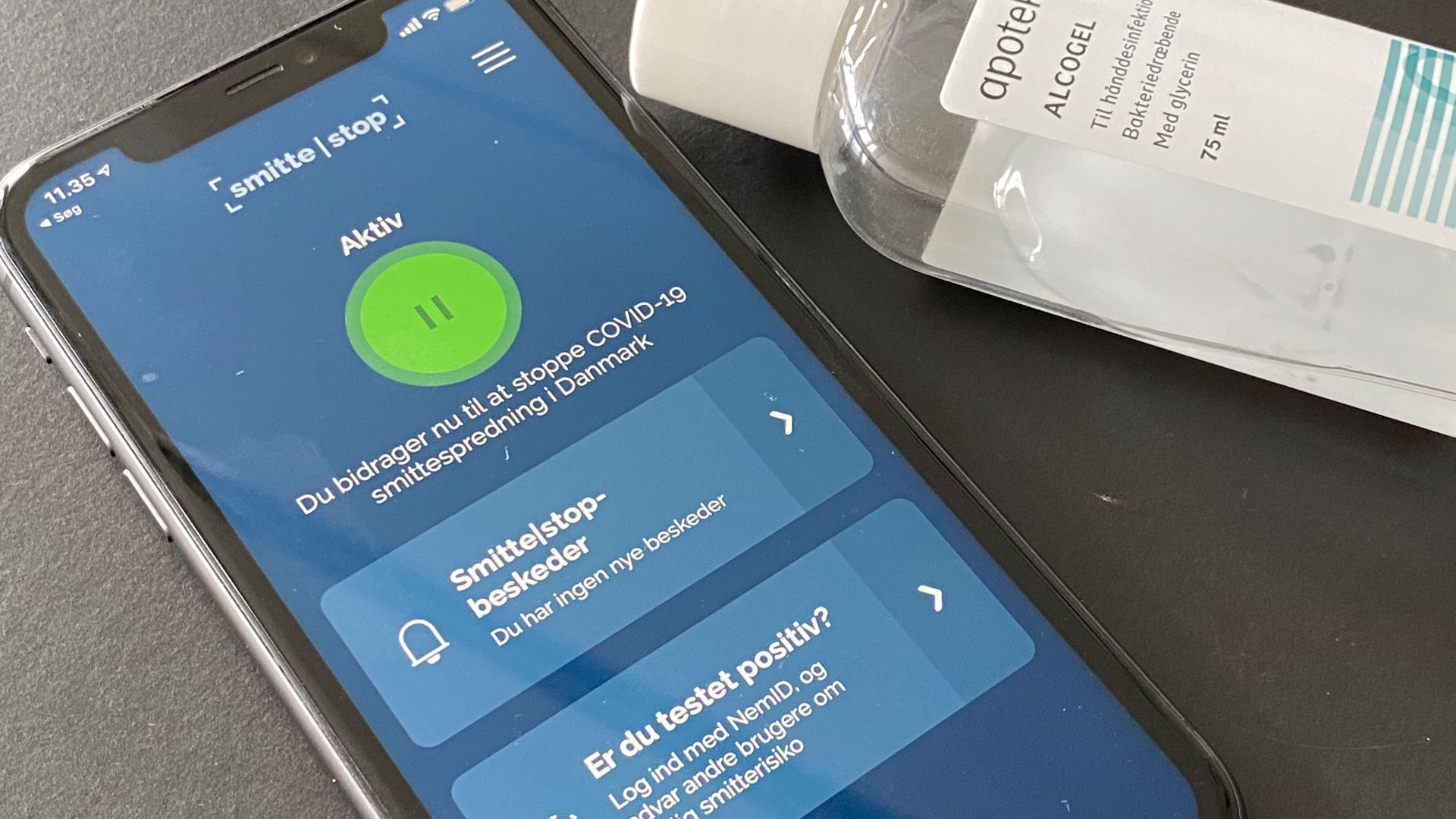 ---

Midtvejsstatus på Smittestop-appen
DR (og andre medier) har de seneste uger rapporteret, hvordan Smittestop-appen har fejlet i sit absolut eneste job: nemlig at advisere alle folk, der har været i nærheden af en person, der er blevet testet positiv for Corona.
I første omgang lød det, at problemet med de manglede advarsler kun relaterede sig til de allernærmeste kontakter — fx medlemmer af husstanden som man opholder sig sammen med over længere tid.
I weekenden kunne DR så på baggrund af et email-svar fra Sundheds- og Ældreministeriet fortælle, at de manglende advarsler potentielt også relaterer sig til kolleger og klassekammerater.
Når der bliver sendt for få notifikationer, skyldes det, måden Apple/Google-løsningen er blevet implementeret på af Netcompany, det firma som har udviklet appen for myndighederne.
Selvom løsningen er bygget på Apple/Googles API, kan hvert enkelt land indstille flere parametre efter eget ønske, hvor forskellige typer møder mellem mennesker kan vægtes højere eller lavere.
Her viser det sig, at Netcompany (muligvis i samarbejde med Sundhedsministeriet) har valgt at fokusere på de mere tilfældige møder, fx en person du har siddet ved siden af i bussen eller toget.
Samtidig har man valgt at nedprioritere at sende advarsler ud til folk, som har befundet sig i nærheden af en smittet over længere tid… på trods af at man også har været meget tæt på den smittede person i over 15 minutter, hvilket burde være bagatelgrænsen for, hvornår en advarselsbesked bliver sendt. Altså typisk kolleger.
Det er jo ret åbenlyst hul i hovedet, og Netcompany siger, at de nu vil ændre måden, som appen udregner den såkaldte 'risikoscore' på, så man fremover bør få besked, hvis man har været tæt sammen med en smittet person, uagtet hvordan man ellers har omgået hinanden.
DR har lavet en meget pædagogisk grafik, som viser en potentielt problematisk situation, hvor en person ikke får en besked via appen, selvom det tydeligvis burde være sket.
Hvis vi lige skal gøre en form for midtvejsstatus her små fire måneder efter appens lancering, så er virkeligheden, at vi i Danmark officielt har fundet 16 smittede personer alene på baggrund af appens advarsler.
Derudover er der en større gruppe mennesker — der ifølge Netcompanys direktør, André Rogaczewski, skal opgøres i mange hundreder — som er blevet testet negativ, men som har oplyst, at de har valgt at lade sig teste på baggrund af notifikationer fra appen.
Prisen for udviklingen af appen ligger i omegnen af 20 millioner kroner.
Det ligner jo altså en klar fiasko, og du skal ikke bruge mange minutter på Twitter, for at få øje på en del (kompetente) it-sagkyndige, der er gået i "I told you so"-mode. De mener ganske enkelt, at man kunne have sagt sig selv, at teknologien bag ikke er god nok. Blandt andet er usikkerheden med afstandsberegninger via Bluetooth velkendt.
Men… set fra mit bord, så er der gode grunde til, at det har givet mening at udvikle smittestop-appen, og derfor har jeg også selv tænkt mig at blive ved med at bruge den, uagtet at de foreløbige resultater er alt andet end imponerende.
Jeg har nedenfor lavet en lille bullet point-liste over de ting, som umiddelbart falder mig ind.
Ingen vidste præcist, hvilket "bæst" vi stod overfor med Covid-19, da man valgte at forsøge sig med en app som et supplement til den manuelle kontaktsporing.
Ingen ved, hvor længe Corona kommer til at vare, og om det senere hen viser sig, at Smittestop-appen kan hjælpe i større grad, end den gør i dag.
Det er et forsøg værd, at prøve om man kan få gavn af, at vi alle har en telefon i lommen. Man kan spekulere, antage og formode, men et unikt forsøg i en virkelig kontekst med over 1 million danskere involveret, ville aldrig have været muligt uden den desværre alt for alvorlige baggrund.
Forsøget viser med al tydelighed, at teknologien har nogle klare begrænsninger — det er også en værdifuld lære, uagtet om nogle mener, at det var åbenlyst på forhånd.
Det er ikke umuligt, at appen vil virke meget bedre i fremtiden, når alle telefoner kan gøre brug af en mere præcis teknologi til at måle relativ position — fx Ultra Wideband som erstatning for Bluetooth. Her vil man helt sikkert også være blevet klogere på baggrund af de udfordringer, der har været med den nuværende teknologi.
Vi fik en privatlivsfokuseret løsning, fremfor de langt mere tvivlsomme sporingsløsninger man i første omgang valgte at gå videre med i Norge og Storbritannien. Det er forhåbentlig noget, der vil kunne danne præcedens for mange fremtidige offentlige it-løsninger, og alene det ville være alle 20 millioner kroner værd.
De to dominerende telefon-techgiganter Apple og Google har udviklet det bagvedliggende API. Det er langt fra en garanti for at løsningen er ufejlbarlig, men det er utvivlsomt de to firmaer, der har størst indsigt i samspillet med deres styresystemer, som står på mål for at udvikle og vedligeholde den bagvedliggende teknologi.
Samtidig er der næppe mange firmaer, der kunne have afsat flere ressourcer på kortere tid, end Apple og Google har gjort. Jeg ville have været helt anderledes stærkt bekymret, hvis man i stedet havde bedt Netcompany om at designe en løsning fra bunden. Man nedbragte derfor efter min mening både risikoen og prisen ret markant ved at gå med Apple/Googles API.
Jer er helt med på, at ingen af de ovennævnte punkter er et solidt argument for, at det var rigtigt at vælge at udvikle en Smittestop-app — særligt ikke når vi kigger på de foreløbige resultater. Men havde vi ikke gjort det, kunne vi omvendt have diskuteret "hvad hvis vi havde haft en app…".
På den måde adskiller appen sig ikke nævneværdigt fra tesen om "hvad hvis vi havde valgt den samme Corona-strategi som i Sverige".
Nu er valget truffet, og så må vi gøre regnskabet op senere hen.
Ingen kan være i tvivl om, at vi i Danmarks har en kedelig track record indenfor kuldsejlede offentlige it-projekter og tilhørende spild af penge, og i den kontekst er 20 millioner kroner jo nærmest bare lidt småmønter, der faldt ud af jakkelommen.
Men jeg har faktisk forhåbninger om, at vi kommer til at lære en del af dette kontaktsporings-eksperiment.
For det er på godt og ondt et eksperiment med stort E.
Som vi skrev i Techliv d. 18 marts under overskriften "Det store teknologieksperiment er i gang":
"Man forstår udmærket hvorfor myndighederne vil gå langt i håbet om at nedbringe antallet af folk der kommer til at dø af Coronavirus.
Spørgsmålet er blot, hvad konsekvenserne vil blive af alle de teknologiske og digitale eksperimenter som netop nu bliver søsat over hele verden — inklusive hjemmearbejde og digital læring.
Svarene blafrer i luften, men det er meget svært at forestille sig, at vi nogensinde vender tilbage til den hverdag vi kendte for bare få uger siden."
Vi blev tvunget til at famle i blinde, og det var nødvendigt at træffe hurtige beslutninger. Corona-appen er, som jeg ser det, både en lille og billig flig af det store kludetæppe, og de negative konsekvenser er til at overse.
Appen har jo ikke fungeret som en falsk tryghed, og når vi kigger på antallet af millioner af test, der bliver foretaget i disse måneder, så er det i hvert fald tydeligt, at folk ikke venter på en notifikation fra appen, før de opsøger et testcenter.
Har appen været med til at nedbringe spredningen af Corona markant? Klart nej.
Kommer den til det fremover? Nok også tvivlsomt.
Men min Smittestop-app er stadig aktiveret, og det vil den blive ved med at være. Kan den være med til at undgå at nogen bliver smittet med Corona, så synes jeg faktisk, det er noget af det mindste, jeg kan gøre, uagtet at chancen for at det får betydning, ikke er ret stor.
---

Break them up: Rapport om techgiganter er forsinket, men kan få alvorlige konsekvenser
Som vi skrev i sidste uge, var det forventet, at Kongressens længe ventede rapport om techgiganternes monopollignende forretningsmetoder skulle have været publiceret i starten af denne uge.
Rapporten, som skal danne grundlag for ny lovgivning, er dog blevet forsinket af to omgange. Men når den lander, tyder det på at det bliver skræklæsning for de store amerikanske teknologiselskaber.
Unavngivne kilder fortæller til Bloomberg, at både Apple og Amazon risikerer at få forbud mod både at eje en platform og sælge deres egne produkter via platformen.
Med andre ord kan konsekvenserne potentielt blive, at Apple ikke længere kan udbyde egne apps og services via App Store, og at Amazon ikke kan sælge egne produkter via Amazons hjemmeside. I hvert fald ikke så længe de opererer under det samme firma, hvilket kan betyde at de kan blive nødt til at opdele deres forretninger i individuelle selskaber.
Google, som står overfor et monopols-sagsanlæg fra myndighederne, risikerer at få forbud mod at eje søgemaskinen og YouTube samtidig.
Facebook forventes ligeledes at komme i vanskeligheder, da de sidder på flere kommunikationsprodukter, der tilsammen gør det tæt på umuligt for nogen anden spiller at konkurrere med Mark Zuckerbergs firma. Desuden har de købt flere af deres konkurrenter (Instagram og WhatsApp), der de facto har skabt denne konkurrenceforvridende tilstand.
Udover at foreslå en ganske vidtrækkende lovgivning omkring firmaernes nuværende måde at drive forretning på, så forventes det, at der vil blive stillet forslag om at de store firmaer fremover selv skal bære bevisbyrden, når opkøb af andre firmaer skal godkendes af myndighederne. Det vil sige, at man ønsker at vende bevisbyrden om, så det ikke er myndighederens job at bevise, at køb eller sammenlægning af store firmaer vil have monopol- eller konkurrenceforvridende karakter, men derimod techfirmaernes ansvar at bevise, at det ikke er det.
Rapporten er baseret på en årelang granskning af firmaernes virke, og over en million dokumenter og hundredevis af timers interviews.
Dog er det endu uklart, hvordan politikerne vil stille sig overfor rapportens anbefalinger, og altså om det i sidste ende ender med så store opstramninger, som der tilsyneladende lægges op til.
Forsinkelsen af rapporten er ifølge CBNC sket af to omgange. Først på grund af nye oplysninger om Facebooks køb af Instagram, hvor en whistleblower er kommet med nye informationer i sagen. Det har allerede tidligere været rapporteret, at Instagram nærmest blev truet til at sælge, hvis ikke de ville kvases af Facebook.
Den sidste forsinkelse skyldes, at republikanske medlemmer af udvalget ønsker nogle sidste øjebliks tilføjelser til rapportens endelige ordlyd.
---

LINKS TIL LÆSEHESTE
Apple gearer op til nye lydprodukter: Stopper salg af høretelefoner og højttalere fra konkurrenterne
---
Tesla sætter ny produktionsrekord på trods af Corona: Leverer næsten 140.000 elbiler på et kvartal
---
Tech til tiden: Nvidia lancerer AI-platform, der skal øge kvaliteten og brugeroplevelsen af videosamtaler
---
Nej, det er ikke en flyvende bil, måske nærmere et luftkastel? Hyundai præsenterer planer for fremtidens bytransport i luften
---